Links Golf Club - News
Canine Partners - The Links Charity for 2018
During 2018 we raised £3,889 for Canine Partners.
This will enable Canine Partners to purchase a puppy suitable for Assistance Dog Training, and will also contribute significantly to the first few months of puppy training.
Our efforts have helped Canine Partners to provide a disabled person with a dog to be their friend and helper in the years ahead.
The Links is always very generous for such a small club, and last year was no exception.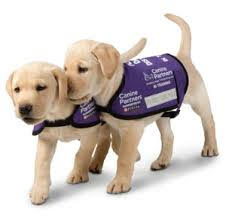 THANK YOU!
Gareth Hall, Carole Davidson, Evan Tuck
Captains Drive In 2019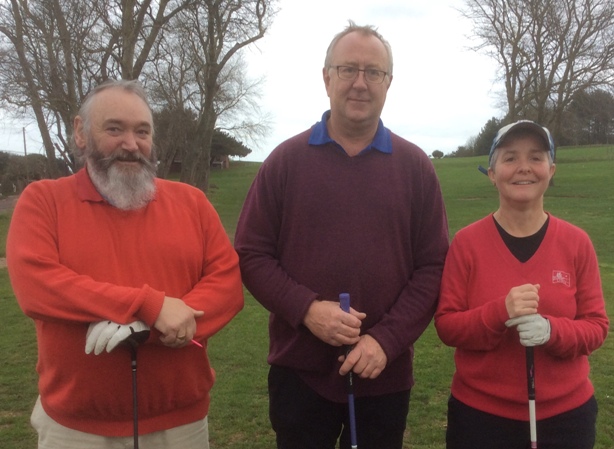 The new Captains of the Club tee'd off to mark the start of their year.
John Seaward is Club Captain, Mark Nelson-Griffiths is Seniors Captain and Sarah Dewhurst is Ladies Captain.
Each Captain drew a team to play a 9 hole Stableford following the drive In. Mark's team won with 171 points , John's team scored 157 points and Sarah's team had 156 points.
Winners of guessing where the new Captains Drives would finish, were Dave Brooks for John, Norma Neave for Mark and Caroline Collett for Sarah.
The Captains would like to thank those members who supported their morning and the amount raised for their charities, Nelson's Journey and Woodfield Special Needs School, was £165.
Champion Carole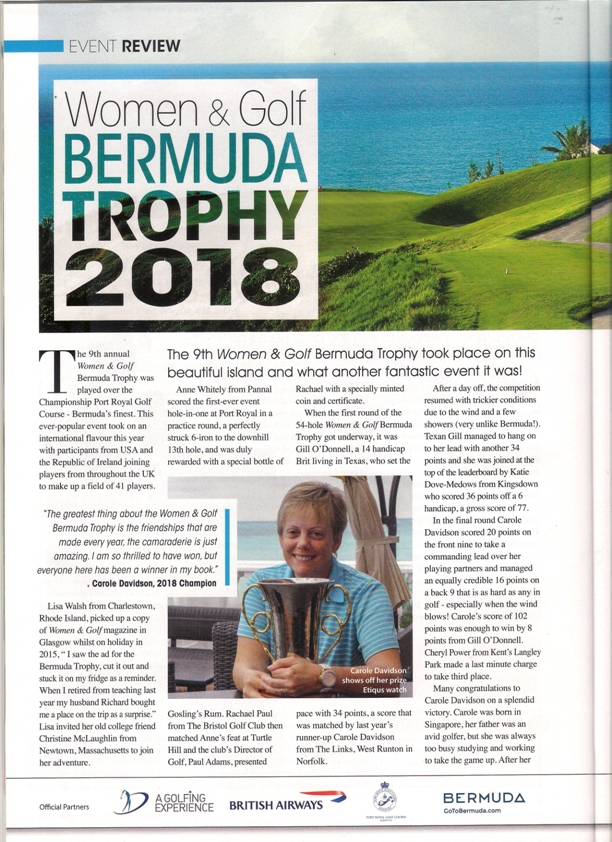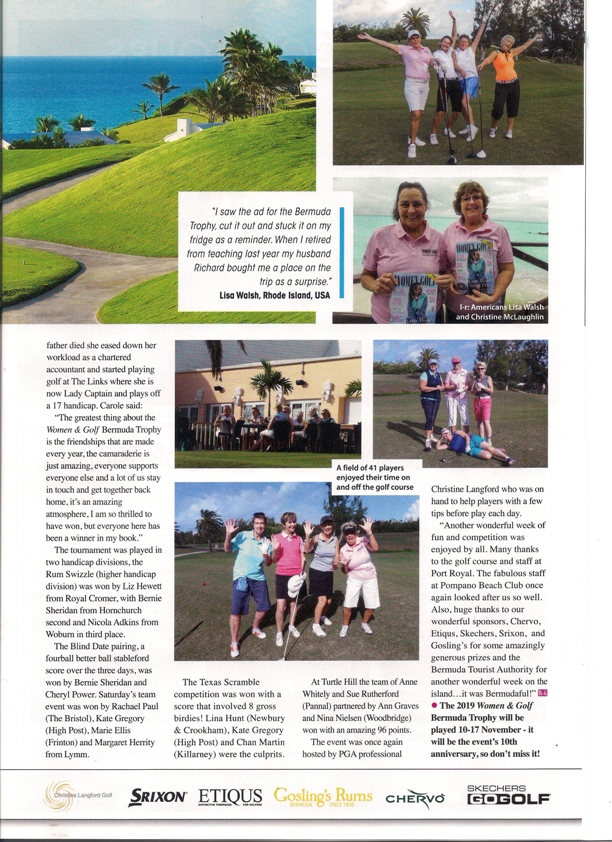 Boxing Day Trophy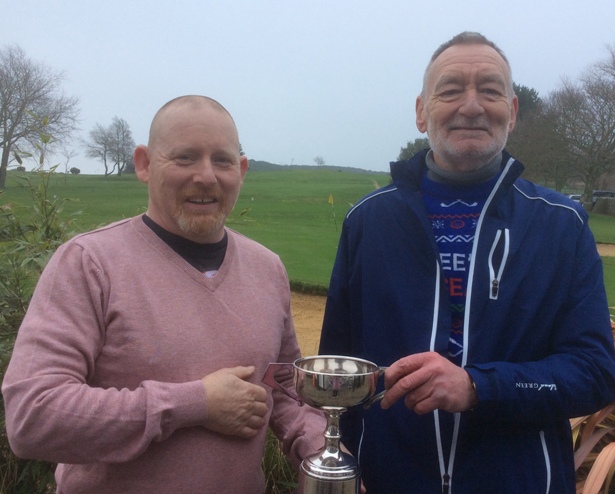 There is a new name on the Boxing Day Trophy with David Bayle winning this 9 hole medal with a nett 32.
Close behind was Andrew Neave with a nett 33 and in third place was Mark Nelson-Griffiths with a nett 34.
Photo shows this year's Captain, Gareth Hall, on his last official engagement, congratulating David on his well deserved win.
Christmas Cracker Competition
Ryan Neave led the field of Christmas jumper wearing golfers with a score of 40 points.
The traditional Christmas Cracker competition included up to two mulligans for wearing Christmas items of clothing and all players provided a present worth up to £5 to be given back as prizes. So every golfer went away with a present.
All golfers were also presented with a glass of mulled wine after their round.
In second place with 38 points was Andrew Neave and third on 37 points was David Bayle.
There were some great jumpers and outfits, some of which are pictured.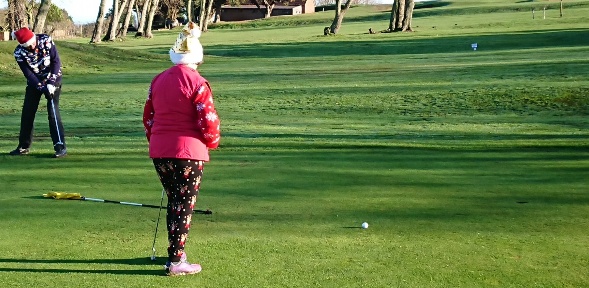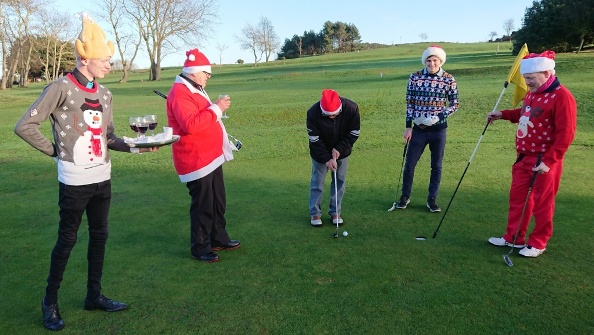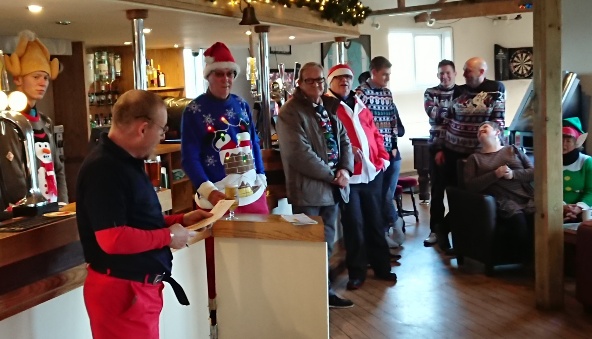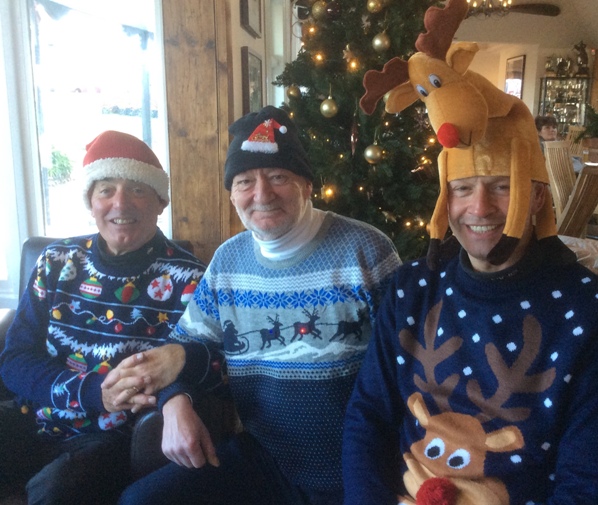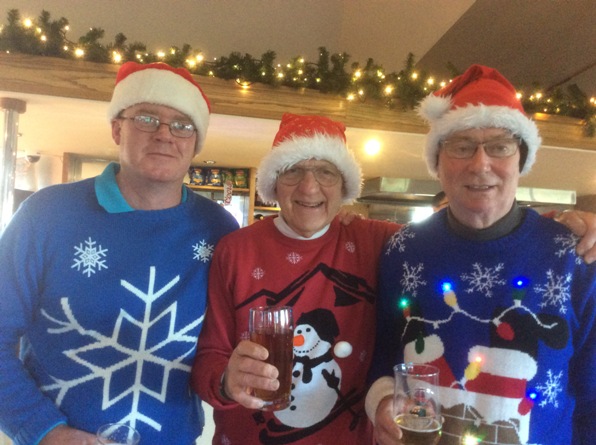 Ladies Put and Take Christmas Competition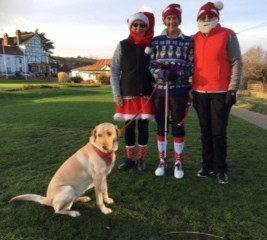 Christmas arrived early as the ladies got dressed up in as many festive items as possible for the 14 hole put and take competition.
Every Christmas jumper, hat, earing and sock gave the player a mulligan to use whenver they required during the competition.
The winning team were Jane Gomm, Maggie Baker and Chris Rayfield.
There was also a nearest the pin on the 3/12th hole and this was won by Caroline Collett.
A Christmas meal was then enjoyed in the hotel and presents exchanged.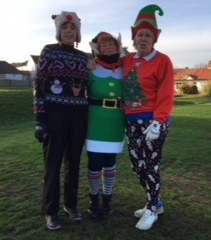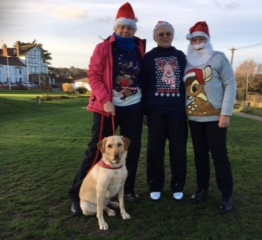 Golfer of the Year - Tim McCrohon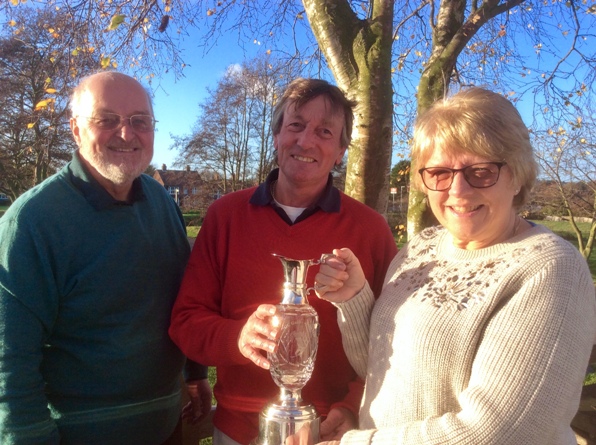 Tim McCrohon has been crowned the Links Golf Club's Golfer of the Year.
Joan and Malcolm Munday presented Tim with their trophy.
The trophy rewards great golf but also consistency and support for club competitions throughout the whole year.
Each qualifying event gives 6 points to first place, 5 to second down to 1 point for 6th.
Along with this, points are added for the Summer Knockouts and Winter League, culminating with places in the Champions Medal.
Tim beat Evan Tuck by 6 points with John Seaward a further 2 points behind.
Boswell Foursomes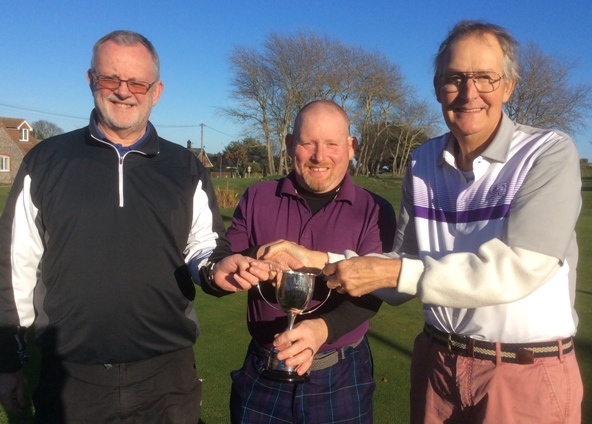 Evan Tuck and David Samuel won the competition with a nett 69 on count back from John and Billy Seaward with Paul Attenborough and Dave Parmenter just 1 shot behind, again on count back from Malcolm Monday and Barrie Bensley.
Evan and David will represent The Links in the Daily Mail Foursomes in the new year.
The ladies held their own qualifier and Ali Rix and Sharon Page will play in the Ladies Daily Mail Foursomes. Jane Gomm and Sarah Dewhurst were runners up.
Ladies and Seniors Texas Scramble
A large field of twelve teams of members played in the Ladies and Seniors texas scramble
The winners were Mark Nelson-Griffiths, Alick Mackenzie and Caroline Collett with a nett score of 61.5.
Runners up were Tony Pashley, Ivor Collett and Barbara Shannon with nett 63.
Third place went to Chris Rayfield, Stefan Vince, Corinne McVey and Gareth Hall with a nett 63.7.
Everyone enjoyed a bacon roll, drink and chat after the game.
Golf Writers 30th Anniversary Match
The club welcomed the Golf Writers once more in their 30th year to play for the Goblet they presented. Their team included Colin Callander who writes articles for National Club Golfer.
After play, the club presented the Writers with a medal commemorating 30 years and the wives with a pot plant. Needless to say, with home advantage, the Links came out winners once more.
Captain's Charity Trophy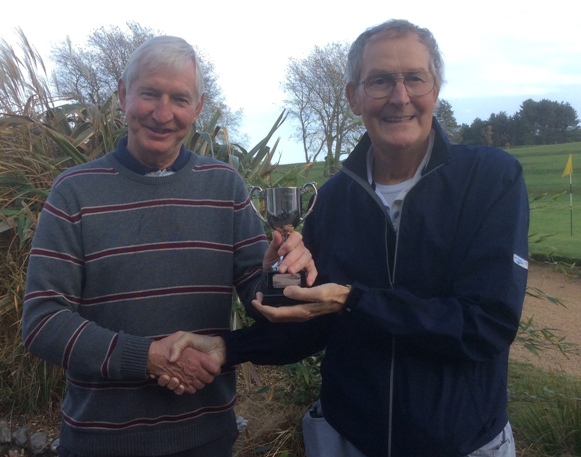 Fresh from his recent hole-in-one, Dave Parmenter won the Captain's Charity Trophy.
His score of 41points earned him a handicap cut of 1 stroke to 20.5.
Runner up was Ali Rix who scored 40 points, enough for her handicap also to be cut by 1 shot. She is now playing off 14.
In third place was Chris Rayfield who beat Irving Newton on count back with 39pts. However, Irving had plenty to celebrate after scoring three 2's in his round, an amazing achievement.
Rules Evening for the new Rules of Golf
From January 2019 there will be NEW Rules of Golf.
The new Players Edition is available for free in the clubhouse. This is a major revision and many of the terms used have changed to try to make the rules more understandable.
We will be holding a Rules Evening for members
on Thursday 8th November starting at 7pm.
There is no charge, but please put your name on the sign up sheet if you are planning to attend.
In addition please feel free to sign up to England Golf's weekly e-mail to help everyone become a Rules Guru.
http://bit.ly/BecomeARulesGuru
You should normally play the course as you find it and play your ball as it lies. - Rule 1.1.
Ladies Away Day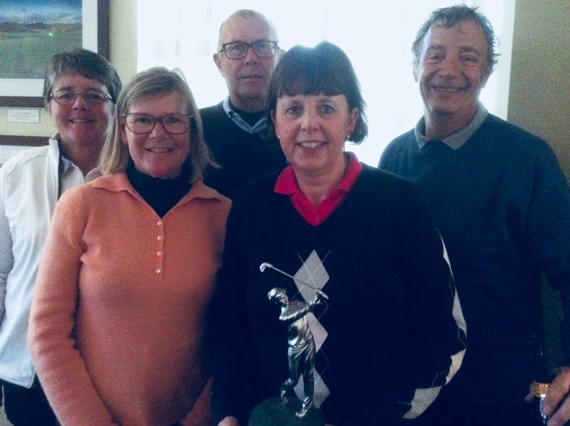 22 players teed off at Royal Cromer on a really sunny day hosted by Ladies Captain Carole Davidson.
Alicia Goulty won the trophy to add to her impressive total for the year. In second place, on count back was Carole Davidson with Caroline Collett third, also on count back from Kathryn McCrohon.
The Men's Competition was won by Eric Bailey, with Mark Hogan runner up.
The winner of the Blue Tee prize was Susan Tuck. Chris Rayfield won Nearest the Pin.
Couples Jug and Pair Competition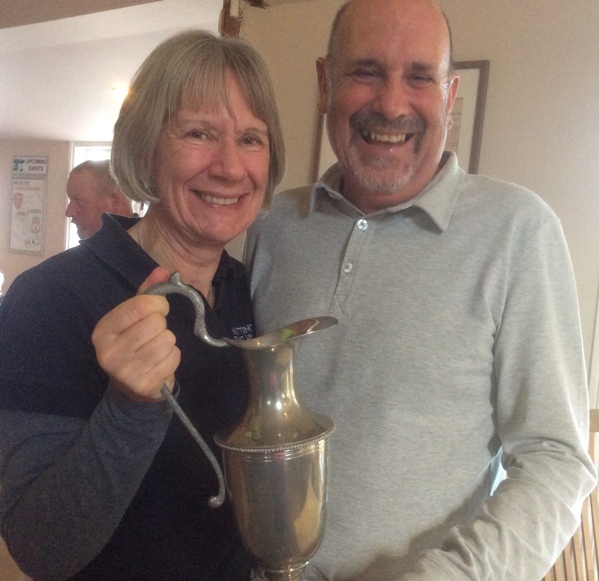 Barbara Shannon and Vince Ryan won the Couples Jug with an incredible score of 48 pts in the 4BBB Stableford.
Runners up were Eddie and Maggie Baker with 42pts.
Kate and Paul Attenborough beat Helen and Irving Newton with 41pts ocb for third place.
In the Pairs Competition, Father and Son John and Billy Seaward scored 46pts, beating Ryan Neave and Sam Slade who scored 43pts.
Third was Tony Medland and Hugh McCrory scoring 42pts with Ali Rix and Sharon Page fourth with 41pts.
Hole-in-One for Dave Parmenter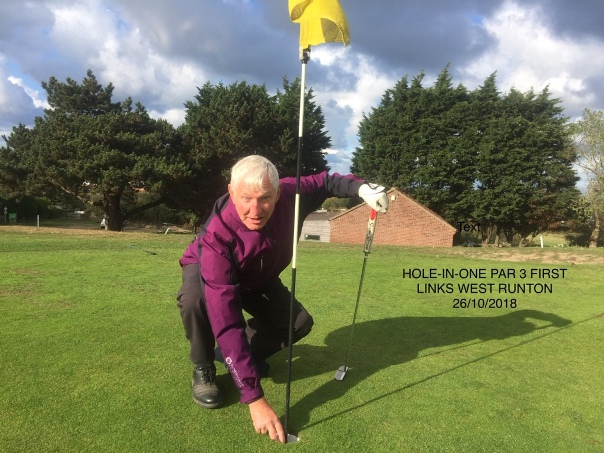 Dave Parmenter has achieved his first hole-in-one after 38 years of trying.
The ace came on the first hole and was witnessed by his Friday playing partners.
It's not been confirmed whether they all got a drink, but it is noted he didn't get the hole-in-one on a Wednesday.
Dave then came back that evening with some teammates and won the Hole-in-One quiz in the clubhouse.
Well done Dave!
Nibari Trophy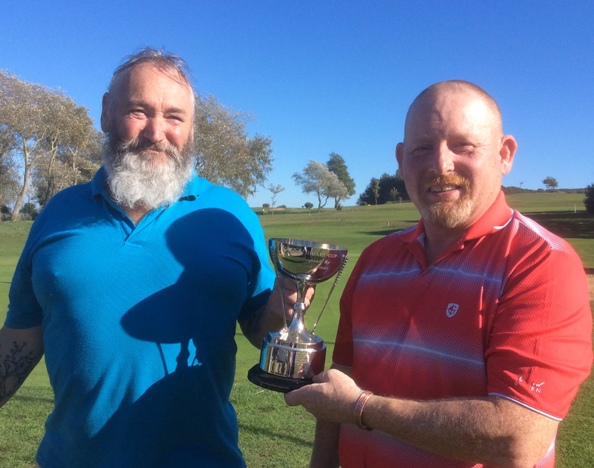 Vice Captain John Seaward was the winner of the Nibari Trophy with 39pts on count back from Tim McCrohon.
John had his handicap cut by one shot.
In third place was Sarah Dewhurst with 35pts and Dave Wright was 4th with 34 pts.
Vice Captain's Day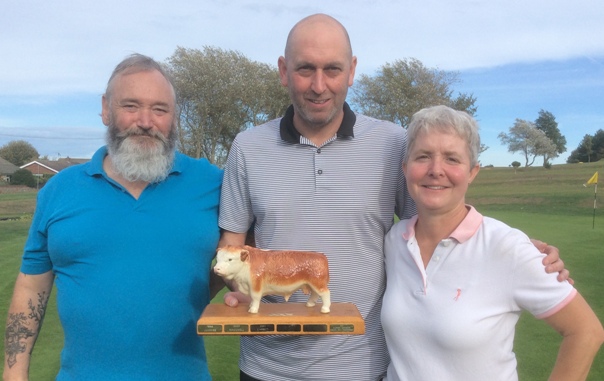 A sunny and windy morning greeted the 35 players who were playing to win the Beef and Golf Trophy.
The winner of the trophy on the day was Andrew Neave with 44pts - which resulted in a handicap cut of 2 shots. Runner up was Hugh McCrory with 38pts and third was Thomas Hall with 37pts.
Other winners were Andy Rayfield with a best front 9 score of 22pts; Thomas Hall won the best back 9 with a score of 25pts; Ivor Collett scored the only 2 on the day. The best lady on the day was Norma Neave 36pts, with Helen Newton Caroline Collett, Maggie Baker and Susan Tuck all scoring 34pts.
The Vice Captains, John Seaward, Sarah Dewhurst and Mark Nelson-Griffiths announced that their charities would be Nelson's Journey and Woodfields School. The amount raised today was £300 which is a great start to their fundraising for next year for both these deserving charities. All three vice Captains would like to thank everyone for their support in raising this amount.
Seniors Eclectic Winner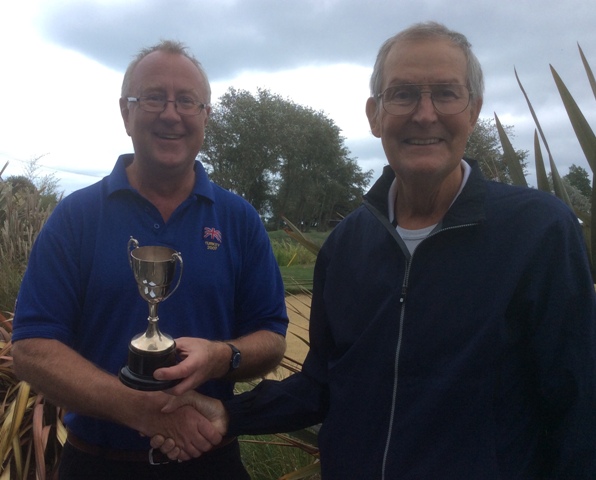 Winner of the Seniors Summer Eclectic was Evan Tuck with a score of 53.00. Runners up were Dave Brooks and Ivor Collett on 54.50.
The winner of the Seniors Eclectic Trophy for the whole year was Mark Nelson-Griffiths (picture attached). This was a very close result - Mark's average score was 56.708, with Ivor Collett and Evan Tuck finishing just 0.292 on 57.00.
Links Open Am-Am
A lovely sunny day greeted the 10 teams on Sunday morning. After play, where 3 Stableford scores on every hole counted, all players enjoyed a superb Carvery in the clubhouse.
Winners were Charlie's Angels with 127pts - Kate Attenborough, Caroline Collett, Ali Rix with Charlie Webster
Runners up were the Sultans of Swing with 125pts on countback - John Wells, Gordon Robertson, Vince Ryan and Eric Bailey.
Third place, also with 125pts were 3 + 1 - Margaret Carpenter, Barbara Shannon, Christine Tew (Sheringham GC) and Mike Patrick.
Nerarest the Pin Winners were Norma Neave, Mark Nelson-Griffiths, Kate Attenborough, Charlie Webster.
2s - Jane Gomm, Caroline Collett, Paul Attenborough and Eddie Baker.
Inaugural 30+ Trophy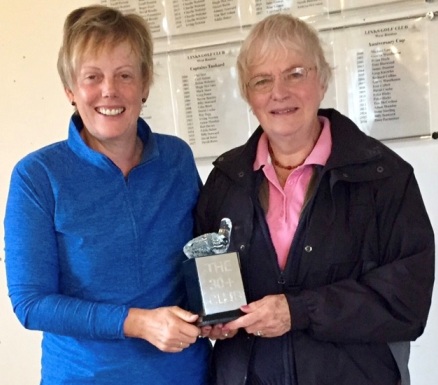 Kate Attenborough won the first 30+ Club Trophy with great score of 31 points over 14 holes (the competition having been cut short due to the weather).
Sharon Page and Corinne McVey both got 27 points with Sharon narrowly beating Corinne on count back.
Kate was 'chuffed to bits' and her standard of play may mean that next year she is no longer eligible to play in this competition!
Thursday evening 9 holes
We were able to play from 5th April to 4th October with only 9th August rained off!
After 26 weeks, Tim McCrohon was the overall winner with 4 wins, runner up Sean Moore had 3 wins, while sharing third place with 2 wins each were John Chilton, Ivor Collett, David Robinson and Vince Ryan.
Summer Knock-Out Winners
A big thank you to all who took part in the club knockouts this summer . All the games are now finished.
In the pairs, Andrew Neave and Ryan Neave were the winners beating Ali Rix and Sharon Page in the final.
In the singles knockers Talbot Field was the 'complete loser' after his win in the final against Tony Medland.
In the seniors, Captain Evan Tuck was the victor. He beat John Wells in the Final.
And in the men's club knockouts David Robinson was the winner after beating Thomas Hall in the final.
In the ladies knockout, Barbara Shannon beat Sarah Dewhurst in the final.
Again well done to all and congratulations, and a big thank you to all who took part

Gareth Hall Club Captain.
1940's 3 Clubs and a Putter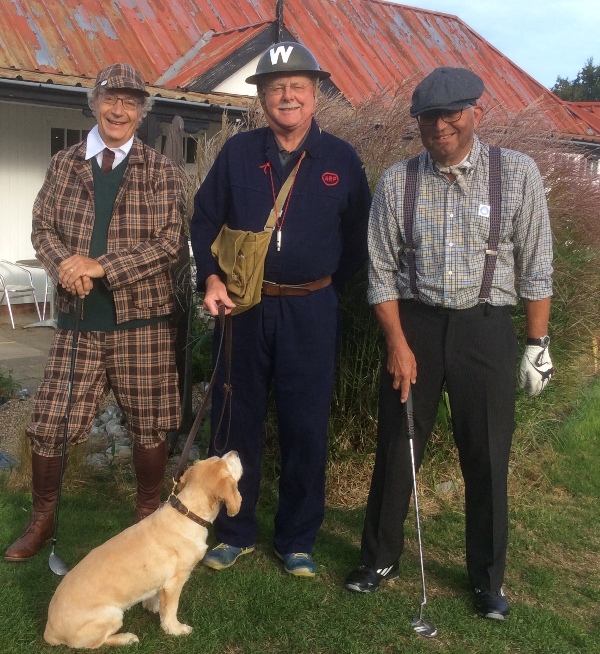 It was 40's weekend in Sheringham and Holt and The Links continued their tradition of holding their own 40's golf tournament with the trophy of old golf club heads going to the winner.
Twenty four players took part in a 3 clubs and a putter Stableford with Barbara Shannon winning with 38pts. Next came Andrew Neave on 37pts followed by Caroline Collett on 36pts.
Pictured are some of the costumes worn on the day with Eric Bailey winning the best dressed prize.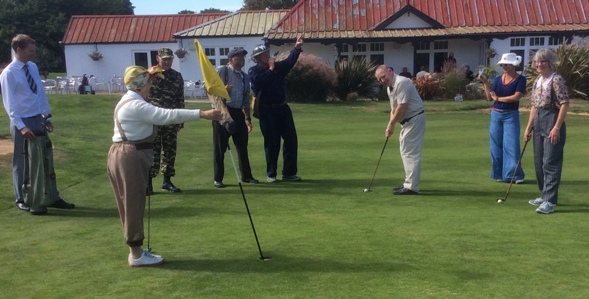 Professional's Cup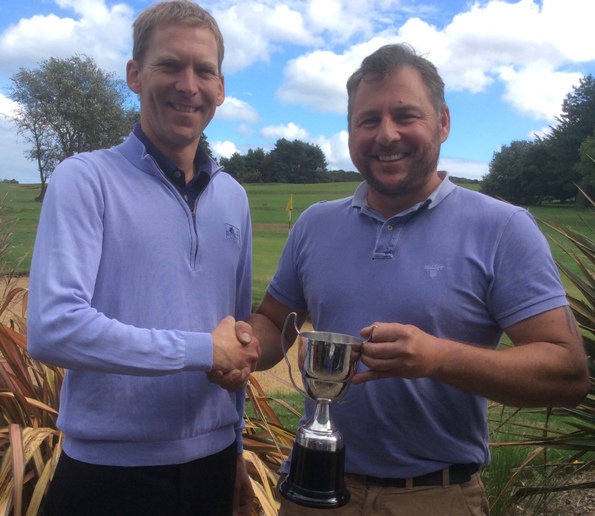 Dean Knowles won the Professional's Cup by two shots after a round of net 63.
His round was also the lowest gross score on the day.
Dean's handicap was cut by 1 shot to 16.
In second place was Vice Captain John Seaward with a 1 under par round of 65.
Talbot Field was third on countback from Dave Wright with a level par 66.
It was a roll-over week for 2's and Dean's day got even better when he was announced as the only player to score a two.
Bill Prince Trophy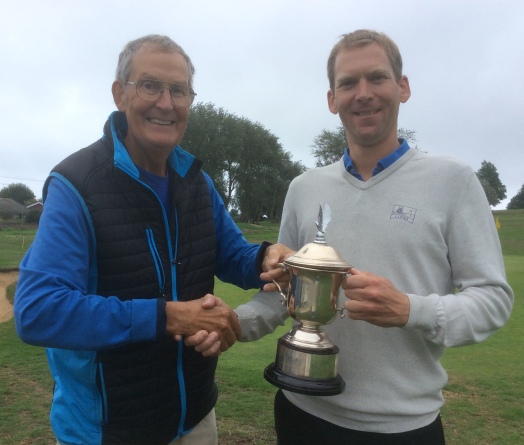 Evan Tuck scored a stunning net 59 to win the Bill Prince Trophy.
Evan, (the Seniors Captain), was six shots ahead of the rest of the field in wet and windy conditions which clearly didn't dampen his game.
The performance saw his handicap cut by 2.5 shots to 16.
The rain was so bad, Evan had a change of shirt and waterproof jacket after 9 holes and perhaps this helped him beat the conditions.
In second place was Evan's Vice Captain Mark Nelson-Griffiths on 65 and third was Barry Davidson with a 67.
Stanley Mansfield Texas Scramble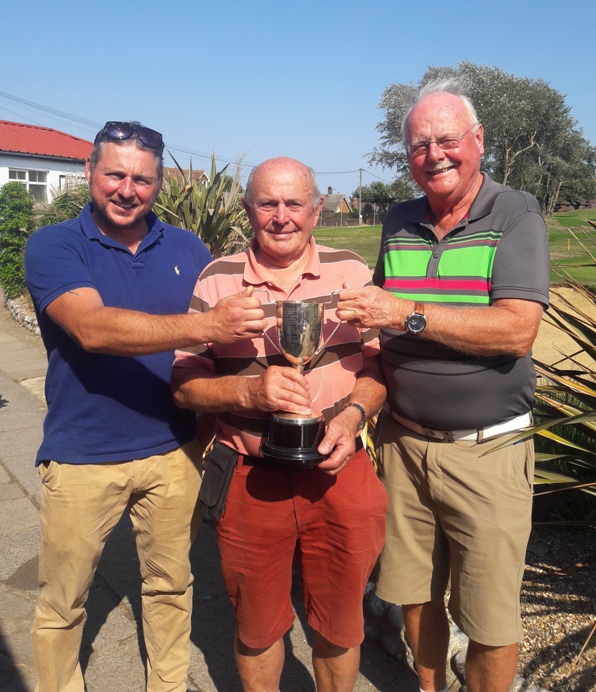 Thank you to all members that took part in the Stanley Mansfield Texas scramble.
A field of 34 plays had a lovely sunny day of golf . I hope all had a good day and it was great to see everyone outside when the last group came in .
But it was a competition and there had to be a winner.
3rd place group were, Irving Newton ,Barbara Shannon ,Dave Parmenter with a score of 53.8
2nd place were Tim McCrohan, Craig Brown and Mike Patrick with a score of 52.6
1st, with a gross score of 64 and net of 51 were Dean Knowles, David Robinson and Talbot Field.
Thanks from Captain Gareth Hall.
Peggy Francis 3 Clubs and a Putter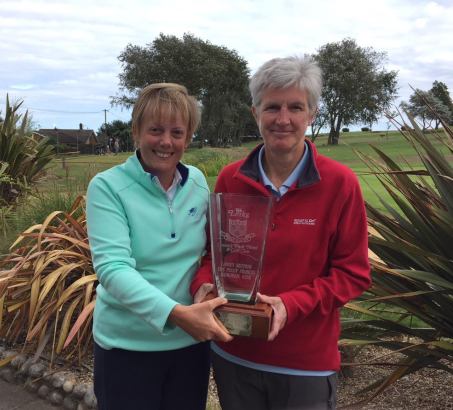 Once again the ladies proved that you don't need 14 clubs in your bag to chalk up a good score!
14 of us played in the Peggy Francis Trophy and Ali Rix won with 40 points. She also scored two 'twos', on the 3rd and 12th holes.
Helen Newton came second with 36 points and Jane Gomm third with 34.
Its the third time that Ali has won this competition in the last five years so if anyone wants to buy her spare clubs, just let her know!
Par 3 Competition
On Sunday the 19th August the Links held its first 18 hole par 3 competition.
The distance of the holes were shrunk to par 3's with new tee off areas added were necessary. With the addition of very few shots given to players as handicapers and more windy than we have been having, made for a interesting day of golf.
From the comments I have received I beleive all who took part enjoyed it.
But it was a competition and there was a winner, so in 3rd was Tim McCrohan, 2nd Ray Tegg and coming first and winning the first but hopefully not last, par 3 Competition was David Bates, well done.
And well done to all who took part.
Gareth Hall
Captain
Caroline and Ivor's Golden Wedding Charity Golf Day
A golden day was enjoyed by all as members and guests helped Ivor and Caroline celebrate their 50th anniversery with a golf day in aid of the East Anglia Air Ambulance.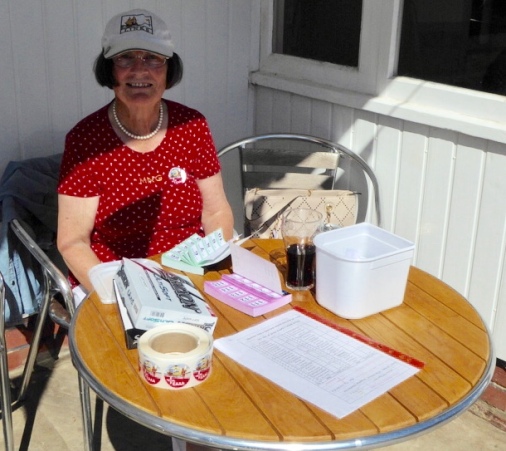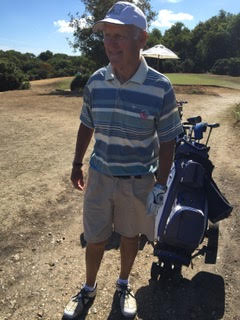 The winners of the Waltz were Paul Attenborough, Sharon Page, Margaret Carpenter and Bernard Le Bargy (Sheringham GC) with 91 pts. Runners up on count back with 89 pts were Alick Mackenzie, Dave Parmenter, Liz Hewett (Royal Cromer GC) and Mike Page (Dereham GC). Also with 89 pts were the team of Jane Gomm, David Boyle, Gordon Robertson and Norma Neave.
Allan Baillie (Barhill GC) and Bernard both had 2's.
Ladies - Nearest the Pins were Julie Miekle on 3/12 and Jane with 2nd shot nearest on 9/18.
Men's - Michael O'Connor on 7/16 & Paul with 2nd shot nearest the Pin on 9/18.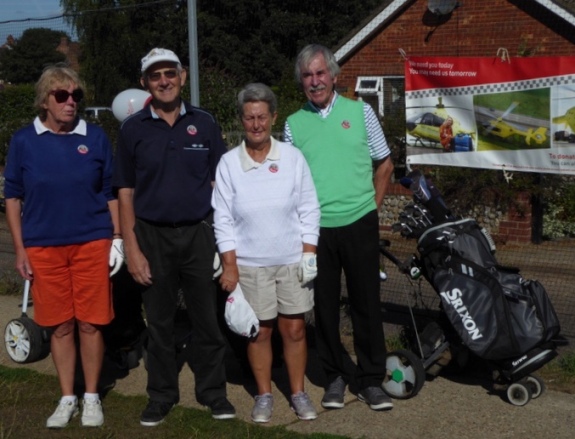 However the big winner on the day was The East Anglian Air Ambulance. The magnificent sum of £1,003 was raised from various golf competitions, a raffle, an auction and donations from family, golf members and friends.
The day finished with a superb evening meal in the hotel for a small group of family and close friends.
Ivor and Caroline would once again like to say a huge 'THANK YOU' to everyone for making the day memorable for us.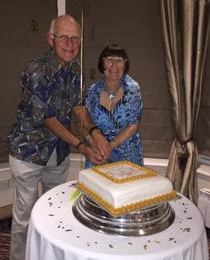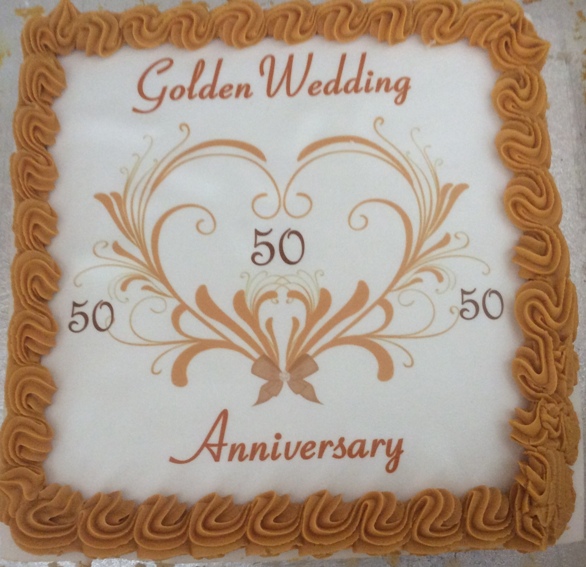 New Loyalty Cards
Memo
To: All Members
From: Dominic
Date: 3rd August 2018
Subject: Loyalty Cards
I am pleased to say that the new loyalty card system is currently being introduced.
Please be aware that the old Loyalty cards will no longer be useable.
The process to move to a new card is:
1. See Dominic, or, on his days off, see Reception.
2. Complete a registration form.
3. Hand in the old card.
Your new card will then be activated and given to you.
The points and money collected via the old card will be transferred to the new card within approximately 7 days.
The totals will then show on the new card when you use it.
The system was trialed with a couple of members cards yesterday.
Golf members will continue to collect points at 10% for every whole £1 spent.
The new system will allow you to go online to view your totals. Details on this will follow.
Last Man Standing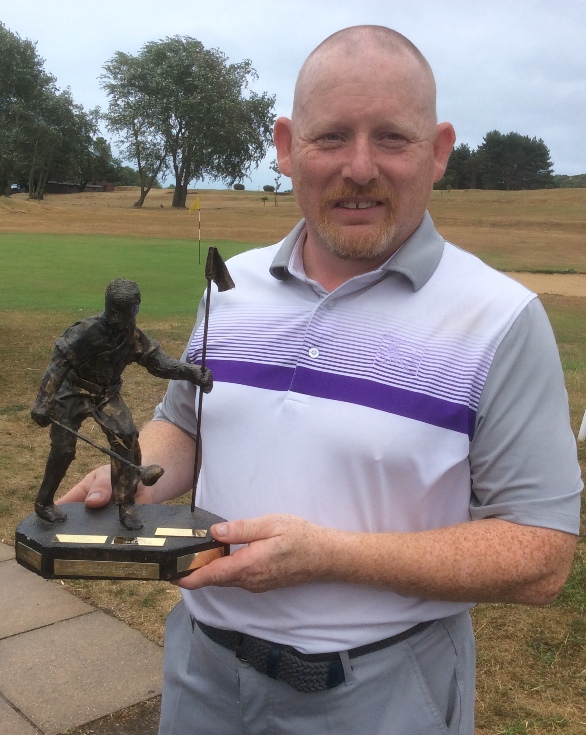 Club Captain, Gareth Hall is still the Last Man Standing as he became the first person to retain the Trophy.
His tenacity and love of Matchplay golf helped him win four knockout rounds of golf.
Gareth beat Mike Jones (another Welshman) in the final and it was on the same day that Geraint Thomas became the first Welshman to win the Tour de France. Another test of endurance.
The third and fourth playoff was won by Ivor Collett thanks to his victory over Eddie Baker.
Evan Tuck just beat Dave Wright to become the Complete Loser, the competition for those who lost their first round match.
David Robinson scored a Hole in One on the par 3 third, his first HIO, but it was not enough to go through to the next round. David is pictured receiving his certificate from Mark Nelson-Griffiths, Seniors Vice Captain.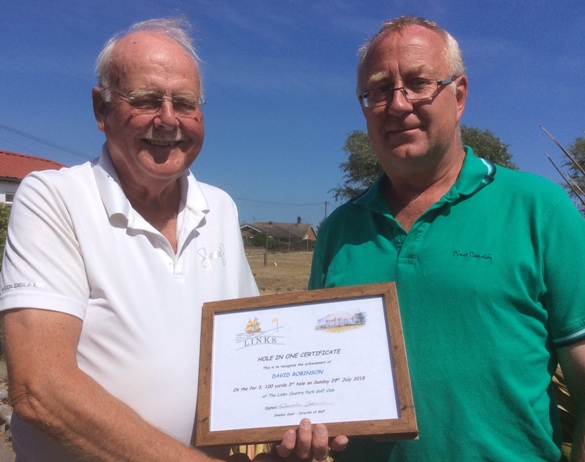 Ladies Invitation Day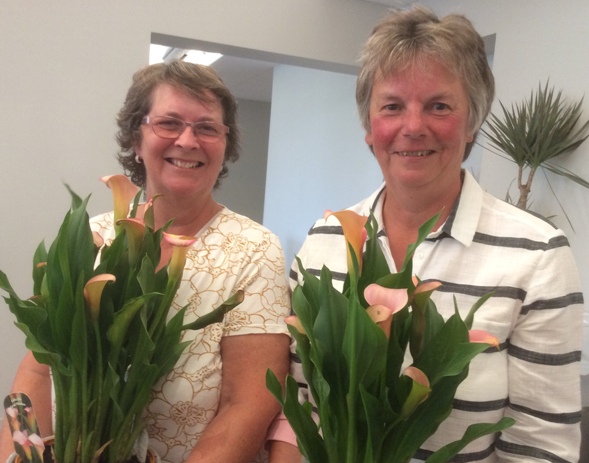 The Ladies Invitation Day was a 4BBB competition held on the hottest day of the year so far.
The scoring was exceptional with Kathryn McCrohon and her guest from Royal Cromer, Liz Hewett, scoring 44points.
This was enough to beat Kate Attenborough and her guest, Christine Tew from Sheringham on count back.
After play a very enjoyable meal in the hotel before presentation of the prizes.
Gary Player Trophy
David Robinson was a deserved winner of the Gary Player Trophy with a splendid nett score of 61 which saw his handicap cut down to 20.
Tony Medland was runner up and David Bates beat Mark Nelson-Griffiths on count back for third place.
Smoking on the Course
Hello everyone captain here,
Due to the warm patch we are going through at the club, the course is very dry and could easily catch fire . As has happen both at Cromer and Sheringham . So could we all please be diligent with guests and other members smoking on the course. If you do smoke, please where possible take your cigarette ends with you off the course .
Thank you all
Gareth Hall Club Captain
Seniors Championship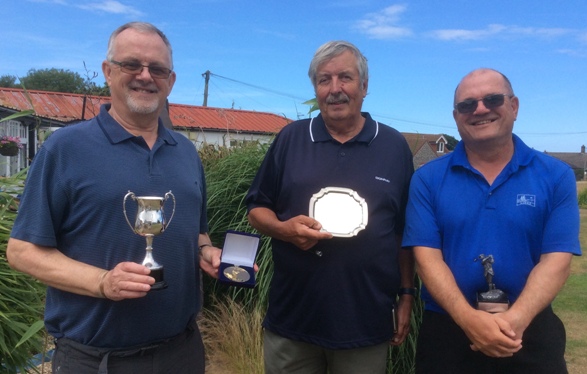 Irving Newton added the Scratch Seniors Championship with a gross 76, to go with his Club Championship, but this time by only one shot from Tim McCrohon.
David Samuel retained the Handicap Championship with a nett 58 on count back from Gordon Robertson who became Over 70's Champion for the second time in 3 years. Both players had handicap cuts. David was also the winner of the Seniors July Medal.
There were a lot of strong performances with no less than 14 players recording a round of nett par or better.
Best Front 9 was Evan Tuck and Best Back 9 was Talbot Field.
Nearest the Pins winners were Irving, Tim and John Chilton.
Ladies at Division 4
Four Links ladies played in the County Division 4 competition on Wednesday 18th July; Maggie Baker, Joan Munday, Sarah Dewhurst and Sharon Page.
For Sharon it was her first such event and she came 3rd on 38 points! The winning (and indeed the runner's up) score was 39 so she did really well.
There is also a team trophy (based on the aggregate of two scores) and Sharon and Sarah had an aggregate of 72 which put them in second place to a pair from Sheringham who had 76 points - the pair being a certain Sandy Spink and Chrissie Whyman! It was great to have such a good representation from The Links.
Ladies Championship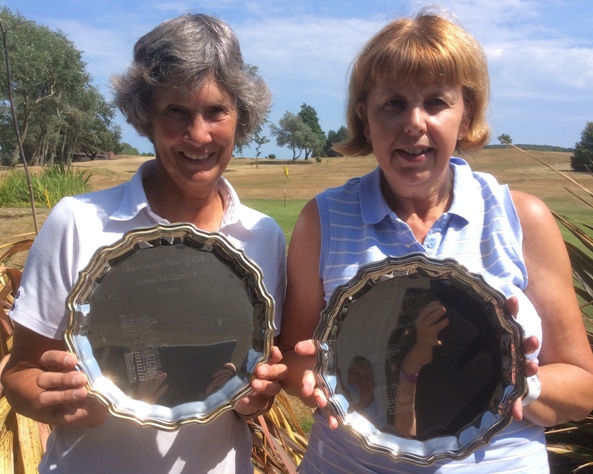 Jane Gomm and Alicia Goulty were the winners on Ladies Championship Day.
Jane is the Scratch Champion and finished two shots ahead of Ali Rix.
In the Handicap competition, Alicia was tied with Kate Attenborough but won on countback. Kate also missed out on countback in last years compeition.
Captain's Day
Men's Tankard winner - Michael Jones 41pts earned a handicap cut of 1 shot to 24; 2nd Tim McCrohon 40pts; 3rd Evan Tuck 39pts.
NTP 3/12 - Tim McCrohon; 9/18 Irving Newton
Ladies Rosebowl winner - Alicia Goulty 40pts - lowering her handicap to 22; 2nd Caroline Collett 38pts ocb; 3rd Sarah Dewhurst 38pts just beating Maggie Baker ocb.
NTP 3/12 - Alicia Goulty; 9/18 Caroline Collett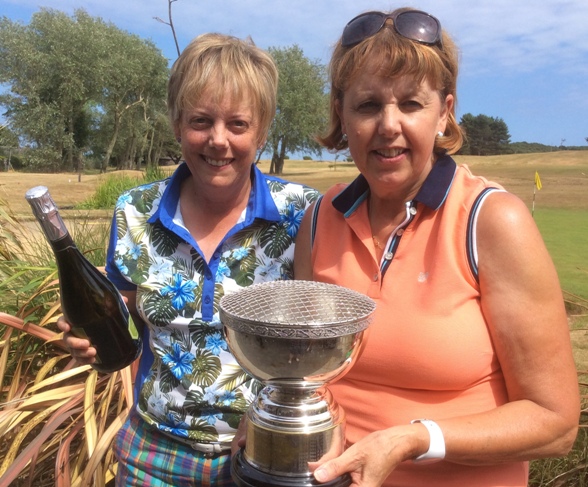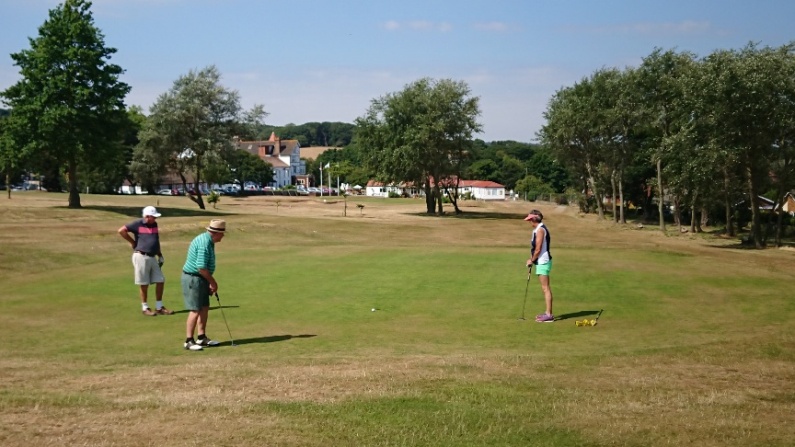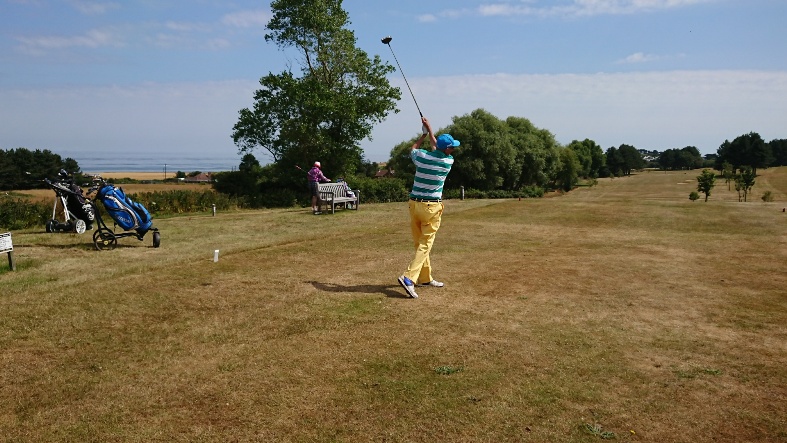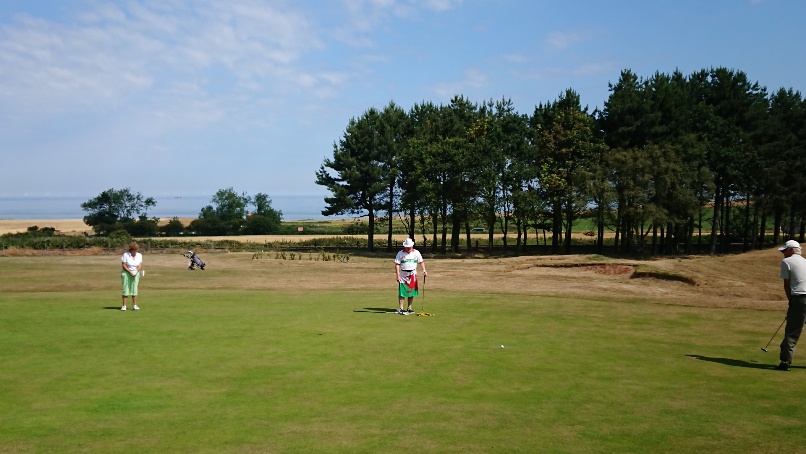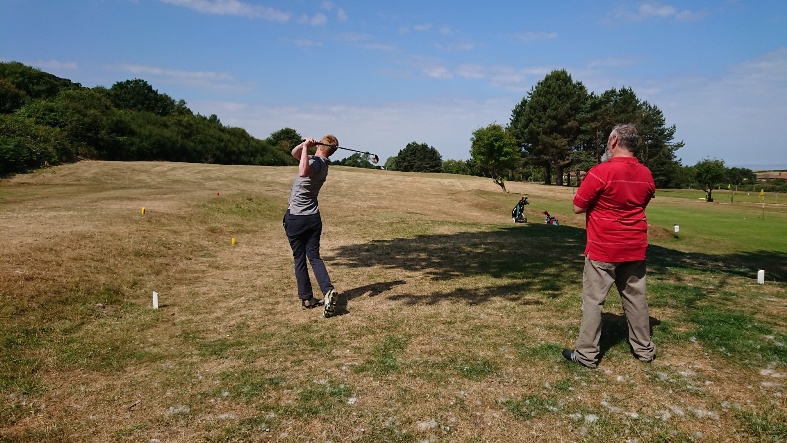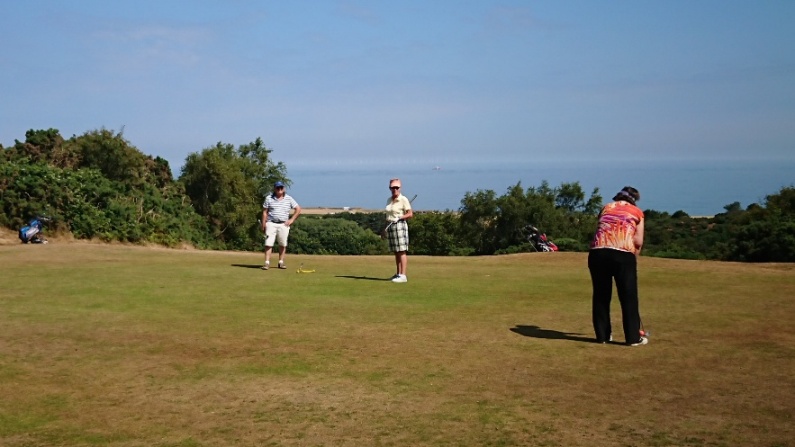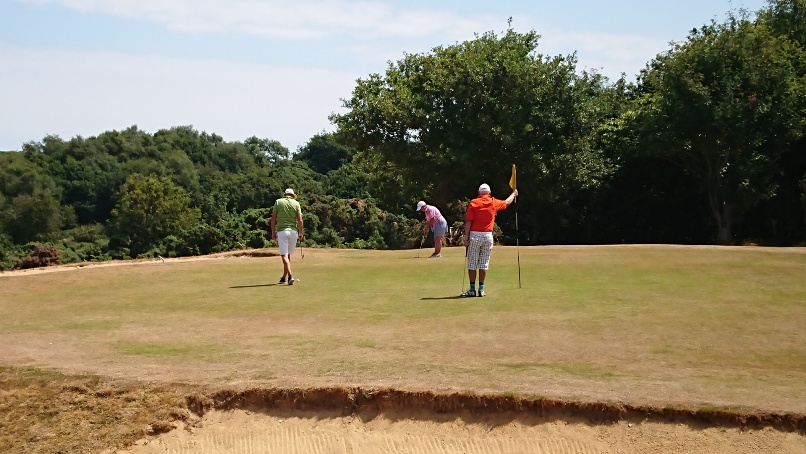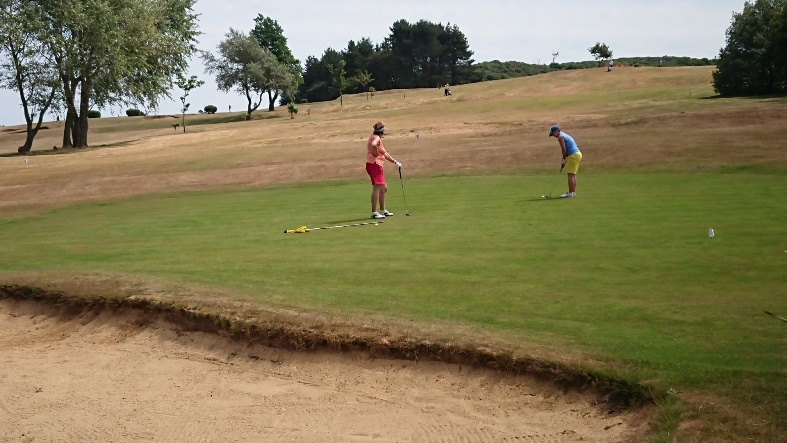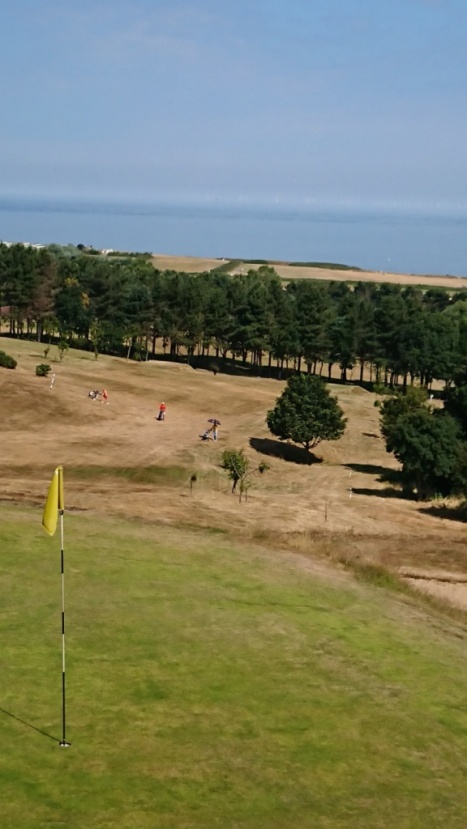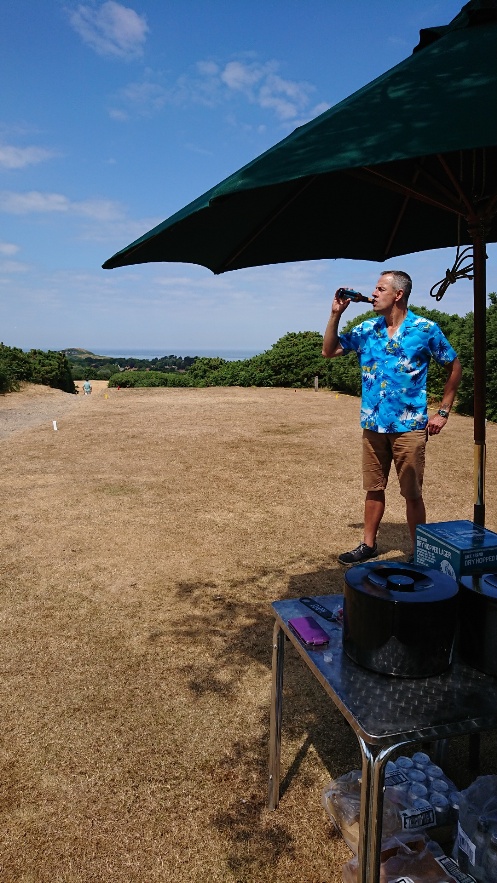 TWO HOLES IN ONE !
Ali Rix has scored two holes in one in a week!
The first ace was on the third hole in the Ladies Medal on Monday 25th June. Ali will be awarded a Hugo Boss watch because it was achieved in a formal competition.
Then a week later, Ali amazingly scored another hole in one on the same, this time during a friendly game with Jane Gomm.
Ali had never had a hole in one before.
Club Championship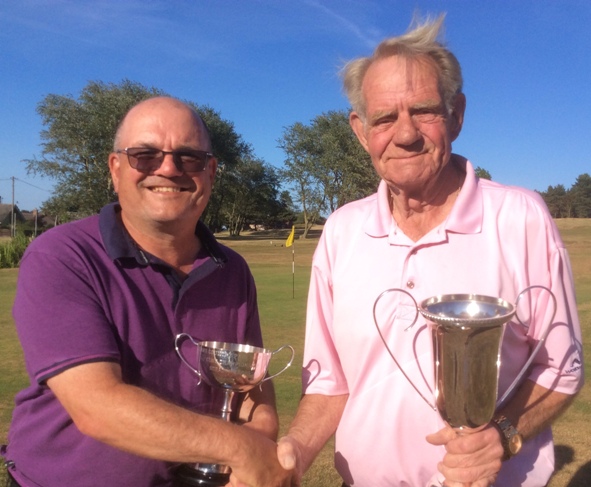 Hugh McCrory and Irving Newton were the winners of the Club Championship which was played over 36 holes in testing hot conditions.
Irving won the Scratch competition and Hugh was the Handicap winner.
Second place behind Hugh was Michael O'Connor and third was Irving Newton.
The best nett morning round was recorded by John Seaward and the best afternoon round was by Hugh McCrory.
There were five two's; Tony Medland, Hugh McCrory, Ivor Collett, John Seaward, John Chilton.
Midsummer Trophy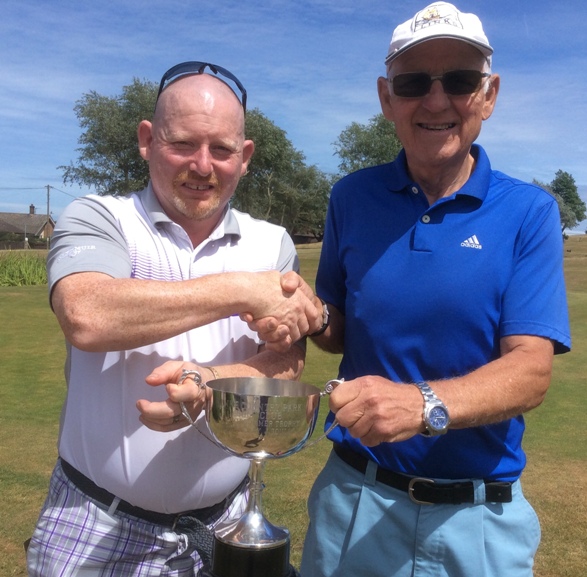 The field teed off in glorious weather which resulted in very good scoring.
The winner, Ivor Collett returned a nett medal score of 59 which cut his handicap to 19.6.
The runner up, Tim McCrohon had a nett 63 with Kane Waldren with a nett 64 edging out Gareth Hall on count back for third place.
Amron Trophy and Charity Day
Thank you to everyone who took part on the Amron Day and to Norma for her organisation and arranging so many prizes.
An incredible figure of over £1,000 was raised on the day for Canine Partners which is this years Captain's Charity.
Amron Trophy
1st Sarah Dewhurst 41pts ocb
2nd Carole Davidson 41pts ocb;
3rd Jane Gomm 41pts.
Open Competition for those with Handicaps
1st Mark Nelson-Griffiths 40pts;
2nd David Robinson 38pts;
3rd David Bayle 33pts
New members - Julie Little 32pts
Best Behaved Dog for 18 holes - Eddie (Barrie Bensley)
Dog Race - Honey (David Robinson)
Putting Competition - Mickey Bullen
Breakfast Cup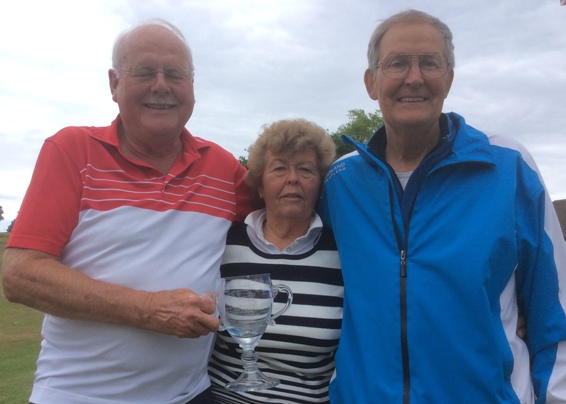 Drizzle greeted the players as they teed off at 5.30am. This soon stopped and the players completed their Texas Scramble in good time and there were just 6 shots between all the teams.
The winners were David Robinson, Norma Neave and Evan Tuck with a nett score of 59.3. The runners up were Gareth Hall, Barbara Shannon and Tim McCrohon on 59.7 just pipping the team of Andrew Neave, Michael O'Connor and Ryan Neave by 0.1 - their score being 59.8.
After golf, everyone thoroughly enjoyed a hearty full breakfast in the hotel.
Ladies Breakfast Cup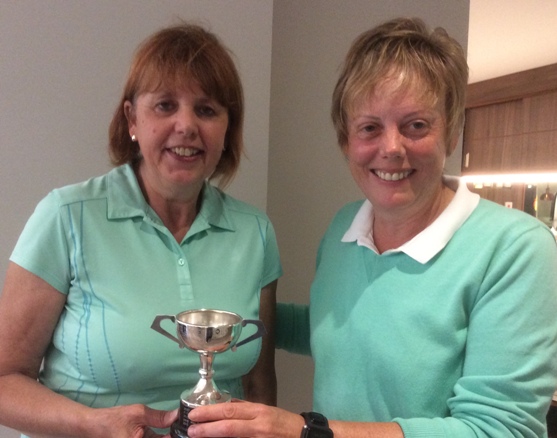 The ladies teed off at 7.30 and played in glorious sunshine.
Our current lady player of the year so far, Alicia Goulty won with an outstanding 40pts, which saw her handicap reduced to 25. Runner up was Kathryn McCrohon on 34pts, with Sarah Dewhurst beating Carole Davidson on countback with 32 pts.
Two of our newer ladies, Susan Tuck and Corrine McVey joined in the competition and Carole presented them with a small prize at breakfast in the hotel after play.
Anniversary Cup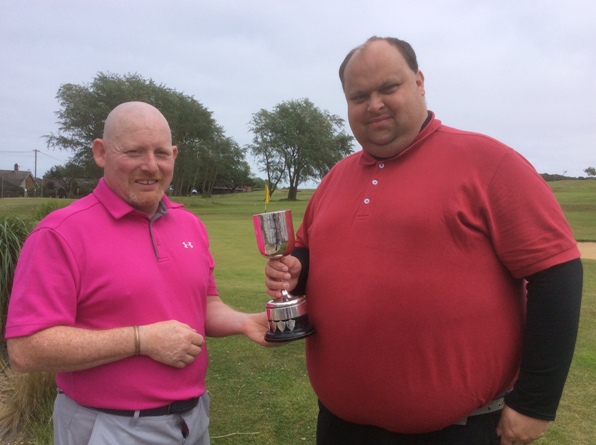 A close contest for our oldest trophy resulted in 6 players within 3 shots of the winner.
Craig Brown won on count back from Kane Waldren on nett 67, with David Robinson third with nett 68, beating Dave Bates on count back.
John Seaward and Eddie Baker both scored nett 69
R&A 9 Hole Stableford Q
Sunday 3rd June is the R & A 9 hole Stableford Q (entry sheet and conditions on the main notice board). The first two in the competition could have the opportunity to play at Carnoustie before the Open.
For all those interested, we will also be doing a back 9 hole swindle after the competition. I will put up a sheet to add your name to .

Thank you
Gareth Hall
Captain
Links Open Am-Am
Just 7 points separated the nine teams in a closely fought Links Open Am-Am.
First place on 95 points were The Bacon Rollers of Irving Newton, Hugh McCrory, Eddie Baker and Barrie Bensley.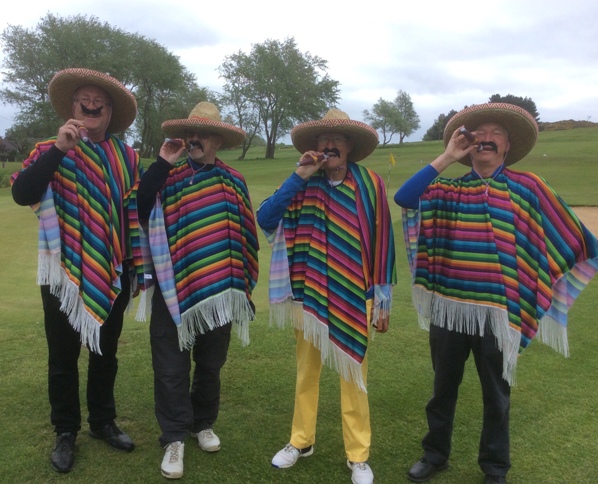 Runners up and defending champions were the Pheasant Pluckers of
David Robinson, Dave Wright, Norma Neave and Ray Tegg with 94 points.
Third were Impact (established 2017) who were Ivor Collett, Paul Attenborough, Alick Mackenzie and Mike Eldred on 93 points.
Fourth were Los Links Banditos with 92 points, Evan Tuck, Mark Nelson Griffiths, Dave Parmenter and David Samuel - photo attached - just beating 'The Sultans of Swing' team on count back.
Nearest the Pin winners were Ian Howe (Royal Cromer), Kevin Abbs (Royal Cromer) and Margaret Carpenter.
Best team name was 'Don't tell them your Name Pike' - Peter, Ian, Kevin and Ev.
The golf was enjoyed under sun and blue skies. After the golf, there was a meal and prize giving in the Hotel.
Ladies Away Weekend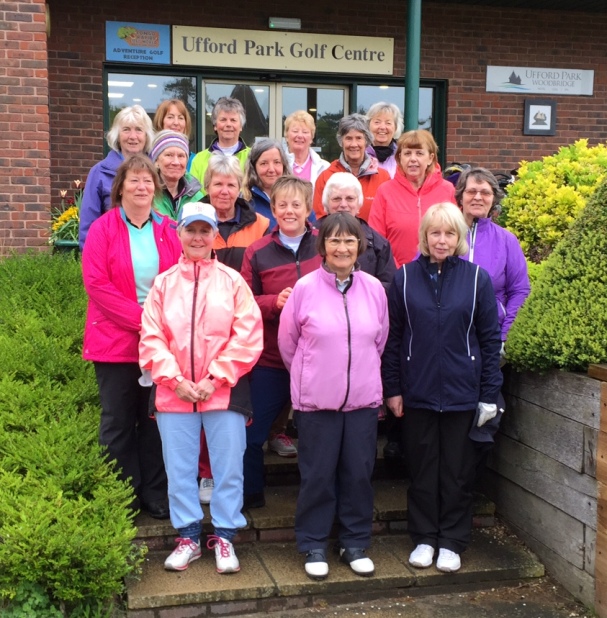 The ladies had a very mizzly (but far from miserable) weekend at Ufford Park. They played for The Lady Captains's goblet over the two days and the winner was Alicia Goulty with a total of 65 points. Jane Gomm was second with 62 points and Caroline Collett third with 51 points.
As well as the main prize there were winners of the Mr Blobby cup on both days – no guessing what that was for! Also the bucket and spade for entering the most bunkers and a special prize for landing in the most water hazards.
All in all we had a great time – it could only have been improved by better weather but there are certain things which no amount of planning can ensure!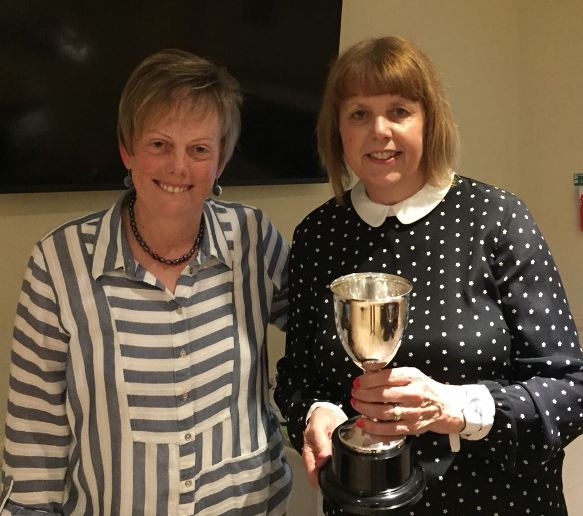 Millennium Trophy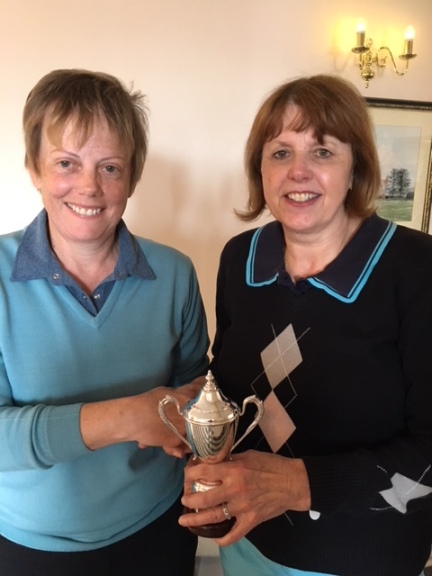 Millennium Trophy was won by Alicia Goulty with a Stableford score of 38 points, which was just one point ahead of Sharon Page. Ali Rix was third with 32 points.
This was the second time that Alicia has won this trophy, the previous occasion was in 2002!!
Centenary Trophy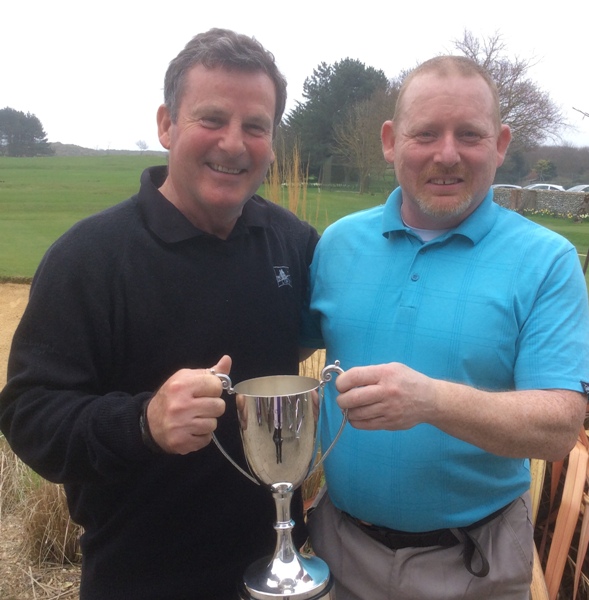 Peter Hicks won the Centenary Trophy for the first time with a score of 40 Stableford points.
In conditions which were beginning to resemble Spring, Peter was just two over for the last 5 holes and won by two points from Ivor Collett.
Peter's handicap was cut by 0.6 to 17.7.
A further two points back in third was Club Captain Gareth Hall on 36 points.
Ladies 9 hole Winter League 'Mean Golfer'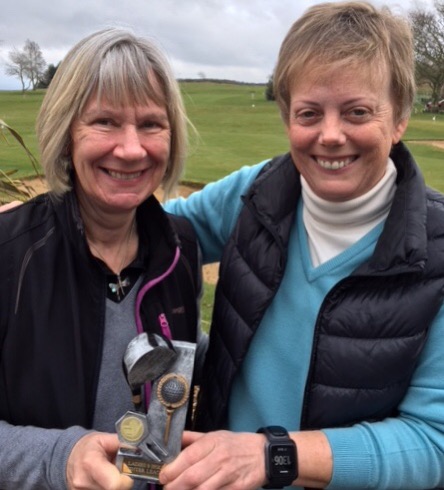 Barbara Shannon won the Ladies 9 hole Winter League. It was the first individual trophy Barbara has won since joining the club in 2016.
In second place was Helen Newton and third was Liz Hewett.
The winner of the ladies 18 hole Winter League was Ladies Captain Carole Davidson for the third successive year.
Jane Gomm was second and Caroline Collett third.
Carole is pictured presenting the 9 hole trophy to Barbara.
Phil Crump Shield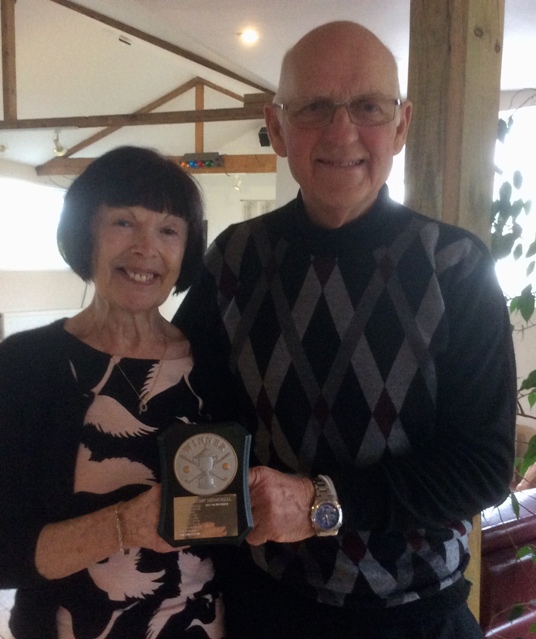 The first Eclectic qualifier of the year was won by Ivor Collett with a fantastic 41 stableford points.
The competition was postponed from its original date in late February to due bad weather.
Simon Marr was second with 39 points and third place was decided on countback with Andrew Neave's scoring 36 points.
The club welcomed Phil's widow Sandra and her family and in accepting the trophy from Sandra, Ivor gave a heartfelt speech including his memories of Phil.
Sandra generously gave the club a donation for the Canine Partners charity and she was presented with an orchid.
Club v Old LaGGS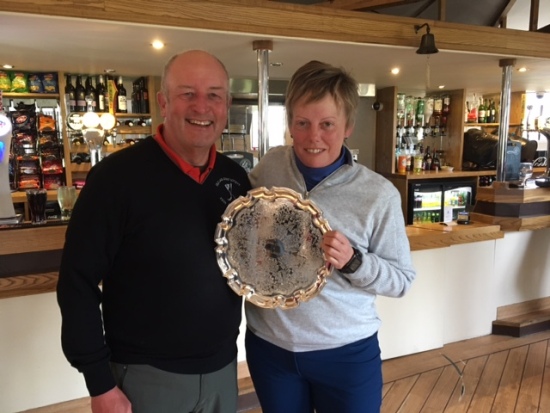 The club welcomed the Old LaGGS back to the Links for their annual match.
As usual the Old LAGGS took the challenge very seriously with a practice 9 holes in the morning, followed by lunch and beer before the afternoon competition.
Despite some close matches, the club once again won, this time by a margin of 13 holes.
Carole Davidson was presented with the Salver by Mike Greensmith of the Old LaGGS. The old LaGGS generously donated money to the Captain's Charity which is Canine Partners.
Easter Egg Stableford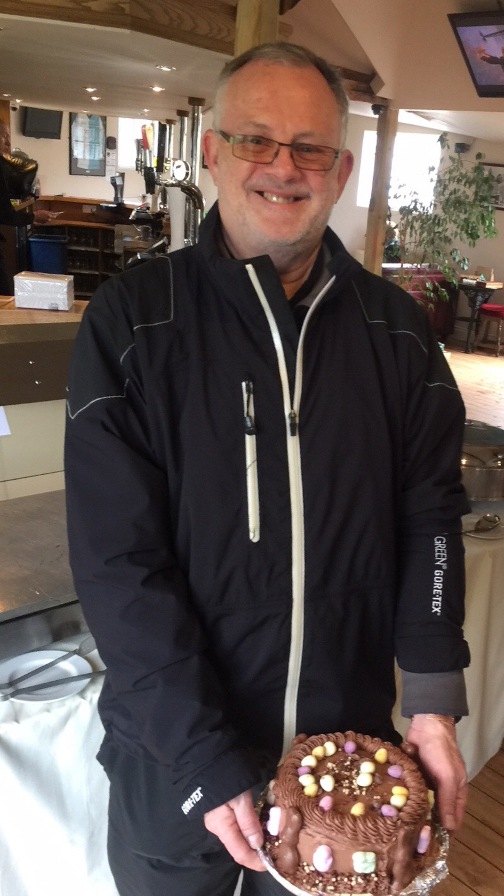 The Easter Egg three clubs and a putter Stableford, was cut to 9 holes due to torrential rain.
On April Fools day it was the weather which had the last laugh.
Despite the conditions, three players came in with 18 points, with the winner on countback being David Samuel. In second was Evan Tuck and third was John Chilton.
David is pictured holding a amazing Easter cake made by Club Captain Gareth Hall.
All of the other players went home with a Easter Egg.
Seniors Winter League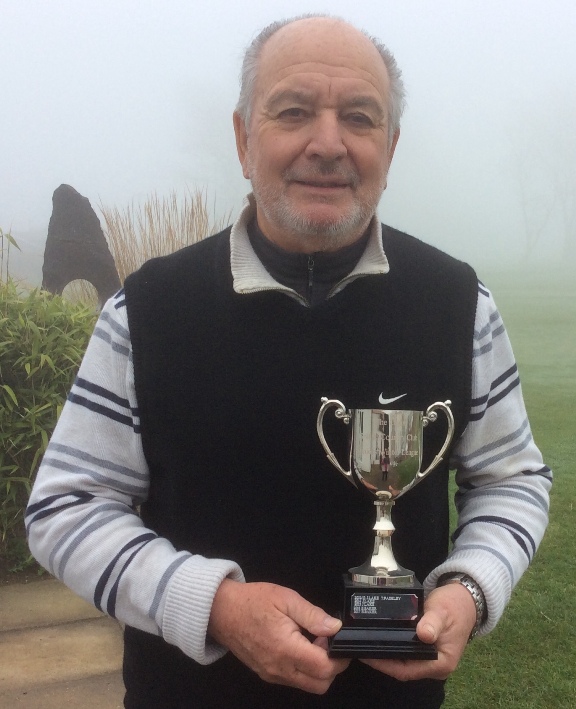 Eddie Baker won the Seniors Winter for the thrid year running.
However it was a close run competition with Eddie just one point ahead of Ivor Collett who was second. John Wells was third.
Eddie is pictured with the trophy and some suitably wintery weather conditions.
Pitch Mark Repair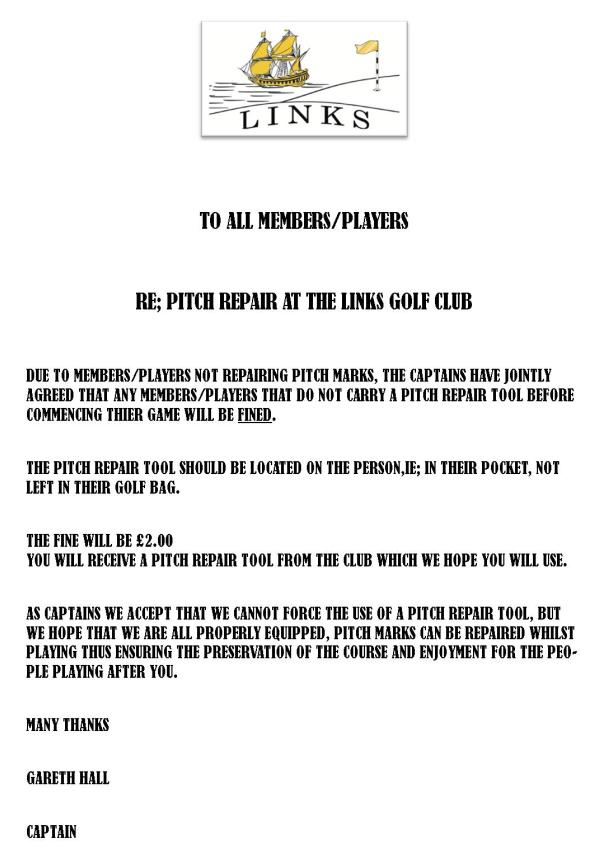 Captain's Choice Trophy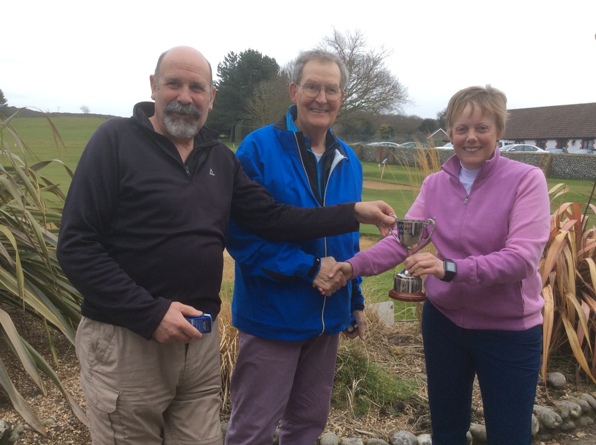 The winners of the Captain's Choice Team Trophy were Vince Ryan, Helen Newton and Evan Tuck with 79points.
In second place were Ladies Captain Carole Davidson, Paul Attenborough and Margaret Carpenter with 74pts while in third place on count back were the team of David Bates, Kate Attenborough and John Chilton with 70pts.
Barbara Shannon scored the only two and the nearest the pins were won by Carole Davidson and David Bates.
All three Captains would like to thank everyone who contributed to raising £182 on the day for their chosen charity, Canine Partners.
Leisure Timetable
New Leisure Classes Available
Improve your golf and your fitness while having fun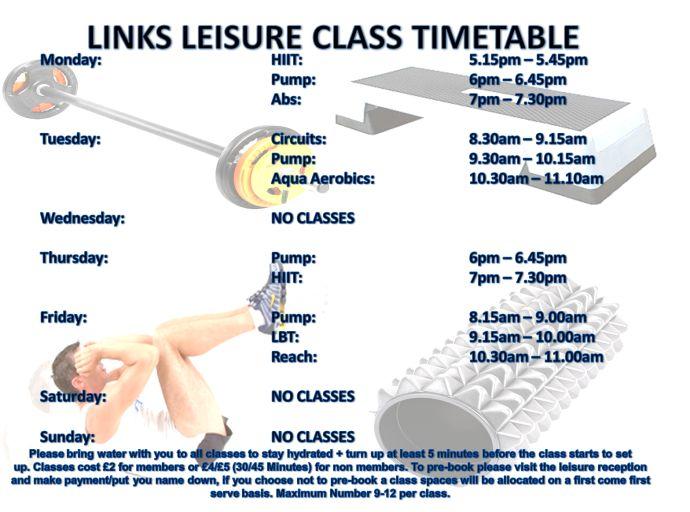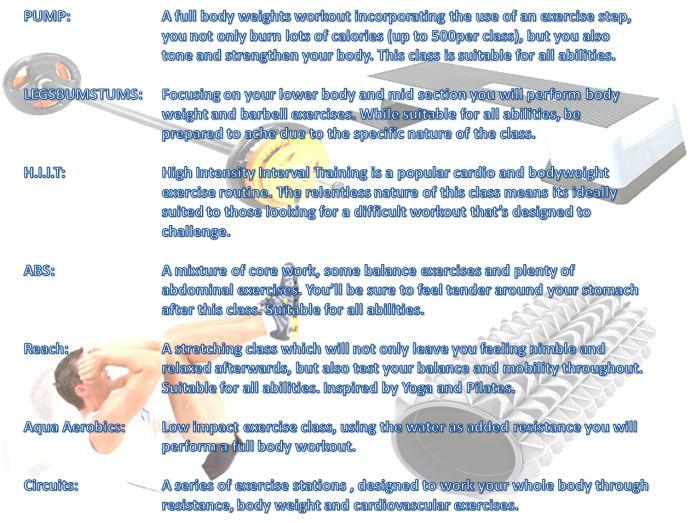 Golfers have Returned
Golfers have returned to the course. The Ladies and Seniors played their Team Waltz after a week of the course being closed due to snow.
There were still a few snow bunkers and the ditch across the 4th is definitely best avoided, but we look forward to seeing you out there now the weather has improved.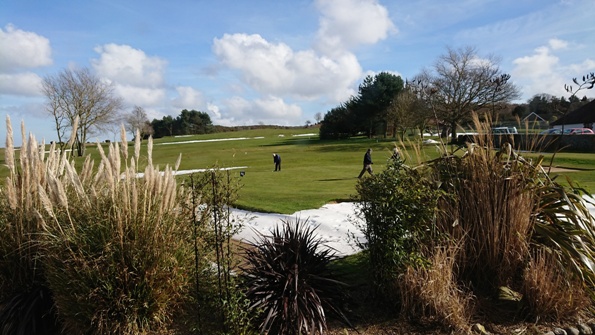 Course Update - 3rd-5th March
The course will remain Closed on Sunday 4th March.
Looking at the temperatures, we expect that the snow will have melted by the end of Sunday.
However, the snow melt and the rain forecast for Sunday evening, may mean it is laying very wet.
Monday. We are unlikely to know whether the course is dry enough to open for the Ladies and Seniors Competition, until Monday morning.
Course update - 27th February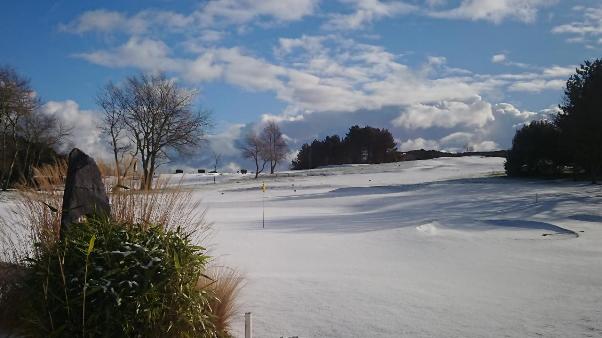 The golf course will be closed all week. It is likely to still be closed on Sunday when we are due to play the next round of the Winter League. Updates will follow...
Message from Gareth and Dominic
apologies to members
as club captain i am sorry for calling the Phill Crump shield off . Sunday morning i thought i had got it wrong so desided to take the dogs for a walk at 7.50 the temp in car was reading -1 the first tee 9th green all still frozen . On way back at 8.40 the 6th tee and 5th green still frozen and temp still only 0 . Hopefully that is the last time we will have to call a game off .
thank you club captain
Gareth hall
Message from Dominic
The course did open later in the day on Sunday. However, with temperatures forecast to stay very low all day, it would not have been realistic to ask players in the competition who may have arrived for an 08:30 tee time, to wait around all morning in the hope of some play.
I checked the course at 8am on Sunday and the ground was very hard and there was also some surface frost.
Gareth and I were looking at the forecasts all week and decided on Saturday, that there was little prospect of running the competition as planned. It is very unusual to call off a competition a day before, but we felt that in this specific case, members would appreciate the early call.
The course is looking likely to stay closed all week (w/c 26th Feb). When the thaw comes, we will monitor how wet the conditions are before re-opening the course.
We are sorry the course is closed, but we hope to enjoy the benefits once the weather improves.
Stay safe and warm.
Dominic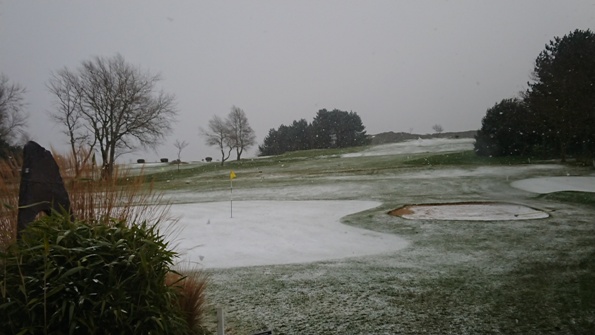 Fixtures Update
An additional reserve date has been added to the Club Winter League fixtures.
This date is 25th March.
This date will be used if either of the rounds on the 4th March or 18th March cannot take place.
The current forecast for 4th March is still very cold, so the course may be closed due to frost.
If you are looking further ahead, please also note that the date for the Club Championship has moved to 1st July to avoid clashing with the Mens Wimbledon Final and football World Cup Final.
Please check the fixtures page regularly, to keep up with any changes.
Benjamin Foundation Presentation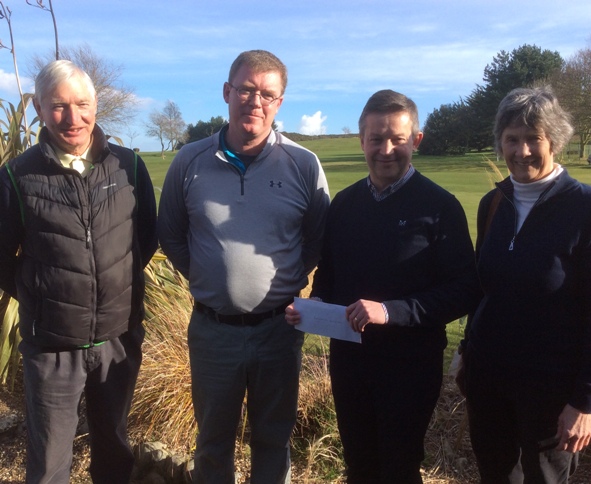 Tony Ing, the Chief Executive of last years Captain's Charity the Benjamin Foundation, has been presented with a cheque of £4,660 from the club.
2017 Captain's Simon Marr, Jane Gomm and Dave Parmenter were joined by members and guests for the presentation.
Money was raised throughout the year at club events and through special fundraising activities such as Sarah and Jane's sleep out in November.
Thank you to everyone who supported this very worthy cause and who gave so generously.
_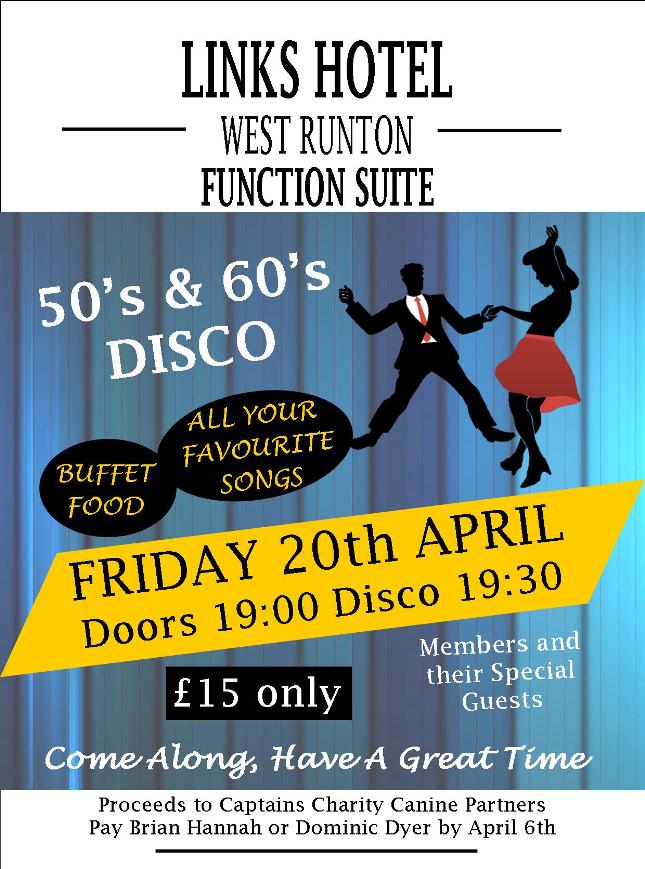 Course Work - Moles
We are currently carrying out work to try to control the moles.
This initial stage has involved collapsing their runs and setting traps.
While earth has been used to try to level the ground above, please be careful as there may be uneven areas.
Also, please be aware of stones that have come up in the mole hills and of the mole traps.
We aim to push the mole activity away from fairways and the main playing areas of the course.
Captain's Drive In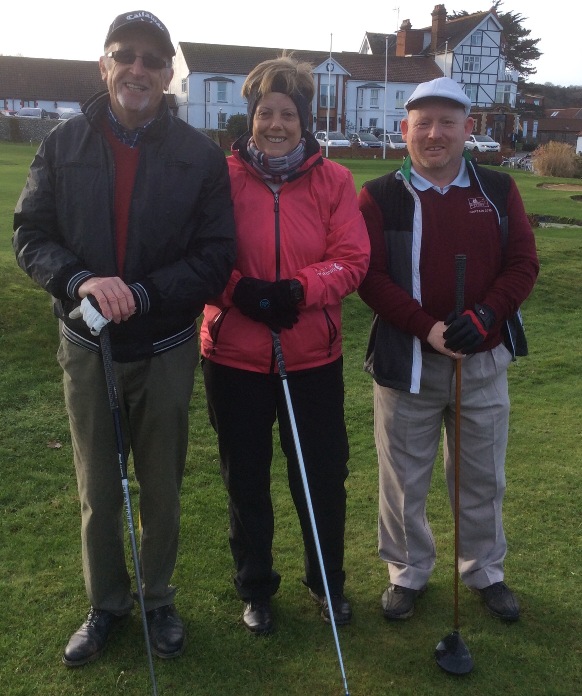 The 2018 Captain's Drive In in style.
Club Captain Gareth Hall led the way with a great drive up the first hole. Ladies Captain Carole Davidson followed with another long shot and Seniors Captain Brian Hannah completed the trio of fine shots in front of over 40 members and guests.
£114 was raised for Canine Partners (caninepartners.org.uk) the new Captain's Charity, from members placing lollipop sticks where they thought the drives would finish.
Last years Ladies Captain Jane Gomm was closest to predicting where Gareth's drive would finish, while Norma Neave was closest to Carole's shot and David Samuel was closest to Brian's drive.
The 9 hole team Stableford was won by just two points by members of Gareth's team. His team of 10 scored a total of 143 points, Carole's team scored 141 points and Brian's team were not far behind on 134 points.
The two best individual 9 hole stableford scores were Gareth Hall and Tony Medland with 20 points.
Thank you to everyone who came along to support the Captain's Drive In and we wish Gareth, Brian and Carole a successful and enjoyable 2018.
CONGU Changes 2018
Boxing Day Cup
Ivor Collett's Christmas celebrations were completed with a win in the Boxing Day Cup.
Ivor shot nett 32 (1 under par) in this 9 hole competition and took the cup.
In second was Ryan Neave with a nett 35. Ryan also scored the only 2.
There was a tie for third place on nett 39 with John Chilton beating Ray Tegg on countback.
Club Captain Simon Marr made his last official presentation as Captain. Simon, thank you very much for all your time and hard work throughout the year.
Boswell Foursomes
David Bates and Tony Medland won the Boswell Foursomes with a nett 63.5.
The foursomes competition acts as a qualifier for the Daily Mail Foursomes in 2018. The dynamic duo of David and Tony will represent the Links with style. We wait to see what their matching outfit will be.
In second place were Barrie Bensley and Tim McCrohon on 68 and third were Dave Parmenter and Paul Attenborough on 69.5.
The Ladies will be represented in the Daily Mail Foursomes by Caroline Collett and Jane Gomm who finished just ahead of Ali Rix and Helen Newton.
Links v Golf Writers
The Links welcomed honorary member Michael McDonnell and the Golf Writers to the club for the annual match.
The Golf Writers had warmed up with a round at Brancaster the previous day.
However the Links team made the most of their home advantage and retained the cup.
The last win for the Golf Writers was in 2015.
Pictured are Ladies Captain Jane Gomm and Golf Writer Colin Callander with the cup.
Sarah and Jane's Rough Sleep Out!
Sarah and Jane played golf in the rain on Sat 4th November, then did their rough sleep out on the coldest night of the autumn so far. Thanks to the generosity of members, family and friends they hope to have raised in the region of £1,300 in sponsorship to go to the Benjamin Foundation to help in their efforts to house and assist young homeless people in our region.
A big thank you to all those who have contributed. If you have not yet handed in your sponsorship money please do so to Jane, Sarah, Joan or Dominic and tick your name off the list as having paid.
The before ..... and the after
Winter Rules
Preferred Lies and Winter Rules are now in operation for all competitions until further notice.
For more details please see the notice board or the Rules of Golf p142-144.
Captain's Away Weekend
This year the Links went to Greetham Valley for the Captain's Away Weekend.
After three rounds of golf on the Lakes and Valley courses Dave Parmenter was crowned the winner.
In second place was next years captain Gareth Hall.
The guest winner was Mike Whyman, now of Sheringham Golf Club.
Hole in One for Michael Jones
Michael Jones scored a hole in one from the new 12th tee in the Seniors Winter League Qualifier.
The ace was the first on the 12th since the new tee was opened earlier this month.
Michael hit a 6 iron and according to those watching,he had a little assistance from the flag stick as the ball hit it, before dropping straight into the hole.
Michael scored a total on 36 stableford points to come third in the competition. The winner was Talbot Field with 39 points and he scored a Two on the 12th hole. In second was Vince Ryan on 37 points and in fourth on countback was Eddie Baker with 36 points.
Links Open Medal Q
On a very cold, at times wet, and windy day, David Bates had a very tidy round of 67 nett to win the Links Open.
Barrie Bensley was runner up after a 72 and in third place was Ivor Collett on nett 76.
The weather really affected the round and some groups failed to complete all 18 holes. The 4th hole was playing particularly difficult with the wind and lack of roll on the fairway due to the wet conditions.
Well done to everyone who took part.
Norfolk Senior 9's
RAF Marham won the Norfolk 9's Trophy for the first time, after supporting this event since it began.
Their score of 5 best scores from their team of 6 was 177pts. This was enough to hold off both the Links A and Links B teams by a single point.
Vince Ryan was the individual winner with 43pts, while Tim McCrohon and Dave Wright won best back 9 and best front 9 prizes.
Everyone joined together after play for a superb meal in the hotel.
Couples Cup and Pairs Competition
Tim and Kathryn McCrohon won the Couples Jug for the third time in a very close finish.
Their score of 40 stableford points was matched by Irving and Helen Newton, however Tim and Kathryn won on countback with 21 points on their back 9.
The McCrohon's last win was in 2014.
In third place and just two points behind, where Paul and Kate Attenborough.
Also taking place was the Pairs Competition and the winners were Dave Parmenter and Evan Tuck with 40 points.
Second place in the pairs competition were Craig Brown and Thomas Hall with 38 points on count back from Tony Medland and Hugh McCrory.
All the players were able to enjoy summer like conditions, with warm temperatures, sun and a light breeze.
Past Captain's Trophy
Peter Hicks won the Past Captain's Trophy.
Current Captain Simon Marr welcomed back captains from the past for the annual competition and get together.
This year the 2011 captain Peter Hicks won the trophy for the third time.
Seniors October Medal
Seniors Captain Dave Parmenter presented last year's Club Captain Tim McCrohon with his October medal. There was a countback for 3 players on nett 67, with Tim emerging the winner from Evan Tuck 2nd and Michael Jones 3rd.
Lady Past Captains Invitation
The winner of the 18 Hole Stableford competition for the Lady Past Captains Trophy was Liz Hewett with 31 points.
Members were joined for lunch afterwards by past lady captains Sue Clayton, Rita Battrick and Pat Simpson.
Nibari Trophy Q Ecl
Club Captain Simon Marr was presented with the trophy by one half of the sponsors, Jojo Nibari, after a stunning round of 46pts. This resulted in a handicap cut for Simon of 2 shots. Runner up with 39pts was David Bates, with Vice Captain Gareth Hall third on 37pts.
Vice Captain's Day
Gareth and Carole would like to say a huge thank you to all those that played golf, donated raffle prizes, baked and 'sold' cakes, bought and sold raffle tickets, or just came to support on Sunday.
Despite the weather, there was a really good turnout and on the day we raised £400 for Canine Partners. A great start to our fundraising efforts!
In the competition itself, David Bates was the winner with 37 stableford points. No less than four players were just one point back on 36 points. Seniors Captain Dave Parmenter clinched 2nd place from John Wells in 3rd and Malcolm Munday also on 36 points in fourth.
The leading ladies score was 35 points from current Ladies Captain Jane Gomm.
Seniors Eclectic Winner
In the Seniors Summer Eclectic, the scores were extremely close with Evan Tuck winning with a score of 54.50 from Dave Brooks with 55.125 and third equal were Tony Pashley and David Robinson.
The Seniors Eclectic Cup was won with an average score of 55.958 by Evan Tuck from last year's winner Ivor Collett with 57.125 and Dave Brooks 3rd with 59.125.
Ladies England Golf September Medal
Caroline Collet won the Ladies England Golf September Medal by 4 shots with a nett 70.
In second place was Carole Davidson on 74 and there were two players two shots further back on 76. Norma Neave just edged out Liz Hewett on count back for third place.
Bill Prince Trophy
Dave Arundel won his first Trophy Competition with victory in the Bill Prince Trophy.
Dave scored a nett 65 in rainy conditions. He has been second many times over the past year but until now had not broken through to the winners circle.
In second place was Tony Pashley on 68 while third was taken by Eric Bailey who just edged out John Wells on countback with a 69.
Dave continued his good form by recording his second win in the September Medal.
Hodds Salver v Hunstanton
The Links team beat Hunstanton in the first round of the Hodds Salver county competition.
The team comprising Brian Hannah, Bill Murray, Alick Mackenzie, David Robinson, Tony Pashley, John Wells, Michael O'Connor and John Hackney all played incrediably well to beat a Hunstanton team full of low handicappers, by just one hole.
The finish was particularly dramatic when on the final hole, Michael sank a long putt to clinch the match and avoid a play-off. Phew!
The match was played at the Links which can be an advantage, however the rules of the competition state that the away team get two holes head start.
Well done to the team and good luck in the second round against Royal Cromer.
40's 3 Clubs and a Putter
Proving again that golf can be played with four clubs just as easily as it can with 14, were Simon Marr and Tony Medland.
Both socred 39 stableford points in the three clubs and a putter competition and both also wore 1940's themed clothing.
Simon just beat Tony on count back over the final 9 holes. In third place, and also in 1940's clothing, was Jane Gomm with 37 points.
Summer Pairs Knockout
David Robinson and Dave Wright are the winners of the 2017 Summer Pairs Knockout.
They battled through 5 rounds of tough competition throughout the summer.
The final was played against Tim and Kathryn McCrohon who had enjoyed a great run themselves.
Thank you to all the pairs who took part and for getting the matches played in good time.
Peggy Francis Trophy
Carole Davidson used three clubs and a putter to win the Peggy Francis Trophy with 40 stableford points.
The restriction on the number of clubs that could be used, didn't seem to hinder many of the players with 38 stableford points being scored by second place Jane Gomm and Caroline Collett.
The ladies raised £60 for the Breast Cancer Now charity in memory of Peggy Francis who was a former ladies captain and whose family donated the trophy.
Stanley Mansfield Trophy
Club Captain Simon Marr led his team of Sharon Page and Thomas Hall to victory in the Stanley Mansfield Texas Scramble on a gloriously sunny August Bank Holiday weekend.
The trio who shot an amazing nett total of 54.3. However they needed every shot because the team of Gareth Hall, Ali Rix and Talbot Field scored 54.6 to take second place.
Both teams were well under par even without handicaps being taken into account.
In third place with a 62.2 were the team of David Bates, Barbara Shannon and John Chilton.
Professional's Cup
Craig Brown laid waste to the rest of the field to win the Professional's Cup.
His victory by 10 shots was reminiscent of Tiger Woods in his prime.
The 27 handicapper shot a nett 55 in a round that included 5 pars and a birdie.
Craig has been playing regularly since gaining his first handicap of 28 in 2014. His performance saw his handicap cut by four shots to 23.4.
There was a close fight for second place with three players tied on nett 65. Vice Captain Gareth Hall claimed second on count back from Talbot Field and David Robinson.
Links Athletics Day
Twenty-one of the finest athletes at the club, competed in the Links Athletics Day to mark the World Athletics Championships taking place in London.
Athletics themed tasks were added to the individual stableford competition to gain extra points.
These included the 9th hole 'long jump' where the score only counted if you went in the sand. The 3rd hole shot putt where the first shot had to be a throw. While the first hole had to be played as quickly as possible with the fastest time being an incredible 2 minutes 53 for a three ball to complete a par three. It is testament to the golfers fitness that there were no reports of torn hamstrings.
The Gold Medal winner was Carole Davidson with a magnificent 48 points. She also scored the only two on any hole and won the ladies Longest Drive. In second place, winning the Silver Medal was David Bates with 46 points and Bronze was won by John Chilton on 45. Just outside the medals in 4th was Jane Gomm on count back with 44 points. A photo finish was needed as no less than 5 players were tied on that score.
Tim McCrohon showed his strength by winning the mens Longest Drive competition.
Pictured are the three medalists on the podium while Vice Captain Gareth Hall relaxed with some refreshment after handing out the medals.
Thank you to everyone who took part and everyone who helped prepare the day.
Gillieson Trophy 3rd Round v Middleton Hall
The Ladies Gillieson Team of Alicia Goulty and Jane Gomm, Carole Davidson and Caroline Collett and Ali Rix and Liz Hewett narrowly lost their 3rd round match and a place in the semi-final, away to Middleton Hall on Sunday August 6th in dramatic fashion in front of a large crowd of away supporters.
Ali and Liz won on the 19th hole. The overall score was 2 to 1 with the other two matches being lost on the 17th and 19th holes!
Congratulations to the Links team for a great performance in all the matches.
Last Man Standing
Gareth Hall was the Last Man Standing after a day of knock-out golf at the Links.
Gareth won in a very close final match against Malcolm Munday. They were all square with just the final 9th hole to play. Malcolm unfortunately found the pond and Gareth took the opportunity to win the competition in which he was runner up in 2015.
Paul Cuff played some great golf to clinch 3rd place after beating Tim McCrohon in the 3rd/4th playoff.
In the plate contest for first round losers, Evan Tuck beat David Robinson in the final to be crowned the complete loser.
Swaffham Away Day
Eighteen members enjoyed an away day at Swafham Golf Club at the end of July.
The winners of the team waltz were the team of Malcolm Munday, Maggie Baker and former member Ian Kidger.
The winners of the Nearest the Pins were Tim McCrohon, Eric Bailey and the organiser of the day, Ladies Captain Jane Gomm.
Ladies Invitation Day
The Links welcomed ladies from Davenport GC and Delaware Forest GC both in Cheshire and from Royal Cromer and Sheringham golf clubs for this annual event.
The weather stayed fine up until the final two holes.
The scoring was a 4BBB format and the scores were amazing. Alicia Goulty and her guest Elaine Field from Royal Cromer won with 46 points.
Runners up were ladies captain Jane Gomm and her partner Maddie Kingham from Davenport Golf Club with 42 points.
In third place were Caroline Collett and her partner Chrissie Whyman from Sheringham GC with 40 points.
The nearest the pin winners were Jane and Caroline.
After play, the golfers enjoyed lunch in the hotel before presentation of the prizes.
Seniors Championship
Paul Attenborough won the Seniors Scratch Championship for the 6th time with a round of 75.
His handicap was cut by one shot.
The winner of the Seniors Handicap Championship was David Samuel with a nett 63 and he also had his handicap cut by one shot.
The over 70's competition was won by Ivor Collett with a nett 65.
Captains Day 2017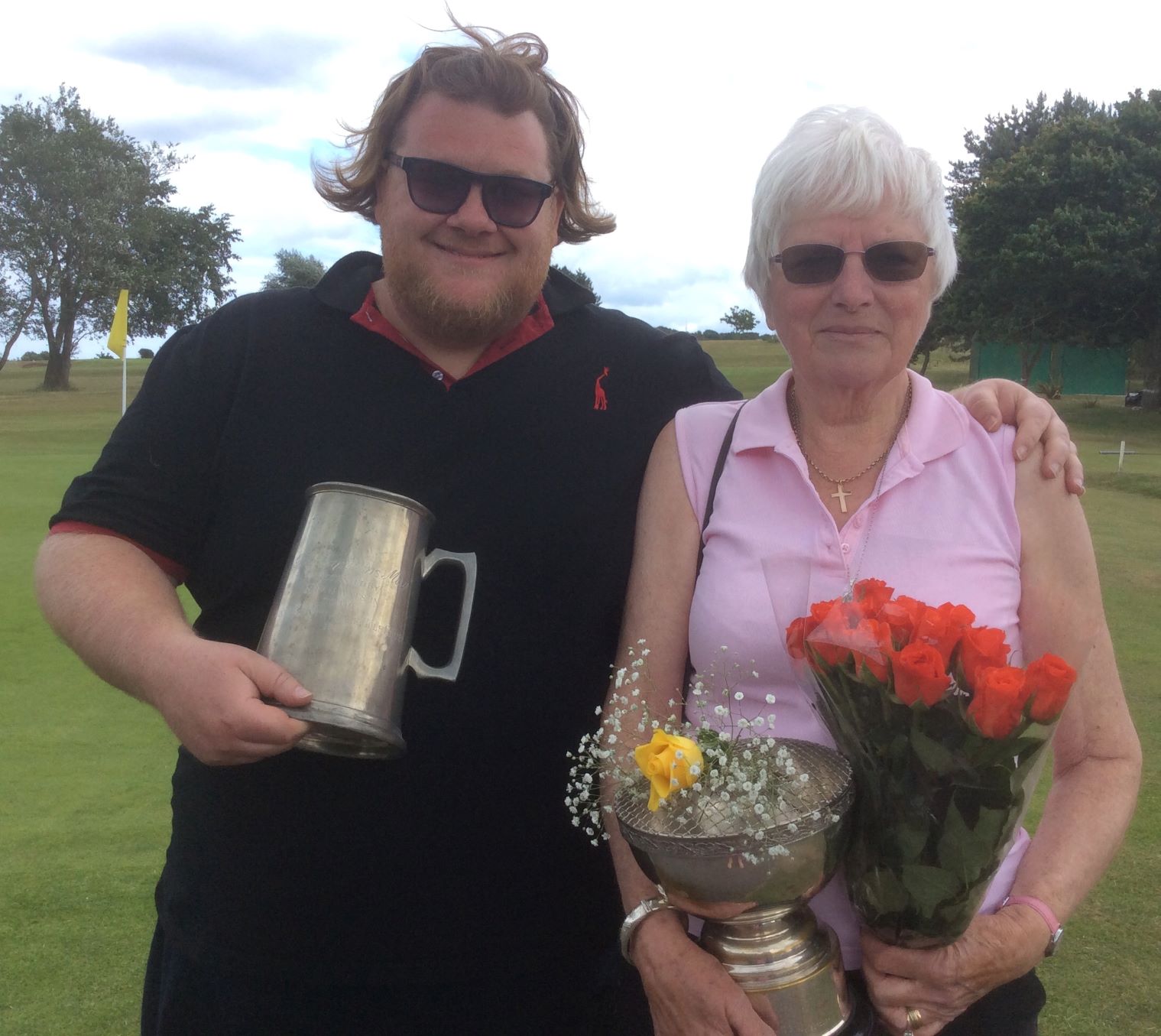 Captains Day saw close finishes in both the Captains Tankard and the Captains Rosebowl competitions.
David Bates successfully defended the Captains Tankard with a score of 40 stableford points.
Captain Simon Marr was second with 39 points beating last year's Captain Tim McCrohon on count back.
The winner of the Rosebowl was Liz Hewett with 39 points and again second place was decided on countback with Ali Rix just beating Maggie Baker after they both scored 38 points.
Liz's day got even better when she won the 'Guess the Name of the Bear' competition with 'Benji'.
The golf was followed by a Cuban themed evening with a three course meal, a touch of Norfolk entertainment from the Sam Smith Singers and a disco.
The three captains, Simon, Jane and Dave would like to thank everyone involved in the day for their generosity and for helping to make the day a great success. A total of £415 was raised on the day and will help add to the total for the Benjamin Foundation who were represented by their CEO Tony Ing.
Club Championship
Irving Newton is the new Club Scratch Champion.
Irving set up his victory with an impressive 69 (3 over par) in the first round, repeating the score he shot in the recent Midsummer Trophy. His handicap has been cut again from 10 down to 8. Irving's winning 36 hole total was 150.
There was a very close finish in the Handicap Competition with Eddie Baker winning by virture of his better second round, from Ivor Collett after they both scored a nett 132. Two shots back in third on 134 was Gareth Hall.
Ladies Gillieson Round 2 v Thetford
Our Ladies Team consisting of Jane Gomm (Captain) & Alicia Goulty, Caroline Collett & Carole Davidson, Liz Hewett & Ali Rix had a triumphant and convincing win in the second round away against Thetford.
Round 3 will be away again against Middleton Hall on August 6th.
Well done to the ladies as they continue to represent the club with distinction.
Ladies Breakfast Cup
Sarah Dewhurst made the most of the early start and won the Ladies Breakfast Cup with 39 stableford points.
Sarah is having a great run of form in 2017 with this being her third trophy of the year so far.
Just one point back in 2nd place was Caroline Collett.
Three players were tied for 3rd place on 33 points, Liz Hewett, Norma Neave and Jane Gomm. Jane took the place thanks to playing the best back 9.
Midsummer Trophy
Irving Newton set a new course record to win the Midsummer Trophy
Irving's round of 69 was just three over par and is the lowest round recorded in any competition since the new 2nd green was opened for play last spring.
The round also led to his handicap being cut from 12 to 10.
In the runners up spot was Club Vice Captain Gareth Hall with an excellent nett 62 and third was David Bates with a nett 63. Hugh McCrory lost out on countback as he too had a great round for a nett 63.
Charity Open at Wensum Valley
Success for the Links in the Charity Golf Waltz at Wensum Valley.
Three teams from the Links entered this popular event in aid of the Pricilla Bacon Centre and played on the Valley Course at Wensum Valley.
The best 'Away' team was the Links team of Kate Attenborough, Alicia Goulty, Kathryn McCrohon and former links member Christine Tew with a magnificent 93 points.
Well played and thanks to everyone who represented the Links at this event.
Ladies Championship
Caroline Collett won the Ladies Scratch Championship for the 6th time with a 2 under par nett 66.
Winner of the Ladies Handicap Championship was Kathryn McCrohon with a nett 68.
Also with a 68 was Kate Attenborough, but Kathryn had the better back nine to win on countback.
The perfomances of Caroline, Kathryn and Kate led to their playing handicaps being cut by 1 shot.
Congratulation to the winners and to all the ladies who played 18 holes in 30+ degree heat.
Breakfast Cup
Birthday boy brings home the bacon in the Breakfast Cup.
David Bates got his 50th Birthday celebrations off to a great start by helping his teammates Barbara Shannon and Ivor Collett to win the Breakfast Cup.
The team texas scramble competition started at 5:30 AM!
The golf was followed by a Full English Breakfast in the hotel which was most welcome and enjoyed by all. Breakfast was followed by Birthday cake.
David, Barbara and Ivor scored 58.8 to win the cup with the team of Tim McCrohon, Norma Neave and Mark Nelson-Griffiths the runners up with 61.7.
In third place was the team of Peter Hicks, Margaret Carpenter and David Robinson on 62.4.
Only 6.5 shots separated the whole field.
If you are going to get up to play golf at 5:30 in the morning, you would wish for a view like this.
Anniversary Cup
The Club Captain shot a nett 60 to win the Anniversary Cup.
Simon Marr played a sparkling round in near perfect conditions to win the oldest trophy at the club.
His performance saw his handicap reduced by 1 shot.
In second place was defending champion Dave Parmenter (pictured with Simon) who put up a sterling defence with an impressive 62.
On a very low scoring day, Evan Tuck and David Robinson also scored 62.
Jane Gomm County Winner
Jane Gomm is the Norfolk Ladies Golf Division 2 handicap champion!
Jane scored two under her handicap in the competition held at Kings Lynn Golf Club.
Jane is pictured receiving the Cup, before giving a speech and then having her photograph taken with the team and other winners.
Well done to Jane on a fantastic performance and also to Ali Rix who achieved second place along with Jane in the team competition.
Amron Trophy
There was some increadible scoring in the Ladies Amron Trophy as Liz Hewett won the competition for a second time.
Liz scored 41 stableford points which, as well as the Trophy, earned her a handicap cut of 1 shot.
Just one point behind on 40 points was Ali Rix.
In 3rd with 39 points was Alicia Goulty who is getting back into golf after a break.
The trophy is named after Norma Neave's dog and Norma joined Jane in presenting Liz with the prize.