Links Golf Club - News
Captain's Cup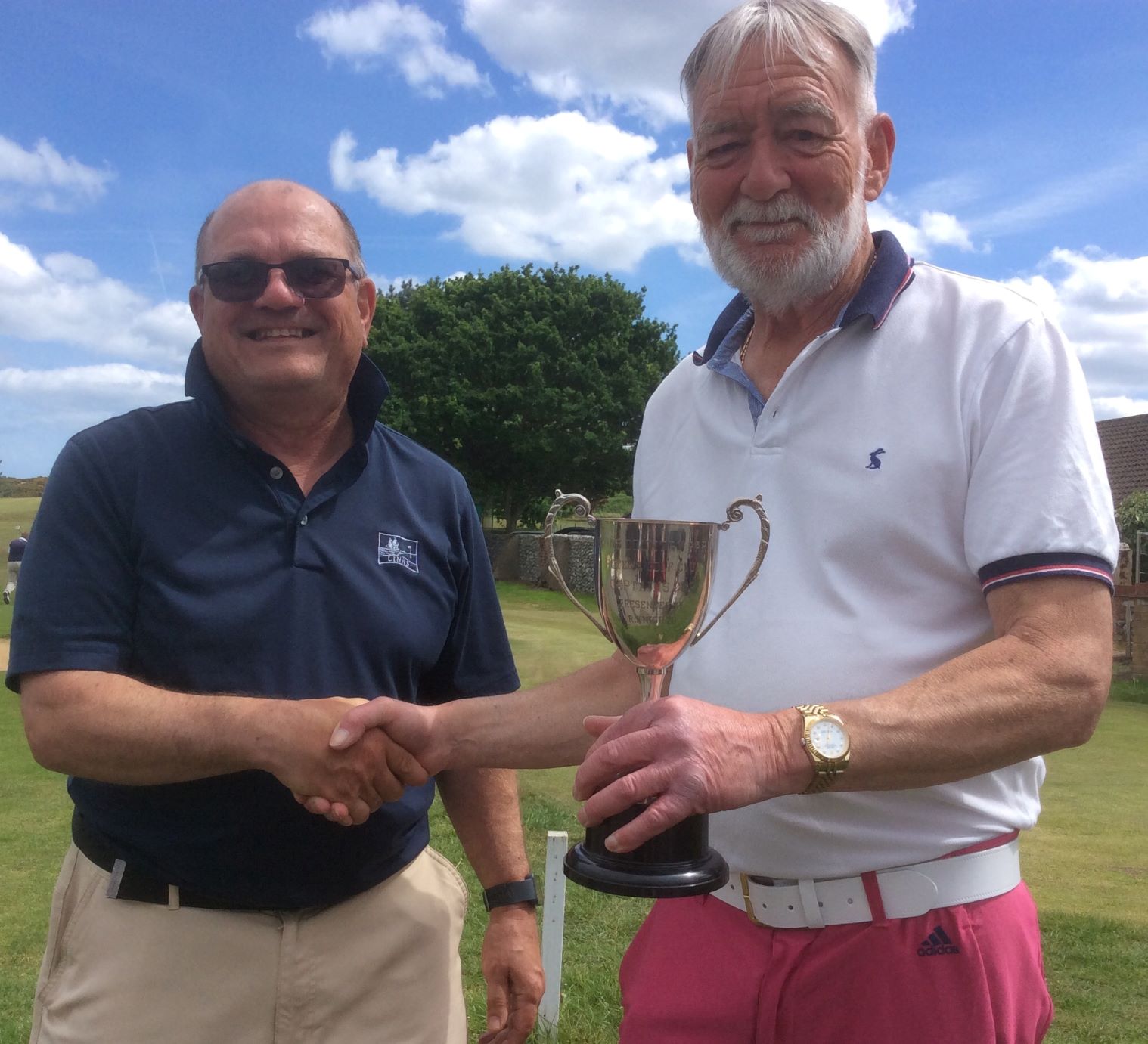 This competition ended in 3 players with the same score of nett 62, so the result had to be decided on count back.
The winner was Irving Newton, who had not won this trophy before.
Second was Tim McCrohon with Craig Brown in third place.
Our photo shows Club Captain, David Bayle, presenting the trophy to Irving.
Update on Local Rules for Competitions
Dear Member,
The purpose of the following additions to the local rules is to assist players to play the course in a safe, fair and equitable manner. This document will be under constant review as course conditions change and members will be informed of any amendments.
1) BARE EARTH AS A RESULT OF CHANGES TO COURSE, NEWLY SEEDED AREAS ON TEES AND SOIL IN BUNKERS
Bare earth caused as a result of changes to the course, seeded areas on tees and where bunkers have been filled in are Ground Under Repair and free relief MUST be taken under Rule 16.1b Relief from ABNORMAL GROUND CONDITIONS
The nearest point of complete relief plus a club length from that point, not nearer the hole and in the general area.
Please note that the nearest point of relief for new soil in bunkers is the nearest point outside of the bunker.
2) ANIMAL HOLES AND RELIEF
An animal hole is also an ABNORMAL GROUND CONDITION from which free relief MAY be taken.
An animal hole includes:
⦁ The loose material the animal has dug out of the hole.
⦁ Any worn-down track or trail leading to the hole, and
⦁ Any area on the ground pushed up or altered as a result of the animal digging the ground which includes bare earth left by FLATTENED MOLEHILLS.
Again free relief MAY be taken under Rule 16.1b as described above under BARE EARTH AS A RESULT OF CHANGES TO COURSE.
3) BIRD DAMAGE
Is again another ABNORMAL GROUND CONDITION and free relief MAY be taken under Rule 16.1b as described above.
4) BIRD DAMAGE ON PUTTING GREEN
Free complete relief MAY be taken under Rule 16.1d for a ball lying on the damage or if the damage interferes with the line of play as with casual water. You may PLACE the ball on the green. There is no drop involved.
5) STONES/EMBEDDED STONES ON FAIRWAYS
For example the pathway that crosses the 2nd and 4th fairways where the mound was removed is GROUND UNDER REPAIR.
Free, complete relief MAY be taken under Rule 16.1b as described above.
6) ELECTRIC FENCE
The electric fence is an immovable obstruction from which free relief MUST be taken, again under rule 16.1b described above.
However, it also acts as a BOUNDARY FENCE so any ball outside the fence is deemed to be Out of Bounds and stroke and distance relief MUST be taken.
A hard copy will be available from the golf desk.
Jimmy Clinton 1937-2022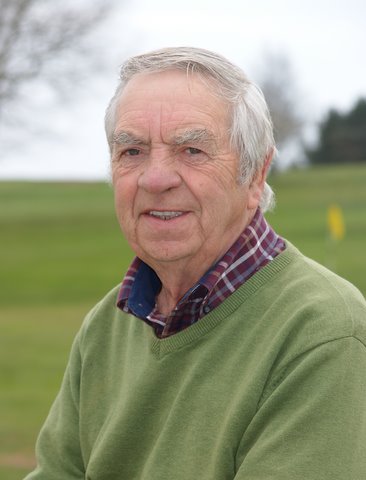 It is with great sadness that the club has learned of the passing of former member Jimmy Clinton aged 85.
Jimmy was a true character and made the club a second home. He would hold court while having a glass of red wine and tell stories that you never knew where they would lead.
Jimmy was Seniors Captain in twice, including in 2012 when the seniors won the prestigious Barnard Trophy county competition.
Please see below a message from his family.
James Wilson Clinton, Jim, jimmy, Dad, Silly Grandad.
Our Dads funeral service will take place on the 20th May 2022 at 14.00 hrs (2pm) Cromer crematorium.
Further arrangements to be decided.
All of Dads family would love to see you.
The service will be available to those who cannot attend in person.
To help estimate numbers for the service and catering, please contact Dawn via email edwardsmrs@yahoo.co.uk if you plan to attend.
2021 Captains Charity Donation to the NN Foodbank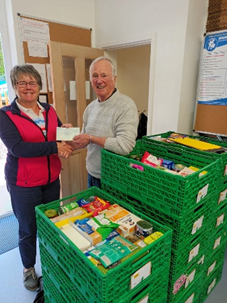 This week a cheque for £1055 was present to Peter Wenham, Chair of Trustees, at North Norfolk Foodbank.
In a thank you letter North Norfolk Foodbank said
"Thank you for calling in this morning and we are delighted to receive the cheque for £1055. We really appreciate your support and this money will make a significant difference to the lives of people in crisis across the district. In 2020/21 we fulfilled 1830 vouchers, feeding 4483 people including 1845 children."
A big thank you to everyone who supported North Norfolk Foodbank which was our nominated charity for last year.
Ladies Away Weekend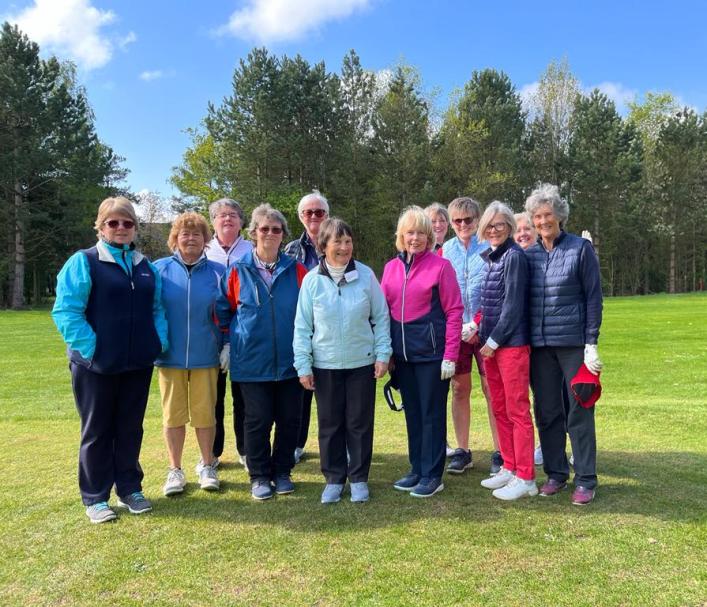 Thirteen members of the ladies section of the Links Golf Club spent two days together enjoying the surroundings and facilities on offer at Pidley Lakeside Lodge Golf complex.
Two days of golf playing to win the Captains Goblet proved to have its usual challenges for the ladies, an unfamiliar parkland course, long fairways and tough clover grass to contend with for those unfortunate to find that their ball had vaporised into it, followed by much, discussion and enjoyment by all in the evenings together.
Jane Davies was a clear winner with an overall score over the two days of 82 stableford points and was presented with the Captains Goblet by Susan Tuck, who was second with 76 points followed by Jane Gomm with 69 points, who also parred six holes.
Jane Davies also went in the most bunkers, hence the bucket and spade!
Easter Egg 3 clubs and a putter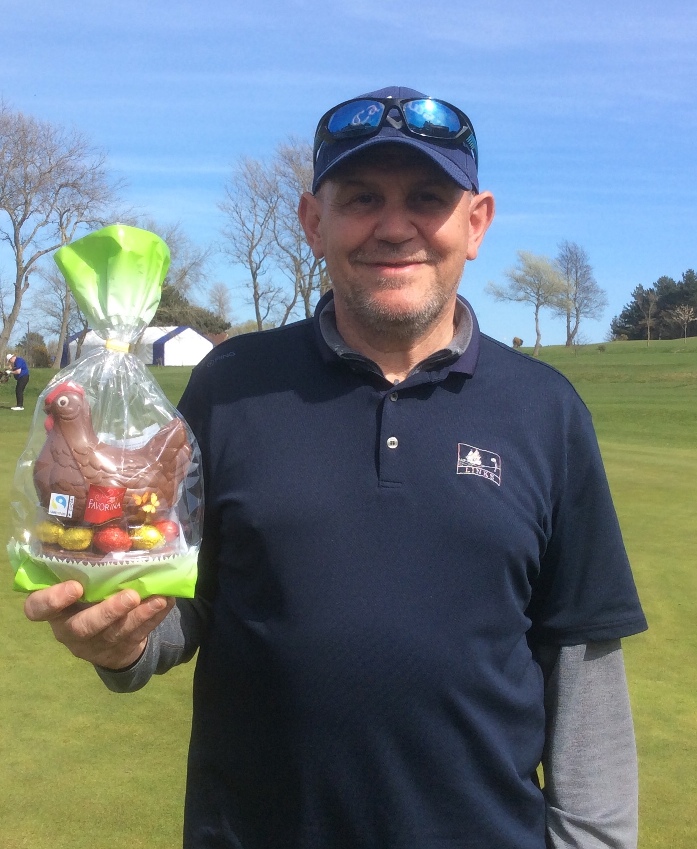 On a really nice day weather wise, the players teed off with their 3 clubs and a putter, in the annual event (unfortunately Covid had other ideas in recent years).
Every player on the day receives an Easter Egg or Easter Bunny at the end of their game.
It was a very close finish with John Seppings beating Dominic Hazard on count back, both scoring 38pts. Third was David Bates with 36pts.
Millennium Trophy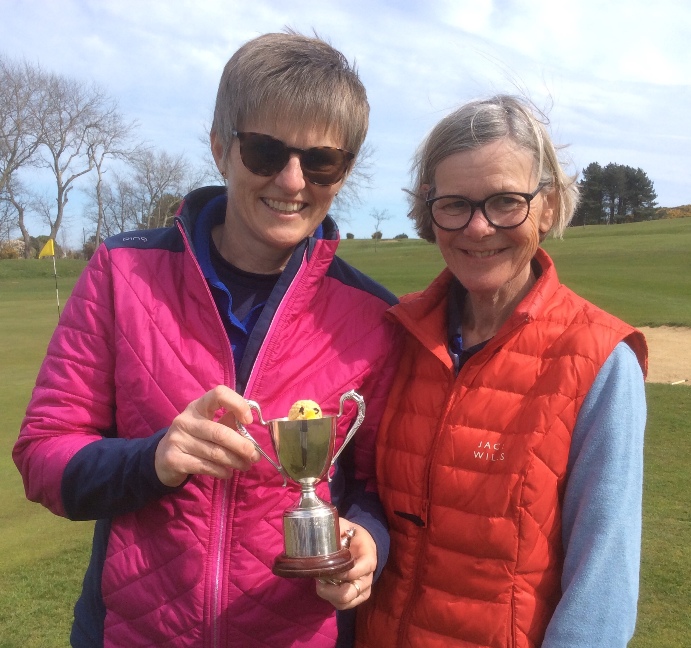 The ladies played their first qualifier of the year which was for the Millennium Trophy.

Last year's winner, Jane Davies, retained her title by two shots over Susan Tuck, with Joan Munday in third place.
Photo shows Ladies Captain, Susan Tuck, with Jane holding the Trophy.
Preferred Lies end on 1st April 2022
Local Rule for Preferred Lies will end on 1st April 2022.
Paul Cuff 1975-2022
The club is very sad to hear the news that member Paul Cuff has passed away at the age of just 46.
Paul was recently diagnosed with a terminal illness.
Paul played golf with Craig Brown and Gareth Hall and occasionally played in club competitions. He was a quiet man and you may also have seen the left hander out on the course by himself.
Our thoughts are with his family and friends.
Chris Rayfield presented with the Curtis Cup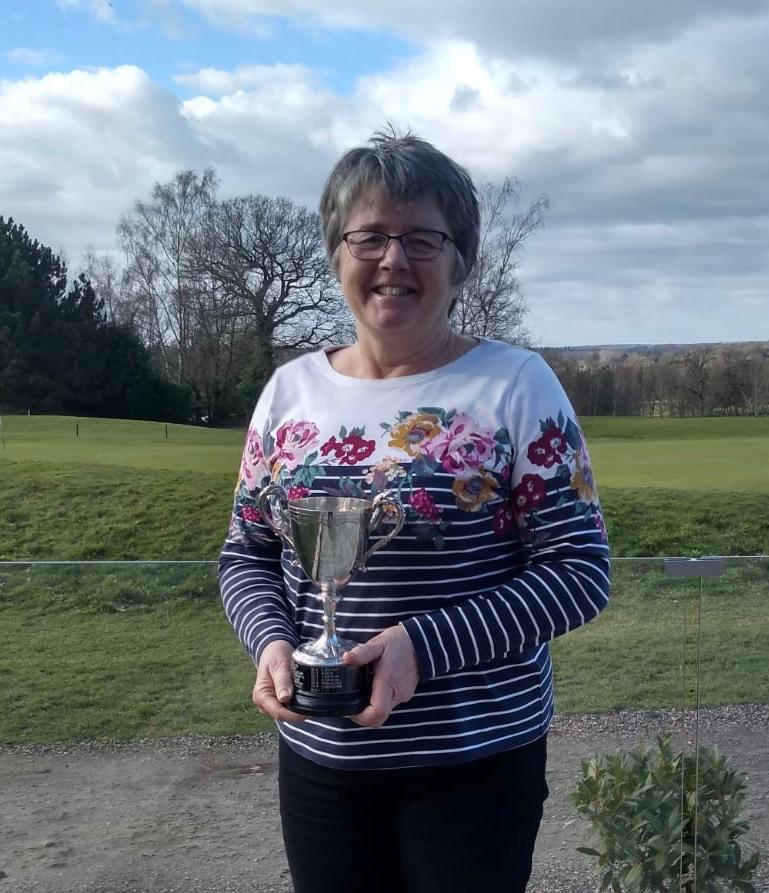 Chris Rayfield has been presented with the Curtis Cup at the Norfolk Ladies Veterans AGM.
The competition was played in June last year, however because of Covid restrictions, Chris was unable to be presented with the first prize at the time.
Chris scored a gross 90 to win the scratch bronze competition.
Chris was one of 48 ladies who were representatives from 18 golf clubs from throughout Norfolk.
We believe Chris is the first lady player at the Links, West Runton to have won this magnificent cup.
Well played Chris, we are all very proud of your achievement!
Winter League Winners 2021-22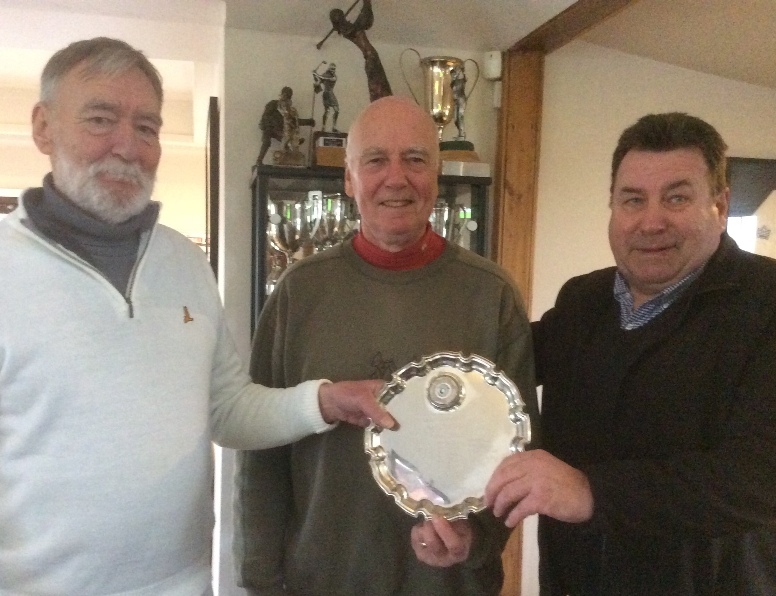 Playoff drama in the Winter League as the top two teams couldn't be separated after 8 rounds of golf.
The teams of Cliff Pegg & Mike Spicer and Adam Bensley & Irving Newton both tied with 257 points from their six counting scores.
Amazingly it was the fourth time in the last 5 years, that the Club Winter League was decided by a playoff.
A crowd of fellow competitors and members, gathered by the final green to watch the drama unfold.
After two extra holes, Cliff and Mike were crowned as the winners, with second place Adam and Irving congratulating them. In third place were Dean Knowles & Craig Rouse.
Cliff and Mike had a significant lead going into the final round, however Adam and Irving always looked a threat because they had a low score which was likely to be replaced with today's score.
Also in the running going into the final round were Dean and Craig, but they would have needed a very big score to make up the ground. For their final round, they carded 40 points, beating Tim McCrohon and Gareth Hall on countback for third place on the day.
The team with the second best final round score, were Cliff and Mike with 41. Adam and Irving scored 42 points to win the final round and provide some consolation on missing out on the overall prize.
Captain's Away Weekend
Dear David
Thank you very much for confirming your golf break for arrival on Saturday 1st October 2022. Your group booking reference number is 131673.
I am pleased to confirm your booking as below. Please ensure you check the details carefully paying particular attention to the timings of the day.
Total Package Price
£275.00 per person based on shared occupancy
£345.00 per person based on sole occupancy
Hotel Rooms
6 x Club twin rooms
Each guest has the following included
2 x overnight accommodation including full English breakfast
2 x 3 Course evening meal (table reserved at 19:15 both evenings)
3 x rounds of golf currently booked as:
Saturday 1st October 2022 - 12:00 Constable (3 x tee times)

Sunday 2nd October - 11:04 Gainsborough (3 x tee times)

Monday 3rd October - 11:20 Gainsborough (3 x tee times)
Pool and facilities
If you are planning to use our poolside facilities during the day, we would like to advise you that we have a 2-hour bookable pool session in place between 10am and and 6pm. If you have not already booked your session, these must be booked in advance of your stay. No booking is required outside of these times. Please view our Pool Policy in the section below for more information on pool access, children's swim times and the availability of poolside loungers. If you are using the pool prior to check-in, please could we kindly ask you to leave your luggage in your vehicle and keep your costume handy. We currently have no luggage storage area available at the Resort.
Hotel check-in is from 15:00, with check-out before 11:00 am.
To ensure your stay is as comfortable and safe as possible we have also made changes to our hotel, dining and leisure services. For up-to-date information about the measures in place across the resort, please visit the Rest Reassured area of our website.
A £50.00 non-refundable, non-transferable deposit per person is payable by 29/01/22 to confirm the booking; the remaining balance will be due 8 weeks prior to your arrival, at which stage a full rooming list is required. Payments can be made by calling with card details or via bank transfer (bank details attached) quoting the reference number 131673.
I hope this meets with your approval and if you have any questions, please do not hesitate to contact me.
I look forward to welcoming you to Stoke by Nayland.
Kind regards,
Debbie Hynard,
Reservations
Captain's Drive In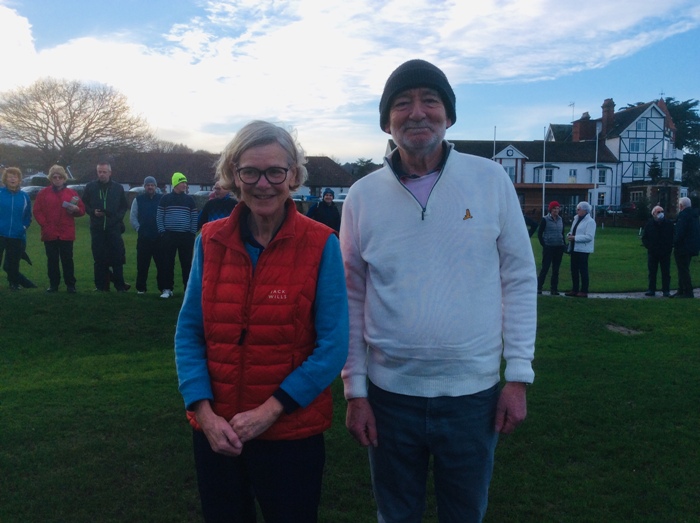 The 2022 Captain's started the year in style with two cracking drives off the 1st tee on New Years Day.
With a large crowd of members watching in support, both David Bayle and Susan Tuck showed they were more than up to the task.
The following 9 hole Stableford saw a win for Club Captain David Bayle's team over Ladies Captain Susan Tuck's Team by 179 points to 175 points. The best individual score went to Dom Hazard with 20 points.
It felt more like a September day as temperature reached 15 degrees and the sun shone throughout.
The competition raised £57 for Cancer Research, this year's charity.
Susan said 'The morning will be one that I will cherish as a lovely memory thanks to the support from the club members'.
The photo shows both Captains with some of the many members looking on.
Presentation Night 2021 Winners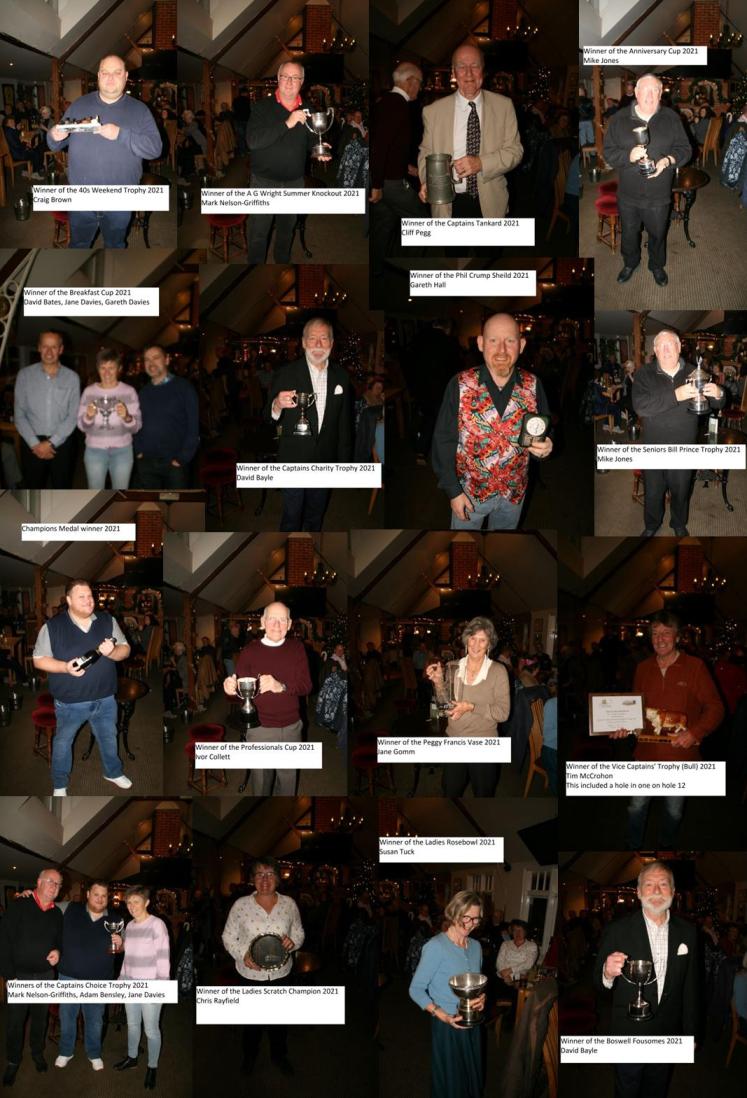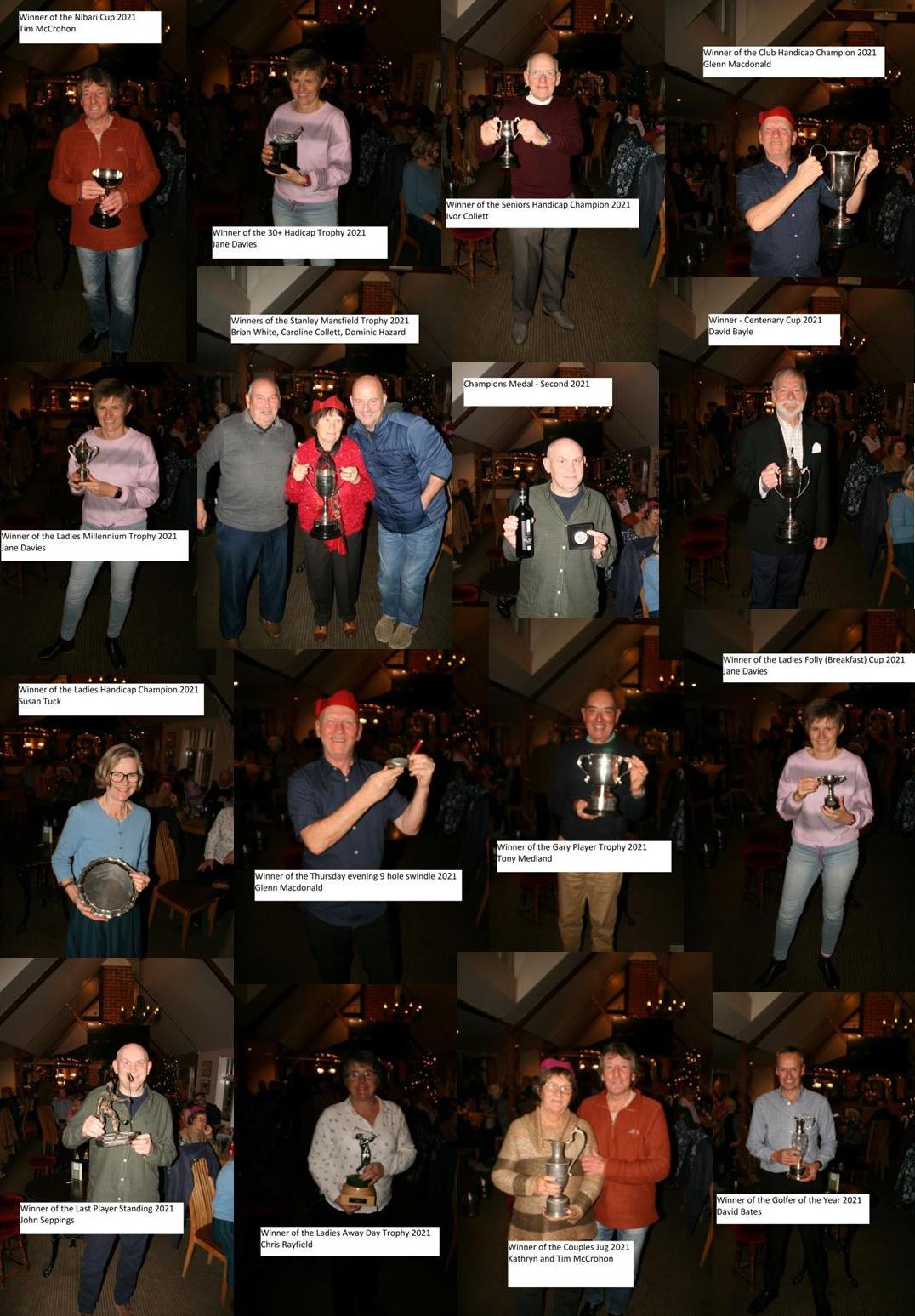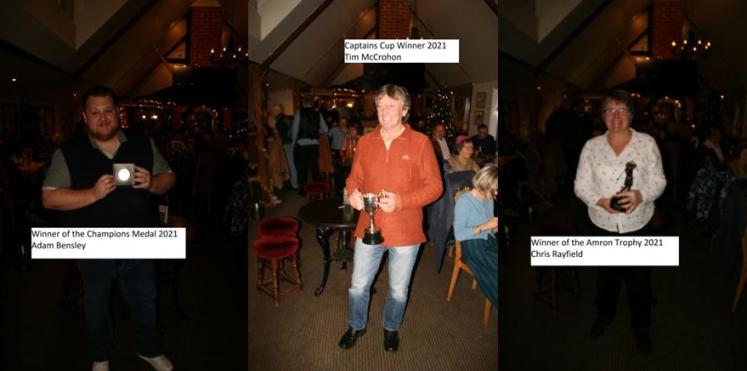 Presentation Night 2021
2020 Winners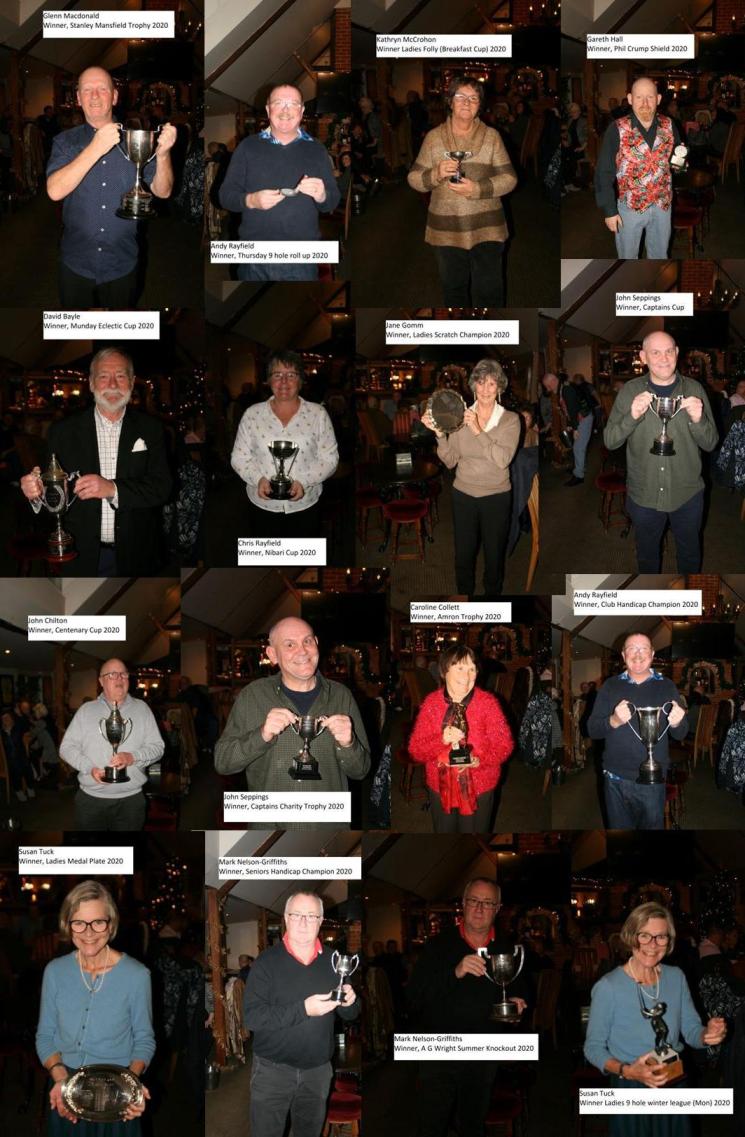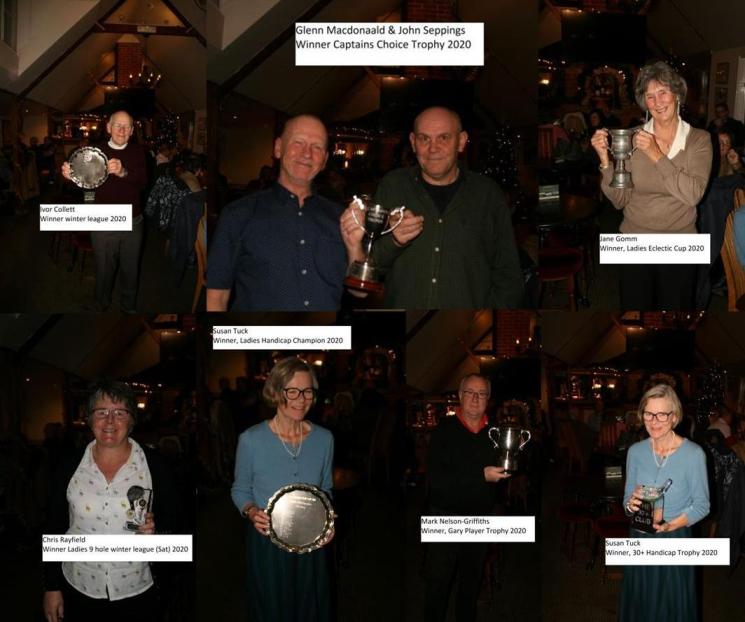 Boxing Day Cup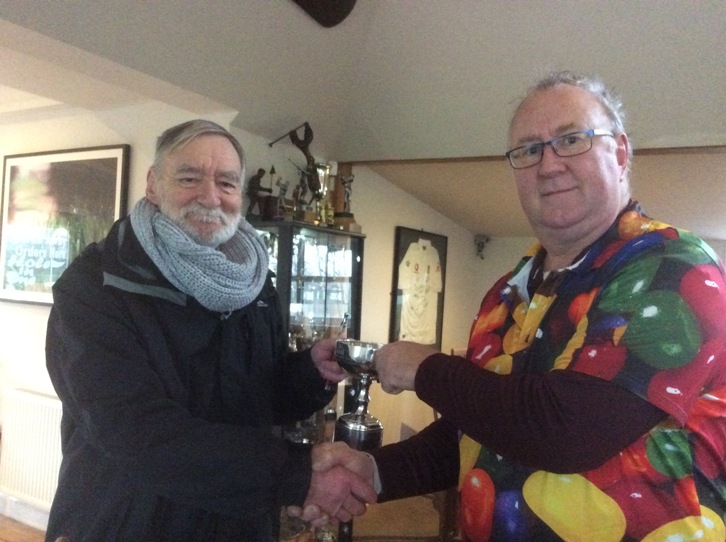 Congratulations to those members who braved the wind and the rain.
The winner was next year's Club Captain, Dave Bayle who played the 9 holes to par, beating Glenn Macdonald on count back, both scoring 33.
Third was Andy Rayfield with a score of 35.
County Championship Winner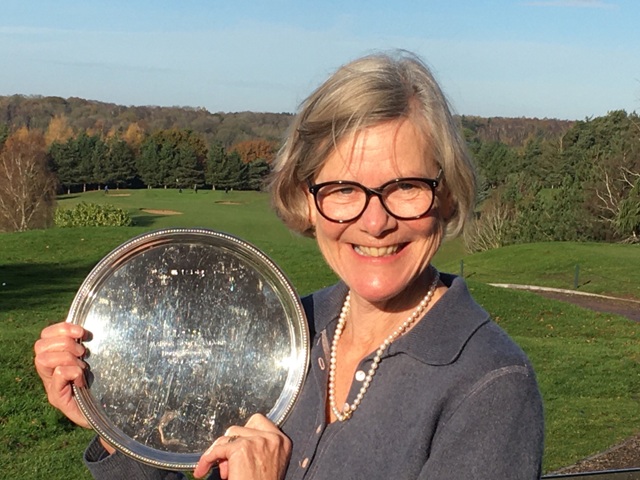 At the AGM of the Norfolk Ladies County Golf Association, the Ladies Vice Captain of The Links, Susan Tuck, was presented with the Marion Scott Salver for the best Stableford score in the Division 3 and Division 4 County Championships.
Susan scored an amazing 46pts at Wensum Valley, which was a course she had never seen or played before.
Ladies Away Day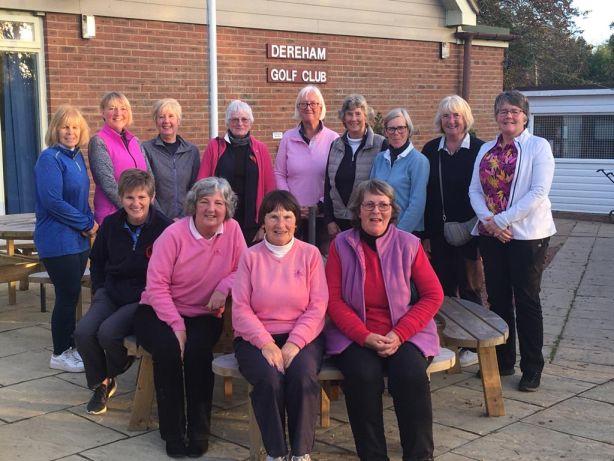 On Monday 8th November the ladies had their away day at Dereham Golf Club.
The weather was bright sunshine all day which made the tree lined course look lovely
and the course played well and was in good condition.
A good turnout of thirteen ladies and three men had an enjoyable day of golf with a
meal afterwards and presentations in the clubhouse.
The Away Day Trophy was won by Chris Rayfield on countback from Susan Tuck with Jane Gomm in third place.
Helen Newton won Nearest The Pin and Kate Attenborough won Nearest The Line.
Captains Charity Day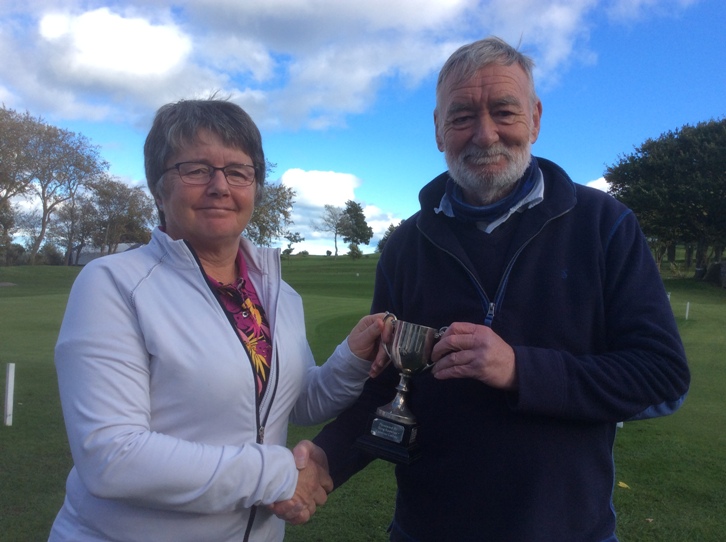 The heavy rain that was forecast for all morning, thankfully kept mostly away.
The result was a win for vice captain David Bayle with 37pts, with Barrie Bensley beating Tony Medland on count back with 36pts.
There were lots of other prizes on offer sponsored by MNG, Chris Rayfield, Glenn Macdonald, David Bates, Mike Jones and Susan Tuck.
MNG and Chris would like to thank all who took part and those who made donations on the day, as well as supporting Spot the Ball and How many golf balls in the bucket.
A grand total of £266 was raised and will go to the Club's Charity for this year which is the North Norfolk Foodbank.
Picture shows Ladies Captain, Chris Rayfield presenting the trophy to David Bayle.
Preferred Lies now in use
When a player's ball lies in a part of the general area cut to fairway height or less, the player may take free relief once by placing the original ball or another ball in and playing it from this relief area:
Reference Point: Spot of the original ball
Size of Relief Area Measured from Reference Point: 6 inches from the reference point, but with these limits:
• Limits on Location of Relief Area:
• Must not be nearer the hole than the reference point, and
• Must be in the general area.
In proceeding under this Local Rule, the player must choose a spot to place the ball and use the procedures for replacing a ball under Rules 14.2b(2) and 14.2e.
Preferred lies will be in use until further notice.
Couples and Pair Competitions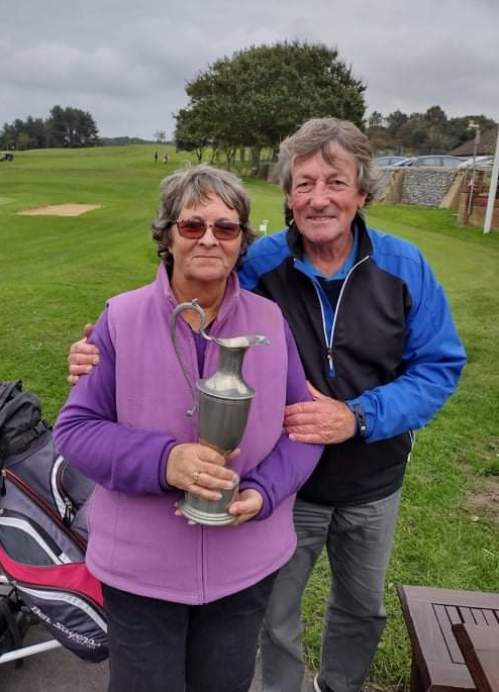 Kathryn and Tim McCrohon won the Couples Jug scoring 40pts in the Greensomes competition.
Close behind were Joan and Malcolm Munday on 39pts beating Kate and Paul Attenborough on count back.
Running alongside was a Pairs Competition which saw David Bates and Dom Hazard win with a score of 41pts.
Second were David Bayle and Glenn Macdonald and Tony Medland and MNG were third scoring 36pts.
Vice Captain's Day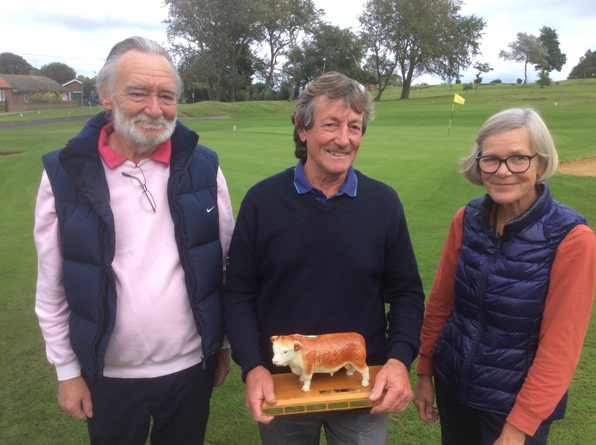 What started off as a fine cloudy day soon turned into rain for the first 5 groups who got soaked!
However for one person, the day got much better, Tim McCrohon got a hole in one on the 12th hole, witnessed by Tony Medland and Caroline Collett who had just teed off on the 13th.
In the competition for the Vice Captains Trophy, Tim was the winner with 39pts, runner up was John Seppings with 38pts and third was Adam Bensley with 37pts.
Despite this, 24 players braved the wet conditions. David and Susan would like to thank everyone for their support on the day which raised £145 for the club's charity for 2022 which is Cancer Research.
Our photo shows Tim with David and Susan.
Mobile Scoring
Now available for members to test.
During October 2021 we will be releasing a new, enhanced version of our hugely popular Mobile Score Input feature.

Players will enter their own score at each hole as well as a score for one of their playing partners. Scores will be cross-checked at the end of the round before being submitted for handicapping and/or competitions result processing.

This feature has been approved by the R&A to substitute paper scorecards where the club wishes to do so, as it is Rules of Golf compliant.
Links Ryder Cup
A very enjoyable day was had by all those taking part with most players having a flag to carry round with them.
The Foursomes were all square, the Fourballs were all square and the outcome of the tournament was settled once the last singles match was completed.
In the end Europe were the victors (unlike the real Ryder Cup) by just one point over the USA.
David Bayle- this year's Vice Captain is hoping to hold another tournament similar to this next year, but obviously not the Ryder Cup!
It was a great format with everyone playing 9 holes of either fourball or foursomes matchplay followed by 9 holes of singles matchplay.
40's Weekend
Although Coronavirus restricted the usual weekend in Sheringham and Holt, the golf club held their usual 3 clubs and a putter competition last Sunday.
Craig Brown was on Winner on the day with 37pts, beating Dave Bates on count back.
Third was Glenn Macdonald with 36pts also on count back. Craig won the trophy which features golf club heads through time.
There were some great outfits worn by the golfers and Ivor Collett's camouflage number was declared the best, although we spent most of the day wondering where he was.
Photos Craig and also some of the players in period costume.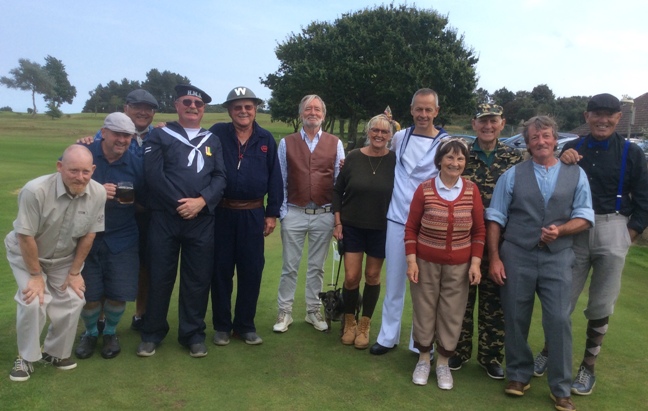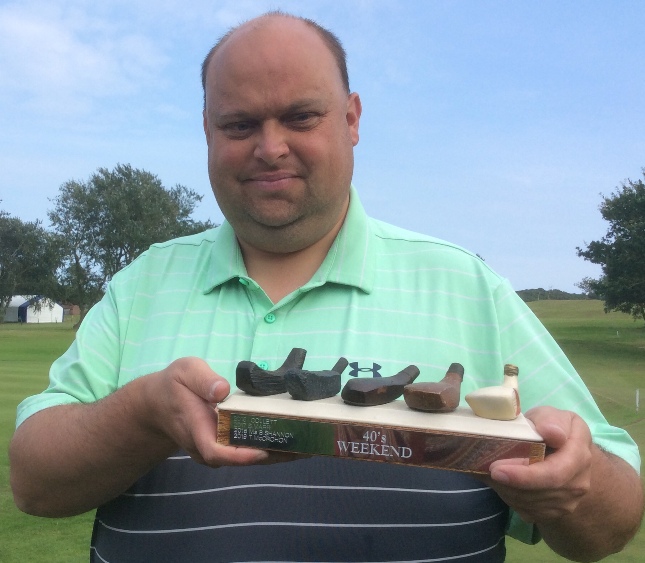 Electric Fence and Out of Bounds
Over the last week or so, we have suffered animal damage, mostly around the 2nd and 3rd greens but also along the 4th hole.
The electric fence is being reinstated along the left of the 2nd, 3rd and 4th holes to try to prevent further damage.
Please assume the fence is always live and DO NOT touch it or cross it under any circumstances.
The electric fence should be treated as Out of Bounds and if you think your ball has crossed the fence, please play a provisional until you can be sure of the location of the original ball.
In addition, if your ball is in bounds but the fence interferes with your stance or swing you must take free relief under Rule 16 Relief from Abnormal Course Condition.
Professionals Cup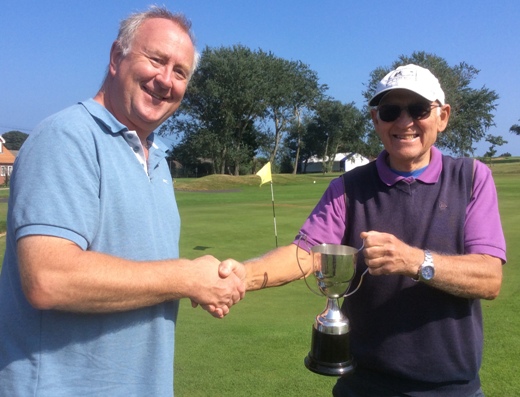 Ivor Collett followed up his September Medal win by adding the Professionals Cup with a nett score of 62, beating Tim McCrohon by 4 shots and in third placed was Craig Brown on count back.
Ivor would like to thank Dominic for his two lessons.
Mark Nelson-Griffiths presented the Cup to Ivor afterwards.
Seniors Knock-out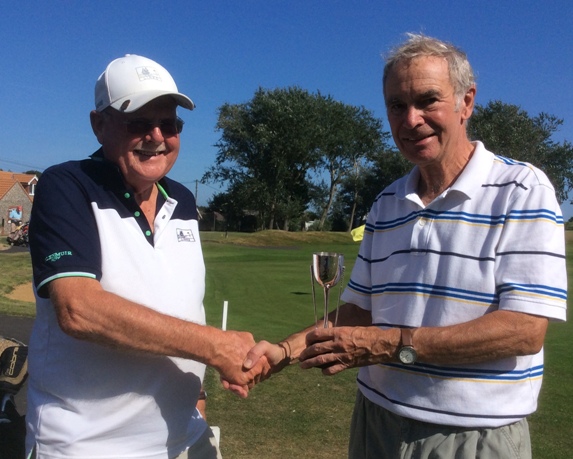 Dave Brooks defeated David Robinson in the final in a close match.
Previously, Dave had an outstanding run on his way to the final beating Irving Newton (2&1), Mike Jones (1hole on the 18th), Tim McCrohon (2&1) before beating David Robinson 2&1 in the final.
Nibari Trophy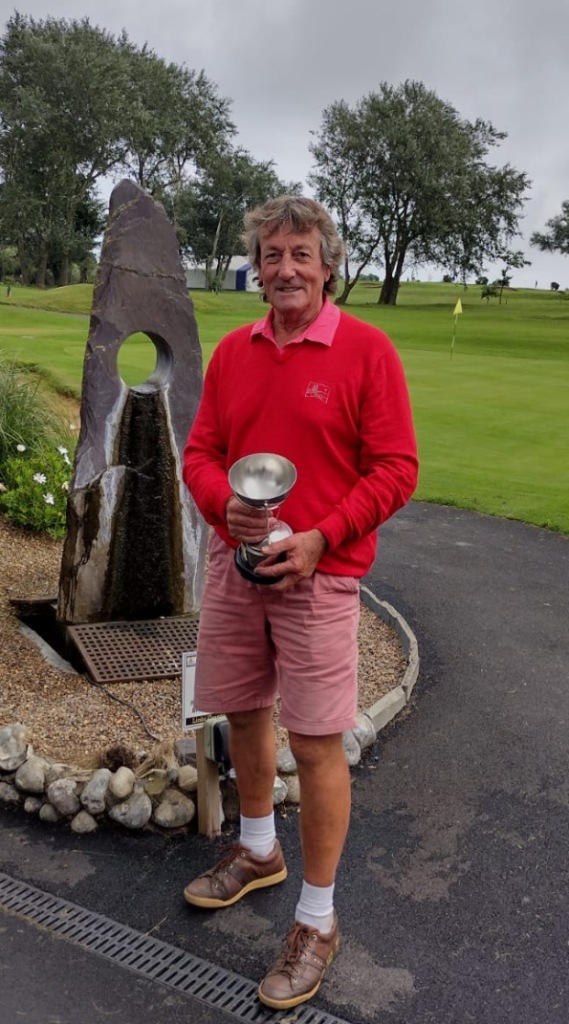 The winner was Tim McCrohon who scored 40 Stableford points, followed closely by Barrie Bensley with 39pts beating Irving Newton on count back with the same score.
A special mention goes to Andy Rayfield who came 4th, also scoring 39pts.
Peggy Francis Trophy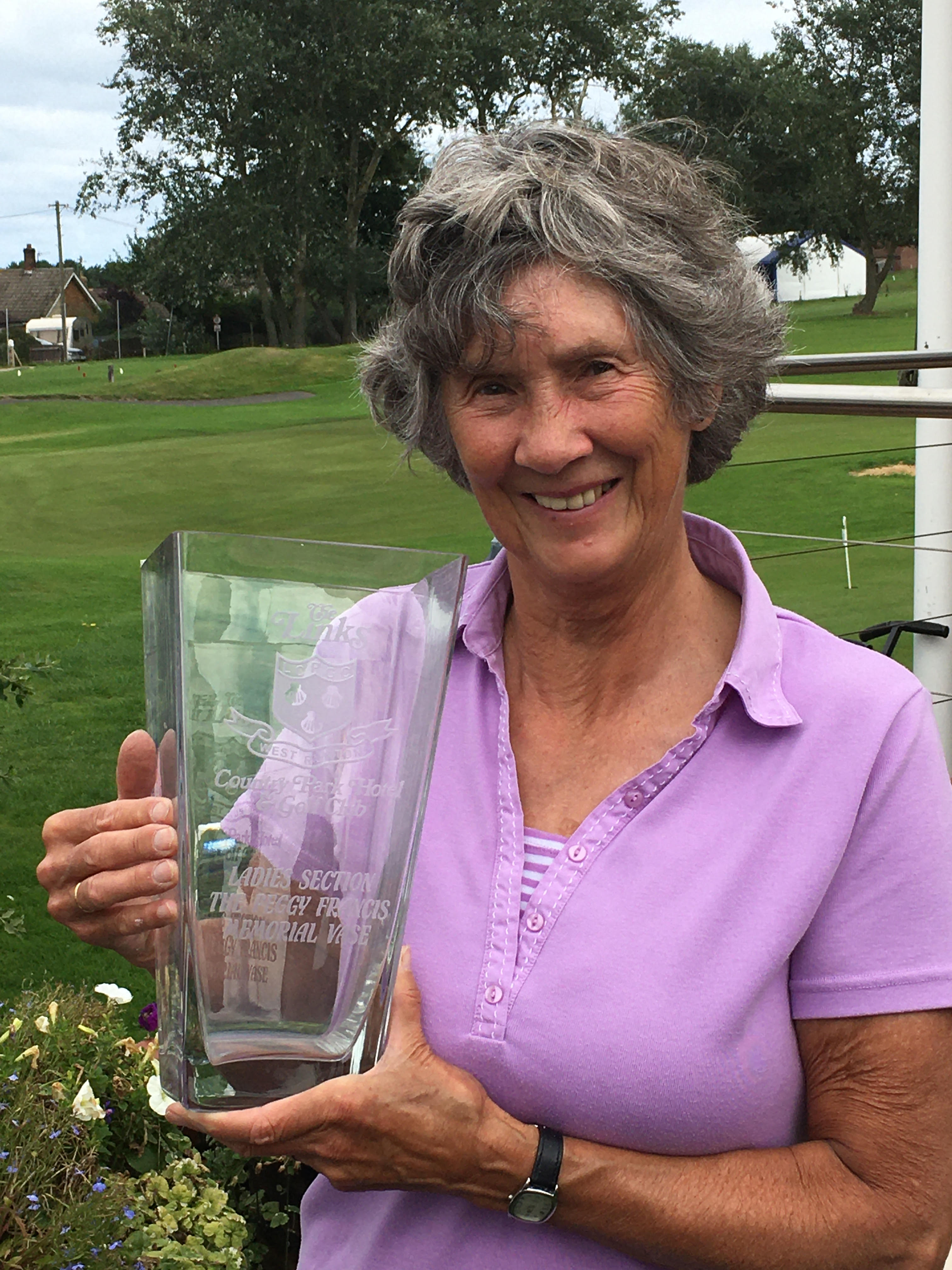 Congratulations to Jane Gomm who won the Peggy Francis Trophy, which is a
3 clubs and a putter competition, with a score of 36 points.
It was a good day for the Janes, with Jane Bassett in second place and Jane Davies third.
Caroline Collett won nearest the pin on the 3rd.
Bill Prince Trophy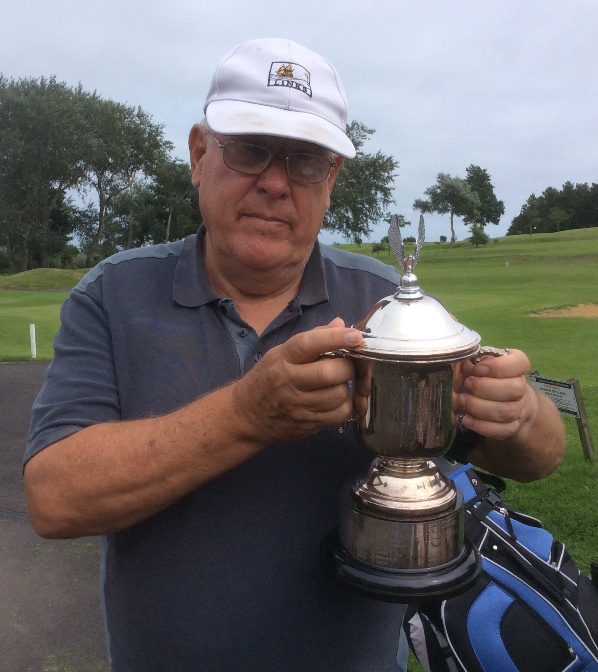 The Seniors Captain, Mike Jones won the Bill Prince Trophy with a great score of 86-21=61.
Runner up was Cliff Pegg with 83-20=63ocb from third place Tony Medland with the same score exactly.
Stanley Mansfield Texas Scramble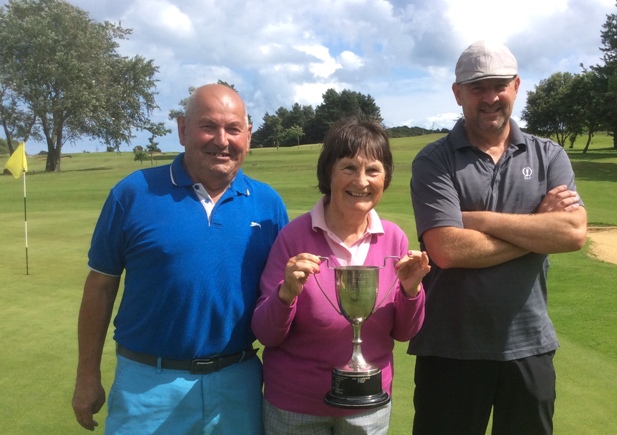 A very close contest was the order of the day for the above Team Texas Scramble Trophy.
The winners, with the worst front nine and the best back nine were Caroline Collett, Dominic Hazard and Brian White with a score of nett 52.0.
The runners up, only one shot behind were MNG, Kate Attenborough and John Seppings.
Again just one more shot behind were Andy Rayfield, Cliff Pegg and Paul Attenborough and they took third place.
On a good day scoring wise, there was only 6 shots between first and last place.
Stanley Mansfield was the Secretary at The Links for many years and wanted a fun competition for all members to play in.
Last Player Standing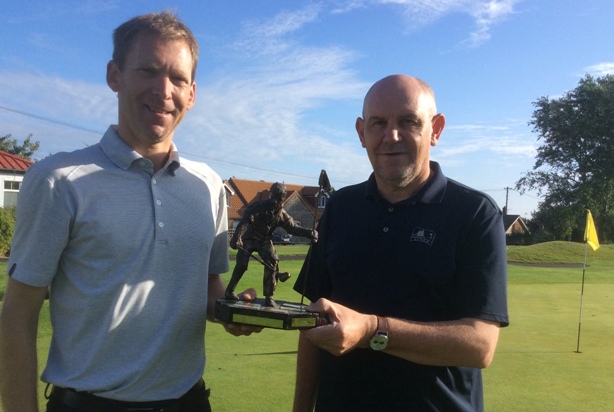 The competition was interrupted late on by a thunderstorm.
The winner on the day was John Seppings who defeated Tim McCrohon in the final.
The match for third place saw Craig Brown beat Dominic Hazard.
In the losers final match it was a battle of the Collett's. Ivor Collett won against his wife Caroline.
Knockout draws update
CLUB KO
Semi-finals - Glenn Macdonald v MNG White Tees before 20th August
David Bates v Tim McCrohon White Tees before 20th August
SENIORS KO
Final - Dave Robinson v Dave Brooks - White Tees before 1st September
Breakfast Cup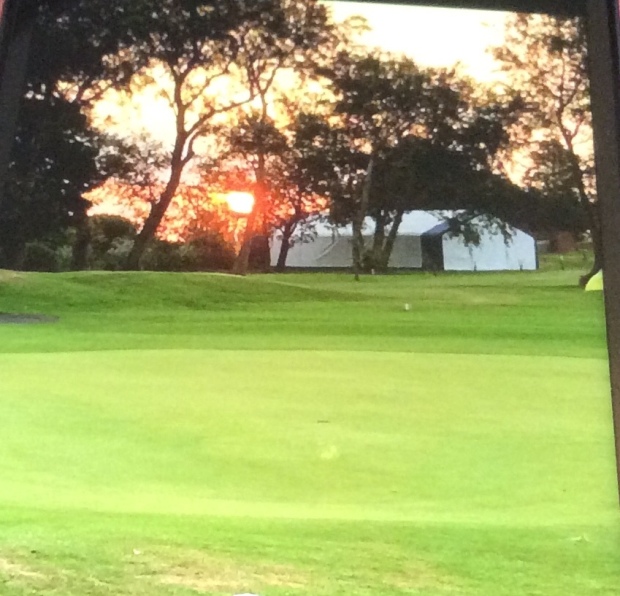 In a very close result the team of David Bates, Jane Davies and Gareth Davies won on count back from the team of David Bayle, Andy Rayfield and Kate Attenborough. In third place was the team of Paul Attenborough, Tony Pashley and John Seppings only .3 behind. At the end of play, all players enjoyed the usual very good breakfast in the hotel.
David Robinson took this photo of the sunrise as the members gathered at 5am before play.
Ladies Championship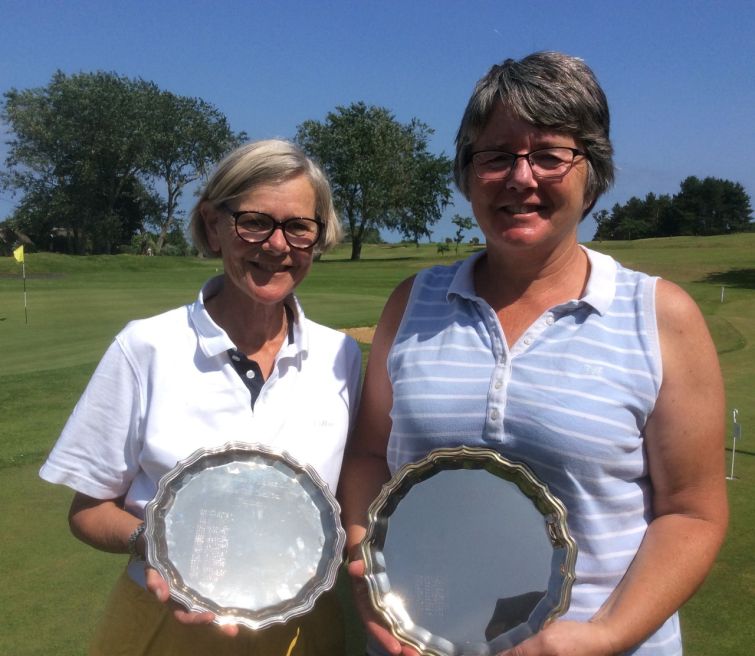 The ladies Championship was held on a beautiful sunny day with the course in lovely condition.
The winner of the Handicap competition was Susan Tuck with a net 63, second was Chris Rayfield (68) and third was Joan Munday (71)
The scratch competition was won by Chris Rayfield with a gross 88 , second was Jane Gomm (94) and third Susan Tuck (97).
The salvers were presented to the winners by Dominic.
Links Ladies Triumph
Congratulations to Susan Tuck, the Ladies Vice-Captain, for her win at the Norfolk Ladies Division 4 Championship.
Susan scored an outstanding 46 points at Wensum Valley Golf Club, nine points clear of second place.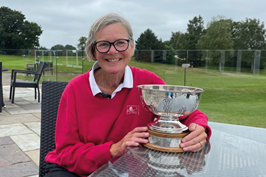 Further congratulations go to the Links Ladies Team of Susan Tuck, Joan Munday and Jane Davies who won the Division 4 Team Cup at the same event.
Seniors Championships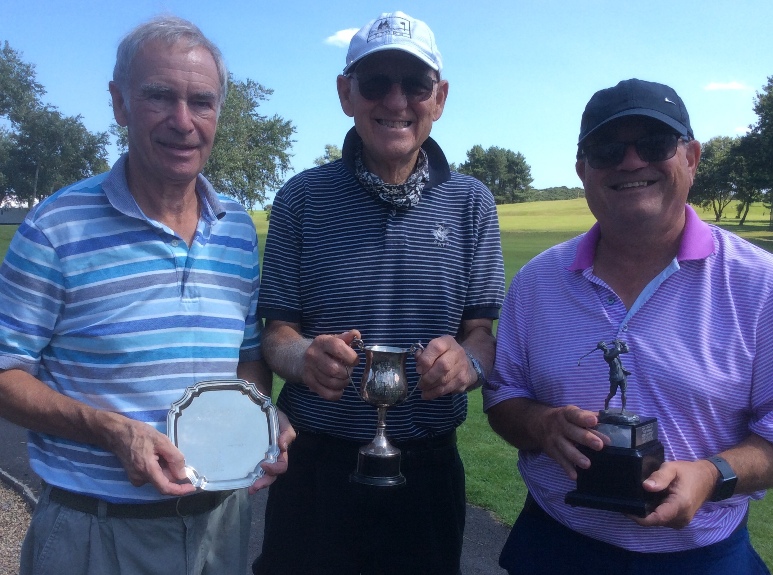 Irving Newton completed a double, winning both the Club and the Seniors Scratch Championship.
Ivor Collett became Handicap Champion and at the same time won the Seniors Monthly Medal.
The over 70s Champion is Dave Brooks.
Club Championship 2021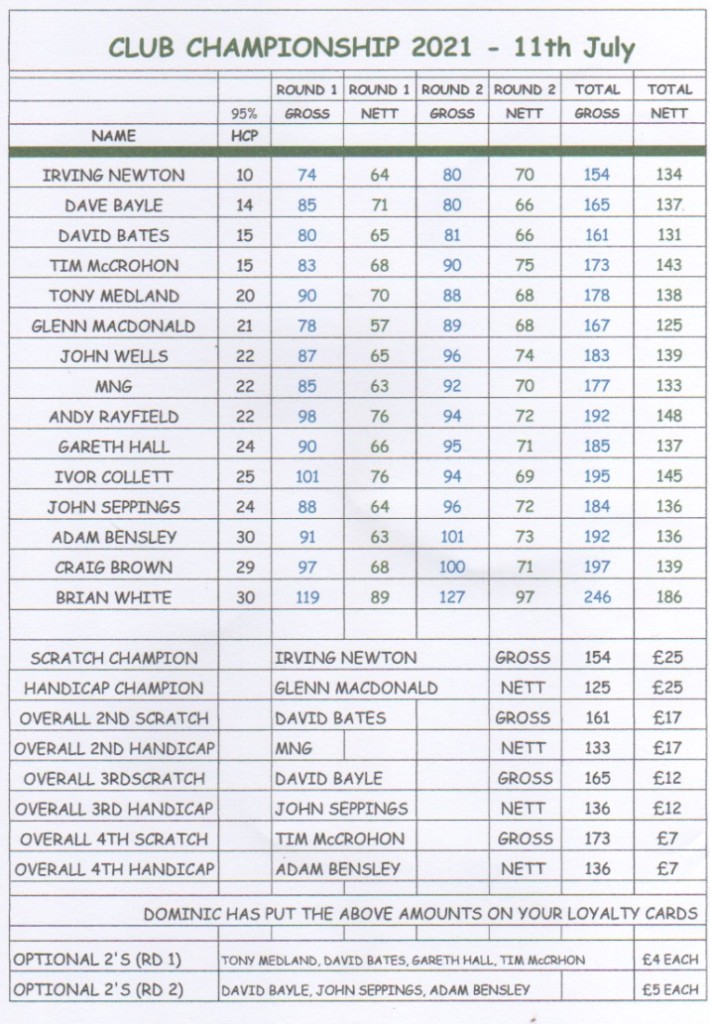 Well done to eveyone who took part and completed the 36 holes in one day.
Many thanks to Caroline for the fast results service provided above.
Captains Day
Firstly despite our fears about the weather forecast, it turned out (after the early rain) to be a very warm day.
The Captains Tankard was won by our newest member, Cliff Pegg, with 42pts. Then came 5 players with 38pts so placings were decided by count back. Runner up was David Bates and another newcomer to the club, Graham Muirhead, was third. This meant that 3 new members had their Handicaps cut - Cliff down to 19.0, Graham down to 31.4 and Adam Bensley down to 30.4 - well done to you all.
The Ladies Rosebowl was won by Susan Tuck, with Jane Gomm second and Chris Rayfield third.
MNG and Chris would like to thank everyone who turned out to make this such a great day and to say a big THANK YOU, as all the events raised the sum of £462 for their charity, which this year is The North Norfolk Foodbank.
Champion Chris
The Links ladies presented Chris, our Ladies Captain, with a bunch of Asiatic Lilies to mark her outstanding achievement in winning the Curtis Cup, which was the Bronze Division of the Norfolk Ladies Veteran Golf Society. Unfortunately due to Covid restrictions, Chris could not be presented with the cup on the day.
To add to this, this was the first time that Chris had played the course at Swaffham. Chris's score was a nett 65 and she is looking forward to her handicap being cut.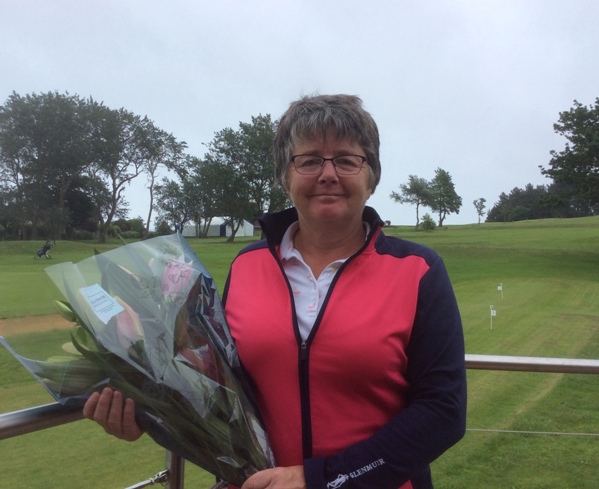 Ladies Update
Ladies Friendlies
It has been a busy month already as the ladies have had three friendly matches in the first half of June.
On the 3rd an away match to Middleton Hall resulted in a draw
A trip to Royal Norwich on the 11th ended in a 3-1 loss for the Links
Our home fixture on the 14th against Sheringham resulted in a 4-0 win for the Links ladies.
Well done everyone.
The Royal Norwich fixture was also an opportunity for the ladies to try out the course ahead of the
2nd round of the Gillieson which is on Sunday 27th June.
Chris Rayfield
Ladies Captain
Ladies Millennium Trophy
The ladies played their first cup competition of the year.
Congratulations to Jane Davies who won, this was her first trophy in her first competition with 36 points!
Second place was Chris Rayfield with 33 and third place was Kate Attenborough with 31.
Captain's Drive In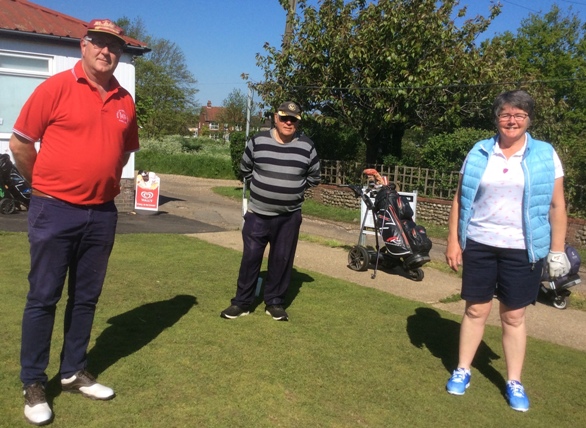 This year's Captain's Drive In was postponed from January 1st to May 30th due to the Covid restrictions.
The charity, chosen by Evan Tuck, that benefitted was Cromer Foodbank on the day to the tune of £130. Other known donations total £25.
The winners of the 9 hole Stableford competition that followed all 3 Captains drives, which incidentally were all great drives, were:-
1st David Bayle ocb, 2nd Susan Tuck, 3rd MNG ocb
Men's Winner David Bates, Ladies Winner Joan Munday, Seniors Winner Mike Jones
Gillieson Cup - A win for the Links Ladies
Congratulations to the ladies - a win against Swaffham 2-1 at home on Sunday 23rd May
sees the ladies through to round 2.
Barnard Win for the Seniors
Barnard Home v Dereham April 28 Links won by 10 holes
Well done to everyone, the next round will be away to Heacham Manor on 2nd June.
Mike Jones - Seniors Captain
England Golf WHS App
England Golf have added a new feature to their World Handicap System app which allows for General Play rounds to be recorded.
For more information please see https://www.englandgolf.org/handicapping/whs-app
Club Texas Scramble
It was a stunningly beautiful day and the course was in excellent condition. Cash prizes were given to the top 3 teams - well done to them. And a special mention to Eric Bailey who stepped in with just hours to go as one member had to drop out from injury.
1st 63.1 Thomas Hall, Dom Hazard, Mike Jones
2nd 63.8 Mike Patrick, Dave Bayle, Norma Neave
3rd 64.4 MNG, Barrie Bensley, John Chilton
4th 64.8 Brian White, Tim McCrohon, David Robinson
5th 67.2 Dave Bates, Craig Brown, Andy Rayfield
6th 75.8 Gareth Hall, Eric Bailey, Talbot Field
Club Competition Entries (Sunday Competitions)
Dear All,
The first post lockdown event has taken place at the Links.
AN IMPORTANT REMINDER THAT ENTRIES FOR CLUB EVENTS ON SUNDAYS SHOULD BE WITH ME NO LATER THAN THE WEDNESDAY EVENING BEFORE THE SUNDAY OF THE EVENT AS THE DRAW WILL BE DONE ON THURSDAY.
To enter please message me by text preferably (07850 780495) if you wish your name to be added.
The event for Sunday 11th April is the Club Monthly Medal (Handicap Cap of 28).
Do contact me with any queries.
MNG
World Handicap System
The NEW World Handicap System (WHS) will be introduced throughout the UK on 2nd November.
With just 1 month to go, it is important for all golfers with handicaps to read up about how it will affect them.
The way your handicap is calculated will change - Shortly you will be able to see your new 'Handicap Index' alongside your current handicap. From 2nd November, only your Handicap Index can be used.
Before you play, you will need to convert your Handicap Index to your Course Handicap. The Course Handicap may vary depending on the difficulty of the course you are playing and which set of tees you play from. All courses will have a look-up table near the first tee so this conversion can be done quickly and simply.
For more details please visit https://www.englandgolf.org/whs/golfers/ which includes a downloadable Players Reference Guide.
Please also see England Golf's Privacy Policy and Terms and Conditions. https://www.englandgolf.org/privacy-policy/
Diamond Knockout - Inter Club 4BBB
A team of six Ladies from the Links at West Runton travelled to Dunston hall on Wednesday 23rd March, to play in the Diamond knockout - inter club 4BBB competition.
Spilt into three teams the ladies from West Runton played in glorious weather against an experienced team from Dunston Hall who were playing on their own turf.
The competition had its highlights with the ladies from West Runton proving a challenging team to play against for the Dunston ladies.
In total 54 holes were played, with the ladies from the Links losing to the home team at Dunston Hall by seven holes. A match with some creative shots played by all the Links ladies.
Course Status
Saturday 5th March 2022
Course CLOSED - Very wet ground conditions