News and results
SVLGA 2018 AGM - Ufford Park
Monday, November 5th 2018
Ufford Park Golf Club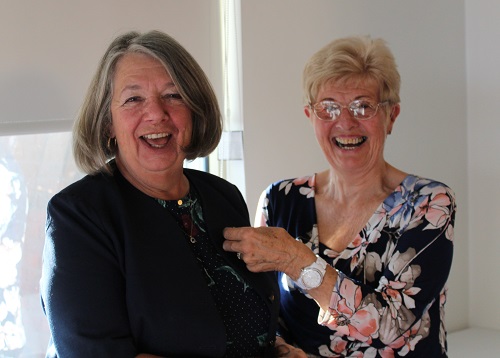 Anne Amos presenting Maureen Pearson with the badge of president
Although it was November the weather was glorious and the Ufford Park course was in fine condition and several players commented they would have liked to carry on and play all 18 holes!
We played 9 holes of greensomes stableford and prize winners were: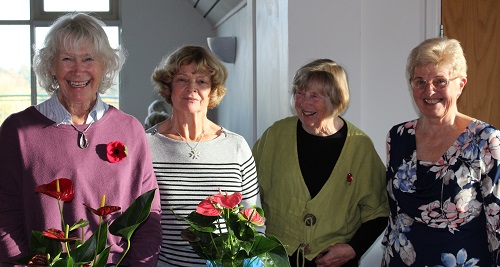 Front 9 Barbara Stear and Sylvia Butcher of Woodbridge, 20 points
Sarah Wales and Di Hegarty of Felixstowe, 18 points
Pat Cofield and Rose Stollery of Felixstowe, 17 points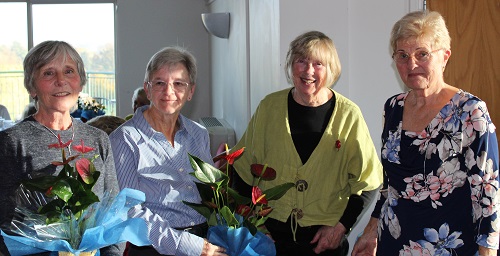 Back 9 Rita Bird and Janet Capon of Woodbridge, 16 points
Margaret Scales and June Kenworthy of Rushmere, 15 points (c/b)
Vicky Hunt and Kay Anderson, Ipswich, 15 points
After golf the AGM was held and Maureen Pearson of Felixstowe Ferry was elected as our President and Christine Lynch-Bates of Fynn Valley as Captain. New committee members Sheila Price (Haverhill), Liz Jeary (Bungay) and Sarah Wales (Felixstowe) replace retiring members Elaine Anderson, Rita Bird and Wendy Hayes. Sylvia Pearce (Stowmarket) and Eunice Gray (Woodbridge) were elected as vice-president and vice-captain.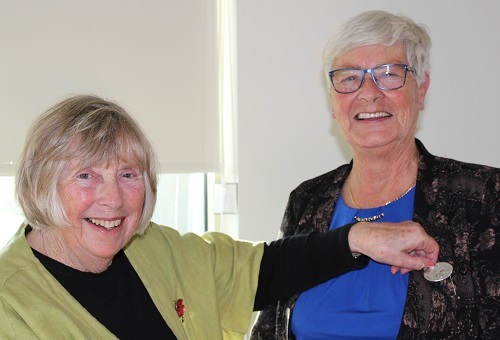 Alison Christian presenting Christine Lynch-Bates with the captain's badge
Our next event will be the Spring Meeting at Seckford G.C. On Monday, March 11th 2019.
A Merry Christmas and Happy New Year to you all.
2018 SVLGA Autumn Foursomes Newton Green
Members enjoyed fair weather and warm hospitality at Newton Green Golf Club on 10th September for the Autumn Foursomes competition played over 27 holes for the Causton Cups.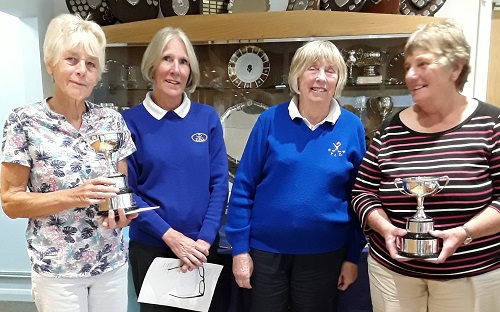 Winners with 51 points were Margaret Hills and Liz Ward, with Vivienne Sears and Susan Seabrook runners up on count back from Diane Clarke and Lynne Ridout both pairs on 49 points. Fourth place went to Ann Maskell and Rose Stollery only 1 point behind.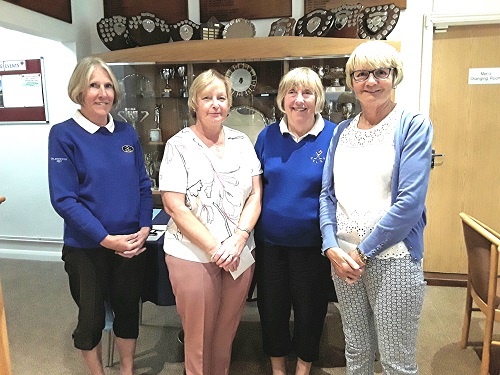 The 18 hole competition was won by Pat Cofield and Amanda Parks.
Prize winners are shown with SVLGA Captain Alison Christian and competition organiser Wendy Hayes
SVLGA Mixed Invitational Meeting at Gorleston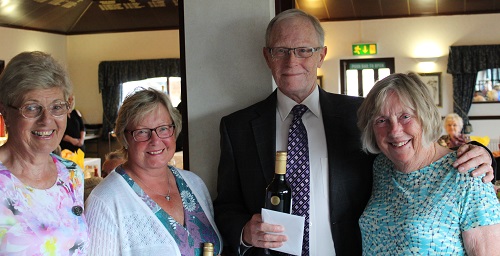 Mixed Invitational Winners Pat & Derek Cofield

Held at Gorleston Golf Club. The format was 18 hole foursomes stableford. The weather was somewhat cooler than of late and woolly jumpers were in evidence but it was dry and bright.

Considering the drought Gorleston Golf Club still had some green grass on the fairways and the greens were true and a delight to putt on, well done to the greens staff.

The competition was followed by an exceptionally good meal, thank you to the caterers .

1st. Pat and Derek Cofield. 43 points
2nd. Anne and Mike Young. 36 points (count back)
3rd. Liz Jeary and George Ling 36 points
4th. Vivienne Sears and Phillip Larking 35 points (count back)
5th. Gill Till and Neil MacDonald. 35 points

Best front 9. Pat and Tim Partridge. 22 points
Best back 9. Sheila and Michael Spencer. 17 points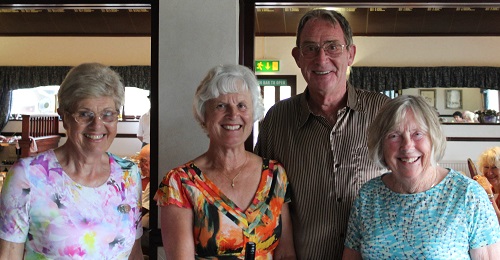 Mixed Invitational Runners Up Anne & Mike Young

The prizes were presented by our Lady President, Anne Amos and Lady Captain, Alison Christian.

Many thanks to the organiser, Elaine Anderson, and to the committee members who helped on the day.

Our next event will be the Autumn Foursomes at Newton Green G.C. on Monday September 10th. and entry is now open.
2018 Championship Meeting - Felixstowe Ferry Golf Club
Monday, May 14th SVLGA captain Alison Christian hosted our championships at Felixstowe Golf Club, here is the report from the day;
Although we were blessed with a clear sunny day at the stunning setting and excellently presented Felixstowe course, Boreas (God of the north wind) was a constant presence of around 25 mph and gusting at least twice that just as a shot or putt was struck so where a ball actually finished really was 'in the lap of the gods' and it could be argued that the par 73 was playing nearer a par 93!
The ladies bravely battled the conditions with all players completing the 18 holes and over a very tasty lunch provided by the Felixstowe catering staff there were many tales of 'what happened when'!
The awards were presented by Anne Amos, President and Captain Alison Christian.
Silver 0 - 20 Scratch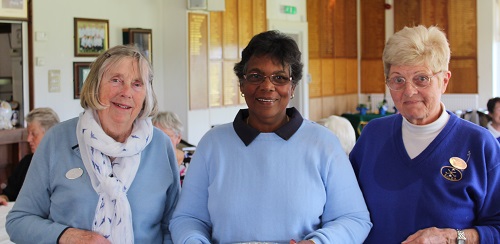 Lowest gross and the Championship Salver, Irma Suttle, Woodbridge.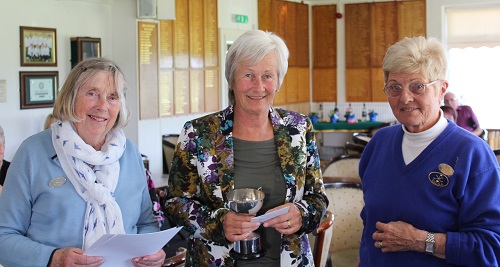 1st handicap and the Arleen Clowes Cup, Sylvia Pearce, Stowmarket.
2nd handicap, Jenny Chamberlin, Diss.
Bronze 21 - 36 Scratch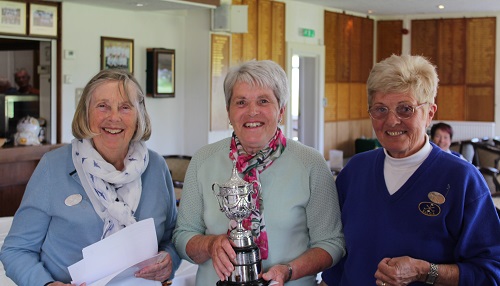 Lowest gross and the Eddis Cup, Sheila Burgess, Woodbridge.
1st handicap and the Sybil Voules Cup, Carolyn Tanner, Stowmarket.
2nd handicap, Pat Cofield, Felixstowe
Over 75 medal, Di Glasswell of Stowmarket.
Stableford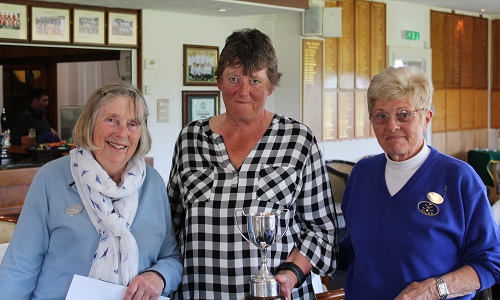 Pat Brega Cup, Di Hegarty of Felixstowe.
2nd Iris Davenport, Felixstowe.
Over 75 Stableford, Barbara Stear of Woodbridge.
Many thanks to Felixstowe Golf Club staff and members for their help and hospitality.
Our next event is the Mixed Invitation at Gorleston on Monday July 10th. Entry forms are in the yellow book and should be sent to Elaine Anderson by June 19th.
2018 SVLGA Spring Meeting Bungay & Waveney Golf Club
Monday March 12th the 2018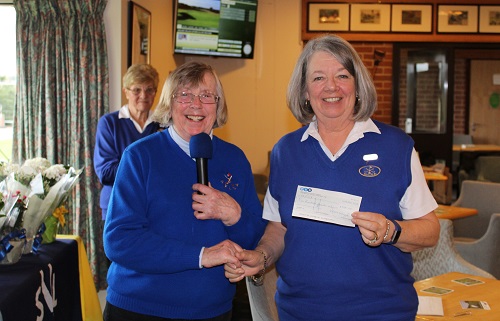 SVLGA Captain presenting County (SLCGA) President Mo Pearson with a cheque for £500 for County junior girls.
Fortunately there was a break in the recent wet weather and the competition was played in fair weather although the rain moved in just as we were finishing. It was a Greensomes Stableford format over 9 holes off both the back and front 9 on a surprisingly dry course. 84 ladies played in the competition and 12 other members joined them for the very tasty lunch, an excellent turn out and extremely well organised by committee member Rita Bird.
Winners of the front 9 with 19 points were Mary Sail and Denise Walker from Haverhill G.C. and the winning pair playing the back 9 scoring 22 points were Kate Simmonds and Anne Trueman of Woodbridge G.C.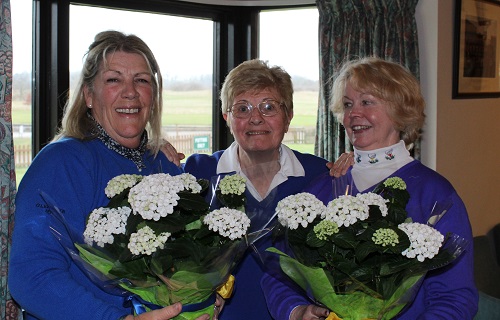 Kate Simmonds and Anne Trueman with Anne Amos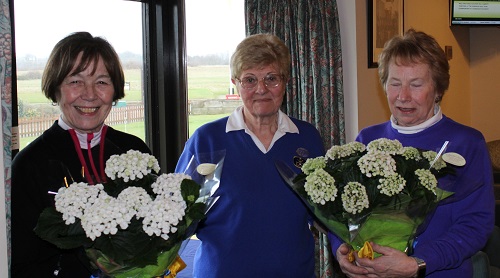 Mary Sail and Denise Walker with Anne Amos
SVLGA Captain Alison Christian presented County (SLCGA) President Mo Pearson with a cheque for £500 as a donation to be used toward the purchase of uniforms for the County junior girls. Each year the SVLGA raises funds for both a Captain's nominated charity and the County juniors.
The next event will be the Championship and is being held at Felixstowe G.C. on Monday, May 14th. Entries are now being accepted with a closing deadline of April 16th. Further information may be found in the 'yellow' book.
2017 SVLGA Ufford Park AGM
Monday 6th November saw a total of 96 golfers gather at Ufford Park Golf Club to play 9 holes of Foursomes before the AGM and lunch, where they were joined by a further 17 members. The morning dawned cold and frosty but gloriously sunny.
Scoring proved quite tough on the longer front 9 and the eventual winners of that competition, with 13 points, were Anne Graves and Nina Nielson (Woodbridge) on count back from Jenny Buckle and Kay Hazell (Stowmarket). In 3rd place were Linda Miller and Annette Llewellyn (Woodbridge), on count back from 3 other pairs who narrowly missed out, all scoring 12 points.
Despite starting on the rather daunting 10th, over the water, much higher scores were achieved by those playing on the back 9. Winners with a magnificent 18 points were Mandy Bouttell and Mary Krajewski (Fynn Valley) with Jane Bell and Carol Hines just pipping Anne Fenning and Joan Hunter (all of Stowmarket) on count back, with 17 points.
Winners receiving prizes from retiring President Eva Harris
2017 SVLGA AUTUMN FOURSOMES
HALESWORTH GOLF CLUB
MONDAY 11 SEPTEMBER 2017
RESULTS SHEET
27 HOLES NAMES PTS CLUB
FIRST `Dianne Hegarty & Sarah Wales 54 Felixstowe Ferry
SECOND Pam McBride & Sheila Burgess 51 Woodbridge
THIRD Dianne Clarke & Wendy Hayes 49 Ufford Park
FOURTH Vicki Hunt & Meenal Manning 47 Ipswich
18 HOLES
WINNERS Carolyn Tanner & Kay Hazel 22 Stowmarket
2017 Mixed Invitation Meeting
The Mixed Invitation Competition was held at Bury St Edmunds Golf Club on Monday 10th July 2017 .
The picture above shows Liz Langley and Chris Gwinnett-Sharp receiving prizes from President Eva Harris.
The SVLGA Mixed invitation day was held at Bury Golf Club on Monday 10th July 32 pairs played .The sun shone right up until the last 3 came in when the heavens opened ! The scoring was good considering that the format was foursomes !
Thank you to everyone who helped and to Bury G.C for their hospitality .
Results
1. Liz Langley and Chris Gwinnett-Sharp Bury GC 41 points
2.Rita Bird and Martin Lamb Woodbridge 40 points
3.Sue and Steve Whymark. Woodbridge 38points on cb
4.Pat and Malcolm Crissell. Woodbridge 38points
5.Pat and Derek Cofield. Felixstowe. 38 points
Best front 9 Vivienne Sears Phillip Larkin Thorpeness. 21points
Best back 9 Kate and Mike Simmonds. Woodbridge. 22points.
2017 SVLGA Spring Championship
Ipswich Golf Club Monday 8th May 2017
Championship Salver
Silver 0-20 Scratch Ann Graves Gross Score 91
Arleen Clowes Cup
Silver 0-20 Handicap 1st Anne Amos Nett Score 77
2nd Elaine Anderson Nett Score 78
3rd Jenny Buckle Nett Score 78
Eddis Cup
Bronze 21-36 Scratch Nina Nielsen Gross Score 99
Sybil Voules Cup
Bronze 21-36 Handicap 1st Annette Llewellyn Nett Score 73
2nd Marianne Haines Nett Score 75
3rd Sheila Burgess Nett Score 77
Over 75 Medal Nina Nielsen Nett Score 78
Pat Brega Cup
Stableford 1st Jane Fishwick 38 pts
2nd Heather Harvey 34 pts
3rd Lesley Barnes 34 pts
Over 75 Stableford Sylvia Studd 33 pts
2017 Spring Meeting
Waldringfield Golf Club 13th March
The 9 hole Greensomes competition was held at Waldringfield GC on Monday 13th March on a beautiful Spring morning. Front 9 winners, with 17 points were Dianne Clarke (Ufford Park) and Annette Llewellyn (Woodbridge) shown with Eva Harris, SLVGA President. Runners-up were Margaret Newman and Carol Brown. Third place went to Amanda Boutell and Mary Krajewski with Jean Cross and Sarah Wales in 4th.
The back 9 was won by Sandra Bowman playing with Jenny Chamberlin (Diss) with 20 points. They received their prizes from Eva Harris. Pat Edworthy and Ann Young were 2nd, Jackie Waghorn and Sue Chateau 3rd, 4th place went to Sue Whymark and Pat Crissell.
SVLGA - 55th AGM....
55th AGM at Waldringfield Heath Golf Club 7th November 2016
The 55th Annual General Meeting of the Suffolk Veteran Ladies Golf Association was held at
Waldringfield Heath Golf Club on the 7th November 2016 with 99 ladies attending the AGM. The outgoing Captain, Rita Alcock, announced that the SVLGA ladies had raised £701.27 for her chosen charity "The Alzheimer's Research Society" and was very appreciative of the members' raising this amount for a very worthwhile cause.
Prior to the AGM, 78 ladies played in the 9 hole Foursomes competition.
Competition Results
Front Nine winners
1st June Kenworthy & Margaret Lee 18
2nd Sylvia Pearce & Ann Maskell 17
3rd Linda Bensley & Diane Glasswell 15 cb
Back Nine Winners
1st Eunice Gray & Sue Fulcher 19
2nd Rita Bird & Janet Capon 15
3rd Liz Ward & Margaret Hills 14
SVLGA - Autumn Foursomes - Rookery Park
On the 26th September 44 ladies played in the Autumn Foursomes Stableford at Rookery Park Golf Club. Everyone enjoyed ideal conditions for playing golf other than a late afternoon shower which caught a few of our ladies as they completed their 27 holes. The results of the competitions were:
27 Holes
Winners of the Causton Cups - Sue Whymark & Sue Fulcher (Woodbridge) 60 points
2nd Helen Lawson & Marianne Hayes (Diss) 55 pts 3rd Pat Cofield & Rose Stollery (Felixstowe) 51 Pts
4th Liz Jeary & Di Glasswell (Bungay/Stowmarket) 50 points
Winners of the 18 Holes Stableford
Carolyn Tanner & Kay Hazell (Stowmarket) 32 points
Thanks to all the ladies who participated and made the day so enjoyable.
Rita Alcock
SVLGA v SLGA Seniors Foursomes Matchplay
The annual foursomes match against the SLGA Seniors was held on 23 September 2016 at Bungay & Waveney Golf Club. The weather on the day was dry, sunny and warm, so unusual for late September.
The teams were:
| | |
| --- | --- |
| SVLGA | SLGA Seniors |
| Liz Jeary & Hilary Fitch | Tessa Summers & Judy Taylor |
| Sheila Jarvis & Ann Maskell | Fiona Ferrie & Susie Monson-Bahr |
| Irma Suttle & Jane Cadge | Jane Wharton & Jane Hammett |
| Rosalie Skinner & Kay Anderson | Venetia Lebus & Louise Morse |
The Foursomes Teams
The match was keenly contested and the SVLGA won by 2½ to 1½
Well done the SVLGA Ladies – a really great result.
SVLGA Mixed Invitation 2016
18 Hole Foursomes: Thorpeness Golf Club 11th July 2016
A total of 44 lady 'Veterans' representing 11 different Suffolk clubs were accompanied by their male partners as they competed in very blustery conditions at Thorpeness GC. Though storms had been forecast, thankfully these held off until the majority were safely in the Country Club, where the excellent after match meal was served and the results announced. It was frustrating that the last few competitors did get rather wet and the results board never did make it into the Club as it had been practically washed away in the downpour that started just after the last group finished their final hole.
For much of the day it looked as though the winners would be Sue and Stephen Whymark (Woodbridge GC) who were in the lead with 39 points for some considerable time. However, Sylvia Studd and partner Doug Pipe (Felixtowe Ferry) produced an unbeatable score of 43 which included 6 pars and a result on every hole. Ann and Mike Young (Woodbridge) came in with 40 points to take second place, with Flora and Richard Dewar (Stowmarket) and Alison and Brian Kemp (Felixtowe Ferry) in fourth and fifth places, both with 36 points. Elizabeth Matthias and Edmund Fivet (Aldeburgh) with 34 points just missed out on the prizes.
Best front 9 was won by Georgina Dearn and Robin Leggate (Woodbridge) with 19 points, the same score as Mo and Chris Pearson (Felixtowe Ferry) who were successful on the back 9.
Jenny Buckle (Stowmarket) and Gill Singleton (Aldeburgh) respectively won 'Nearest the Pin' and the 'Line'.
SVLGA 2016 Spring Championships
Fynn Valley Golf Club - Monday 9th May 2016
Our annual Spring SVLGA Championships was held on Monday, 9th May at Fynn Valley GC. The participating ladies enjoyed a warm sunny day and the course condition was excellent.
The full results and photographs of the winners are shown below.
SILVER Championship Salver
0 – 20 Scratch Ann Graves Woodbridge 90
Handicap Ardeen Clowes Cup
1st Sylvia Pearce Stowmarket 75
2nd Sheila Jarvis Felixstowe Ferry 77
3rd Hilary Fitch Bury S. Edmunds 79
BRONZE Eddis Cup
21 – 36 Scratch Rita Bird Woodbridge 98
Handicap Sybil Voules Cup
1st Marianne Haines Diss 77
2nd Susie Wymark Woodbridge 78
Over 75 Medal
Nina Neilsen Woodbridge 86
STABLEFORD Pat Brega Cup
1st Amanda Bouttell Fynn Valley 37
2nd Chris L:ynch-Bates Fynn Valley 36
3rd Mary Sparrow Fynn Valley 29 C/B
Over 75 Stableford
Flora Dewar Stowmarket 29
SVLGA Spring Meeting at Waldringfield Golf Club
21st March 2016
On a sunny Spring day 72 ladies played a 9 hole Greensomes Stableford and afterwards a total of 96 ladies enjoyed lunch. Prizes were presented by our President, Sheila Burgess, and the results of the competition are as follows:
Front 9 winners were:
1st Jenny Buckle and Kay Hazel of Stowmarket 20 pts
2nd Margaret Lee and June Kenworthy of Rushmere 17 pts c/b
3rd Barbara Pratt and Carol Perks of Rushmere 17 pts c/b
Back 9 winners were:
1st Carolyn Cocksedge and Pat Hawkins of Newton Green 18 pts c/b
2nd Sylvia Sibthorpe and Sue Strutt Holmes of Bungay 18 pts c/b
3rd Sue Thurgate and Sheila Walter of Newton Green 18 pts c/b
Lunch Photos
Don't forget your entries for the Championship on 9 May