About » Noticeboard
2019 Risbygate Masters...another great success
World Bowls star Jamie Chestney from Exeter won the Risbygate Masters Indoor Bowls competition at a packed Risbygate Sports Club on Sunday.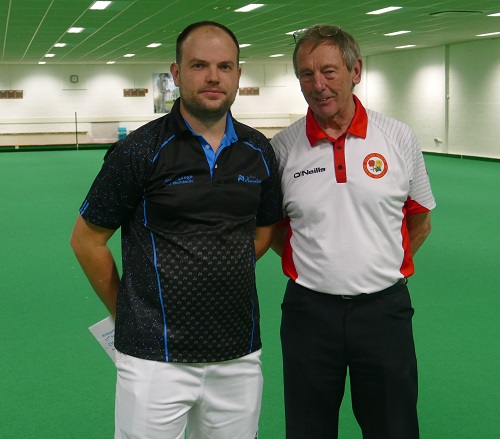 2019 Masters winner Jamie with Club President Bernie Millard
In a top-class final, he took the first set 9-2 against Chelmsford's James Rippey before Rippey hit back to take the second set 7-4. Thus it came down to a tie break and Chestney, after winning end one, surprised everyone in the arena by trying to hit a bare jack on end 2. He missed with his first bowl, but his second attempt struck the jack off the side of the rink. Rippey drew close to the re-spot, and this time Chestney drew onto the front of the jack. Rippey's attempt at a match-saving draw snagged on a short bowl. It was an enthralling finish to a marvellous day of bowls.
In the semi-finals, Chestney beat Norfolk's Rebecca Willgress (nee Field) in a tight match on a tie-break while Rippey shared one-sided sets with Ely's Andy Ware before taking the tie-break 2-0.
Chestney was one of a host of the country's top bowlers displaying their skills to a full venue. His journey from Devon was the furthest and others came from Nottinghamshire, Lincolnshire and Northamptonshire with a strong contingent from Norfolk.
Disappointingly local interest ended in the first round with Mark Royal, Katherine Rednall (2017 winner), Alan Blowers and Dan Poole all missing out.
Mark won his second set 9-0 but the tie-break went against him.
Katherine narrowly lost her first set then a tied second set was not enough.
Last month's World Bowls finalist Simon Skelton from Nottingham also had a short day. He had a brilliant contest with 2018 winner Mathew Orrey (Spalding). Orrey took the first set by a single shot then recovered in the second to tie the scores and win the match. Orrey's hopes ended in a quarter-final tie-break with Chestney.
The quality of the competitors was astounding, made possible by the efforts of Mark Royal and by local sponsors including Pro-Flat, GL Cars, Towergate Insurance, Fred.Olsen Cruise Lines, Greene King and Armstrongs Funeral Service.
Match scores.
First round: James Rippey beat Dan Poole 7-3, 8-5; Andrew Ware beat Katherine Rednall 6-4, 5-5; Ellen Falkner beat Jamie Walker 10-5, 0-8, 2-1; Tom Segolo beat Mark Royal 7-5, 0-9, 2-0; Wayne Willgress beat Tom Doig 9-7, 6-2; Jamie Chestney beat Alan Blowers 6-5, 9-0; Mathew Orrey beat Simon Skelton 8-7, 6-6; Rebecca Willgress beat Jake Lesley 6-5, 4-7 2-0. Quarter Final: James Rippey beat Wayne Willgress 6-2, 6-5; Andrew Ware beat Ellen Falkner 9-0, 7-3; Jamie Chestney beat Mathew Orrey 4-6, 8-1, 2-0; Rebecca Willgress beat Tom Segolo 7-2, 9-4.
Semi-Final: James Rippey beat Andrew Ware 2-12, 11-2, 2-0; Jamie Chestney beat Rebecca Willgress 6-5, 5-8, 2-0.
Final: Jamie Chestney beat James Rippey 9-2, 4-7, 2-0.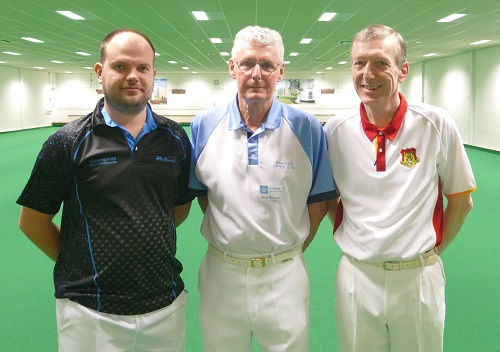 Masters Champion Jamie with Mike Bowen and Alan Blowers
BAR FRANCHISE OPPORTUNITY
Risbygate Sports Club is located just off the town centre of Bury St Edmunds and has 720 members who are able to enjoy various sporting and social activities throughout the year. The Club began life in 1912, however there has been reference to a bowling green on the site since 1795.
The site includes an outdoor bowling green, four hard tennis courts, two of which are floodlit for evening play, and an area for petanque outside. Inside it has a four rink bowling green, two squash courts, changing rooms and shower facilities. The clubhouse has a comfortable bar, meeting room and a large flexible function room.
As well as regular sporting events, including the prestigious Risbygate Masters Indoor Bowls Tournament attracting international bowlers, the club itself puts on a number of well attended social functions throughout the year, and the function room and meeting room are well used with regular bookings from outside organisations including a twice monthly folk club with a regular attendance of around 40, The RAOB, Probus Club, ukulele group, a poetry club and various others. The club are very keen to develop social use of the facilities, and would expect the bar manager to be a significant part of that development.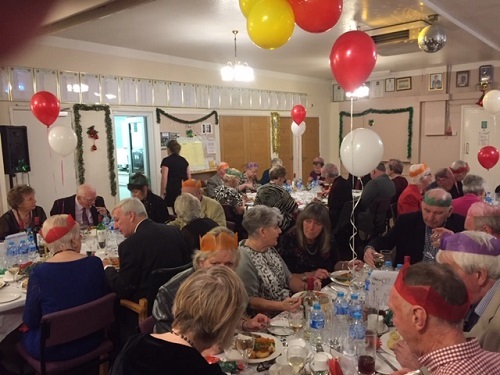 Well attended Annual Christmas Dinner & Dance
The successful candidate should be able to demonstrate the following:
Enthusiasm to work with management to increase income in both bar and to develop catering.
Experience in bar management including cellar management, stock ordering and control.
Ability to manage and develop the bar to exceed expectation
Excellent communication skills, high focus on customer service and the ability to respond positively to challenges.
The role requires flexibility in the hours of service, as well as a hands-on approach and a can-do attitude. An appreciation of a sports club environment would be beneficial but not essential. The Steward will be an independent contractor who will be responsible for all aspects of the running of the bar and liaise directly with the Club management. The successful candidate will have proven experience and excellent customer service skills and be able to generate new and improved business for the Club and Franchise.
Please note that the Club does not provide accommodation.
Please contact the General Manager and send your CV to
Email: manager@risbygatesportsclub.co.uk
Post:
Risbygate Sports Club
Westley Road
Bury St Edmunds
Suffolk
IP33 3RR
Telephone: 01284 755468
Applications close Friday 8th March 2019
Anniversary Dinner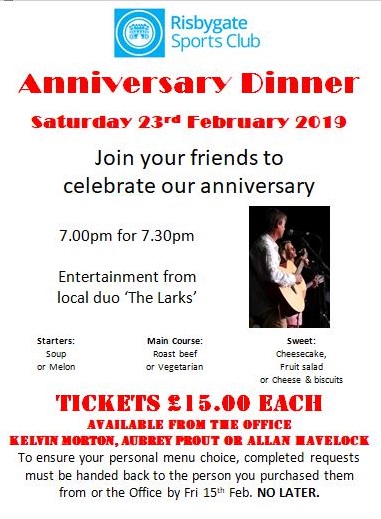 Christmas Cracker 2018
There was a great turnout for this years Christmas Dinner & Dance with 92 members and their guests enjoying a great Christmas meal and dancing the night away.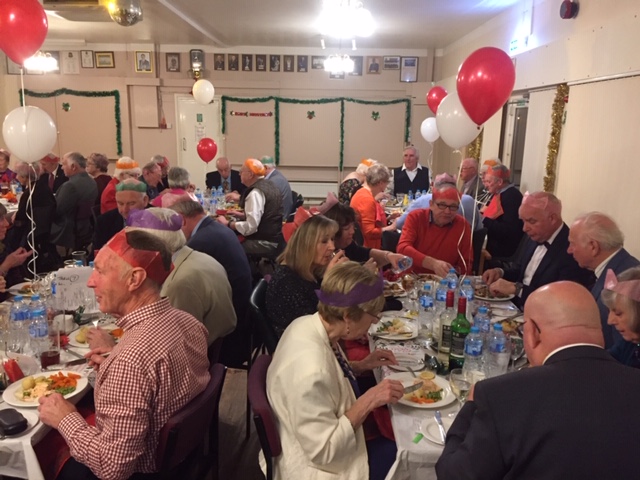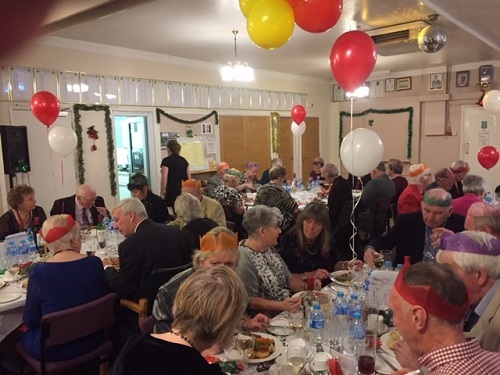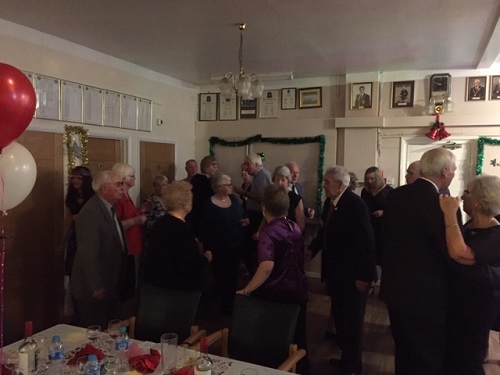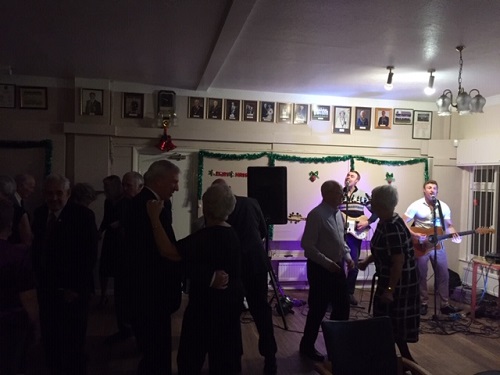 2019 Risbygate Masters
International Stars turning out for 2019 Risbygate Masters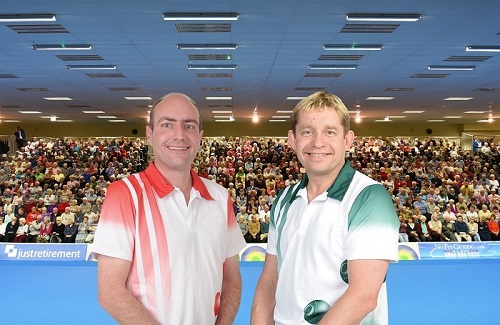 Pictured above Mark and Greg
Another fantastic line up is taking shape for the next "Risbygate Masters" Bowls event scheduled for Sunday February 17th next year (2019)
Mark Royal Risbygate's England international has once again invited a host of top quality international bowlers from around the UK and we can expect many past and current world champions doing battle again at Risbygate's Westley Road Sports Club.
Thirteen invited internationals including Gregg Harlow, Katherine Rednal, John Price, Wayne Wilgress, Ellen Faulkner, Rebecca Field, will join Mark plus two other members of the club who must first win through an internal knockout competition in order join the elite group and make up the sixteen players required for this prestigious competition now in its third year with a big money prize at stake.
Spectator space is limited therefore interested spectators who would like to attend on the day should register their interest in order to secure a ticket by writing to The Secretary Risbygate Sports Club Westley Road Bury St Edmunds IP33 3RR. Or email:- mikebowen13@hotmail.co.uk
UKE CELEBRATION FOR KEN'S 80th
Popular Risbygate Ukulele club member Ken James celebrated his 80th birthday in style with the rest of the Uke members at the club a few days prior to the big day on Saturday October 27th 2018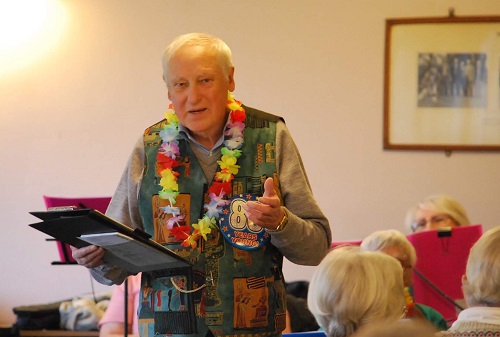 "It's my party so I'll preach if I want to".
​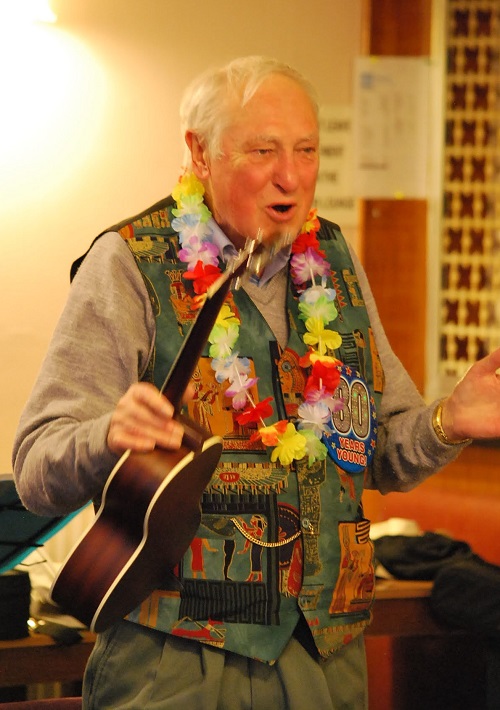 "Its' my party so I'll sing if I want to".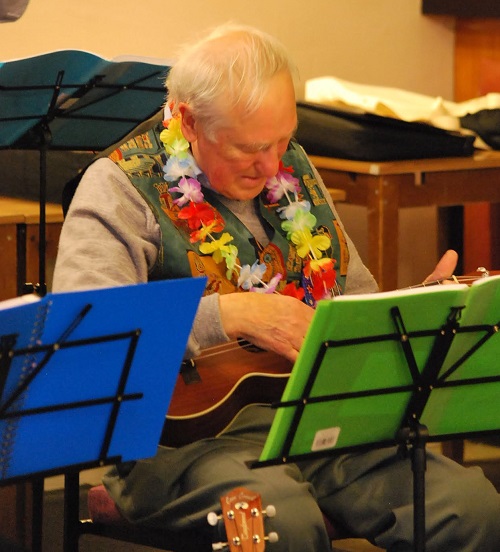 "It's my party so I'll sleep if I want to".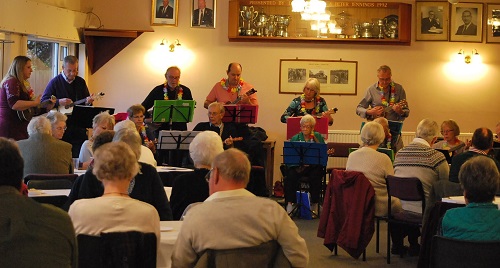 "It's his party so we'll play if we want to".
Ukulele Club
Entertaining the WI in Barrow Risbygate Sports Club Ukulele Band
"Strike the Right Cord"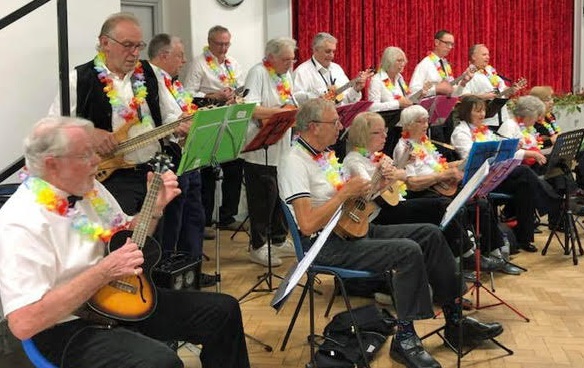 The Risbygate Sports Club Ukulele band was a real hit when it entertained the WI in Barrow on Monday evening 15th October at Barrow Village Hall.
17 members of the Risbygate Sports Club Ukulele Band played for over 60 women from the local WI with some great music entertainment. The ladies thoroughly enjoyed themselves singing along to many well know hits it was a great fun night and super entertainment.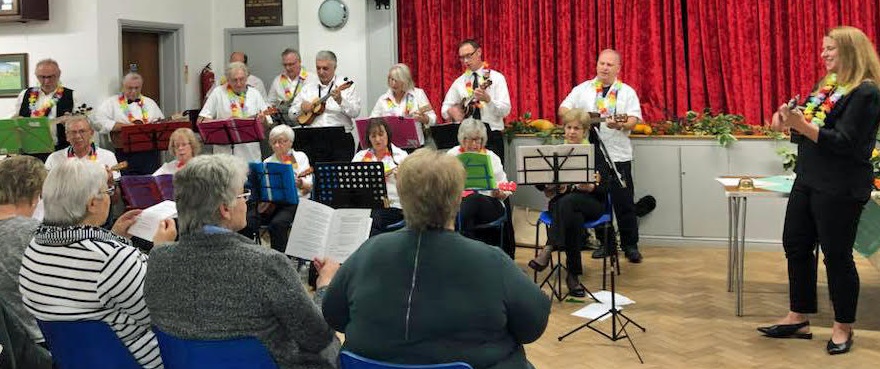 If you want to learn how to play the Ukulele click on the link below for details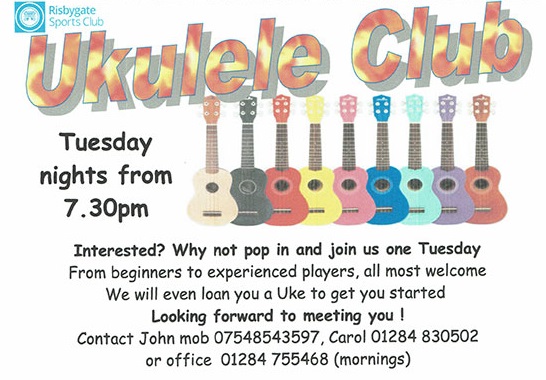 http://risbygatesportsclub.co.uk/socialfacilities_ukele.php
Anglia TV Sport Film Walking Netball
NET RESULT - WALKING NETBALL CATCHING ON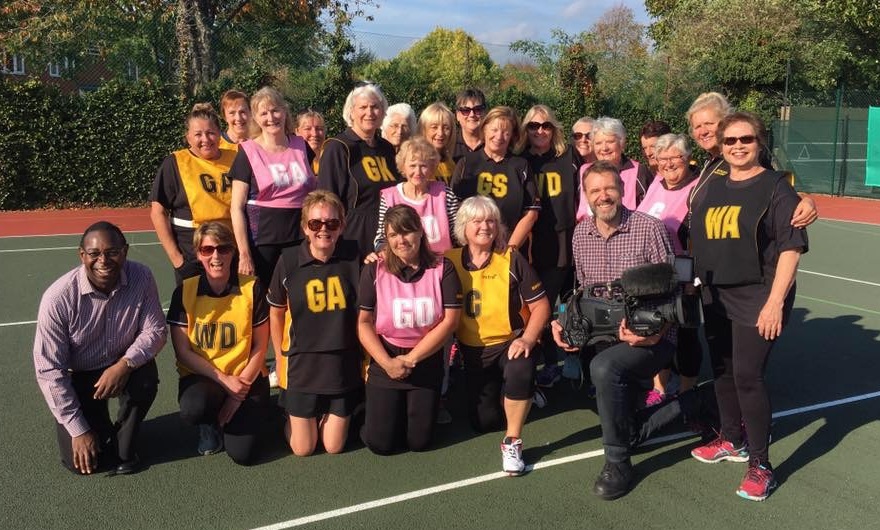 Walking Netball is growing in popularity and the introduction of the sport at Risbygate Sports Club in Bury St Edmunds has really raised the profile with more and more people wanting to join in. It has now caught the attention of ITV Anglia Sports reporter Donovan Blake who visited the club this week to report on how the sport is developing so much interest. Donovan and his camera man were introduced to the club President Bernie Millard and the players some of which were enjoying the sessions for the very first time. "They enjoyed the club hospitality and even stayed for tea", said Coach Tracey Butcher.
Pictured: Players with Donovan and camera man Sean
Walking Netball comes to Risbygate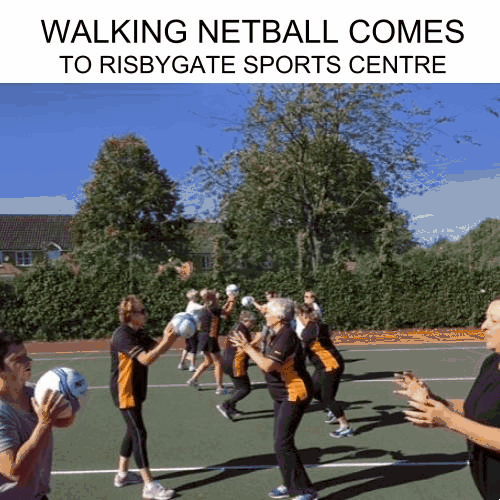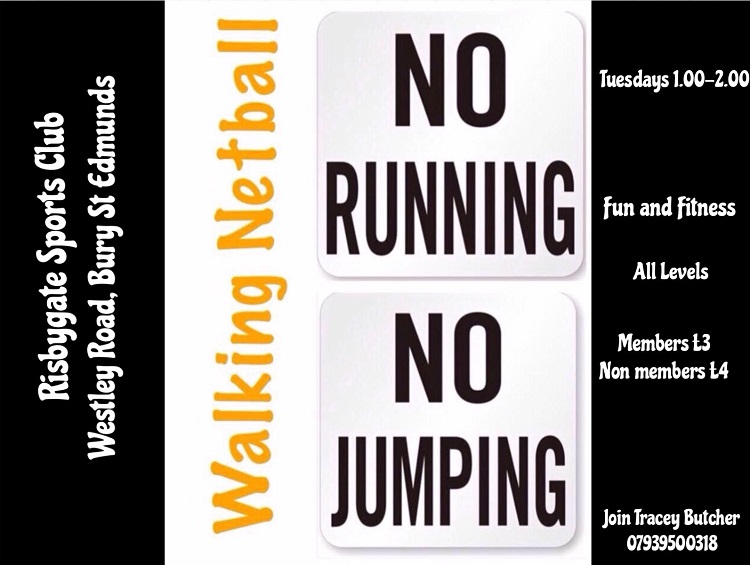 Due to increased demand walking netball has now arrived at Risbygate sports club in Bury St Edmunds. Tracy Butcher started her walking netball classes at 1pm on Tuesday 25th September with the first session free. This low impact sport is great exercise with a good social gathering and can be played by all ages. Come along and give it a try we know you will enjoy yourself and feel better for it. Easy parking with excellent club facilities.
For further information call Tracy on 07939 500318.
Macmillan Coffee Morning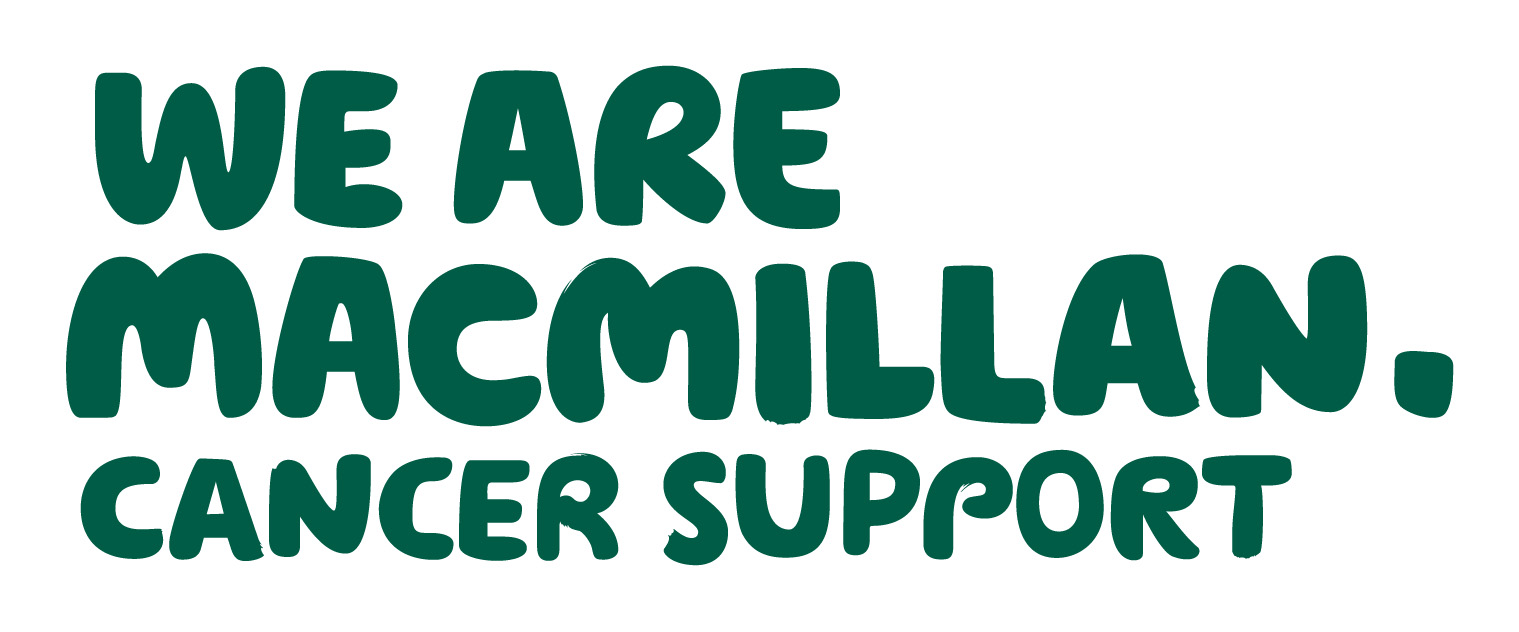 Join us for our popular Macmillan Coffee Morning
at the Risbygate Sports Club, Westley Road, IP33 3RR
on Friday 21 September 2018 from 10am to midday
* Refreshments with home-made cakes & biscuits original hand-made crafts
* Christmas decorations, toy dolls & animals, scarves, jewellery, cards, all competitively priced
* Raffle prizes, fruit basket
With FREE parking & friendly faces We've raised £1550.65
in the last three years – so please help us to help Macmillan again
Organised by members of the Art & Craft Group at the Risbygate Sports Club
Ukulele Club - Summer 2018
CLICK HERE TO SEE THE VIDEO ON YOU TUBE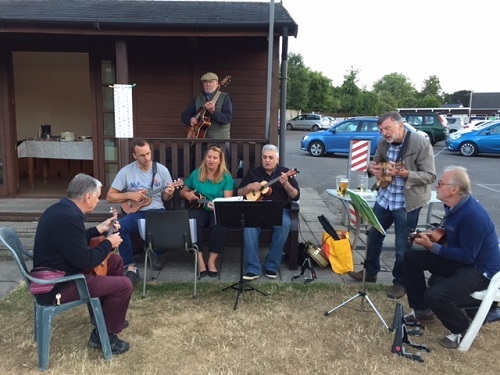 The Ukulele Club held their planned outdoor session on the Petanque court on Tuesday evening 10th July (just as the sun and heat decided to disappear) and whilst there was a few no shows due to the world cup football a great time was had by all culminating with lavish spread of savoury and sweet delights followed with a game of Petanque led out by John & Jade.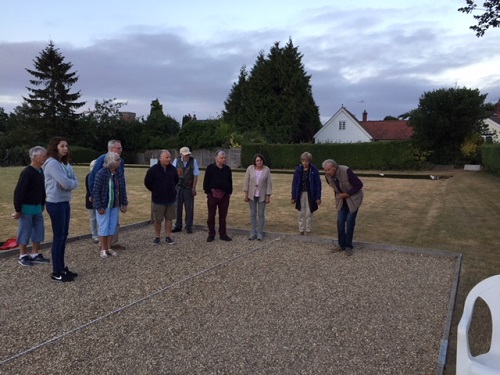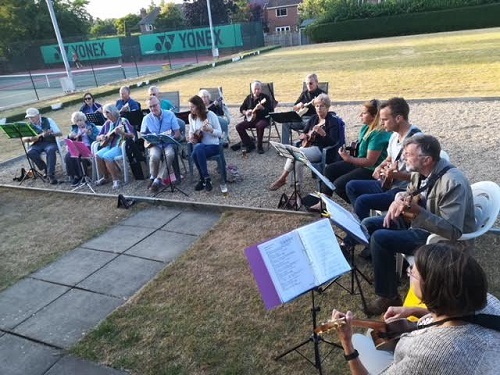 Life Membership for Mike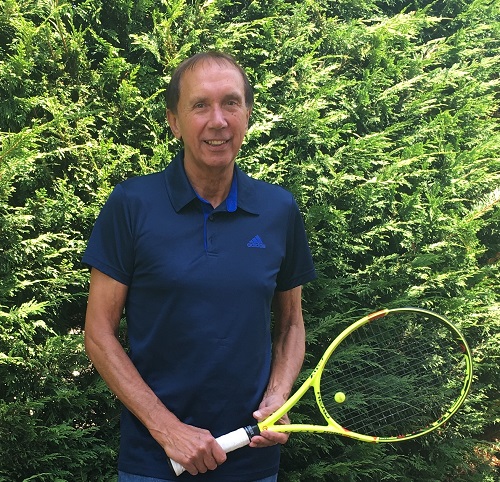 Mike Ellis has been made a Life Member of the Risbygate Sports Club as a result of his service to the tennis section of the club.
He was proposed by the then President of the Club (now Immediate Past President) Kelvin Morton who informed the committee that Mike had originally joined the club in 1955. He was then a member of the newly formed junior section of the club with a handful of other youngsters.
He progressed to the seniors section and was Tennis Captain twice and served on the committee. He represented the club for many years and was a member of the Men's team that won the Cambs and District Division 1 title on two occasions and also won the club singles many times. However, his main tennis success came in later life when he played and won various International Tennis Federation (ITF) Senior tournaments in his age category culminating in reaching numbers 43 in the ITF World Rankings in 2010 and number 1 in the Lawn Tennis Association (LTA) over 70 rankings for a brief period in 2014. He was honoured to receive Suffolk LTA County Colours in 2012 and received an award as the Outstanding Adult/Senior player by the Suffolk LTA in 2016.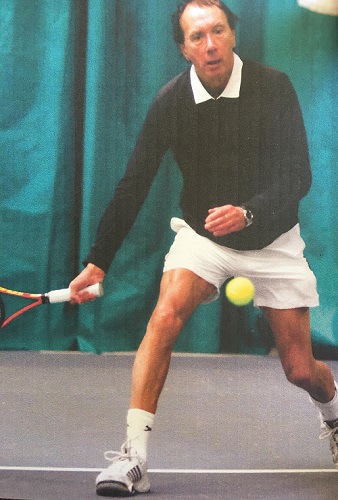 Ukulele Club celebrate second anniversary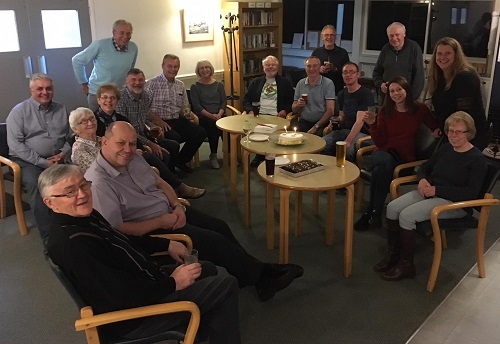 Members of the Ukulele club celebrating the their second anniversary on the evening of Tuesday 25the April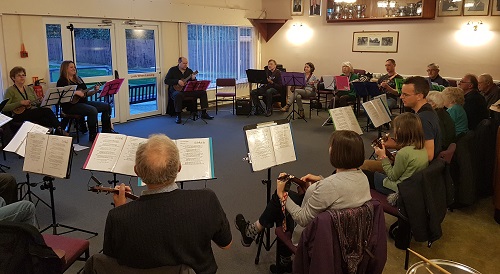 Ukulele club practice night
2018 Masters ....a great success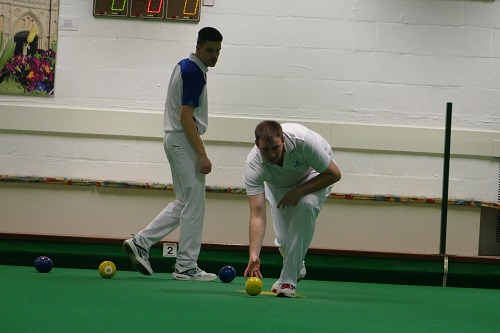 Wayne Willgress in action watched by Mathew Orrey.
.An illustrious field of bowlers gathered at Risbygate Sports Club on Sunday for the second Risbygate Masters supported and sponsored by local businesses.
There was much quality and drama with 5 of the 15 matches being decided 2-1 in the tie-break set. And the drama extended to the last bowl of the day with Mathew Orrey from Spalding producing a fantastic shot to take the title leaving Norfolk's Wayne Willgress as a disappointed runner-up. Orrey saved a match lie on end 2 of the tie-break with a brilliant draw and Willgress was a millimetre away with his final effort. On the third and last end, one bowl remained, Willgress had a perfect position, and Orrey attempted a draw. His line was slightly narrow, but the bowl glided off a front bowl and displaced the toucher of Willgress without movement of the jack. Nick Armstrong of Armstrongs Funeral Service made the presentations.
In the semi-final, Orrey drew relentlessly against Andrew Walters from Worcestershire. Walters responded with thunderous drives that restricted the shot count but did not save the game although each drive caused a buzz in the audience.
Home bowler Mark Royal had misfortune against Willgress in the other semi-final. Uncertain if he would win a measure for the match, he drew a toucher only to fall away and still lose on a measure.
Greg Harlow from Ely, the number 1 ranked player on the World Bowls Tour, lost to Walters. Other participants included John Price and Jason Greenslade from Wales who fell to Willgress and Royal respectively. Also deserving of mention is Scott Edwards who out-scored Orrey, but was unable to win their tie-break.
It was a tremendous day of quality bowling and quality competition.
Results - Round 1: Mathew Orrey by Amy Walters 9-1 5-4, Scott Edwards bt Jamie Walker 8-3 5-6 2-1, Andy Walters bt Rebecca Field 6-5 7-4, Greg Harlow bt Marcus Fuller 11-1 9-1, Wayne Willgress bt James Rippey 6-6 8-2, John Price bt Matthew Smith 6-9 8-1 2-0, Mark Royal bt Paul Broderick 6-6 6-4, Jason Greenslade bt Tom Doig 9-3 6-4.
Quarter-finals: Orrey bt Edwards 6-3 3-9 2-1, Walters bt Harlow 4-4 7-6, Willgress bt Price 9-3 4-6 2-1, Royal bt Greenslade 7-2 6-4.
Semi-finals: Orrey bt Walters 6-2 6-1, Willgress bt Royal 5-6 10-0 2-1.
Final: Orrey bt Willgress 2-6 7-2 2-1.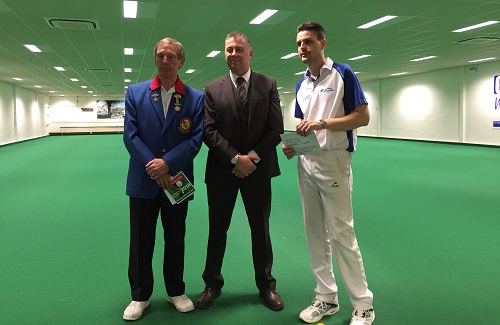 Bernie Millard (Risbygate President), Nick Armstrong (Armstrongs Funeral Service), Mathew Orrey (champion).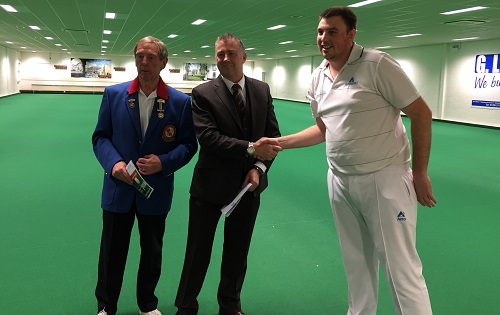 Bernie Millard (Risbygate President), Nick Armstrong (Armstrongs Funeral Service), Wayne Willgress (runner-up)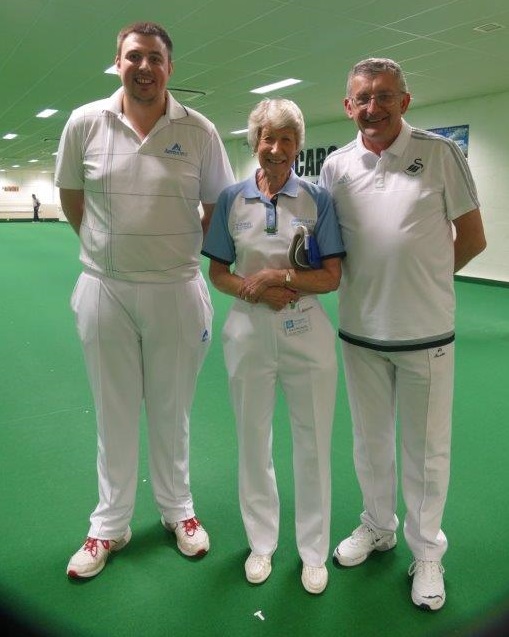 PRE-MATCH Wayne Willgress (Norfolk), Avril Nicholls (marker from Risbygate), John Price (Wales).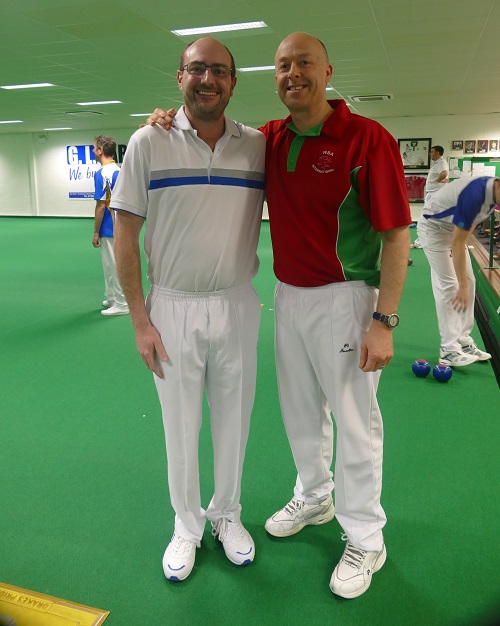 PRE-MATCH Mark Royal (Risbygate), Jason Greenslade (Wales)
BERNIE ELECTED CLUB PRESIDENT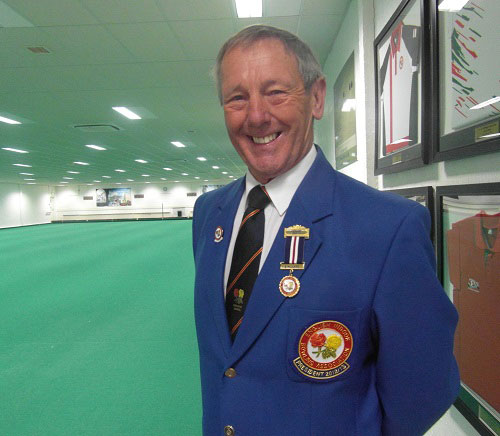 Bernie Millard past National President of the English Indoor Bowling Association and past National President of the English Bowling Federation was elected President of the Risbygate Sports Club at the clubs AGM held on Thursday 8th February. Bernie brings with him a wealth of experience within the bowls world and is a committed club member supporting all sections of the club and together with his wife Jan regularly coaches young school children in the clubs indoor bowls arena and being a retired PE instructor is keen to promote all sporting activities the club provides. Bernie replaces the retiring President Kelvin Morton who gave the club eleven years' service as president and served on many committees. Kelvin now moves to the position of immediate past president and has been a club member for forty years. The club wishes Bernie every success in his term of office and pays special thanks to Kelvin for his dedication and loyal support over the years.
Top Bowling Stars in Bury for the RISBYGATE MASTERS 2018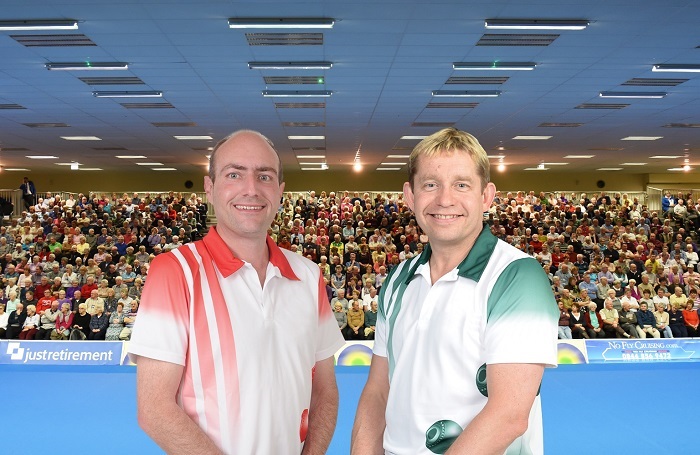 Following a very successful 2017 launch of their Masters Tournament Risbygate Sports Club have confirmed this year's tournament date as Sunday February 18th 2018. Their own England international Mark Royal has once again invited some of the top players on the circuit to join him, and they include Greg Harlow (World Bowls Tour ranked one), Wayne Willgress (World Indoor Singles semi-finalist 2018), Rebecca Field (World Indoor singles runner-up 2018), John Price (winner of World Indoor Singles, Pairs and Mixed Pairs), and Jason Greenslade and Les Gillett (World Indoor Pairs champions 2017) who will battle it out over a full day at Risbygate's Bury St Edmunds sporting complex.
Joining the stars will be two of Risbygate's own bowlers who won through internal play-offs. Matthew Smith of Ixworth and Marcus Fuller of Stowmarket will have the opportunity to cause an upset on the day.
Katherine Rednall was last year's winner of a closely contested final and everyone will want to win this major prize immediately following the world championships a few miles up the road at Hopton.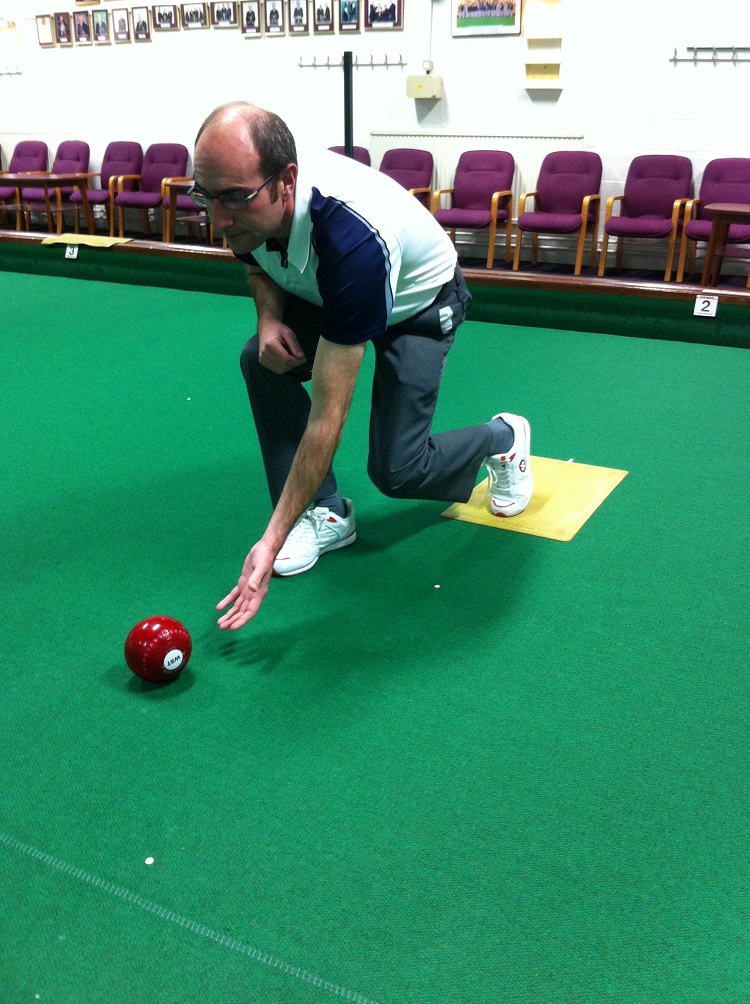 With local and regional press together with TV covering the event this showpiece is now set in the diary as an annual event.
Hot and cold food will be available throughout the day and the bar will be open from early morning and with onsite car parking, this event is not to be missed at only £2 per ticket which include a programme.
All interested spectators should contact
Risbygate Sports Club, Bury St Edmunds, IP33 3RR
Email: manager@risbygatesportsclub.co.uk Telephone: 01284 755468.
Ukulele Club Christmas Party ... at Risbygate
HAPPY NEW YEAR FROM THE UKULELE CLUB
Christmas Celebrations at The Club.....
Christmas celebrations came to Risbygate Sports Club on Saturday 9th December when the annual Christmas Dinner and Dance was held at the club. More than 80 members and their guests were able to enjoy a super 5 course meal provided by caterer Carol Hubbard and her team. Music was provided by duo Second Chance. For thoughs that enjoy a dance, singsong and a great laugh it was an ideal night out to celebrate Christmas.
Look out for the next event and book early to avoid disappointment.
Former Javelin World Champion & Olympic medalist Fatima visits Risbygate Sports Club​
Former British javelin thrower Fatima Whitbread MBE visited Risbygate Sports Club in Bury St Edmunds on Monday November 13. The former European and World Champion is a two time Olympic medal winner, Bronze in Los Angeles 1984 and Silver in Seoul 1988 she visited the club to check out the facilities with her friend who decided to join the tennis section and is pictured with General Manager Pat Lewis who said, "Fatima was extremely impressed by this hidden gem of a facility".
The Club has one of the best outside bowls greens in the region, four tennis courts and a practice court, an area for petanque Internally there is a four rink bowling green, two squash courts, changing rooms and shower facilities. The clubhouse is fitted out with two bars, each with its own lounge area, and is available for hire by organisations or individuals for meetings, wedding reception and parties.
On February 18 2018 the Club will host the Risbygate Masters Indoor Bowls tournament which is fast becoming a must play event for World Class Champion bowls players.
LIFE MEMBERSHIP TO THE RISBYGATE SPORTS CLUB
Bernie and Jan Millard have recently been made life Members of the Risbygate Sports Club, (September 2017) they are members of the Indoor Bowls Section and it is their unstinting service to Bowls, not only at a Local level, but also at County and National Level, that makes them an outstanding couple.

Bernie joined the Club in 1998, he was made National President of the English Bowling Association (EIBA) 2012/13.
National President of the English Bowls Federation (EBF) in 2014.
To be National President for both bowling codes is highly unusual, if not unique.
He is also a member of the English Bowls Coaching Society (EBCS) National Coaching Team 2015.
Suffolk County Coach 2003 – 2008.
County President for Suffolk 2008/2009.
Was made a Life Member of the English Indoor Bowls Association (EIBA) 2013.
Jan joined in 1999 and became County President (EIBA) on Two occasions, 2011 and 2015.
County President Outdoor for Suffolk 2011.
Elected to the English Bowls Coaching Society 2002/3.
Life Member Bowls England Outdoor Suffolk.

They have given so much to Bowls, Indoors and Outdoors in general over the years, in both bowling codes and the keenness shown by them is very much reflected in their enthusiasm for Coaching all age groups, this includes Juniors, so they are looking very much to the future, in keeping the game of Bowls alive.
UKULELE BAND ENTERTAIN THE "WALK FOR LIFE" WALKERS
On Saturday night the 9th September sixteen members of the " St Ed's Ukulele Band " turned out to brave the weather and entertain the 2500 women walkers who entered the Walk For Life organised to raise funds for St Nicholas Hospice. Some of the songs were rather topical for the event and it was noticeable from the walker's reaction how they enjoyed a wide range of pop and rock including some classics such as
"These boots were made for walking" "Rave On" & "Rock around the Clock"
The St Eds Ukulele group was formed around eighteen months ago and meet every Tuesday evening at the Risbygate Sports Club in Westley Road Bury St Edmunds and anybody interested in coming alone for a free one off taster session are welcome. We will even supply you with a Ukulele for the evening and give you some basic tuition after which you can decide if you would like to join the group who boast a wide range of skill from novice to very good but when we are all playing you cannot tell the difference. Call John on 07548 543597 or Carol on 01284 830502

MUSIC NIGHT AT RISBYGATE SPORTS CENTRE "A GREAT SUCCESS"
There was full house at Risbygate Sports Club on Friday September 8th 2017 for "A 60's Song Book" performed by Joanna Eden and Chris Ingram featuring classic 1960's songs by Lennon/McCartney, Brian Wilson, Carole King Burt Bacharach, Joni Mitchell, James Taylor, Antonio Carlos Jobim, Ray Davies, Jimmy Webb and many others.
"A really lovely evening with some great songs performed brilliantly by Joanna & Chris", said one of the happy members in the audience. "What a lovely voice" said another about Joanna and "What great musicians". Another good night out at Risbygate Sports Club at a really good venue.
Joanna Eden & Chris Ingram
CONGRATULATIONS AVRIL NICHOLLS
Newly appointed President SCLIBA.
Suffolk County Ladies Indoor Bowling Association.