Club - News
CHRIS WILLIAMS AGAIN COMES UP TRUMPS TO RETAIN PLATTER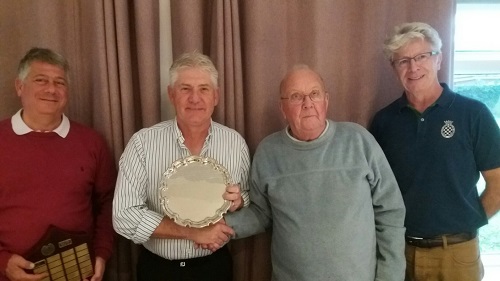 Left to right: Cos Loizou, Chris Williams, Andy Dodds and Steve Hedges
The Andy Platter, one of the most popular mid-week trophies for seniors at Newton Green Golf Club, attracted a record entry of 64.
Once again 10-handicapper Chris Williams came up trumps, winning the trophy for the fifth year running, and scoring a very credible 38 Stableford points in a competition played off three quarters handicap.
Lower handicap players took the first three positions, with count-back putting Cos Loizou into second place, followed by Steve Hedges, both on 37 points.
The platter was donated by Andy Dodds 17 years ago and he was present to present the trophy.
NEWTON S NEW CATERER WANTS TO DEVELOP CLUB S POTENTIAL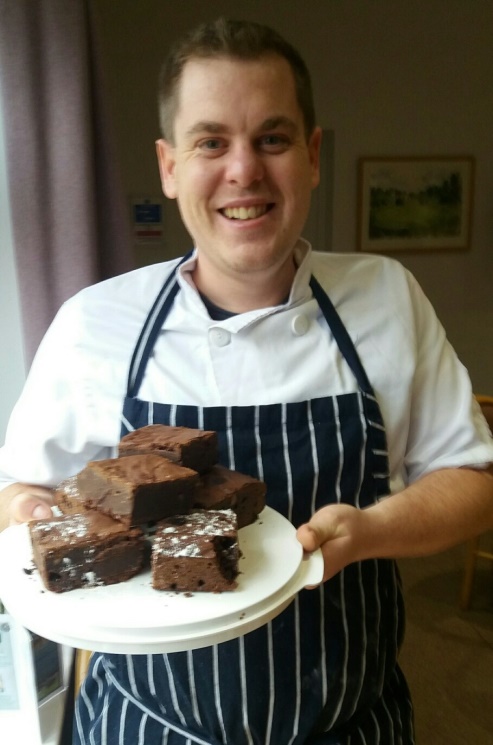 Jake The Bake!
Newton Green Golf Club's caterer Jake Boughtwood believes his new job with the club can provide a tasty and rewarding experience for both the members and himself.
At the age of 29, he sees his new challenge as catering franchiser to the club as an important career move, giving him the experience to branch out on his own.
Jake says he is eager to fulfil the wishes of the members so that both parties can move forward to their mutual benefit.
During a recent time helping out as a freelance chef at Newton, he has had the chance of studying the club and its potential.
He explained: "I think the facilities provide the potential for a successful venture, and during the few weeks I worked at the club over the last year I was particularly impressed with the warm atmosphere, including that generated by the staff.
"The club has two good rooms, each capable of providing a good atmosphere for individual functions, and although the kitchen is not the largest, I have worked successfully in smaller spaces.
"With the addition of the marquee in the summer, the set-up has the potential to do well, and I am eager to hear from members who may have ideas, or wish to use the facilities for their own events."
Jake says he prefers "good home cooking," and early events he has been involved in have shown he has a flair for providing tasty fayre.
After leaving school, Jake qualified as a professional caterer at Colchester Institute, and then spent two years as a sous chef working under a head chef at the busy Victory restaurant at Mersea Island.
He is a keen traveller, and went on to spent six months in Asia before heading for Australia, where he worked in a Brisbane restaurant for several months, and also spent time with friends travelling 20,000 miles round the country in a mini bus.
Upon returning to the UK, he became head chef back at Mersea, where the business booming Victory can serve up to 500 meals a day in the peak holiday season.
While back at the establishment, Jake met his girlfriend Hannah. She was working front of house, and has since been to university to gain a degree in sports sciences. She is looking to go into teaching. However, she continues to keep her hand in the catering world at Mersea, and has already been seen helping out Jake on the waitressing front at Newton.
Jake has now formed his own company to run the golf club's catering, and can be contacted at jwbcatering@hotmail.com or via the Newton switch board.
RECIPROCAL GOLF DEAL FOR NEWTON GREEN MEMBERS

Newton Green Golf Club has joined the ranks of those that give members extra value for money for their subscriptions. It has linked with a group of four other clubs that offer free reciprocal golf twice a year at any of the participating clubs.Membership at Newton will give eight days out of golf at Clacton, Rushmere(Ipswich), Thorpe Hall (Southend) and Theydon Bois.
Ben Tawell, club manager, said, "The initiative was aimed at rewarding the loyalty of its own members, and also bringing into membership non-attached players who enjoyed the freedom of one-off special offers at clubs in the region".He continued: "You cannot get much better value for money than absolutely free golf which we can now offer to those who like to enjoy a good day out. We are about to launch short-term autumn deals for potential new members, and the new flexibility of our reciprocal golf for those prepared to become permanent members is a very attractive deal."
NEWTON GREEN LADIES OPEN GOES TO FORGETFUL WINNERS
Newton ladies captain Lizzie Johnson (centre) with prize winners
Forgetful Braintree ladies came up on the ropes to win the Newton Green Ladies' Open – having initially forgotten to hand their card into the organisers.
Team scores had been tabulated when it was realised one score was missing. The scorecard was eventually produced after being accidentally left in a sports bag.
The total on the card was 90 points by Helen Hart, Ann Anderson, Wendy Hutton and Tricia Stallwood of Braintree.
Until then, the best score was 89 from Annie Smith, Sharon Clark, Loraine Tucker and Sally Watson of Gosfield Lake.
Clubs from across Essex, Suffolk and Norfolk competed in the event, with third place going on countback to Richmond Park's Rosie Sutterby, Mary Wakeford, Julie Ellis and Mabel Curtis.
The presentations were carried out by Newton ladies captain Lizzie Johnson.
COOPER AND SEELEY BREEZE HOME AT SUNNINGDALE
The Newton Green pairing of professional Tim Cooper and Suffolk second eleven scratch player Jed Seeley have won a prestigious invitation charity day at Sunningdale.
The couple were two shots ahead of their nearest rivals in the 36-hole event held over both the old and new courses at the famous venue.
The day was in aid of the Jude Brady Foundation, an organisation that Newton members have supported in the past.
Cooper and Seeley hardly put a foot wrong all day, and dropped only one shot to par over both courses.
The better ball competition saw them record 40 Stableford points round the old course and 44 on the new, with gross scores of 66 and 62.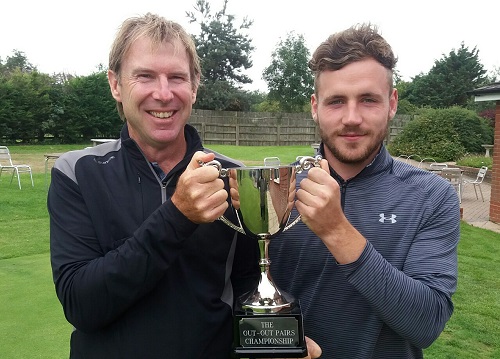 Tim Cooper (left) and Jed Seeley with the Out-Out Pairs Championship trophy
FUN DAY BRINGS OUT NEW FACES YOUNG AND OLD AT NEWTON GREEN
Would-be golfers from far and wide turned out to take part in an open fun day at Newton Green Golf Club.
Many of the visitors attended as families, with the club able to promote its wide range of membership benefits to a broad audience.
Peter Philpott, chairman, said: "Although many youngsters present had hardly touched a golf club previously, the fun nature of the mildly golf-linked activities led to a lot of enthusiastic participation.
"However, a substantial number of those present had a good idea of the sport, with several having played at nine-hole courses in the region, but keen to consider a step up to a user-friendly club which also offers free lessons to all juniors.
"It was good to see a number of parents that had previously dabbled in golf bringing their offspring with a view to making the sport a family activity. What the club offers in flexible memberships and support for players was an eye-opener for several visitors."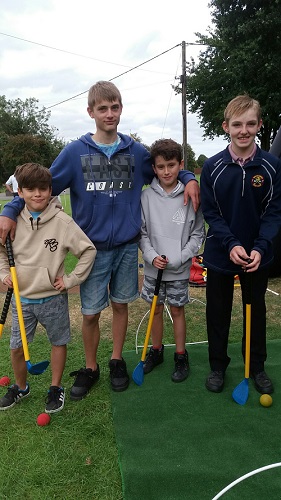 Alfie Bullock, Charlie Argent ,Charlie Bullock and Nathan Willett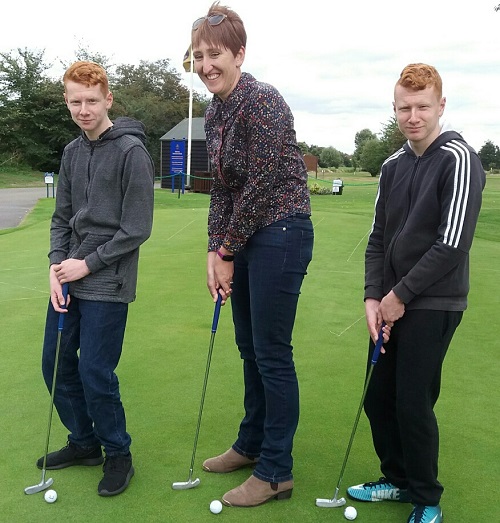 Matthew Holt, Angela Scott and Bradley Holt
JOKER DAVE LIFTS THE JONATHAN LAMBERT SALVER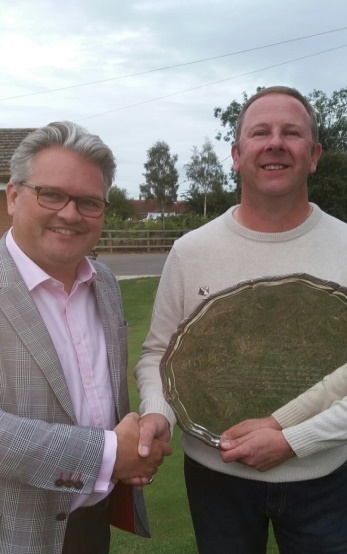 Jonathan Lambert/Dave Lavelle.
Newton Green staged another successful golf week with 500 entries across seven competitions, including the hugely popular Jonathan Lambert Centenary Silver Salver.
Once again the end-of- week, Saturday contest attracted around 130 entries, with former captain Dave Lavelle a popular winner.
Lavelle again demonstrated his haphazard speech making capabilities, as he brought cheers and laughter to an unscheduled doubled act presentation routine with lady captain Lizzie Johnson.
He had received the trophy from sponsor Jonathan Lambert, having won the event on count back with 41 Stableford points, his eight points from the last three holes helping him edge home ahead of Tim Harbord, with Robert Rush third on 40 points.
The evening was given a glittering atmosphere thanks to the marque decorating skills of Kate Fraser, who also managed to extract a record four-figure profit from the raffle organised by the ladies' section.
There was a very tight contest for the best woman spot in the salver, with Gwyneth Ferreira at the count back top of six contestants on 36 points.
Thirteen-year-old Nathan Willett, with a handicap of 24, was the best junior with an impressive 39 points.
Alongside the salver, the lower handicap players were also competing for the Carole List Goblet for the best gross score, with Tom King winning with a three over par 72.
The week began in oppressive heat as nearly 100 contestants managed to survive the Tuesday morning Delaney scramble, but conditions eased to such an extent that by the end of the week competitions just managed to dodge numerous heavy storms.
Club professional Tim Cooper supported by donating prizes for all the mid-week main event team winners.
Once again, Dora George, who conceived the idea of the festival more than a decade ago and remains event chairman, piloted the festival to another successful conclusion.
Results
Salver: 1 Dave Lavelle, 2 Tim Harbord, 3 Robert Rush. Goblet, Tom King. Best lady, Gwyneth Ferreira. Best junior, Nathan Willett.
Delaney Scramble: Kevin Smith, Judy Donnelly, Frank Salt and Chris Williams.
Stableford: Rob Bradbury, Andrew Johnson, Carol Durston and Roger Manby.
Kiskadee: Margaret Hills and Steve Ranson.
Three clubs/putter: Tony Mitchell, Andrea Thompson and Jim Devereux.
Foxes and rabbits: Marilyn and Mick Mills.
Cross country: Steve Knappet.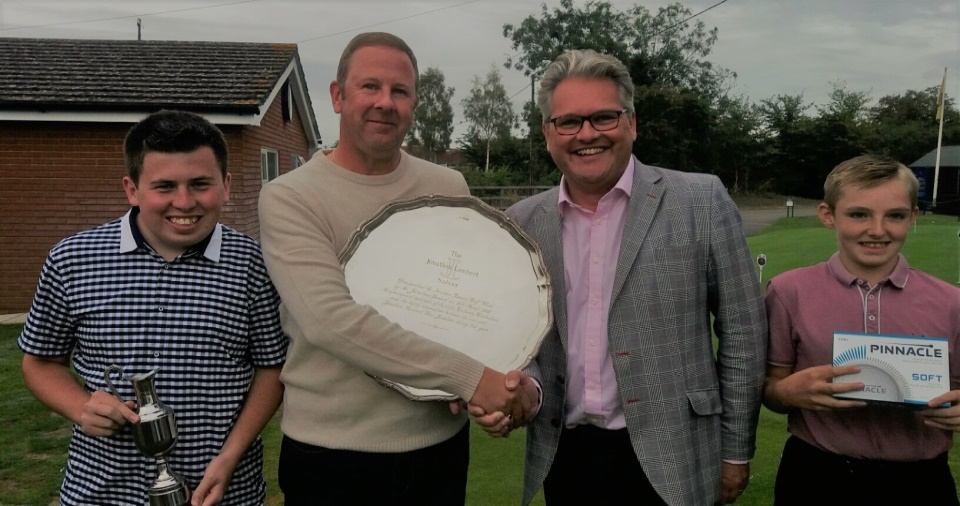 Tom King, Dave Lavelle, Jonathan Lambert and Nathan Willett
GOLF FUN DAY FOR ALL AT NEWTON GREEN
Following unprecedented success last year, the public is being invited to join in a repeat free fun day to explore the delights of golf.
The summer afternoon Bank Holiday Monday activity is being staged at Newton Green Golf Club on August 27.
Double the projected attendance was achieved when the idea was first staged last year, and this year the club will be taking the opportunity to launch a new range of flexible memberships
Children and adults, with or without any skills in the sport, will be given the chance to taste golf in various easy formats. These will include nine holes of golf, a six-hole par three event, nine-hole target golf with prizes, plus a range of fun putting and chipping.
The club's coaches will also be present to give free tuition to individuals or small groups, and food and drink will be available.
Newton Green's creative ideas for encouraging people to get into golf are well known, with its Davey and Intermediate memberships now contributing to a sizeable proportion of the membership.
Manager Ben Tawell commented: "In recent times golf has woken up to realise flexibility is the secret to allow young and old the opportunity to enjoy an activity which offers fun and new friendships.
"A user-friendly opportunity to enjoy golf the relaxed way is just what is needed to wind down the August Bank Holiday break. We are looking to build on the great success this event achieved a year ago."
Further details are available on 01787-377217 or by emailing info@newtongreengolfclub.co.uk
Pictured above is last year's Newton Green golf fun day
HEAT-AFFECTED DAY SEES NEWTON OUT OF CRANWORTH
Newton Green's hopes of a Suffolk Cranworth Trophy semi-final place wilted in the 30-degrees—plus temperature against Ipswich at Felixstowe Ferry.
The extreme heat meant county organisers abandoned the normal morning foursomes across all matches in the round, leading to the ties being decided on six singles.
Newton won two of their three opening matches, but with shots being conceded to Ipswich in all six games, the opposition gradually took the upper hand to lead 3 -2 with the last game on the course.
A win for Newton would have sent the game into a playoff, but Ipswich won the final game on the 17th hole to decide the tie.
Scores. (Ipswich names first): Tricia West lost to Rosie Jackson 3 and 1, Anna Fairs beat Janet Sparks 3 and 1, Clare Burgess lost to Margaret Hills 2 and 1, Jan MacKinnon beat Amanda Rush 4 and 3, Jenny Podd beat Carole Durston 4 and 3, Jenny Johnson beat Gwyneth Ferreira 1 up.
Stenson defeat at Bury St Edmunds
NEWTON'S STENSON RUN ENDS IN LAST EIGHT
Newton Green's hopes of semi-final place in the Suffolk Stenson Shield were virtually dead at lunch-time when they found themselves down in all the morning foursomes at Bury St Edmunds.
The hosts finished 9 – 3 winners in a competition which always requires a super-human effort from the away side.
Foursomes (Bury names first): Ben Coleman and Trevor Titcome beat Russell Oakey and Ben Tawell 2 and 1, Andy Cunningham and Michael Gee beast James Cooper and Ben Tatum 7 and 6, Max Adams and Dan Smailes beat Steve Wordley and Ian Woodhead 4 and 2, Craig Nurse and Steve Lankester beat Jed Seeley and Simon Bearman 2 and 1.
Singles: Coleman lost to Oakey 2 down, Adams beat Seeley 4 and 3, Nurse beat Tawell 2 and 1, Titcombe beat Woodhead 5 and 4, Lankester lost to Bearman 4 and 3, Gee beat Wordley 8 and 7, Smailes lost to Max Hemson 2 and 1, Cunningham beat Cooper 6 and 5.
NEWTON LADIES MAKE PROGRESS ON TWO FRONTS
Newton Green ladies are now through to two Suffolk quarter finals.
A 2 – 1 win against Fynn Valley at Royal Worlington put them through to the next round of the Stearn Trophy, for players with 12-20 handicaps.
This follows beating Hintlesham in the Cranworth Trophy, which is for players with 20-plus handicaps.
The Stearn involves 36-hole, pairs matches and Newton overcame Fynn Valley as a result of Lizzie Johnson and Sue Lockwood beating Jane Pitcher and Sally Crosbie one up, after the Newton pair had been three down with nine holes left.
Earlier, Sally Cade and Jan Doe had beaten Sharon Davey and Sue Sparrow four and two, and in the middle match Valley scored a convincing nine and eight win over Di Cunningham and Rebecca O'Hara.
In the Stearn, Newton now play Southwold on August 6, and Ipswich will be the opposition in the Cranworth on July 26. Both are at neutral courses yet to be announced.
NEWTON LADIES OVERCOME HINTLESHAM IN CRANWORTH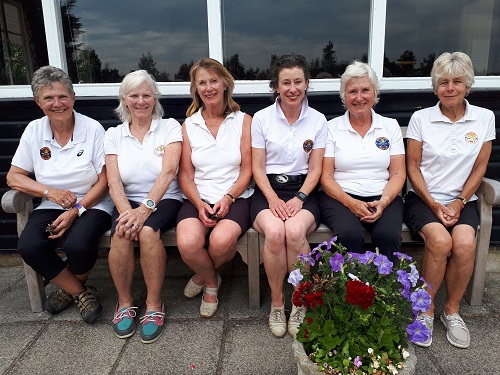 Adrienne Hughes, Janet Sparkes, Gwyneth Ferreira, Amanda Rush, Rosie Jackson and Margaret Hills
Newton Green ladies are through to the quarter finals of the Suffolk Cranworth Trophy after defeating Hintlesham at Flempton.
They meet Ipswich at a neutral venue on July 26 after their 6.5 to 2.5 second round win.
Newton did not start off well in the three morning foursomes, but came out on top to be 3-0 up at lunch.
It meant they needed to win only two of the six singles to go through, and with the first two matches both going in Newton's favour and the third match to Hintlesham, the result was settled. With heat on a parched course making the going tough, the team captains agreed to call the final three singles as halved games, and uncompleted matches retreated to the cool of the club house.
Results, Newton names first.
Foursomes: Margaret Hills and Gwyneth Ferriera beat Debbie White and Tracie Funnicliffe 3 and 2, Janet Sparks and Adriennie Hughes beat Jane Godfrey and Andrea Newman 2 and 1, Rosie Jackson and Amanda Rush beat Mary Gale and Caroline Turner one up.
Singles: Margaret Hills beat Debbie Whyte 8 and 6, Rose Jackson beat Jane Godfrey 7 and 5, Janet Sparkes lost 5 and 3 to Tracie Tunnicliffe, Amanda Rush halved with Andrea Newman, Gwyneth Ferreira half with Caroline Turner, Adrienne Hughes halved with Ann Connor.
NEWTON SEE OFF DEPLETED THORPENESS IN STENSON SHIELD.
Failure to field a full team cost visitors Thorpeness dear as they lost to Newton Green 8 - 4 in the second round of the Suffolk Stenson Shield.Newton now visit Stowmarket or Bury St Edmunds away in the quarter finals on July 21.Thorpeness travelled to Newton two players short of the required team of eight, which meant the home side had a walkover in one of the four morning foursomes. Thorpeness achieved a convincing win in one of their matches, and all though the home side won the other two encounters, they were forced to fight hard to record victories. The score was 3 -1 at lunch, and with the visitors having to concede twosingles matches in the afternoon, Newton were required to win only two of the six games being played after lunch. This they duly achieved and moved through to the next round, having already defeated defending champions Aldeburgh in the opening round.
Foursomes (Newton names first): Jed Seeley and Simon Bearman beat TonyMarden and George Austin one up, Steve Worldey and Ian Woodhead beatLaurence Staff and Jack Cuthbert 2 and 1, James Cooper and Harvey Watts lost
to Lee Newson and Sam Newson 6 and 5.
Singles: Cooper lost to Marden 3 and 2, Seeley beat Austin 7 and 5, Ben Tatum halved with Staff, Bearman halved with Cuthbert, Wordley beat L Newson 4 and 3, Woodhead lost to S Newson 4 and 3. Watts and Brian Joy had walkovers.
QUEEN LIZZIE HAS THOSE FLAGS FLUTTERING
There was a right royal atmosphere when Lizzie Johnson staged her captain's day at Newton Green Golf Club.
With the strains of Royal Britannia and other anthems appropriate to Last Night of the Proms blasting out from her decorated buggy, Lizzie was portrayed by the creative imaginations of her fellow golfers as "Quintessentially English."
Union flags were fluttered high and her buggy and interior of the club plastered with slogans highlighting the British way of life of the club's own Queen Elizabeth.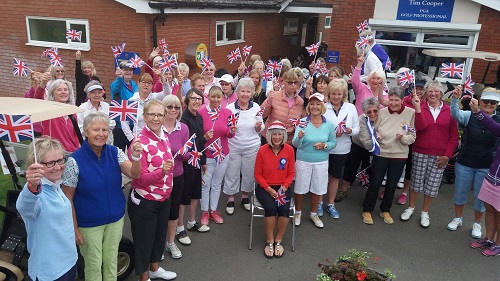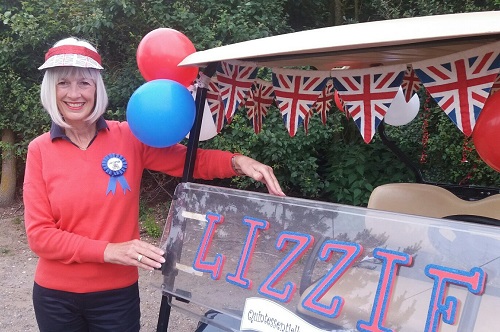 RUSSELL OAKEY BACK AT THE TOP AT NEWTON GREEN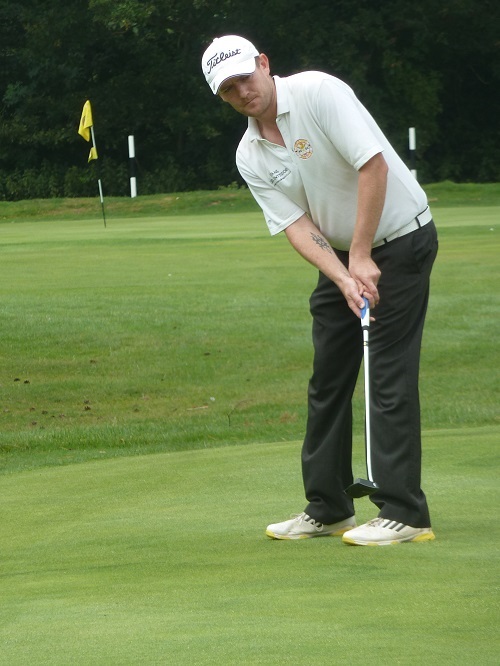 Former pro-tour professional Russell Oakey has regained the club championship title at Newton Green Golf Club.
With reigning champion Jed Seeley not managing to appear following playing in the England Amateur Championships previous day, Oakey took advantage to post a two round, two below par score of 136.
Had Seeley been present, he would have had his work cut out stopping Oakey, who shot a level par 69 in the first round, and then followed up with a 67, including a run from the third of three birdies, a par and an eagle on the par five seventh.
Chasing him home was junior Ben Tatum, on 147, while Steve Wordley, who is back in action after a couple of seasons without much golf, recording 148 in third place.
Stenson success......
LAST GASP VICTORY SEES NEWTON GREEN THROUGH IN STENSON SHIELD
Newton Green scored a tense, last- hole win against Aldeburgh in the first round of the Suffolk Stenson Shield.
The result all came down to a battle between the clubs' star scratch players in the final game. The match was tied as Newton's Jed Seeley and the visitor's Gregor Tait were all square as they approached the par three, 198-yard 18th hole.
Seeley was just off the edge of the narrow green with his drive, and putted within inches of the pin for a conceded three.
But Tait had put his drive through the green, necessitating chipping back over a track and onto the green. Unfortunately, he was 20 feet off the pin with his pitch, and with his putt finishing just short, the looming possibility of a play-off hole was averted in Newton's favour and a 6.5 to 5.5 score line.
At lunch Newton were 3 – 1 up in the foursomes.
The sporting spirit of the tie was underlined by Newton junior James Cooper putting his hand up to a foul shot in a bunker, which meant he halved his singles game.
Results (Newton names first).
Foursomes: S Bearman and B Tatum lost to W Wright and I Kitson, J Cooper and H Watts beat G Tait and R Taylor, M Polley and I Woodhhead beat J Roberson and N Robson, J Seeley and S Wordley beat J Reiss and R Palmer.
Singles: Cooper halved with Wright, Tatum lost one down to Kitson, Bearman lost 2 & 1 to Reiss, Watts beat Palmer 2 & 1, S Naylor lost 2 & 1 to Taylor, Woohead beat Robson 2 & 1,Wordley lost to Robertson 4 & 3, Seeley beat Tait one up.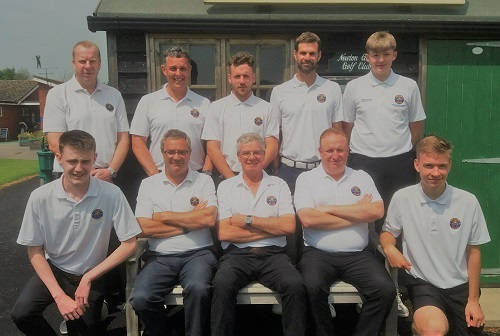 Newton Green: Mike Polley, Ian Woodhead, Jed Seeley, Scott Nayler, Ben Tatum
James Cooper, Simon Bearman, Ian Duncan (non-playing captain), Steve Wordley, Harvey Watts
JED SEELEY FLYING HIGH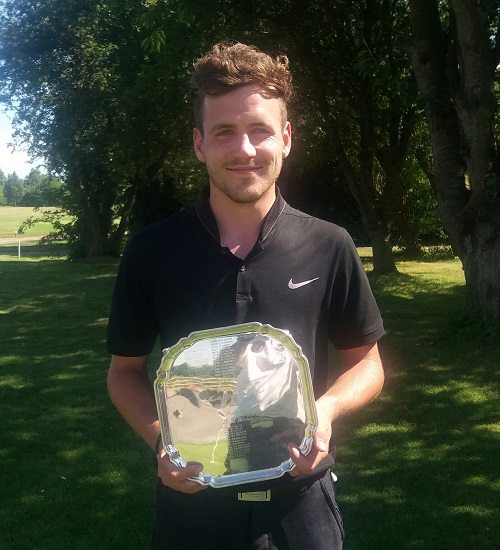 Newton Green's Jed Seeley is to become the first player in the club to play in England golf's top amateur competition.The 20-year-old, who plays off scratch, will be appearing in this week's national amateur golf championships at Frilford Heath. He finished just outside the cut in the qualifying competition in which he appeared, but withdrawals have allowed him to line up in the four-day event, starting on Thursday, May 31 Seeley has struck form at the right time, having recently won the prestigious Eastern Counties Salver at Woodbridge.His last hole win over Aldeburgh's highly rated Gregor Tait at the weekend also saw him help Newton defeat the holders of the Suffolk Stenson Trophy, enabling them to play Southwold at home in the next round on June 23.Should he get through the two opening rounds of the national event, Seeley would miss out on defending his Newton club champion at the weekend.
Beaumont Success
BEAUMONT TROPHY OPENER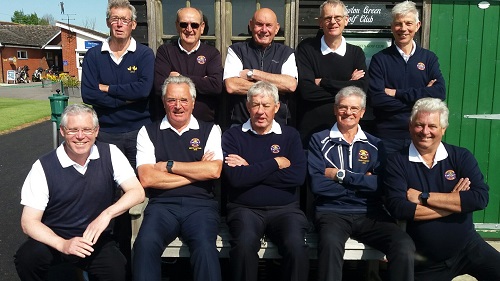 Back row: Ted Clarkson, Steve Street, Harry Wordley, Roger Hermiston, Robert Rush.
Front: Paul MacLachlan, Andrew Johnson, Nigel Gerrrans (non-playing captain), Ian Duncan and Steve Cragg
With half their eight-man team making their debuts in the competition, Newton Green achieved a 13-0 holes win against Ipswich side Rushmere in their opening round of the Sufffok Beaumont Trophy.
Most of the four games of pairs were close at the end of nine holes, but the tricky second half of the course saw the home pairings consolidate their leads by the close of play. The competition is for seniors with handicaps of 10-plus, and Newton now entertain Stowmarket or Southwold in the second round.
Scores. Newton names first: Ian Duncan and Roger Hermiston five up to Eric Burt and Gerry Markham, Robert Rush and Steve Cragg four up to Steve Cummer and Steve Lancaster, Paul MacLachlan and Steve Street two up to Ted Howgego and Paul Keen; Andrew Johnson and Ted Clarkson two up to Tom Knights and Tony Mawing.
Annual Society Day 2018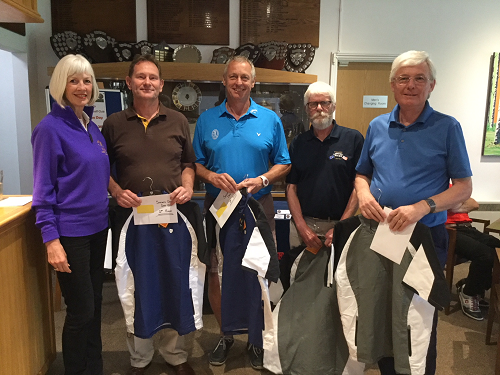 Newton Green Golf Club's annual society day again attracted teams from Suffolk and Essex. Ladies captain Lizzie Johnson is seen with the winning team of Mark Miller, Roger Jodes, Steve Leyes and Peter Loweston from Brett
Vale Golf Club.
FREE TASTER DAY FOR LADIES AT NEWTON GREEN
Newton Green will be one of the golf clubs across Suffolk promoting a special free taster day aimed at bringing ladies of all ages into the activity.
Promoted via the Suffolk Ladies' County Golf Association, the day is aimed at offering fresh air, friendship, fitness and fun.
More than a dozen clubs across the county are taking part in the event on Wednesday, May 16, with sessions throughout the day and early evening to give both working and non-working ladies the chance to attend.
The tasting experience will include meeting and greeting by playing members, and receiving basic tips from the club's professional staff.
Every participant will have the chance of playing at least one hole, whether it be on the club's short course or at least one of the main holes. All equipment will be provided.
Once players have had a chance to try their hands at swinging a club and being assessed for their skills, they will take refreshments with members able to offer guidance and support on their journey into golf.
After taking part in a session, participants will be offered exclusive coaching and other packages to help get them started in the sport.
Lizzie Johnson, women's captain, commented: "Our ladies' section has been exceptionally successful in recent years. We have managed to achieve this with an inclusive and happy atmosphere across the whole section.
"At the same time, we welcome the involvement of Suffolk so we can move forward in tandem to bring even more ladies of all ages into the sport."
Sessions will commence at 10.30 am, 1.30 pm and 6.30 pm, and bookings should be made through the professional's shop on 01787-313215.
New Captain Drives In...
IAN'S OUTER HEBRIDES VENTURE LEADS TO NEWTON GREEN CAPTAINCY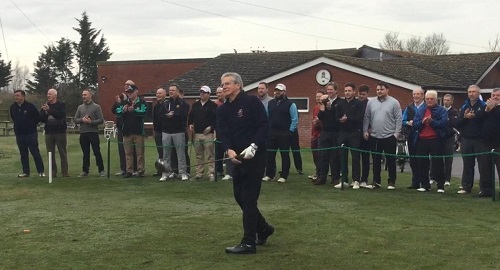 A Scotsman whose first taste of golf was in the Outer Hebrides has driven off his season as men's captain at Newton Green.
Glaswegian-raised Ian, a former hockey player at county and Army level, was completing his career in the services on the island of Benbecula at the age of 39, when he tried a few holes of golf on the island's Askernish nine-hole course.
From then on golf overtook his love of hockey and he has never stopped playing, while pursuing a career as a technical engineer in the auto industry, from which he retired three years ago.
New Caterers
NEWTON GREEN GOLF CLUB GETS NEW CATERING TEAM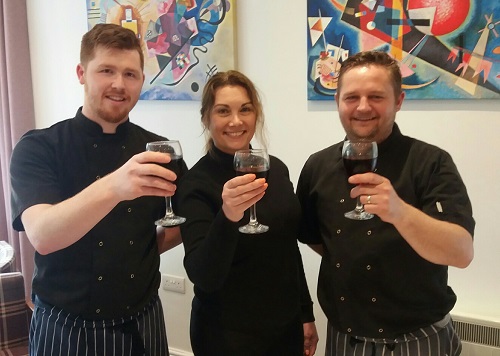 Luke Clark (left) with Lisa and Alastair Smith
A catering team which has doubled the turnover at an Essex golf club is taking on a second franchise in Suffolk.
All Caterers Limited are now running the food operation at Newton Green Golf Club.
Alastair and Lisa Smith have had 15 years' experience catering for golf clubs, including the Army Golf Club in Hampshire – which is now a private members' club – and a further five years at a club in Sheffield.
During the last five years running the catering set-up at Braintree Golf Club turnover has doubled, and for a spell they also ran the food side at another local course.
Luke Clark, who has been head chef at Braintree, is joining the partnership specifically to lead the business at Newton.
Alastair said: "We have been looking to run two 18-hole clubs on a permanent basis and we think the profile that Newton offers is what we need. It has the potential to offer its members more, and the recently updated club house is ideal for providing additional functions both in house and to outside bookings."
Newton Green Golf Club Annual General Meeting
Men's and Mixed Prize winners 2017/18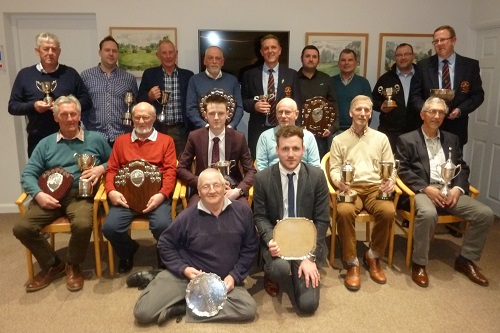 NEWTON GREEN GOLFERS HELP TRANSFORM DOG OWNERS LIFE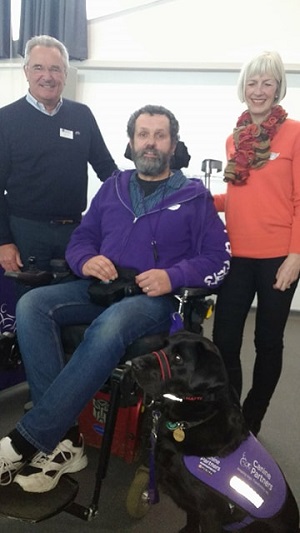 REPRESENTATIVES of a golf club that raised £8,000 toward the training of a dog have witnessed the moving passing out ceremony of the animal.
It was four years ago that captains at Newton Green Golf Club led the raising of the money for the Canine Partners charity.
Now, black Labrador Trent has settled in as an inspirational friend and support to wheel chair restricted Robert Davies, of Wales, and was one of seven dogs honoured in a passing out ceremony held in Leicestershire.
Present were former golf club captain, Andrew Johnson, and his wife Lizzie, who is the recently elected ladies captain at Newton.
Andrew explained: "Initially, a puppy spends around 12 months being socialised by a puppy parent in their own home. Then it goes to the charity headquarters for about five months of advanced training, during which time it will be matched with someone on the charity's waiting list and trained to their needs.
"The dog then goes home with their partner and the charity's aftercare department make regular visits to help with the settling in process. Once the partnership has settled a passing out ceremony is arranged.
"Following his serious illness, Trent's new owner had reached a desperate situation and did not go out to speak to people. He is now so pleased, as the dog has made him a different person. His wife Sarah is also incredibly grateful. The dog has transformed their lives and was very moving to hear this."
Along with Andrew, Newton's women's captain Sue Thurgate and seniors captain Mike Norton led the fund raising at the club.
Pictured above Andrew Johnson, Robert Davies and Lizzie Johnson with Trent
DOGGED START TO LIZZIE S YEAR!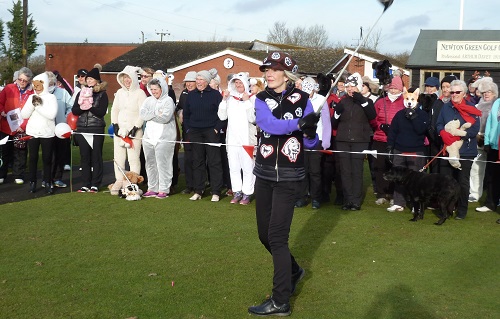 A chant of "Who Let the Dogs Out – Woof Woof" went up as Newton Green's new ladies' captain sent her drive-in tee shot 133 yards down the first fairway.
Lizzie Johnson walks Hattie, her Flatcoated Retriever when not striding the fairways of the golf club.
In a morning themed round Pets R Us, many of her fellow members wore animal costumes, and Vice-captain Cate Fraser appeared as cartoon character Deputy Dawg.
In very cold and bitter weather, 50 ladies showed dogged determination as they set out on a 10-hole Delaney scramble competition, which had been preceded by Lizzie witnessing retiring captain Rebecca Evans putting out on the 18th green to complete her season.
Competition Winners: 35 Gwyneth Ferriera, Sue Thurgate, Carol Durston and Elizabeth Underwood,
Runners Up: 35.5 Pam Guilbert, Sally Cade, Jill Symonds and Maggie Manby.
REVAMPED GOLF CLUB WELCOMES FARMERS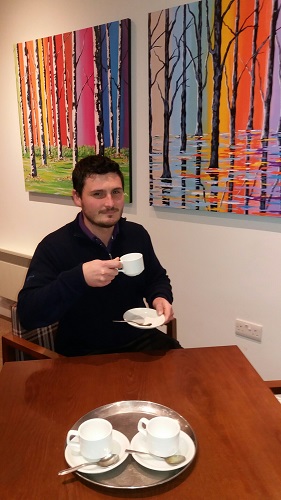 Caterers at Newton Green Golf Club have come to the rescue of a local group of agriculturalists after their annual dinner venue shut up shop at the 11th hour.
The old-established Bures and District Agricultural Club will now be holding their prize giving event at the recently revamped golf club.
The golf club is looking to enhance its catering offer following the completion of a £45,000 refit. Similar expenditure on paving and landscaping round the perimeter of the club house has completed the transformation.
Newton has also been boosted by being named the club of the year by one of East Anglia's golfing societies.
Agricultural club chair, Una Oakes, said: "We were let down by the venue we had used for many years for our annual dinner and I visited the golf club as it came highly recommended. It has excellent access for the disabled and I found its function room to be lovely and bright, and just the right size.
"We now hope to use it as our regular monthly venue when we have speakers, other than when we go outside in the summer for visits."
Club manager Ben Tawell said: "Our course has become increasingly popular with visiting golf societies, but we have become conscious our club house interior and surfacing round the building, was not matching the quality of our catering and golfing experience.
"We took a radical look at what we were offering and have come up with a modern look in the main function room, including the hanging of contemporary art.
"It may be a bit of a culture shock for some of our members, but we are conscious many of the people visiting our premises for private functions want to be refreshed by their experience, rather than feel inhibited by a dull, old fashioned interior.
"However, we are a club proud of its rich history and we have taken advantage of turning our secondary, smaller dining room into a traditional stud bar.
"It has been renamed Jimmy's Bar after the late Jimmy Whittle, who was a stalwart figure during the days of us adding a second nine holes. The room features honours boards, photos and clubs made by Arthur Davey, our late professional whose 60 years made him the world's long serving professional."
*Newton has been voted club of the year by the Golden Sausage Society. The 40-strong group has played nearly 300 tournaments in the last three decades and its award is based on course condition, friendliness of staff and members, and quality of food and service.
NEIL S NIFTY BRUSH WORK LEAVES GOLFERS HOOKED
Surprised golfers walked into their changing room and found a pop up art gallery – featuring themselves.
Artist Neil Jacobs had secretly been painting portraits of his fellow members of the Saturday Morning Ultimate Golf Society (SMUGS) at Newton Green Golf Club.
He then hung them on the pegs in the club changing room as the 16-strong group turned up for one of their weekly sessions.
Neil, an 88-year-old former college head of art, used photos of his golfing friends to make sure he was able to achieve remarkable likenesses of them all.
One said: "The paintings provided a wow factor for his golfing friends and others who passed through the changing room that day. His creative talents and ideas of causing surprises never cease to amaze admirers of his work, and his golf his pretty good too."
The paintings were on display before the annual festive lunch and annual meeting of the SMUGS, which decided to donate £150 to the Sudbury Kernos centre and £300 for shrubs for landscaping at the club.
NEWTON GREEN SENIORS PRE-CHRISTMAS EVENT
Sixty players took part in the annual pre-Christmas Texas Scramble and presentation lunch staged by Newton Green Golf Club seniors.
Awards were presented to knock-out competitions and season-long individual tournaments by retiring captain John Ford
Left to right are trophy winners: Jim Devereux (Brian Eady Stableford and bogey-par shield), Tony Matthews (summer knock-out and summer doubles), John Ford, David Carse (summer singles and doubles knock-outs), Jim Ansell (Ken Brown Eclectic), Roger Hermiston (Ken Brown Trophy) and Chris Williams (summer pairs with Peter Philpott).
Texas scramble winners with a score of 61.8 were, left to right: Simon Ash, Peter Scott, John Ford, Roger O'Brien-Hill and Roger Hermiston.
Other scores: 63.9 Brian Joy, Steve Street and Trevor Byham, 66.4 Allan Wells , Mike Mullord and Mike Norton, 66.6 Cos Loizou, George Bullett and Eddit Wordsell.
Nearest pin: Holes six and 13 Terry Scurr, hole 2 Mike Mullord.
TRUSTEES RETIRE FROM ACTION AT THRIVING CLUB
Geoff Challacombe, Alan Vince, Andy Dodds and Ken Mazdon
Awards representing 80 years' service as trustees were presented when Newton Green Golf Club celebrated its successes over the last year.
Four trustees, Ken Mazdon, Alan Vince, Geoff Challacombe and Andy Dodds have relinquished their positions as the members' club has moved to incorporated status.
Directors now take over the responsibilities of the trustees, and chairman Peter Philpott presented inscribed glass bowls to the long-serving trustees.
In reviewing the year, he said: "Newton Green is in a very strong position, both in respect to its playing standards and facilities. In recent times the club has invested heavily in the course, which has resulted in a significant increase in visitors.
"On top of this, the last few months have seen us ploughing in around £90,000 to completely refurbish the bar and dining areas, as well as transforming the road network with block paving, landscaping and re-organising parking arrangements."
The evening of celebration also included marking the juniors becoming Suffolk team champions for the third year, as well as winning the team award at the county junior stroke play final. They went on to finish sixth out of 30 teams in the national club final.
Also during the year the women reached the final of the Suffolk Cranworth Trophy, while Ben Tawell won both the spring and autumn meetings of the East Anglia Golf Managers' Association, which meant he also retained the organisation's Dick Burn Trophy.
Suffolk winners - Oli Page, Harvey Watts and Ben Tatum
Ben Tawell
NEWTON WOMEN CANNOT UNSEAT MEN IN PORCELAIN TEST
A large field of 80 players took to the links at Newton Green for the annual match between the ladies' and senior men's sections.
Up for grabs was the much sought after miniature water closet trophy, with the men getting the better of the opposition to retain the porcelain piece.
With 40 players per side playing in four-ball, better ball Stableford, the men registered 12 wins, the women five and three games were halved.
The sections take it in turn hosting the event each year, and women's captain Rebecca Evans presented the trophy to seniors captain John Ford.
Rebecca Evans and John Ford
2017 Junior Open
PLUS-ONE JUNIOR HABEBUL LIFTS NEWTON TITLE
Habebul Islam became the latest in a distinguished line of young players to become the holder of the Newton Green Junior Open title.
The 16-year-old from Ipswich, who now plays off plus-one, took the scratch prize as he recorded a two over par 71.
Islam, who is now being home taught to give him time to develop his game further, was one shot ahead of Callum Hensby (Stoke-by-Nayland), who plays off three, with a 72. This was the same score as the current Suffolk junior match play champion, Newton's Harvey Watts, now off two.
A considerable headache for the organisers was the number of players misunderstanding how to score according to the rules of golf, which necessitated at least one possible disqualification being referred by telephone to England Golf.
There were 12 juniors playing off single figures. The only girl in the division, Fioana Stokes (Haverhill), playing off seven, won the nett prize with 69, beating Hensby on count back. Watts was third.
Higher handicappers played in Stableford divisions, with Henry Meadows, of Bury St Edmunds winning division one, and Newton's Nathan Willett, winning the 20-plus handicap division two.
The Haverhill duo of Stokes and James Iron won the Aldous team cup, with Eloise Aldous, the Suffolk girls' junior organiser, presenting the trophy on behalf of her family. The winners also receive a free year's membership at Newton.
Newton men's captain Gareth Evans presented the rest of the awards in a day organised by club professional Tim Cooper.
Results: Scratch championship, 71 Habebul Islam (Ipswich), 72 (ocb) Callum Hensby (Stoke-by-Nayland), 72 Harvey Watts (Newton).
Division 1, 36 (ocb) Henry Meadows (Bury St Edmunds), 36 Isaac Thoombs (Stoke-by-Nayland), 35 Georgina Parker (Bury St Edmunds).
Division 2, 38 (ocb) Nathan Willett, 38 Callum Hughes (Fynn Valley), 30 Natham Thompson (Stoke-by-Nayland).
Habebul Islam (second from right) with other prize winners
Fiona Stokes and James Iron (Haverhill) with Eloise Aldous
Dog Walkers.......
HOW DOG WALKERS AND GOLFERS SHOULD BARK UP THE SAME TREE
Some dog walkers who use private parts of the golf course (not the village green) are putting themselves at risk, says the club.
By recently introducing new internal signage warning players of the presence of walkers using legitimate paths across the course, the club has strengthened its resolve to respect users of the paths.
There are two legitimate public footpaths across the 80 acres of private ground which make up the newer part of the course. They are clearly signposted.
Any people who attempt to use other routes, particularly inside perimeter hedging, are trespassing and putting themselves at risk of being struck by flying golf balls.
A club spokesman explained: "A golf course can be a very dangerous place, and particularly when people are suddenly appearing from unexpected directions. If these areas are nowhere near a designated public path, walkers are putting themselves at risk."
In order to eliminate any possible confusion regarding dog walking within the private part of the course, the club is also asking its own members, who sometimes walk with their dogs within the area, to desist from doing so.
The spokesman continued: "Reluctantly, we are asking our members who sometimes walk their dogs randomly on the course to cease the practice. Other dog walkers, particularly newcomers to Newton, see them doing this and think they have a right to do the same, which is not the case.
"The club fully supports the rights of the public to walk their dogs on the 44 acres of village green, which makes up the old part of the course, and which is rented from the Newton Green Trust.
"The club acknowledges a very delicate balance of co-operation is necessary to maintain the rights of villagers, and also allow golfers to enjoy their sport. To this end, the club has recently invested in extra signage for the benefit of walkers, motorists and golfers.
"A proactive policy is in force to warn members and visitors to the club to be aware of walkers and motorists crossing the green, with a requirement to report all hits, near misses or complaints involving others on the green.
"It is recognised residents of Newton generally restrict their walking to public roads and the outer perimeters of the green. Partly because of this spirit of co-operation the club is pleased to pay the village via the trust a recently improved rent."
Ladies Cranworth 2017 Final
NEWTON TAKE WOODBRIDGE TO PENULTIMATE HOLE BEFORE SURRENDING CRANWORTH FINAL
A narrow, but deserved, 5 – 4 win saw Woodbridge hold off Newton Green from recording a hat-trick of final wins against them in the Suffolk Cranworth Trophy at Diss.
Newton won the morning foursomes 2 – 1, but Woodbridge came back strongly, with victory in the last singles match on the course seeing them home on the 17th hole. Woodbridge had twice been beaten by the same opponents in finals in the last decade.
They overcame a blow when they had to concede one of the three morning foursomes. Susie Whymark took a tumble on the eighth, which resulted in her suffering a fractured hand and being taken to hospital.
At the time, the Newton due of Sue Cooper and Adrienne Hughes were holding a three-up lead against Whymark and partner Jill Scott Nicholls, and Woodbridge had to concede. However, as a result of a new ruling this year, they were able to stay on course with a full turn out in the afternoon singles. The competition now allows clubs to field six from a squad of eight to take account of such an eventuality.
In the other foursomes, Pam MacBride and Sheila Burgess won one up against Janet Sparks and Vivien Lister, while Liz Piercy and Anne Truman were defeated 2 & 1 by Newton's Rosie Jackson and Gwyneth Ferreira.
Despite losing the opening singles match in the afternoon, the Woodbridge middle order performed strongly. With the match poised on 4 -4, captain Pam McBride needed a half from one of the last two holes against Tibby Mimpriss to ensure a Woodbridge win. This she duly achieved victory with a win on the 17th as the Newton player conceded before reaching the green.
The trophy was presented to MacBride by Suffolk Ladies president Hermione Scrope.
Foursomes: Pam MacBride and Sheila Burgess won one up to Janet Sparks and Viviene Lister, Jill Scott Nichols and Susie Whymark conceded to Sue Cooper and Adrienne Hughes 14 down, Liz Piercy and Anne Truman lost 2 & 1 to Rosie Jackson and Gwyneth Ferreira.
Singles: Burgess lost 2 & 3 to Cooper, Nichols won 4 & 2 to Jackson, Anette Llewllyn won 3 & 1 to Sparks, Kate Symonds won 3 & 1 to Carol Durston, McBride won 3 & 1 to Tibby Mimpriss, Piercy lost 5 & 3 to Ferreira.
Newton Green Ladies Open 2017
COUNT BACK DECIDED RECORD NEWTON GREEN WOMEN'S OPEN
Rebecca Evans (front left, kneeling) with the Playgolf team, along with Diss (back left) and Haverhill (back right)
Only two points separated the top three teams in the Newton Green Women's Open, and first place was decided on count back.
The annual event attracted a full house, with 72 players from Hunstanton to mid Essex taking part on a slightly cloudy, but otherwise perfect day for golf.
It was record 18 team turn-out for the event, and top spot went to a line-up from Playgolf, Colchester, whose Stableford score of 106 saw them home on count back from Diss, with Haverhill third with 104.
Prizes were presented by Newton women's captain Rebecca Evans.
Results.
106 Rosina Cole, Jeanette Shae, Janet Blackmore and Caria Holroyd (Playgolf), 106 ocb Sarah Gotts, Sam Edwards, Roz Ford and Rebecca Draper (Diss), 104 Norma Humphrey, Linda Alexander, Mary Sail and Gerry Wheatley (Haverhill).
Front nine: 49 Jan McLellan, Jan Wright, Helen Barr and Lyn Lawrence (Frinton). Back nine: 53 Ann Graves, Paulette Brook, Jeanette Longman and Lori Sage (Woodbridge).
Longest drive: Catherine Craddock (Brett Vale). Nearest pin: Ann Barker (Gosfield).
Fun Day Success
NEWTON FUN DAY EXCEEDS EXPECTATIONS
A FUN golf day at Newton Green exceeded expectations with a wide display of interest from potential new members.
Ian Woodhead, membership chairman, said double the anticipated number turned up to take part in a wide variety of light-hearted golfing activities, with participants ranging from toddlers upwards.
He commented: "I was amazed when we saw the numbers turning up. Our aim of introducing people of all ages to golf, giving them free lessons and letting them enjoy the facilities we have to offer was fully achieved.
"At various times there were more than 100 enjoying simple tasks like chipping into a paddling pool or through various targets stretching 300 yards down the 10th fairway, and they finished by putting on a proper green at the end.
"The feedback was very positive, with several juniors signing up for coaching sessions, and adults enthusiastic of what we have to offer in the way of membership."
Another Title For Harvey
HARVEY WATTS TRIUMPHS AGAIN IN SUFFOLK JUNIOR EVENT
Colin Firmin with Harvey Watts
Harvey Watts, who plays off two, has continued his purple patch by retaining the Suffolk Junior Matchplay title at Bury St Edmunds.
The Newton Green 17-year-old beat Bungay and Waveney Valley's Conal Downing as his opponent finally crumbled on the last hole of a closely fought encounter.
The pair were level going up the last hole, but Downing's wayward tee shot meant he could not recover to snatch the title from Watts, having to concede the hole.
Earlier in the day, by a similar margin, Watts had had beaten Alfie Halil of Flempton in the semi-finals, and the previous day in the first round put out James Iron of Haverhill 8 & 6, before getting through the quarter finals with an extra hole, play-off win against Max Adams, of Bury St Edmunds.
Watts, who became joint course record holder at his home club a few weeks ago, was in the Newton team which finished sixth out of 30 teams in the recent England junior team championships at Woodhall Spa, and will be young enough to try and win the county title for a third time next year.
He received the trophy from Suffolk county president Colin Firmin.
In the Final of the Cranworth
TABLE TURNING TIBBY SEES NEWTON GREEN THROUGH
Vivienne Lister, Sarah Williams, Janet Sparks, Sally Cade (non playing captain), Tibby Mimpriss, Sue Cooper, Sue Thurgate, Rosie Jackson and Adrienne Hughes
Tibby Mimpriss held her nerve to record a nail-biting singles win fightback and see Newton Green women into the final of the Suffolk Cranworth Trophy.
The 26-handicapper, playing her first season in the competition, stormed back in her last few holes after being three down mid-way through the last match on the course in the semi-final against Gorleston at Fynn Valley.
It had looked curtains for Newton, with matches level at four each, and Gorleston's Rosemary Woodgate leading Mimpriss at the half-way stage of their match.
However, the Newton player fought back strongly and, with three holes left, she was on terms, and then won the 16th and 17th to give her a 2 and 1 victory.
In the morning foursomes, Newton led 2 – 1, but Gorleston opened the afternoon singles with a win. Victories for Sue Cooper and Sue Thurgate put Newton ahead 4 – 2, but reversals in the next two matches left Mimpriss to deliver the knock-out blow.
Newton now seek to win the trophy for the third time in a decade, the previous two final successes being against Woodbridge, who are again encountered in this year's final at Diss on September 28.
Foursomes: Janet Sparks and Vivien Lister beat Jack Walsh and Sue Smith 4 & 3. Sue Cooper and Adrienne Hughes lost to Rosemary Woodhouse and Linda Jones one down. Rosie Jackson and Sarah Williams beat Maureen Dark and Jayne Standen 3 & 2.
Singles: Sparks lost to Walsh 2 & 1, Jackson lost to Jones 3 & 2, Cooper beat Dark 3 & 2, Sue Thurgate beat Victoria Watson 6 & 5, Mimpriss beat Woodhouse 2 & 1, Hughes lost to Vera Woolnough 6 & 5.
NEWTON JUNIORS RISE TO SIXTH PLACE
Harvey Watts, Ben Tatum and Oli Page
With the tough course taking its toll on many players, Newton Green rose from 13th to joint sixth in the final day of the England Junior Club team championships at Woodhall Spa.
Ben Tatum and Harvey Watts for the second day running managed to produce good scores, enabling the Suffolk representatives to finish in their highest place in the last three years in which the club has represented the county.
Tatum's 38 points set the team standard for the week on the first day, with Watts and Oli Page both scoring 30.
The two best scores each day counted, and on the following day Watts registered 36 and Tatum 34.
Individually, out of a field of 90 players, Tatum was 10th and Watts 28th.
All three players continue to qualify next year for trying to win the Suffolk team title and so reach the national event once more.
FROM CARS TO PARS AT NEWTON S GOLF WEEK
More than 500 entrants over six days again made the annual Jonathan Lambert Festival of Golf a big success at Newton Green Golf Club.
The week was given a major send off in the form of a veteran vehicle show, specially staged to mark the 110th birthday of the club.
It was followed by a wide range of social golf matches aimed at embracing the whole club. It finished on Saturday night with golf week chairman Dora George hosting a presentation party after more than 120 golfers had taken by the Jonathan Lambert silver salver.
A record 92 players for a shot gun start at Newton opened the 18-hole events for Tuesday's Delaney Scramble, and a contingent just short of that number battled round as rain dominated the following days Stableford competition. With a justifiably unfavourable forecast for later in the day, a Foxes and Rabbits event had already been cancelled.
The clouds gradually lifted for the rest of the week, and 12-handicapper Tim Richardson, with 42 points, put his name on the Saturday salver after previous near misses in other years.
Generally, a blustery wind and a testing course set up, made scoring tough, although Alex Iveson managed to take the junior award with 39, including 26 on the back nine, and Gwyneth Ferreira the women's best score with 35.
In the gross score division, Alice Barlow's 71 gave her a one shot lead over Carl Amos
Cross Country: 14 Gareth Evans, 12 Doug O'Hara, 11 Steve Knappett.
Denaley Scramble: Amanda Rush, Susan Sills, Tim Richardson and Alan Vince.
Stableford: George Bullett, Chris Williams, Sue Lockwood and Alex Iveson. Best Whag, Les Gridley; gent, Roger Hermiston; woman, Amanda Rush; junior Alex Iveson.
Kiskadee: Sylvia Davis and Jamie Walter.
Par Three: 26 Steve Knappett, 23 Peter Scott, 22 Chris Williams.
Three clubs and putter: Terry Scurr, Nick Thomson and Adrienne Hughes.
Jonathan Lambert Centenary Salver: 42 Tim Richardson; best women 35 Gwyneth Ferreira; best junior 39 Alex Iveson. Best gross score, 71 Alice Barlow.
14.08.17
HARVEY WATTS EQUALS NEWTON GREEN COURSE RECORD
TEENAGER Harvey Watts has equalled the men's course record at Newton Green
Playing in a club Stableford event, the 17-year-old went round in a six under par 63, three shots better than his previous best. He recorded seven birdies and one bogey, and his handicap has been reduced from three to two.
Playing with him and marking his card was Jed Seeley, the current record holder. The pair were playing together last year when Seeley set the current record, which is the best recorded by any amateur or professional player at the course.
Watts is in the three-strong team of Newton players who recently retained the Suffolk junior team title, and who represent the county in the national club team championships at Woodhall Spa on August 14 and 15.
In the national event last year Watts registered a hole-in-one, and his team mate again this year will be will be Ben Tatum, plus Suffolk under 16 captain Ollie Page.
MULTI-MILLION POUND CAR SHOW REVS UP FESTIVAL WEEK
Vintage cars and other vehicles proved a big attraction as Newton Green Golf Club celebrated its 110th birthday in style.
Members and guests turned out on a sunny afternoon to enjoy the sight of rare vehicles all owned by members and their friends.
Although not the oldest vehicle on display, the 1934 Austin taxi which for decades was used to transport Sudburians – along with Royalty and Winston Churchill – to important engagements, proved a popular attraction.
The vehicle, which is still in the ownership of its original family, has 522,523 miles on its milometer, and golfer Di Cunningham won £50 as the person closest to guessing the reading.
With music from the Victory Jazz Band, a display of golf memorabilia and cream teas, the day provided a splendid opening to the club's annual golf week.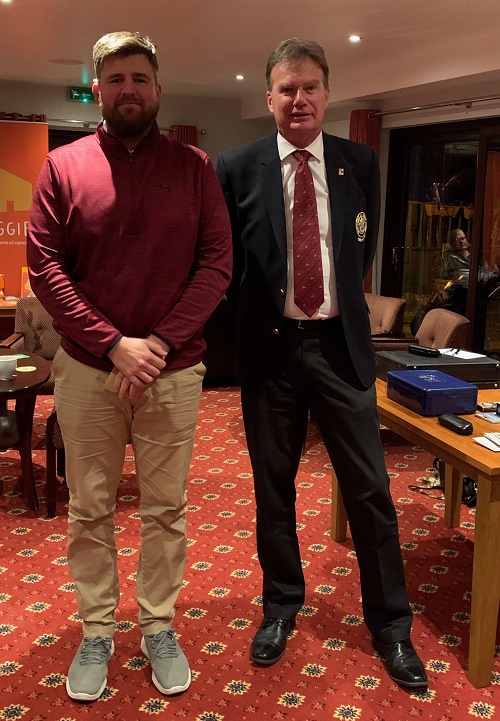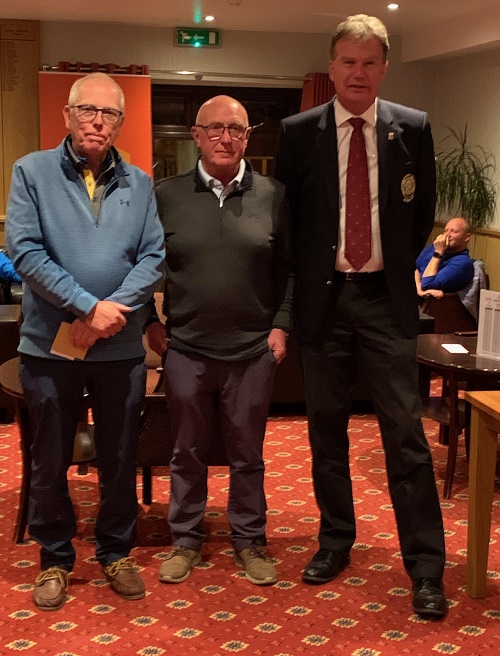 NEWTON GREEN LADIES INTO SUFFOLK CRANWORTH SEMI-FINALS
Carol Durston, Timmy Mimpriss, Vivien Lister, Rosie Jackson, Sue Cooper
Adrienne Hughes, Sally Cade (non-playing captain), Gwyneth Ferreira, Sheila Walter
Newton Green Golf Club ladies are into the semi-finals of the Suffolk Cranworth Trophy after beating Bury St Edmunds at Woodbridge.
Newton has won the trophy twice in the last decade, and were up 2.5 to .5 in the morning foursomes, and finished comfortable overall winners by 7- 2 after a successful afternoon in the singles. They now play Gorleston at Fynn Valley on August 24 in the last four.
With the buffer of a comfortable morning lead, it looked as if Newton would score a runaway win after the opening afternoon singles were won by comfortable 4 & 2 and 5 & 4 margins.
However, the next four singles were tight, and it was not until the closing holes that Newton claimed more successes to extinguish a brave fight to the wire by Bury.
Foursomes (Newton names first): Rosie Jackson and Gwyneth Ferreira halved with Jane Hurst and Sue Brinkley, Sue Cooper and Adrienne Hughes won one up to Heather Chandler and Jacky Watson, Sheila Walter and Vivien Lister won two up to Clare Sykes and Tracy Claydon.
Singles: Jackson beat Sylvia Jarvis 4 & 3, Cooper beat Hurst 5 & 4, Carol Durston won two up to Chandler, Walter lost two down to Sykes, Tibby Mimpriss won 2 & 1 to Claydon, Ferriera halved with Jenny Seisun.
James Cooper - 2017 Junior Scratch Champion
James Cooper won the Newton Green Junior Club Championship by one shot from Harvey Watts and Kieran Sorrell.
James and Harvey were tied at lunch with one over par scores of 70 with Kieran third with 74, poor weather conditions all day made the conditions difficult with wind and rain throughout the day. The afternoon saw Kieran Sorrell produce a great round of 71 with Harvey scoring 75, James then holed out from 6 feet on the final green to win by one shot with an afternoon score of 74 and a two round total of 144.
Junior Champion: James Cooper 144
Runners up: Harvey watts 145
Kieran Sorrell 145
2017 Junior Championship Shield
Max Toombs winner of the Junior Championship Shield.
Normally played over 18 holes the juniors this year played 36 holes alongside the Club Championship with Max winning with two fine net scores of
66 and 69.
ENGLAND HAT-TRICK FOR NEWTON GREEN JUNIORS
Newton Green Golf Club juniors have pulled off a remarkable hat-trick by becoming Suffolk junior team champions again.
It means they go forward to represent the county in the national county team championships for the third consecutive year.
They will be playing at Woodhall Spa, the headquarters of England Golf, on August 14 and 15.
Newton took on their toughest final opponents to date when they faced the powerful Ipswich Golf Club at Bury St Edmunds, but came home by a single shot in a high quality encounter.
The dramatic win by 108 to 107 Stableford points was sealed in the final game on the last green. Had Ollie Page (handicap seven) not sunk his five foot putt on the 18th against Ryan Goodizi (9), the match would have gone into a play-off.
But Page, who earlier fought off a dazzling array of shots by Goodizi, who returned figures five below his handicap, won the last hole with a birdie.
Both players were in trouble with their third shots, leaving them 80 yards from the hole. But Goodizi came expertly out of a bunker and Page flew over a tree to finish close to the pin. The Ipswich player missed his putt and Page put Newton's name on the trophy. Page had scored 34 to his opponent's 41 points.
In the other matches, Ipswich scratch player Habebul Islam scored an impressive 38 points, but was closely chased by Newton four-handicapper Harvey Watts on 36.
In the middle match, Newton's Ben Tatum (5) was too strong for his opposite number Will Garland (11) winning 38 – 28.
Newton won without previous round performer James Cooper (4) who was unavailable and will also miss the final.
The trophy was presented to Newton by Suffolk junior section chairman Trevor Mason.
VINTAGE EVENT WILL FEATURE ELSIE S FAMOUS TAXI
AN 80-year-old taxi which performed a unique role in a town's transport history is to make a rare public appearance. Elsie Elliston carried King George V1 and Winston Churchill to hush-hush, war-time engagements in the Sudbury area in her six-cylinder, 16hp Austin taxi.
As a riding school owner, she always wore jodhpurs and a riding jacket when driving. Numerous brides were transported to weddings, and many mums-to-be were rushed to hospital in the vehicle. Elsie died more than a quarter of a century ago, but the taxi is still in the ownership of her family.
On August 6 her son-in-law Pat Morton shows it at Newton Green Golf Club for a 110th anniversary event. He has never previously shown the car, although it has seen service at a few family celebrations, such as weddings.
The old car still has its original engine. It has had one re-bore. Purchased from Mann Eggerton, of Ipswich, in 1936, it has travelled in excess of 500,000 miles – although Elsie reputedly never exceeded 30 mph! It was bought for £301 and was insured in its first year with the Prudential for £17.50.
Mr Morton retains the original log book and show room brochure. He said: "It only needs turning over a couple of times for it to start. The family is pleased it has been able to hold on to a vehicle of such historic importance to the Sudbury area.
"Elsie took King George V1 from Sudbury railway station to Acton airfield when he came to visit injured servicemen, and carried Winston Churchill when he came to the area during the war."
Mr Morton said the car had also transported a few unusual items in connection with Elsie's riding stable. Once, she acquired a Shetland pony for her grandson and brought it home tethered in the vehicle's rear foot well. However, she refused to allow its use in TVs Dad's Army because she feared it would be damaged.
People who had travelled to their weddings or other special occasions in the vehicle would be welcome to visit the show and have their pictures taken with the car.
Interviewed for a local history profile in 1992, Elsie said: "I did a lot of driving during the war. I used to drive servicemen back to their bases late at night, and also went up to London a lot. I knew the North Circular like the back of my hand. I've just had the one car, and it has done the equivalent of going round the world 25 times.
"Every time I came home at night - it might have been raining or snowing - I would wash or wipe it down, and look to see if anyone had dropped a cigarette inside. I did all the maternity jobs in Sudbury because women would prefer to have a woman driver. And I did most of the weddings too – I had some lovely class work."
BARLOW AND EVANS BRING DOWN THEIR RECORDS
TWO players enjoyed outstanding rounds as they set new personnel records in the Newton Green Golf Club ladies' championships.
Alice Barlow sent her course record tumbling again to retain the scratch title for the third year, and ladies captain Rebecca Evans saw her handicap cut by three as she won the nett score title.
Barlow's previous record set in May was a three under par 68, but in the first round of the championship she registered seven birdies in a round of 66, and then scored a further seven birdies in the afternoon for a 67. Her 36-hole score was seven under par, and left her well clear of the rest of the field.
The two rounds enabled Barlow to reduce her handicap to scratch, and she commented: "I am over the moon with the way I played, especially as I had to pull out of two national competitions the previous week with an elbow injury, and had to play with a support on my arm."
Meanwhile, in the handicap event, Rebecca Evans returned scores of 88 and 80 off a handicap of 19, which saw her cut to 16 by the end of the day. Her nett 130 left her one shot ahead of Barlow.
Gross scores: 133 Alice Barlow, 168 Rebecca Evans, 172 Sally Cade, 178 Andrea Thompson, Cate Fraser, 179 Lizzie Johnson, 185 Jan Doe, 189 Rosie Jackson, 190 Sue Lockwood,.
Nett: 130 Rebecca Evans, 131 Alice Barlow, 143 Lizzie Johnson, Jan Doe and Carol Durston, 148 Cate Fraser, Sally Cade, 150 Sue Lockwood, 153 Adrienne Hughes, 154 Andrea Thompson.
JED SEELEY RETAINS HIS NEWTON TITLE
Jed Seeley has retained the Newton Green Golf Club championship title with a level par score in the 36-hole event.
Scratch golfer Seeley holds the course record at 63 for 18 holes, and had a one over par on 70 in his morning round. The round had started with five birdies in seven holes. His course record looked in danger, but Seeley could not keep up the blistering opening.
Close behind him in the morning by one shot was Simon Bearman, but he slipped to a 74 after lunch, while Seeley was recording a one under second round 68.
Former champion Russell Oakey, who had scored 74 in the morning, came home with a one under par 68 in the afternoon for second place, which allowed him to edge out Bearman by one shot.
Scores: 138 Jed Seeley, 144 Russell Oakey, 145 Simon Bearman, 147 James Cooper, 149 Tom King, 153 Ian Woodhead, 154 Max Hemson, 158 BenTatum, 165 Kieron Sorrell.
SIT WITH ME WHILE ON THE TEE
A new bench inscribed "Sit with me while on the tee" has been unveiled beside the eighth tee at Newton Green Golf Club in memory of the late John Walsh.
To mark the ceremony, his widow Pat cut a blue ribbon draped across the seat.
LADIES MAINTAIN CHALLENGE TROPHY
"On a beautiful sunny Monday morning the Old and Bold and the Ladies competed in the annual Challenge Trophy over 10 holes. This was, as always, a very pleasant and sociable occasion with 20 Ladies and 20 Old and Bold playing a 4 Ball, Better Ball Stableford, which the Ladies won comfortably by 24 holes.
After a very enjoyable lunch in the marquee, Adrian Amos, the Old and Bold Captain presented the trophy to Rebecca Evans, the Ladies Captain for retention by the ladies for yet another year, "
NEWTON JUNIORS BID FOR HAT-TRICK OF WINS
Newton Green juniors are bidding to represent Suffolk in the national junior team finals for the third year in a row.
They meet the powerful Ipswich in the county final at Bury St Edmunds on July 15.
Newton has won the previous two finals, enabling them to enjoy appearances in the national finals. On each occasion they have acquitted themselves well.
To reach this year's county final they beat Bury St Edmunds 111 to 102 at Hintlesham, with James Cooper scoring 40 Stableford points, Ben Tatum 39 and Harvey Watts 32.
Ben Tatum, Harvey Watts and James Cooper
RESIDENTS NO LONGER OUT OF BOUNDS ON NEW GOLF HOLES
Residents of a Suffolk village are achieving a new deal that gives them access to parts of a local golf course that have previously been "out of bounds."
A new Villager Plus membership has been agreed between trustees responsible for a 44 acre green forming part of the 18-hole Newton Green Golf Club.
Residents can play the long-established holes on the village green for free, but have to pay if they want to swing their way round the remaining 80-acres, which were developed 25 years ago on land leased for 125 years from farmer and club president Michael Oliver.
The golf club has been using the green side of the course for 110 years, and for several decades paid residents a bag of coal per household as rent.
The formation of a trust a few years ago reinforced proper monetary payments. As part of latest negotiations, the club is increasing its contributions to the trust, and the parties have agreed on the new Villager Plus membership.
Residents will pay half the prevailing seven-day membership fee to play all 18 holes, although access to the new side of the course will have restrictions. Play will be available from 12.30 pm on Saturdays and 10.30 am other times. Free golf for residents continues on the village green holes.
Peter Philpott, club chairman, said "If the village players wish to gain handicaps, play in competitions and have voting rights they will have to become full members – and many already do. Village users will continue to enjoy all amenities offered by the club.
"To gain Villager Plus status, residents effectively have to pay £377, and the club will be sharing half that figure with the trust administering the green, which means both the club and the village benefits."
A condition of Villager Plus membership means taking part in an introductory, one hour, off-course session with club professional Tim Cooper.
ALICE BARLOW IN ANOTHER NATIONAL FINAL
Newton Green golfer Alice Barlow has helped Suffolk women reach the final of the prestigious English County Championships.
During five days of golf at Hunstanton, Suffolk remained unbeaten against several teams that generally dominate the contest.
As an extra incentive, for the first time in many years the national final will be staged in Suffolk, with the event at Felixstowe on September 17-22.
Having enhanced her reputation by recently retaining the Suffolk women's county champion title, 18-year-old Alice Barlow was involved in most of the county's five days of play in the Eastern final.
Suffolk started with a draw against Essex, and then beat Bedfordshire 5.5 to 4.5, before drawing against the highly-rated Norfolk. A convincing 8.5 to .5 win over Cambridgeshire put Suffolk top f the table, but to make certain of the title had to win their final match against Hertfordshire, which they duly achieved 5.5 to 3.5.
Among events Alice Barlow will be competing in before September is the England Women's Amateur Championship from July 18-20.
Cranworth Success
CRANWORTH QUARTER FINALS FOR NEWTON GREEN
Newton Green women are through to the quarter finals of the Suffolk Cranworth Trophy after a convincing victory over Seckford at Fynn Valley.
In the next round they play Bury St Edmunds at Woodbridge on July 27.
In the second round against Seckford, Newton was 2 – 1 up after the morning foursomes, but then strode home with victories in four of the six afternoon singles. The final score was 6.5 to 2.5 to Newton.
Foursomes (Newton names first): Sue Cooper and Adrienne Hughes one up to Bev Versey and Heather Beynon, Jill Symonds and Vivien Lister 3 & 2 down to Joan Cook and Mel Curle, Sheila Walter and Gwyneth Ferreira 8 & 7 up to Linda Arnold and Helena McDougall.
Singles: Cooper won 6 & 5 to Versey, Carol Durston won one up to Cook, Walter won 2 & 1 to Beynon, Tibby Mimpriss lost 5 & 3 to Curle, Ferreira won 5 & 3 to McDougall, Hughes halved with Amanda Quinsea.
Stenson Exit
MISSED PUTT DRAMA PUTS NEWTON OUT OF STENSON SHIELD
Newton Green came close to gaining a play off before going down to Woodbridge in the Suffolk Stenson Shield.
A missed 18 inch putt on the last hole in the penultimate singles match, which had it been converted would have given Newton a win rather than halved match, was the difference in the sides.
In the last game, two holes behind, Newton's Ben Tawell was two up, and had he completed his round with a win, the sides would have been tied – but for that missed 18 inch putt.
However, as the match could not be won, Tawell's game was terminated and declared a half, which enabled Woodbridge to finish 7-5 victors.
For Newton, Russell Oakey, Mike Polley and Jed Seeley all registered wins in the singles, with halves for Tawell and Harvey Watts, and reversals for Ian Woodhead, Ben Tatum and James Cooper.
In the morning foursomes Woodbridge gained a 3 – 1 lead, with Oakey and Watts being Newton's only victors.
Hambro Defeat for Newton
OPPOSITION'S FLYING START PUTS NEWTON GREEN OUT OF HAMBRO.
Newton Green is out of the Suffolk Hambro Cup – one of seven out of eight teams who could not conquer away team disadvantage in the second round.
They went down fighting at Haverhill, where the home side enjoyed a commanding 13-hole lead at lunch, which the visitors managed to reduce to 12 by the end of the day.
Newton's leading pairing of Russell Oakey and Harvey Watts were turned over by seven holes in the morning and five in the afternoon.
The Haverhill pairing of Andy Underwood and Andy Fish struck with several birdies and an eagle. Five handicapper Underwood was on fire, with his length off the tee and accuracy resembling a five-plus handicap player – and Oakey and Watts also had to concede three shots.
Newton scores.
Morning: Oakey and Watts lost seven down, Bearman and Cooper lost two down, Polley and Evans lost five down, Seeley and Tawell won one up.
Afternoon: Oakey and Watts lost five down, Bearman and Cooper won three up, Polley and Woodhead won four up, Seeley and Evans lost one down.
Ian Woodhead, Mike Polley, Simon Bearman and Russell Oakey
Gareth Evans, Jed Seeley, Harvey Watts and James Cooper
OWLS PROVIDE THREE BIRDIES IN A ROW FOR GOLFERS
Golfers on a Suffolk course have witnessed the ultimate – three birdies in a row.
It did not occur on the fairways or greens of Newton Green Golf Club, but in one of the two barn owl boxes the nature wise club has installed beside one of its fairways.
The three baby little owls were recently gently removed from their box by the Suffolk Wildlife Trust, tagged and put back in their nesting place.
Martin Brightwell, head greenkeeper, said: "We installed the boxes three years ago, and in the second year in one of them we had four baby barn owls, which were tagged by the trust.
"Now we have had three little owls in the same box. The second box has attracted only squirrels, and it is being relocated.
"The wildlife trust is hoping it might be able to trace some of our four barn owls from last year. I would be interesting to know how far they have spread."
Three birdies in a row at Newton Green
Beaumont Defeat
NEWTON LOSE NARROWLY TO BURY ST EDMUNDS IN BEAUMONT TROPHY
Newton Green seniors suffered a narrow three-hole home defeat to Bury St Edmunds in the second round of the Suffolk Beaumont Trophy.
It was the second year the teams had faced each other in the contest, in which Bury went on to lose in the semi-finalists last year. On that occasion in the early round they beat Newton by six holes.
This year, in terms of matches it was 2 -2, but a seven-hole win in the third game helped edge the visitors home.
Scores. Newton names first: Andrew Johnson and Ted Clarkson beat Barry Storey and Colin Gray two up, Mike Hawkins and Nick Smith lost three down to Alex Clarke and Steve Flint, Steve Street and Harry Wordley lost seven down to Steve Beaman and Graham Smith, Ian Duncan and Brian Joy won five up to John Cauldwell and Steve MacClellan.
Newton, back row: Andrew Johnson, Steve Street, Nick Smith, Ted Clarkson, Mike Hawkins, Ian Duncan. Front row: Clive Bloom (non- playing captain), Harry Wordley, Brian Joy and Frank Salt.
REBECCA S BUGGY GIVES THEM THE RUNAROUND
A decorated buggy literally allowed athletic Rebecca Evans the chance to give fellow golfers the run-around at her captain's day.
The Newton Green golfer, who is also on the Suffolk women's golf committee, has twice run the London Marathon, and her buggy was draped with running shoes and other sporting apparel.
Rebecca marshalled the course in the buggy as members played a Delaney scramble, with the following results: 1 Sarah Woodhead, Laura Lowe and Pat Hawkins 73.1, Auriol Round Turner-Turner, Andrea Thompson and Tibby Mimpriss 73.6, Julie Boast, Jan Doe and Mary Jenkins 74.4.

Captain's day winners
JIMMY WHITTLE HONOURED AT NEWTON GREEN
Gareth Evans, Mary and Paul Whittle.
Newton Green Golf Club has honoured a former stalwart on the same day members played for a new trophy in his name.
Builder Jimmy Whittle was the lynch pin behind a number of club house expansion phases following Newton's development from nine to 18 holes more than a quarter of a century ago.
He also took a leading role in assisting in the development of the extended course, and served a term as club captain.
Following his passing last year, his son Paul, a former single handicap player at the club, presented a trophy in his father's honour. Now, members have competed for the Jimmy Whittle trophy in a pairs competition.
At the same time, the club has renamed one of the rooms built by Jimmy. It has been remodelled as a stud bar and named Jimmy's Room.
Jimmy's widow, Mary, along with Paul, and club men's captain Gareth Evans, raised a toast under the sign honouring the former club stalwart.
The first winner of the Jimmy Whittle Trophy with 45 Stableford points was Kevin Levett and Nick Smith, followed by Mick Gronland and John Sherman 44, Harry Wordley and Ben Tawell 43, and Craig Rollinson and Paul Pengelly 42.
Kevin Levett, Paul Whittle and Nick Smith
Golf day at Newton Green benefits Junior section
A golf day at Newton Green raised more than £700 to help boost work with the club's successful junior section.Teams of four competed, with the two best Stableford scores counting.
The winning team, pictured above left to right, was Neal Watts, Kevin Levett, Mark Delves and Simon Cruse.
They scored 88 points.
NEWTON GREEN THROUGH CRANWORTH FIRST ROUND
Left to right: Tibby Mimpriss, Rosie Jackson, Adrienne Hughes, Sue Cooper, Gwyneth Ferriera, Carol Durston, Liz Ward and Sheila Walter.
Newton Green women are through to the second round of the Suffolk Cranworth Trophy.
Twice winners of the competition in the last decade, they defeated Southwold by 7.5 games to 1.5 on neutral ground at Seckford.
Newton were 2 -1 up at lunchtime after the three foursomes matches, and then overpowered Southwold in the singles, winning five matches and halving one.
In the next round at Fynn Valley on June 22 they will meet Seckford, who were 5-4 first round winners over Hintlesham.
RUSSELL S ABOVE PAR DRIVING MACHINE
When golfer Russell Lydford transports equipment to his local club, he has the ultimate in buggy transport.
With his clubs in the back, the Newton Green Golf Club member turns heads when driving his immaculate, half-ton 1946 Chevrolet pick-up into the car park.
The site, if the not roar of the truck's 3.6 litre, straight six engine, which gives 18 miles to the gallon, can hardly be ignored.
The Sudbury heating and plumbing engineer is an enthusiastic restorer of old vehicles – with a particular love in recent times of bringing back old American models to their gleaming, showroom prime.
His 1946 Chevy, which was registered in Kansas in 1946, will be among around 50 vintage vehicles which will be part of a show at the golf club to celebrate its 110th birthday on August 6. The event is a curtain raiser for the club's annual golf week.
Russell bought the pick-up from its English owner three years ago, when it had been damaged by a fire in the back, and also had both its front and rear ends stoved in.
With his own hands and a bit of specialist help, he set about carrying out a complete restoration of the engine, chassis and bodywork, emphasising: "Some people say they have restored something themselves, but very few do it without some outside input from specialists. I make sure I learn from them, and know I can do it on my own next time."
Now, he proudly displays his Chevy at hot rod and other specialist shows, including those of the National Street Rod Association, of which he is a member.
He also once fully restored a now sold 1934 Sunbeam, which he turned into a hot rod, but found it "too scary to race!"
Russell also owns a 1952 Sunbeam 500cc motorbike, which he restored, and carried out similar work to a now sold on "beaten up" 1952 Chevrolet pick-up and a 1963 Ford Consul Capri.
NO PARKS FINAL FOR NEWTON GREEN THIS YEAR
David Slater, Nigel Gerrans, Steve Cragg, James Everett, Ian Duncan (captain)
Kevin Levitt, Chris Williams, Cos Loizou, Bernie Pratt
Newton Green's senior men have been knocked out in the first round of the Suffolk Parks Trophy - a competition in which they reached the final last year.
In this year's first round match at Gorleston they went down by 15 holes, facing a team with four single handicap players, compared with Newton's one.
Away wins in any of Suffolk's inter club events at rare, and playing on a seldom visited course, Newton put up a competitive show until the extra fire power of the opposition showed in the latter stages of matches.
Results (Newton names first).
Chris Williams and Steve Cragg beat Bob Richardson and Bob Cooper one up.
James Everett and Kevin Levett lost to Martin Pestle and Eddie Red two down.
Cos Loizou and Dave Slater lost to Jim Robinson and Paul Platten seven down.
Nigel Gerrans and Bernie Pratt lost to Richard Reynolds and Kevin Woods seven down.
NEWTON GREEN SENIORS THROUGH IN BEAUMONT
Newton Green seniors are through to the second round of the Suffolk Beaumont Trophy after a 14-hole victory over Rushmere.
The competition for senior players with 10-20 handicaps sees Newton entertaining Bury St Edmunds or West Suffolk in the next round.
The opening match against Rushmere proved decisive, with Ted Clarkson and Andrew Johnson beating their lower handicap opposition pairing by a massive nine holes.
The second match featuring Nick Smith and Frank Salt was halved, but Newton increased their margin as Steve Street and Harry Wordley won one up and Ian Duncan and Brian Joy registered a four hole win.
Scores (Newton names first): Clarkson and Johnson won nine-up against Page and Jacobs, Smith and Salt halved with Howard and Howgego, Street and Wordley won one up to Williams and Musgrove, Duncan and Joy won four up to Mills and Markham.
Nick Smith, Brian Joy, Nigel Gerrans (non playing captain), Steve Street and Andrew Johnson.
Harry Wordley, Ian Duncan and Frank Salt. Absent: Ted Clarkson.
Another Course Record For Alice
ALICE SLICES HER OWN WOMEN'S RECORD AT NEWTON GREEN
ALICE Barlow has sliced her previous women's course record at Newton Green Golf Club.
Playing to retain the Earl Howe Trophy, the 18-year-old carded a three under par 68. This was two better than her previous course record.
The round put her into the last 16 for the knock-out stage of the most difficult competition to win at Newton.
Off her handicap of one, Barlow recorded a net 67, one better than 19-handicapper Lizzie Johnson, and two ahead of Margaret Hills, net 69.
Barlow, aged 18, is in her final year at Thomas Gainsborough School, Great Cornard, and is spending the summer playing in leading women's amateur events, including a recent appearance in the Welsh Open, when a nine in her opening round left her down the field.
To date, her best finish has been fifth. Her run of success last year means she is a qualifier for the England Women's Amateur Open in July.
NEWTON GREEN IS A HIT WITH SOCIETY TEAMS
An annual society day at Newton Green Golf club has helped boost interest in groups visiting the club near Sudbury.
Eighty players making up 20, four-ball teams from Suffolk and Essex took part in the second annual society day run by the club.
Ben Tawell, club manager, said: "We started this initiative last year and immediately attracted 18 teams. We invite all the societies that support us, and the day has proved a very successful format.
"We have received excellent feedback regarding the condition of our course and catering, which in turn we would hope will increase interest in even more societies visiting our club. Our bookings for this summer are already showing a marked increase.
"People seem to enjoy the atmosphere of a members' club that shows a welcoming approach to visiting groups. Our course offers an interesting challenge suitable for people who appreciate traditional, historic golf blended with attractive and challenging new holes."
Club women's captain Rebeccca Evans presented awards and One Railway Golf Society were winners of the day, followed by a team from Brett Vale, with the Sudbury Wanderers Golf Society third.
Winners 1: One Railway Society Essex (Lee Vaughan, Colin Martin, Graham Horne and Steve Lawrence), 2 Brett Vale (Robert Holmes, Gareth Morgan, Steve Carr and Les Norman)), 3 Sudbury Wanderers (Derek King, Dave Fisher, Peter Hebditch and Allan Scott).
Photo: Lee Vaughan, Colin Martin, Rebecca Evans, Jim Smith (for Graham Horne) and Steve Lawrence.
The 2017 Andy Platter
CHRIS WILLIAMS STRIKES AGAIN

Andy Platter winner Chris Williams, with trophy donor Andy Dodds, and leading woman player Pat Hawkins.
One of the keenest fought competitions for senior golfers at Newton Green is the Andy Platter - and particularly so with Chris Williams.
The mid-week competition for seniors has been won by the 12-handicapper for the fourth year running. His latest success saw him score 39 Stableford points, in front of John Sherman 38 and George Bullett 36.
The ladies section was won by Pat Hawkins 39, followed by Margaret Hill 35 and Sheila Walter 33.
Nearest the pin prizes went to Sally Cade, Frank Salt, Richard Lilley, Bernie Pooley and Fred Looman.
Fred Looman, John Sherman, Margaret Hills, Sheila Walter, Pat Hawkins, Chris Williams, Andy Dodds,
Bernie Pooley,Frank Saltand Sally Cade.
THE FAMILY HEIRLOOM THAT KEEPS ROLLING ALONG
A 1930s saloon which has been in the same family for more than 80 years will be among exhibits at Newton Green Golf Club's first vintage vehicle show. The event is being staged on Sunday, August 6, to mark the 110th anniversary of the club, and as a special curtain up for the annual Jonathan Lambert Festival of Golf.
Members, relatives and friends are invited to provide exhibits during an afternoon that will feature cream teas and a traditional jazz band.
Golfer Mick Mills who, with his wife Marilyn, have a Vauxhall 12 DY5B, originally bought new by her father's cousin at Halstead in 1934, will be showing it at the event.
In the 1950s, the black, four-seater passed for £40 to Marilyn's father Alan Gentry, of Assington. He used it for many years while working as a lumber jack, and kept it going with spare parts from another old Vauxhall he bought for a fiver. Eventually, the car was abandoned and left to rust in Mr Gentry's back garden. The engine was removed, put on blocks outside and started up each week.
Twenty years ago, after his son carried out part restoration with a half-completed paint-job, he passed the vehicle to Marilyn and Mick. They found a north Essex mechanic who had worked on pre-war Vauxhall cars. He undertook a two-year restoration. A couple, who had been made redundant at an upholstery firm, took on re-fitting the leather interior.
Marilyn recalls, "When my father, who is no longer with us, saw the restored car he had tears in his eyes. In the 1930s Vauxhall 12s were called a 'farmer's car', because you had to have a bit of money to afford one. We still have the original log book, and a service manual covering the model from the thirties right through into the forties. We regard the car as a real family heirloom.
"After restoring the vehicle we became members of a Vauxhall enthusiasts club for a time, and we have used the car to provide transport for a number of family weddings and other celebrations. Mick takes it out for a spin every three or four weeks to keep it going."
Before rebuilding, and Marilyn and Mick Mills with the restored Vauxhall 12
Good Evans! It is an oval ball on the tee
Newton Green's new captain Gareth Evans hit his first drive 207 yards down the fairway – but not with a rugby ball. The former Sudbury Rugby Club winger – who played in the club's National Division Three glory days more than 25 years ago – poised with a rugby ball on the tee before hitting his drive-in tee shot. He elected not to strike the oval ball, but hit a conventional ball down the middle. This was unlike his partner Rebecca, who went out of bounds when carrying out a similar task a few days earlier when she became Newton's women's captain. It is the first time in the 110 year history of the club a married couple has served in the same year as captains. Since relinquishing his main business interests two years ago, Gareth has reduced his handicap from 14 to seven. Retiring captain Lee Prentice putted out on the 18th green before handing over to his successor.
Charity benefits from golfers generosity at Newton
NEWTON GREEN RAISES £6,000 FOR CHARITY
Newton Green Golf Club has just completed a year during which more than £6,000 was raised for charity.
Most of the money - £5,934 - was handed over at a recent general meeting to the Kernos Centre, Sudbury, which is a non-profit making charity providing professional counselling and psychotherapy to children and adults.
This picture shows: John Ford (seniors captain), Lee Prentice (recently retired men's captain), Dr Chris Boatwright (Kernos centre director), Sally Cade (recently retired women's captain) and Geoff Kistner (seniors captain).
Seniors Information -
THURSDAY 2 MARCH
Due to the first Inter Club match of the season we had a reduced field of 14 players. With the conditions being rather cold and windy it was a struggle for many to return good scores
1st Derek King 33 points (21 cut to 18); 2nd Trevor Byham 31 points (21 cut to 19); 3rd Terry Scurr 30 points (15 cut to 14);
4th David Jackson 28 points
Getting a shot back are Kevin Butler; Kevin Knights; Dave Foster; Jim Ansell; Steve Clarke
INTER CLUB MATCH
Our first game of the season and we entertained our friends from down the road at Haverhill. In the absence of Captain John Ford the match was looked after by his Vice Captain Harry Wordley. The good news for John is that the surgeon has given him the all clear to swing a club. Hope Odette is good at ducking!!! Harry must be a lucky charm as we won the match. A good start to the season.
Won 4 Halved 2 Lost 2
SUMMER KNOCK OUTS
Still spaces.......Closing date is 21 March
Trophy Presentations
TROPHY WINNERS COLLECT AWARDS AT NEWTON GREEN GOLF CLUB
An experiment to get more trophy winners to turn up for the club's annual presentations proved a success at Newton Green Golf Club.
A Sunday morning nine-hole friendly encounter involving men's and mixed competition winners during the year meant an increased turn-out, compared with holding the presentation as part of a winter evening annual meeting.
Retiring men's captain Lee Prentice and ladies' captain Sally Cade handed over the awards after a rain-soaked morning's play, which was followed by a well- attended hot trolley lunch.
The pictures feature the mixed and men's competition winners.
New partnership....
A NEW DAWN FOR SUDBURY GOLF
A NEW partnership has been formed to bring the joys of golf to all age groups in the Sudbury area.
The area's longest established club and a neighbouring, family-run driving range are pooling their resources in a bid to give the sport a new dawn.
Since recently bringing the range and its nine hole course back under family control, Josie and Fred Stow have transformed Old Joe's.
At Old Joe's - Newton manager Ben Tawell, Fred and Josie Stow, and Peter Philpott
They have also struck up a partnership with Newton Green Golf Club, which will see the organisations move forward as part of the national campaign to bring the benefits of golf to a wider audience.
Newton's PGA advanced coach Tim Cooper is running nationally-backed Get Into Golf courses at the range. His club shop assistant Jed Seeley, who plays off scratch, is leading marketing and business development at Old Joe's on a part-time basis.
Peter Philpott, Newton chairman, said: "We have long held the opinion that with greater liaison the club and range could both move forward in a positive way, but this has not happened in recent years. We now have a very positive tie up which can only be good for golf and anyone interested in the sport in the Sudbury area.
"Newton has made major strides in recent times, and golf can only blossom further if the town's two leading providers are working in harmony. There was a close tie up when farmer Robert Fison developed the range more than 20 years ago, and now the spirit of co-operation has been rekindled.
"In recent times the sport has taken a deep look at itself, and user friendly policies that Newton has been fostering, such as nine-hole, pay and play, are now very much in vogue. They complement what a place such as Old Joe's has to offer."
Josie Stow, the daughter of Mr Fison, has recently resettled in the area with her South African husband Fred, and the pair has been breathing new life into the driving range.
Fred commented: "Old Joe's is loved by the community and has been a feature for over 25 years, with many top local golfers having cut their teeth here. We want to remain rooted in the community with people feeling a sense of belonging.
"It remains a friendly place for a novice to get into golf, and for a seasoned player to perfect their game. We now have the addition of a nine-hole foot-golf course to add to the atmosphere of healthy, family, relaxed entertainment."
Valentines Day Drive In
RED ROMANTIC VALENTINE'S DAY AT NEWTON GREEN
There was a sea of red when Rebecca Evans made a St Valentine's Day captain's drive-in appearance at Newton Green Golf Club.
Also present to give a romantic send-off to her year in office was husband Gareth, who is due to become the club's men's captain in the near future.
It will be the first time in the 110 year history of the club that a husband and wife will hold the captaincies in the same year.
A third member of the family, Boris the dog – sporting a red scarf - was also present for Rebecca's drive-off.
Rebecca, with a handicap of 18, represents Suffolk Women on England Golf, and also runs marathons and other long-distance events.
Her drive-off performance also set a new record for women's golf at the club, as she hit her shot out-of-bounds! However, the competition to predict the length of her drive did not go unrewarded. Vice-captain Lizzie Johnson had predicted the new captain's wayward shot and took the prize for guessing the distance of Rebecca's drive.
Before teeing off, the new captain watched retiring captain Sally Cade putt out her season on the 18th hole. (pictured above)
MORE TROPHIES FOR ALICE BARLOW
Newton Green's Alice Barlow brought down the curtain on her outstanding season by picking up the two leading awards at the annual meeting of Suffolk Ladies' County Golf Association.
She won the Joy Winn Salver for the lowest scratch scores during the season, and the Nigel Birrell Trophy awarded by the county captain to the most outstanding golfer of the year.
Alice, 18, also received her county colours. She is in her final year at Thomas Gainsborough School, Great Cornard, and will be concentrating on playing in leading women's amateur events across the country.
Over the last year she has won all the leading Suffolk ladies' trophies, as well as being the first winner of the national junior champion of champions' trophy, and finished seventh in the Telegraph BMW junior championships in Portugal.
Also at the Suffolk presentation,Newton's Eloise Aldous, now playing as a driving range professional, was confirmed as the coming year's organiser of Suffolk girls' junior golf.
Club House upgrade....
FACELIFT ON THE WAY FOR NEWTON GREEN CLUB HOUSE
A major facelift for the interior of Newton Green Golf Club is on its way.
The club is to invest £40,000 to upgrade the social side of its premises, which will further enhance its suitability for functions serving both members and other user groups in the Sudbury area.
Peter Philpott, chairman, confirmed the cost would be covered by a recent refund from HMRC.
He said Newton had been part of a group of several hundred members' clubs across the county that had been involved in a successful action to recover taxes paid in recent years on green fees.
He continued: "Our club house is very popular with other groups staging functions, and we hope to attract additional bookings by considerably increasing its ambience.
"Most of the VAT refund we have received will originally have come from people from the area who payed green fees. In one way we are giving this money back to the community in the form of better facilities for local functions, as well as enhancing the social experience of our own members and visiting golfers."
Mr Philpott said the scheme had been on the back burner for some time as the club had been using its resources to ensure the course could compare with any in the region.
He continued: "Membership wise we have just had our most encouraging year for a decade, and the upgrade of the club house, and some remarkable playing successes on the course, are all part of what has been a very successful period for the club."
Work on upgrading the club is due to begin before the end of January, and will include new lighting, carpets and furnishings. The current small dining room will be developed as a stud bar to enable greater flexibility of rooms across the building.
Classic Vintage......
GOTTA NICE MOTOR? NICK NEEDS TO KNOW
Nick Thomson, self-confessed lover of stylishly designed cars, is heading a campaign to encourage Newton Green Golf Club members to reveal their classic vehicles.
The club is staging an historic vehicle display as part of its 110th birthday celebrations, which open the annual golf week on Sunday, August 6.
Nick, a Lancia enthusiast, is no stranger to such events, having been the founder organiser of the annual Lavenham Rare Breeds car show from 1996-2000. It is held in association with the village's annual carnival, and today regularly attracts 500 entries.
A more modest – perhaps 25-50 – will be aimed for at the golf club event
Nick commented: "We are aware of a number of very interesting vehicles owned by our members, and want to give them the chance to show them off.
"Priority will be given to vehicles built prior to around 1970, and we hope to have some space for later built ones of rarity or special interest. Any unusual vehicle, even if it is an old army tank or commercial vehicle will be welcome. If someone has a classic Vincent Black Shadow motorcycle or suchlike in their garage, we'd love to see it. Some owners have already committed themselves to attend, and we are anxious to leave no one out."
Nick says he has had a love of classically styled cars from a young age, particularly those from Italy.
"Although I am interested in what is beneath the bonnet, my main pleasure is derived from cars that have design idiosyncrasies, with a classic touch, and are fun to drive."
In particular, he has three Lancia Gammas from the 1983/84 era. All are Series 111 coupe, with 2.5 litre, four cylinder engines – with "renowned road holding, performance and a body to die for" He is a member of Lancia Motor Club.
"Fiat rescued a virtually bankrupt Lancia in 1969, but kept the marque independent until fairly recently. Lancia continued to produce a stream of great models until the marque was merged with Chrysler a few years ago."
In early days much of Lancia's production was classic engines and chassis, with customers' coachbuilders designing and building one-off bodies.
Thirteen years ago Nick followed the same dream when he acquired the chassis and 20 boxes of dismembered parts of a classic 1935 Astura, and set about building the car of his desires. The chassis, with its three-litre, V8 engine, has been fitted with an ash frame and four seater drop head aluminium body.
It is a real head-turner in its dark red paintwork, and harks back to grand tourer days when the rich rallied their way across Europe to the south of France.
The show-stopper (pictured) will be among those on display at the golf club event, which also features traditional jazz and cream teas.
A special reception for Alice Barlow
STANDING OVATION FOR ALICE BARLOW
ALICE Barlow received a standing ovation at a special reception to celebrate another year of county and national success by members of Newton Green Golf Club.
The 18-year-old has swept all before her in Suffolk women's golf. She also became the first winner of England Golf's junior girl champion of champions' trophy, as well as finishing seventh in the Telegraph BMW Junior Championship in Portugal.
Alice was among both junior and senior golfers receiving congratulations from guest of honour, Suffolk Men's Golf Union president Phil Platten.
Newton's moderate success for several decades at county level had seldom merited a special celebration – now it is four years in a row. The event was hosted by Ian Woodhead.
During the evening club women's captain Sally Cade paid tribute to the qualities of commitment, determination and effort that had contributed to the success of Alice Barlow, including winning Suffolk adult and junior titles at match and stroke play. She had also formed with Eloise Aldous an "awesome pair" as they regained the Suffolk Haskell Trophy.
Club professional Tim Cooper reviewed the club's success at junior level, including Alice Barlow, Ben Tatum and Harvey Watts winning the Suffolk team championship and going on to represent the county in the national final, where they finished seventh. On behalf of England Golf, he presented Watts with a certificate for a hole in one during the competition.
Also present during the evening was the club's Parks Trophy team which had never previously passed the first round, but reached the final.
Meanwhile, six- handicapper Ben Tawell won the Dick Burn Eastern Region Golf Club Managers Association trophy, and Tim Cooper was runner up in the Suffolk PGA match play league, semi-finalist in the match play knock-out and third in the order of merit.
Sky Sports Coverage....
Sky coverage of Quinta do Lago
Sky Sports 4 will be showing highlights of the Telegraph BMW Junior Championships at Quinta do Lago, Portugal , in which Newton's Alice Barlow and Lily May Humphreys competed, at the following times in December:
7th 20.30
7th 21.30
8th 19.00
9th 19.00
18th 17.30
20th 18.30
22nd 18.00
23rd 18.30
23rd 22.00
24th 11.30
24th 16.30
27th 21.00
27th 22.00
Seniors v Ladies
SENIORS FLUSHED BY CLOSET SUCCESS

More than 80 players took part in a team contest for the smallest trophy at Newton Green Golf Club. The annual match between the ladies of the club and the seniors for the closet trophy is hosted on alternate years by each section, with the organisers selecting the rules of engagement. This year the ladies chose a greensomes format, but they could not prevent the senior men retaining the trophy by a comfortable margin, although many of the individual matches were closely contested. Women's captain Sally Cade presented the trophy to seniors vice captain John
Ford.
Final Day in Portugal...
Telegraph BMW Junior Final Day
Lily May Humphreys finished second girl in the Telegraph BMW Junior Golf Championship in Quinta do Lago.
The 14-year-old from Newton Green was two shots behind winner, Hannah Screen (Berhamstead) , and one ahead of with Amelia Williamson (Royal Cromer).
Sixteen-year-old Screen carded a four over 220 for the 52 hole event, with Humphreys 222, and Williamson 223.
Newton's second representative Alice Barlow was seventh on 238, with rounds of 77,82 and 79.
Latest News Portugal.....
NEWTON PLAYERS LOSE GROUND
On the second day of the Telegraph BMW girls section, Humphreys dropped four shots to go three over par and slip into second place, behind Screen (plus two ). Third was Cloe Frankish (plus five), of Charter Hills, and Alice Barlow dropped to ninth with a second round of 82.
Lily May leads the way.....
Newton Green junior leads girls in Portugal
Newton Green's Lily May Humphreys was leading girl after the first round of the Telegraph BMW Junior Championship in Portugal.
The 14-year-old shot a one under par 71, two ahead of Hannah Screen (Berkamstead) and Amelia Williamson (Royal Cromer), followed by Annabel Fuller (Roehampton), who is four over.
Newton's Suffolk women's and junior champion Alice Barlow was fifth, on five over par, having recovered from dropping three shots in her opening three holes. She scored 40 on her opening nine, but then carded a second nine of 37, matching that of Humphreys.
Humphreys' long term and still home club is Channells, Essex, but she has recently moved to the Sudbury area where she has also become a junior at Newton . She shot 34 and 37 in her opening round.
There are nine girls and 12 boys in the mixed field, and overall leader after 18 of the 54-holes event is Harry Goddard, of Hanbury Manor, who is six under on 66, followed by James Wilson (Tynside) 69 and Charlie Thornton (Fulford) 71.
This makes Humphreys joint third on the remodelled North Course at Quinta do Lago, where previous winners of the competition have included Justin Rose.
Humphreys and joint second girl Williamson are both members of the England girls' squad which have regional training with Roly Hitchcock at Stoke-by-Nayland.
Club Dinner and Dance
Newton Green Golf Club Dinner Dance October 28 2016
News of Lily May....
LILY MAY WELL PLACED IN WPGA INTERNATIONAL CHALLENGE
Amateur Lily May Humphreys made her mark with a joint 25th place in her first experience mixing with aspirational young European professionals.
Playing in the WPGA International Challenge at Stoke-by-Nayland, the 14-year-old with a plus-four handicap in the amateur ranks, and a recent junior recruit to Newton Green, was among 15 English amateurs selected in the 90 strong line-up.
She was the fifth amateur home, and could have finished higher had she not found the spectacular par three 184-yard, 18th on the Gainsborough course a thorn in her side.
Over three days, she dropped four shots on the hole, with bogeys on the opening two days and a double bogey in her final round.
Even so, she managed to score a level par 72 on the final day, to go with a one under par on the second, and a three over 75 in the first round.
In her under par day of 71, she recorded six birdies, and one double bogey.
Humphreys, who will not reach her 15th birthday until March, will miss out on entering the Newton Green junior open later this month because of an England Girls' training week at Woodhall Spa.
However, at the end of that week she joins up with Newton's Alice Barlow , as the pair head for Portugal to play in the Telegraph BMW Junior Championships.
Newton makes the news....
NEWTON GREEN MAKES ALL THE HEADLINES
IN THE
Ellie Aldous
ELLIE ALDOUS BECOMES ASSISTANT PROFESSIONAL TRAINEE
A YOUNG Suffolk golfer has moved from the junior ranks in a bid to make a career for herself as a professional.
Newton Green's Ellie Aldous, 18, has become a Professional Golfers' Association trainee, and is working as an assistant at the Bury St Edmunds Golf Range under professional Andy Goodridge.
A former Suffolk junior captain, she has been in the full Suffolk women's squad for four years, but will no longer qualify to play competitive golf in the amateur game.
It means next year she will be unable to team up with Newton's Alice Barlow to defend the Suffolk Haskell Trophy, which they recently won for the second time in four years.
Aldous has been working at the Bury range for some time, and recently left West Suffolk College, where her studies included gaining a triple distinction in sports sciences.
She said: "I have always wanted to become involved in the sport as a professional, and would like to see my future as a coach, rather than aiming for the professional playing circuit. However, I will cut my teeth on pro-ams and see how my game goes from there."
Aldous will now be playing off scratch, and as the Bury range does not have a course, she expects to continue working on her game from Newton.
With Barlow, who currently holds the course record, the pair has been involved in leapfrogging each other to bring down the women's record.
Because of her new status, Aldous has had to withdraw from the Newton junior open later this month, and from the semi-final of the county junior match play competition.
However, she is still due to take over the role of Suffolk girls' junior team organiser in the New Year, adding: "Work with the county junior team will all be part of building my experience and enhancing my CV."
Aldous hit the national headlines eight years ago as a 10-year-old when she beat a 100-plus field of adults to win Newton's prestigious Jonathan Lambert Centenary Silver Salver, and for a number of years was in the national junior training squad.
Ellie Aldous – including winner of Jonathan Lambert Salver in 2008 (right)
Festival Profits Up........
FESTIVAL PROFITS UP AND PARTY PLANS FOR 110TH BIRTHDAY BASH
Newton Green Golf Club's festival week made a record profit, and plans are in hand to organise next year's event to include a 110th anniversary celebration.
With more than 500 entries across nine different competitions, the aim of the event is to enhance the club's inclusive policies, with money raising a welcome side line, but not a principle of the week.
However, the recent festival netted a record £1,800 surplus, and the money will be used to provide amenities as part of a planned interior refurbishment of the club house.
The festival committee heard efforts to reduce the playing time of rounds in the 120-entry Jonathan Lambert Centenary Silver Salver had led to the longest round being reduced to four hours 40 minutes, compared with five and a half the previous year. More refinements would be introduced to cut times further next year.
The 2017 event would commence a day early on Sunday, August 6, to enable a 110th anniversary afternoon party to be staged.
This would include a display of vintage vehicles owned by members and friends, cream teas and a traditional jazz band.
The first festival week was held to celebrate the club's centenary and over the decade since has gone from strength to strength.
Alice and Lily May off to Europe ........
NEWTON'S ALICE AND LILY MAY HEAD FOR PORTUGAL
Alice Barlow Lily May Humphreys
TWO young golfers who have both been hitting the headlines this year are now playing out of Newton Green.
Both Alice Barlow and Lily May Humphreys have qualified to be part of the field in the prestigious Telegraph BMW Junior Championships Final at Quinta do Lago, Portugal, at the start of November.
The event will be played on the remodelled North Course, which was named best European New Course in 2014.
Barlow, 17, has played at Newton since she was nine, and Humphreys has recently joined following a move by her family to the Sudbury area.
Humphreys, 14, is already an England junior international, and in a number of spectacular successes this year became the national girls' under 16 champion.
She has moved to within a short distance of Newton from the Chelmsford area, where she is a member of Channels, which will continue to be her home club, and allow her to retain links with Essex golf.
Humphreys recently qualified for Portugal with a five under par score as one of her four, bogey free rounds in the North of England under 16 mixed stroke play championship at Pannels, Yorkshire. She led the field by six shots and finished 15 under par.
This year she was also third in the European Young Masters, and plays off plus-three.
As part of the England girls' eastern junior training scheme, which is led at Stoke-by-Nayland by professional, Rolly Hitchcock, she is now on his doorstep for additional advice.
Meanwhile, Barlow has stepped away from professional coaching in the last two years to work with her father, who is her caddy and plays off 12.
She qualifies for the trip to Portugal as a result of a four under par she carded in one of her four rounds in the England Girls' Under 18 championships.
Since then, the current Suffolk ladies and junior champion has gone on to be the first winner of the England Girls' County champion of champions title at Woodhall Spa, the headquarters of England Golf. She also finished fifth in the simultaneous national women's title event played off the same card.
Barlow's success on the Bracken course has also qualified her to play in the English Women's Amateur Championships on the former Ryder Cup course of Lindrick, South Yorkshire, from July 18-19 next year.
Parks turnaround......
NEWTON GREEN PARKS SEVEN-HOLE REVERSAL
Fred French, Andrew Johnson, Alan Cunningham, Brian Joy, David Slater, Harry Wordley
Chris Williams, Bernie Pratt, Nick Smith, Ian Duncan (non-playing captain), James Everett
Despite their final two pairs putting up spirited rear guard actions, Newton Green succumbed to previous three times winners Diss in the final of the Suffolk Parks Trophy.
Having never previously negotiated the preliminary rounds of the seniors' competition for players with handicaps up to 12, the Newton run fell at the final fence, with their Suffolk-Norfolk border opposition winning by seven holes.
The tie was staged at Woodbridge, where the greens are generally some of the best in the county, but recent early autumn coring activities left putting somewhat problematical for both sides.
After the opening nine holes of the four-ball, better ball competition, Diss held narrow leads in all four matches – with the opposition two up in one match and one up in the other three. This gave them a five hole cushion.
In match play terms, the margin was insignificant, and Newton needed success in their leading matches to put pressure on the opposition. However, the two front games gradually slipped away, to the extent Diss finished with comfortable five-hole victories, in games that had each been separated by only one hole at the turn.
The third match involving Brian Joy and Bernie Pratt, who had been two down at the turn, saw a fight back by the Newton pair, who eventually finish all square.
At the back of the field, Chris Williams and James Everett were performing heroics, and managed to get home winners three up, which meant overall Diss finished seven holes up.
Among the highlights of the last game was an eagle two by Williams on the 304 yard, par four 13th, which involved the Newton player sinking an uphill, seven iron from 137 yards.
It meant going down in a fighting manner, with the leadership of non-playing captain Ian Duncan having engendered a new feeling of belief in the club's capability to succeed in previously unchartered waters.
Results (Newton names first):
Alan Cunningham and Fred French lost five down to Ken Bowman and Steve Enever, David Slater and Nick Smith lost five down to Dave Boom and Dharam Mavar, Brian Joy and Bernie Pratt halved with Bob Allison and Phil Allen, Chris Williams and James Everett won three up to Steve Biggs and Roger Hinds.
Alice Wins New National Championship
NEWTON GREEN'S ALICE IS FIRST WINNER OF NEW NATIONAL CHAMPIONSHIP
Suffolk's Alice Barlow has won the England Girls' County Champion of Champions title – and come fifth in the equivalent final of the national women's championship.
The brilliant day for the 17-year-old from Newton Green was completed on Sunday when she shot a four over par 76 on the Bracken course at national headquarters Woodhall Spa.
The 18-hole event is new on the England Golf competition calendar, with players that have lifted county junior and adult titles competing together.
Barlow currently holds both titles in Suffolk, which allowed her to qualify for both events.
In the junior championship, her performance, consisting of two halves of 38, put her one shot ahead of Clare Howard, of Borington, Devon, and Amy Boote, of Tadmartin, Oxfordshire.
Barlow, who currently plays off two, was three shots off matching the score which won the full women's champions title.
Early in her round, Barlow miraculously managed a three on the short fifth. Her tee shot ended in a ditch, and she had to play off a slope with one foot in water. She chipped to two feet of the hole and commented: "After that I knew it was going a good day."
Women's winner was Lancashire champion Catherine Roberts, of Pleasington Golf Club, who shot a one over par 73, with halves of 39 and 34.
Barlow looked like pushing to gain a higher finish in the main event, but bogeys on the last two holes kept her out of the top four.
Junior Champion of Champions: 76 Alice Barlow (Suffolk), 77 Clare Howard (Devon), Amy Boote (Oxfordshire), 78 Natasha Ainsley-Thomas (Northants), Thalia Kirkby (Bucks).
Women's Champion of Champions: 73 Catherine Roberts (Lancashire), 74 Melissa McMahon (Dorset), Georgie Price (Cornwall), 75 Megan Garland (Yorkshire) 76 Alice Barlow (Suffolk).
National girls champion Alice Barlow
Newton Green Ladies Open
LADIES DO THE CHA, CHA, CHA AT NEWTON GREEN OPEN
The Newton Green Golf Club ladies open was again a success with teams from across Suffolk and Essex competing.
The cha, cha, cha team formula (four, two and two players to count on consecutive holes) proved to the liking of the Playgolf, Colchester team, which scored 109 points – three more than their closed rivals.
Results:
109 Lynne Southgate, Jennie Boyden, Lucy Sadle and Pauline Jordan (Playgolf, Colchester), 106 Sally Clarke, Brenda Davis and Maureen Minter, Anne Legg (Cretingham), 101 Jan Wright, Jan McLellan, Helen Barr and Lyn Lawrence (Frinton).
Best front nine, 47 Nina Nielson, Ann Graves, Rita Bird and Pam Macbridge (Woodbridge); Best second nine, 57 Lynne Rafferty, Carol Perks, Christine Bloomfield and Jean Woods( Rushmere).
Nearest pin 6th, Ann Bell (Richmond Park).
Nearest pin 13th, Sharon Clarke (Gosfield.)
Newton ladies captain Sally Cade (front centre) with the winning Playgolf team and other winners
Harvey..Suffolk Junior Match Play Champ
HARVEY WATTS WINS SUFFOLK JUNIOR MATCH PLAY
Newton Green's Harvey Watts has won the Suffolk Junior match play championship after a close battle with county junior stroke-play champion Sam Byford.
In the final at Waldringfield, Watts scored a 2 & 1 win over his Ipswich opponent, having defeated Tom Auchterlonie, of Woodbridge, by 5 & 4 in the semi-final.
Watts, 16, received the trophy from Suffolk Golf Union president Phil Platten.
Byford had progressed to the final by beating Newton's Ben Tatum in the other semi-final.
Watts showed he enjoys the Waldringfield course, having earlier in the summer gone to the same venue to retain the host club's junior title.
He was in the Newton team, along with Tatum and Alice Barlow, who recently finished seventh in the national club junior team championship in Oxfordshire, and also plays regular Stenson and Hambro golf for his club.
Phil Platten and Harvey Watts
More Parks Success....
NEWTON GREEN SENIORS FIRST TIME FINAL APPEARANCE
Newton Green continues to break through to new areas of success by reaching the final of the Suffolk Parks Trophy for the first time.
An eight-hole, semi-final win against Hintlesham at Bury St Edmunds means an appearance against Diss at Woodbridge on Wednesday, 14 September.
The competition is for seniors aged 55, with handicaps of 12 or lower. However, teams can field higher handicapped members – but they cannot claim any more than 12 shots.
Diss will provide formidable opposition to the first time finalists, the Suffolk-Norfolk border club having won the competition three times since its inception 14 years ago – the last occasion in 2008.
In that time, Newton has seldom got through the first round, but its recent ability to attract and maintain players in the lower handicap areas of the game has helped build its growing competiveness.
It's path to the final has been a nail-biting affair, with previous home victories against Felixstowe and Fynn Valley each achieved on the first play-off hole, when the games were left all-square at 18 holes.
The semi-final against Hintlesham looked like being another close encounter with Newton's Chris Williams and James Everett going down by one hole to Martin Hayward and Keith Tarrant, but Brian Joy and Bernie Pratt then levelled the game with a similar one-hole victory over Martin Lamb and Dave Steward.
However, when Alan Cunningham and Fred French struck with a five-hole win against Phil Dawson and Michael Gale, a three-hole success for Nigel Gerrans and David Slater in the last match againts Russ Cunningham and Kevin Brooks put the icing on the cake for an eight-hole victory. .
Newton Green Parks Squad: Fred French, Andrew Johnson, Brian Joy, Chris Williams, Alan Cunningham, Ian Duncan (non-playing captain), Nigel Gerrans, Bernie Pratt, Peter Philpott, James Everett, David Slater.
Haskell Winners....
NEWTON'S TEENAGE TWO-SOME STRIKES AGAIN
Newton Green's teenage two-some has pulled off another impressive win in Suffolk's premier women's golfing event.
Alice Barlow and Ellie Aldous accounted for the Ipswich team of Sharon Luckman and Lottie Whyman in the Haskell Trophy final at Bury St Edmunds.
Three years after the Newton pairing – now in their final season as juniors – became the youngest ever winners of the event, they have repeated their success.
Luckman and Whyman, both playing off one, had won the trophy last year. But, after being all-square at lunch, they buckled as Barlow (two) and Aldous (six) raced into a four-hole lead at the opening of the afternoon round. Eventually, the young challengers finished winners by six and four.
In a competition played off scratch, there had been no indication of the final result during the morning. Seven of the first nine holes were halved, and honours exchanged in the other two.
Newton went on to be one ahead by the 16th, but a birdie on the 17th drew Ipswich level. A strong head wind on the par five 464 yard 18th saw the teams settle for an untidy, one over par halved hole.
Things started to unravel for the holders as the second 18 opened, with Ipswich conceding the opening par five first after making a mess when being in a greenside bunker for two.
They could not match Newton's par on the subsequent par three. A birdie four for the teenagers, followed by a par, was enough to leave Ipswich trailing four down in the opening four holes.
By the turn – the 27th hole played - Newton was six up, although the opposition opened the second nine with two halves and a win (on the 12th). This run narrowed the margin to five, with six to play.
With holes running out, Luckman, who had previously won the event several times in her previous days with Felixstowe, and partner Whyman who lost to Barlow in the recent Suffolk Women's championship final at Stowmarket, were still struggling. They could not find a magic formula capable of unsettling their impressive opposition.
Barlow continued to show the style which has featured the blossoming of her season, and Aldous drew inspiration from contributing to some goods days in the recently completed regional county junior golf week.
Newton sealed victory on the par five 14th, hitting the green in three. The Ipswich tee shot had bounced out into the fairway off a tree, but even this could not prevent further woes, which meant conceding, without the opposition required to attempt their birdie putt.
Suffolk Ladies County Golf Association Women's president Hermione Scrope, introduced by county chairman/captain Sarah Saggers, presented the trophy to Newton's non-playing captain Cate Fraser.
Alice Barlow, Cate Fraser and Ellie Aldous
Newton supporters celebrating at the winning 14th hole
Ellie Aldous (right) going for the green with Mark Barlow (caddie) and Alice Barlow
Alice Barlow, Cate Fraser, Lottie Whyman, Hermione Scrope, Sharon Luckman, Ellie Aldous and Sarah Sagger
7th at Frilford....
STORMING COMEBACK FROM NEWTON GREEN

Newton Green juniors made a storming second round comeback to finish a creditable seventh out of 33 teams playing in the national club junior golf championships at Frilford Heath, Oxfordshire.
They were Suffolk's representative in the competition for the second year - having finished fourth twelve months previously. Teams of three competed, with the best two Stableford scores on each day counting to the championship.
Holiday commitments meant Harvey Watts (handicap four) missed out from appearing in last year's final, but he made up for his previous absence by scoring a hole-in-one on the 179 yard 16th. Two more birdies at the end of his round enabled him to recover from an indifferent opening half, and finish with 30 points, two ahead of fellow team mate Ben Tatum (five).
With Watts having been unavailable, and neither Tatum or current Suffolk women's champion Alice Barlow being used for last year's event, all three players were making their debuts on the fast-running, heathland Frilford. Despite her handicap now reduced to two, Barlow scored 34 in her opening round, and with the 30 points from Watts, made a total of 64. It left Newton languishing in 19th place. However, fortunes improved dramatically on the second day, with Newton sweeping 12 places up the leader board. Tatum came home with 33, but Watts and Barlow did even better. Watts scored 37 (including 21 on his second nine) and Barlow played the equivalent to par golf with an excellent 38, giving a team score of 75.
Barlow now turns her attention to joining with Ellie Aldous to regain the Suffolk Haskell Trophy against Ipswich at Bury St Edmunds on Sunday (aug 21).
Scores:
147 Low Ashton,
147 Nee Park,
143 The Burstead,
141 Bramhall,
141 Bramshall,
140 Truro,
139 Newton Green.

Pictured above Newton professional and junior coach Tim Cooper (left) in front of the Frilford score board with Harvey Watts, Alice Barlow and Ben Tatum.
Harvey Watts picks out the flag from the 16th after his hole in one.
Jonathan Lambert Festival of Golf ........
LEWIS WOODHEAD REGAINS JONATHAN LAMBERT SALVER
Last gasp winner Lewis Woodhead snatched the coveted Jonathan Lambert Centenary Silver Salver at Newton Green for the second time in three seasons.
It looked as if 86-year-old golfer Neil Jacobs (handicap 27) would become the oldest winner of the trophy with his total of 41 Stableford points.
But playing in the last three-ball - three hours later than Jacobs - in an entry of 120, Woodhead (7) got over the line with a score of 42.
When he won the trophy for the first time, he was a junior, and he is the only player in ten years to have his name on the salver twice.
Jacobs took the best male prize as he competed against some hot competition from the club's junior players, with Harvey Watts also on 41 to become the best junior, and Adrienne Hughes was the best woman on 36.
Watts had eased out 39-point Alice Barlow from the junior winner spot, but the field could not keep down the club's outstanding female player of the season as she shot a gross 70 (one over par), which saw her reduce her own course record by a shot. She would have brought it down further had she not recorded a two over par five on the par three 18th.
Barlow's rival male course record holder Jed Seeley was also in fine form, with a three under par 65 giving him the Carole List award for the best gross score of the day.
Jonathan Lambert presented awards at the Saturday night party of golf week, which again saw members competing in record numbers across 10 events in six days of golf aimed at showing off the inclusive nature of golf at its best.
Prize winners
Jonathan Lambert Centenary Silver Salver: 42 points Lewis Woodhead, best male 41 Neil Jacobs, best woman 36 Adrienne Hughes, best junior 41 Harvey Watts.
Carole List trophy for best gross score: 65 Jed Seeley.
Delaney Scramble: 60.5 Gareth Evans, Sue Thurgate, Carolyn Cocksedge, Kevin Butler; 62.4 Steve Wordley, Linda Spurko, Adrienne Hughes, John Barry; 62.4 Tibby Mimpriss, Odette Ford, Nigel Gerrans, Paul Hughes.
Stableford: 91 ocb Ben Tawell, Sue Lockwood, Mark Barlow, Roger Hermiston; 91 Alan Vince, Angela Chapman, Roger O'Brien-Hill, Alex Iveson; 89 George Bullett, Rebecca Evans, Lee Prentice, Alice Barlow. Best Whag, 40 Ben Tawell; woman, 36 Lynne Hart; male, 42 David Carse; junior 41 Alice Barlow.
Kiskadee Trophy: 26 Sue Thurgate and Kevin Knights, 22 Angela Chapman and Dave Carse, 21 (ocb) Mick Mills and Lynne Hart.
Points means prizes: 29 Jed Seeley, 26 Alex Iveson, 24 Paul Maclachlan.
Three Clubs/Putter: Peter Cade, Alex Iveson and Rosemary Thomson.
Points means prizes:
Foxes and Rabbits: 39 Ollie and Tom Page, 41 Mark and Jenny Barlow, 42 Max Hemson and Georgina Thornton, 42 James and Alex Cooper, 43 Martin and Alison Brightwell. Putting: 17 Ian Page, 18 Ben Clarke.
Par Three: 25 Mark Barlow, 23 Ollie Page, 21 Steve Knappett.
Lewis Woodhead and Jonathan Lambert Jed Seeley and Carole List
Jonathan Lambert Festival of Golf Presentation Night
Alice at the English Girls Open
English Girls Open Amateur Championships at The Nottinghamshire Golf Club
This week Alice Barlow travelled to the Nottinghamshire golf club to compete in the English Girls Open Amateur championships and dug deep to hit her start of year goal of a top ten finish.
With a strong field of Home Internationals she competed throughout the three days having a share of the lead after round 1. The tough Championship course at The Nottinghamshire comprises of a lot of trouble around every corner.
Alice shot a -2 first round 71 the best round of her career so far to share the lead with Scotlands Alison Muirhead which included 3 birdies and a solitary bogey. The second round was a solid +3 round of 76. She made the cut for day three tied for 2nd place at +1. Going out in the penultimate group meant a well deserved lay in on the Thursday. Some rain and wind made conditions a little tricky but a chip in for a birdie on the first was a great start. A few errant tee shots lead to a few too many bogeys including a tee shot into the water at 16. Finishing +5 and +6 overall. The final round was kicked into life with a 20 foot birdie putt on 5 and a chip in from 30 yards on 7 for an Eagle to put her on -2 for the round. A bogey at 8 and a disappointing double bogey at 17 meant a birdie was required on 18 to get into the prize money, but the 10 foot putt lipped the hole for birdie. Never the less Alice said this was a great experience to be competing with these players and plans on doing more of it in the future. A great Tied 8th final position out of a field of 113.
Haskell Finalist.....
HASKELL FINAL RETURN FOR BARLOW AND ALDOUS
NEWTON Green's junior duo of Alice Barlow and Ellie Aldous are bidding to repeat the feat that put them on Suffolk's golfing map three years ago.
As 15-year-olds they shook the local golfing world by winning the county's 36-hole, Haskell Trophy.
Now, in their final season as juniors, they will be taking on Ipswich in this year's event on Sunday, August 21.
Over the period since the 2013 first win, they have both graduated to the full Suffolk ladies' side, and Barlow became county champion earlier in the summer.
Their route to this year's final has seen them defeat Flempton, before demolishing the fancied Felixstowe duo of Amanda Norman and Hockley by 10 & 9, and a semi-final victory over the Bungay pairing of Lils James and Jenny Howlett by 7 & 6 at Stowmarket.
In the final they will meet the Ipswich pairing of Sharon Luckman and Lottie Whyman, who beat Stowmarket's Lily Kent and Lizzie Laflin 5 & 4 in the other semi-final.
It was Whyman that Barlow overcame in the final to win her Suffolk title earlier in the summer.
Alice Barlow and Ellie Aldous after their semi-final win at Stowmarket
Alice and Ellie with their Bungay opposition picture courtesy of Tony Garnett
Youngsters in Final at Frilford Heath
NEWTON GREEN YOUNGSTERS BACK IN NATIONAL FINAL
Newton Green's juniors have come out top of the pile to represent Suffolk for the second year running at the national team golf championship event.
They will be returning to Frilford Heath, Oxfordshire, on August 11 and 12 with a tough task on their hands – improving on the fourth place they achieved last year.
A Newton trio of Alice Barlow, Harvey Watts and Ben Tatum qualified by winning a close 100 – 98 Stableford points Suffolk final battle with Haverhill at Felixstowe Ferry.
None of them played in last year's national final, even those that did all still qualify, which underlines Newton's strength in junior depth talent.
Barlow, the current Suffolk senior and junior champion, did not play in last year's competition, and with some wayward driving did not perform to her handicap of three against Haverhill's Fiona Stokes (handicap 12) and went down by 30 – 35 points.
However, Harvey Watts (5) won by 35 – 28 to James Iron (12), and Ben Tatum (6) and Josh Hulyer (13) both finished on 35 points – leaving Newton victors by two points.
Suffolk junior golf chairman Mike Stevenson presented the trophy.
In earlier rounds Newton had beaten Halesworth 105 – 85, Fynn Valley 89 – 82 and Hintlesham 104 – 89.
Pictured:
Ben Tatum, Alice Barlow, Mike Stevenson and Harvey Watts.
Parks Success....
FIRST PARKS TROPHY SEMI FOR NEWTON GREEN
NEWTON Green's senior men have broken new ground by reaching the semi-finals of the Suffolk Parks Trophy for the first time.
Another tense, play-off hole, long putt saw them through the quarter finals against Fynn Valley – just as it had enabled them to defeat Felixstowe Ferry in the previous round.
Newton now meet Hintlesham or Bury St Edmunds at Woodbridge in the last four.
The Parks is between teams in the 55-plus age group, with handicaps restricted to 12 or under. Against Felixstowe it was Fred French who sank a 40 foot putt to win the play-off hole. This time non-playing captain Ian Duncan selected Brian Joy and Chris Williams to go down the first play-off hole, and the latter sank a 25 foot for a par four and tense victory.
The four-ball, better ball matches had seen Williams and Peter Philpott halve, French and Nick Smith go down by four holes, and wins for Joy and Bernie Pratt (three-up) and Nigel Gerrans and James Everett (one-up).
Picture
Back row: Nick Smith, James Everett, Nigel Gerrans, Bernie Pratt, Chris Williams
Front: Lee Prentice (Club men's captain), Brian Joy, Ian Duncan (non-playing team captain), Peter Philpott, Fred French).
Stearn disappointment for ladies...
Stearn team fight hard but just fall short at Felixstowe…
On Monday 7th July, Newton Green ladies met Felixstowe Ferry ladies on a sunny but blustery day for the first round of the Stearn Trophy, 36 holes foursomes.
After the mornings 18 holes, Newton Green ladies were one up in two of the matches and all square in the third. However, after lunch, Felixstowe fought back hard and having home course advantage pulled ahead to beat Newton Green overall by two matches to one.
Newton Girls...Suffolk Ladies
STRONG SHOW BY NEWTON GREEN GIRLS IN SUFFOLK TEAM
Newton Green's two juniors in the Suffolk Ladies adult side put up strong performances but could not stop the county just missing out on qualifying for the national championships.
In the regional golf week final at Bishops Stortford, Suffolk's new champion Alice Barlow underlined her status with a strong performances in nearly all the singles and foursomes matches she was involved in.Three of the five singles matches she played were against fellow county champions, and she won two of them, plus two wins in her other encounters. She also performed strongly in her foursomes games. Meanwhile, her Newton compatriot Ellie Aldous played in two singles games, winning both including a last day win against Norfolk when she hooked her first shot out of bounds, and played the rest of the game using only irons. Her win in the final singles match, however, could not stop Norfolk recording a 5-4 victory to make them Eastern champions.
Stenson Success....
NEWTON GREEN IN STENSON LAST EIGHT
NEWTON GREEN put the disappointment of going out of the Suffolk Hambro Cup behind them by putting themselves in the quarter finals of the county Stenson Shield scratch event.
If they are going to reach the semi-finals they will have to do it the hard way, with an away draw at Woodbridge on July 23. Newton has already battled through two away ties.
The second of these wins was at Fynn Valley when they were all square in the foursomes at lunch time on two matches each, including an 8 & 6 win for Steve Wordley and Greg Hills.
Hills and Russell Oakey scored early wins in the singles, but with three reversals and a halved match, Newton had to rely on strong performances at the tail from Max Hemson and Jed Seeley to record a 6.5 to 5.5 victory.
Results
Morning foursomes: Russell Oakey and James Cooper won two up to Paul Grey and Andy Southall, Max Hemson and Mike Polley lost one down to Andy Dixon and Travern Abbott, Steve Wordley and Greg Hills won 8 & 6 to Mark Wilder and Gordon Smith, Lewis Woodhead and Jed Seeley lost two down to Lewis Rowland and Tom Smith.
Afternoon singles: Greg Hills won 4 & 3 to Paul Grey, Steve Wordley lost 2 & 1 to Travern Abbott, Russell Oakey won two up to Andy Dixon, James Cooper all square with Andy Southall, Mike Polley lost one down to Mark Wilder, Lewis Woodhead lost 5 & 4 to Gordon Smith, Max Hemson won 4 & 2 to Lewis Rowlands, Jed Seeley won 4 & 3 to Tom Smith.
Shock defeat........,
Newton Green shock defeat to Southwold
Newton Green's great run in the Suffolk Hambro Cup is over after attempts to score a hat-trick of wins went down on a tense, last hole defeat.
Having beaten Ipswich and Haverhill in the last two finals, the holders went out in the second round at Southwold.
In a very evenly based match. both teams played some fantastic golf with neither ever being more than a few shots in the lead. With good wins in the morning for Polley and Bearman and Hills and Seeley, the result was all square at lunch. Hills & Seeley looked like clinching a 4 up result in the morning until their opponents got a hole in one on the 18th.
With a change in the groupings in the afternoon, Wordley went out with Hills, and Seeley with Woodhead.
The match was very evenly contested and it looked like Newton would just scrape through wen three shots in the lead with several holes to play. Home advantage kicked in and two out of the first three Southwold pairings won the 18th leaving the match all square with Woodhead and Seeley on the 17th. They were giving a shot away and had to birdie the hole to take their game and the match to the 18th all square. Seeley's brilliant approach shot to 4 feet left Woodhead an easy put to leave the match all square.
Seeley and his opponent both hit the green on the 18,th leaving their partners' putts the full length of the green. Southwold went first and left their putt several feet short, Woodhead then put his four feet past. Southwold's Cookson sank his putt leaving Seeley a putt to half the match. The putt looked good but rimmed the hole and Southwold won by one shot.
Scores (Newton names first).
Morning: Russell Oakey and Harvey Watts one down to Alex Taylor and David Burrows, Mike Polley and Simon Bearman three up to Russell Palmer and John Meakle, Lewis Woodhead and Steve Wordley five down to Jeremy Turner and Richard Cookson, Jed Seeley and Greg Hills three up to Jack Fountain and Paul Booth.
Afternoon: Oakey and Watts all square with Taylor and Burrows, Polley and Bearman four down to Palmer and Meakle, Wordley and Hills four up to Fountain and Booth, Seeley and Woodhead one down to Turner and Cookson.
Stearn and Haskell Success.....
The Stearn Get Through…
Monday 6th June saw the preliminary round of the Stearn Competition. 36 holes foursomes, with Newton Green ladies playing host to a ladies team from Seckford. The weather was perfect for golf, dry, hot & sunny with the Newton Green course in superb condition.
The morning foursomes produced some good competitive golf with Newton being in the lead after the mornings 18 holes.
After a well-deserved break for lunch Newton ladies kept up the pressure and in the afternoon achieved the win that they thoroughly deserved, being up in two games and a half in the third.
Our thanks go to the green staff for the superb condition of the course and to Phil for our superb food, and to the ladies who came along to support the team.
Well done to the team!
Sally Cade & Jennie Leech
Di Cunningham & Rebecca Evans
Cate Fraser & Lizzie Johnson
The next round is on July 4th against Felixstowe Ladies
…And So Does The Haskell!
HASKELL PROGRESS FOR BARLOW AND ALDOUS
Newton Green teenagers Alice Barlow and Ellie Aldous recorded an impressive quarter final victory in the 36-hole Suffolk Haskell Trophy.
Barlow (handicap four), who a few days earlier had set a new, two over par 71 ladies record for her home track, and Aldous (6) scored a crushing 10 & 9 against their Felixstowe visitors, Amanda Norman (1) and Joanna Woodward (4).
The competition is played off scratch, and the Newton pair, who won the Haskell three years ago, play Bungay or Rushmere (Ipswich) on neutral ground in the semi-finals.
Parks Success
FRED'S 40ft FRENCH CONNECTION

A stunning 40 foot putt on the first play-off hole sent Newton Green seniors into the last eight of the Suffolk Parks Trophy.
It was all-square on holes won when the second round tie of four foursomes with Felixstowe Ferry reached its conclusion at Newton. The home pairing of Fred French and Nick Smith was sent out to contest the sudden death play off, and with the former sinking a monster putt to win the stroke index three first hole, the home side was through to entertain Haverhill or Flynn Valley in the the next round.Newton, which has seldom progressed through the first round of the county competition, achieved a win with a side consisting of several longer handicap players who were above the 12-handicap allowance limit for the contest - meaning several faced additional penalties against lower handcapped opposition.

Team, left to right: Fred French, Mike Barnes, Ian Duncan (non playing captain), Steve Cragg, Peter Philpott, Nick Smith, Ken Goodright, Brian Joy and David Slater.
Harvey retains title
HARVEY WATTS RETAINS TITLE

Sixteen-year-old Newton Green golfer Harvey Watts has won the Waldringfield junior open for the second year running.
Watts, who plays off five and is already a regular in his club's main mens teams, scored a two over par 74 to retain his title.
He was one shot ahead of George Fricker (handicap five) of Uppford Park, and Habebul Islmam (2), of Ipswich.
Newton also provided the fourth player home in Keiron Sorrell, who shot a 76, some six below his handicap.There was a field of 30 players.
Newton Juniors more success
NEWTON YOUNGSTERS ON STEP BACK TO NATIONALS
Newton Green Golf Club juniors are trying to make it back to the finals of the national team competition - having finished fourth at Frilford Heath last year. They are through to the semi-final of this year's event at Suffolk level,and have seen one of their main rival put out due to a disqualification. The Newton trio of Harvey Watts, Alice Barlow and Ben Tatum defeated Fynn Valley 89 - 82 in the quarter final, and were due to meet Ufford Park in the last four. However, their opponents have subsequently been disqualified after one of their team played off an incorrect handicap, and Newton now play Hintlesham in the semis. Newton's juniors are now uneaten in all Suffolk junior county and friendly matches in the last two years.

Pictured above: Harvey Watts, Alice Barlow and Ben Tatum
Jed Seeley success
SEELEY STRIKES AT EASTERN COUNTIES SALVER EVENT
Newton Green teenager Jed Seeley has made an encouraging start to try and make a name in the region as
an amateur - rather than immediately becoming an assistant in the professional ranks.
Seeley, 18, who holds the course record at Newton, won the scatch prize to bring home the Eastern Counties Salver at the annual event held at Woodbridge.

He shot two rounds of 72 - four over par - to beat Chris Bartrum, of Diss, on countback, with Danny Western, of Gorleston, a further shot back. Seeley is part of Newton's Suffolk Hambro Cup team trying to pull off a hat-trick of wins, and works with professional Tim Cooper in the club shop.
Ladies Cranworth
NEWTON LADIES THROUGH IN CRANWORTH
Newton Green ladies put up a strong performance to reach the first round of
the Suffolk Cranworth Trophy - a title they have held twice in the last
seven years.
In the preliminsary round played on neutral ground at Ipswich, Newton
overcame Diss 6 - 3, and now go on to meet Cretingham at Woodbridge on June
23.
Newton put themselves in a good position at lunch against Diss, winning all
the three morning pairs matches. Janet Sparks and Tibby Mimpriss opened with
an impressive six and five victory against their opponents, followed by a
one up win by Carol Durston and Gwyneth Ferreira, and a 2 & 1 win for Sue
Lockwood and Sarah Williams.
It meant Newton needed just two wins from the six afternoon singles and,
although Lockwood went down 3 & 2, wins of 4 & 3 for Sparks and 3 & 2 for
Mimpriss, brought up victory. With the result in the bag, three uncompleted
matches on the course were called in as halves.

Caption: Rebecca Evans, joint non playing captain, Sarah Williams, Janet
Sparks, Gwyneth Ferreira, Carol Durston, Tibby Mimpriss and Sue Lockwood.
Stenson Success at Flempton
NEWTON GREEN NEGOTIATE STENSON FIRST ROUND
Newton Green recorded a good 8-4 away victory against Flemton to progress into the second round of the Stenson Shield - Suffolk's scratch golf team event for men. In the morning foursomes, Newton went 3 - 1 up, including an impressive
seven and six victory for the schoolboy partnership of James Cooper and Harvey Watts against Rupert McCallum and Jude Everett.Cooper was making his debut at this level, and also notched a singles win in the afternoon to complete an impressive day.

With a two-match buffer from the morning, Newton continued to hold the initiative in the afternoon, with Ned Seeley opening up with a six and five victory over McCallum, which meant the visitors kept their noseS in front throughout the day.

In the next round Newton visit Fynn Valley on June 25.

Foursomes (Newton named first):
Jed Seeley and Greg Hils won one up to Paul Kent and Alfie Halil, James Cooper and Harvey Watts beat Rupert McCallum and Jude Everett seven and six, Lewis Woodhead and Steve Wordley beat Dan Wilson and Mark Rea two and one, Simon Bearman and Mike Polley lost one down to Murray Rose and David Cargill.
Singles:
Seeley beat McCallum six and five, Hills beat Cargill three and two, Watts lost one down to Kent, Cooper beat Everett two and one, Bearman beat Hall three and two, Polley lost to Wilson three and two, Wordley beat Murray one up, Woodhead lost four and three to Rea.

Newton Green Stenson team pictured above:
Lewis Woodhead, Simon Bearman, Ian Woodhead (captain), Steve Wordley, Mike
Polley. Greg Hills, Harvey Watts, James Cooper, Jed Seeley.
Ladies Club Champion
CAPTAIN CADE IS NO AUNT SALLY
Newton Green Golf Club ladies' captain Sally Cade put two of the best rounds of her life together to score an impressive win in the handicap section of the club's championship day.
Competing in the 36-hole event, Cade carded rounds of nett 64 and 66 - a total of eight shots below her handicap – which has now been reduced to 12.
Playing for the Emmie Hoare Trophy, her nett score of 130 put her 10 shots ahead of second place Alice Barlow (handicap four), with Cate Fraser (15) third on 145.
However, the club's reigning scratch champion Barlow was not to be outdone during a day which saw 18 ladies, one with a handicap of 36, complete the two-round event.
Barlow retained the club championship Ann Tankard Trophy, with a gross score of 148, including a three over par 72 in her second round, matching the ladies' amateur course record she equalled in lifting the scratch title last season.
Barlow's retention of the club title came within a week of her also winning the Suffolk Ladies' Championship final.
Cade's gross 160 gave her second place, following by Barlow's other joint Newton course record holder, Ellie Aldous, who was third, on 164.
Seniors - 2016 Open Pairs
James Fraser (Senior Section Captain) congratulating Jim Greenfield (right) and Don Miller (left) on winning the Open Pairs on Thursday 12th May at Newton Green
Suffolk Champion Alice
NEWTON GREEN'S ALICE BARLOW
IS SUFFOLK CHAMPION
Caddie Mark Barlow with victorious daughter Alice
Alice Barlow, at the age of 17, has taken on the might of Ipswich Golf Club to win the Suffolk Ladies' County Golf Association match-play title.
It is the first time Newton Green Golf Club has provided a winner of an individual county ladies title for 57 years.
At the end of three days of golf at Stowmarket, involving six rounds, the Thomas Gainsborough School, Cornard, pupil came up against last year's winner in the final, and held her nerve to win two holes up with one to play.
With her dad Mark on her bag, Barlow saw off reigning champion Lottie Whyman (Ipswich) in a match which the Newton player looked like losing after eight holes, when she was three down.
But she clawed her way back, and a birdie on the 12th brought the game level. On the par five 13th Barlow sunk a massive putt on a hole she looked like losing, and from then on she matched Whymark, before winning the 15th and 16 holes. With a half on the 17th she was home and dry.
On the 36-hole, opening stroke play day, Barlow had been equally impressive, with two of the best rounds of her life giving her second place on 150, two shots behind winner Fiona Edmonds (Ipswich).
Her fellow Newton junior Ellie Aldous, also put two good rounds together to finish seventh. The scores meant the pair was into the 16-player line-up for the two-day, knock-out event. Newton was the only club to feature players in the top eight who were not members of Ipswich.
Aldous got through to the second round by beating Jenny Howlett (Bungay), before going out to eventual finalist Whyman.
Meanwhile, Barlow, who is the current Suffolk junior captain, was recording wins against May Bird (Flynn Valley), Lils James (Bungay) and, in the semi-final, Vicki Inglis (Ipswich)
The Newton player also retained the Berendt Jug she won last year for the best nett score in the opening day's stroke-play event. She started the tournament with a handicap of five, now reduced to four.
Barlow's success comes three years after her and Aldous, as 14-year-olds, stunned Suffolk golf by winning the Haskell Trophy.
The county has confirmed both will be included in the full Suffolk squad for county golf week later in the summer.
Newton's last woman, individual county title winner was Mary Openshaw in 1959.
Society Day Success....
FULL HOUSE FOR NEWTON GREEN SOCIETY DAY
Eighteen, four-ball teams took advantage of experiencing golf at Newton Green Golf Club when a special day was set aside for entertaining golf societies.
Last year the club experienced a 30 per cent increase in visits by societies, and is hoping to maintain this trend as a result of increased on-going investment in the course.
For the recent event, visitors experienced their first taste of playing the re-modelled first hole, which is even more challenging as a result of a £6,000 tree transplanting scheme some 150 yards from the green.
The Wanderers Golf Society took the first two places in the team event.
93 Derek King, Allan Scott, Peter Hebditch and Dave Fisher,
88 Peter Stebbing, Frank Coot, Larry Nolan and Keith Reid,
87 Derek O'Shea, Paul Neale, Alan Beattie and John Anderson.
Junior Fund Raising.........

NEWTON JUNIOR FUND RAISER NETS £1,180

A Fund raising day which supports one of Suffolk's most successful golf junior sections has raised £1,180.The sum was raised at a chairty golf day staged at Newton Green Golf Club, where juniors made a near clean sweep of junior team titles in the county last season.
The section is self funding, and 18 teams of four supported the charity event, which started in steady rain which gradually cleared up before a torrential downpour left the approaches to the club almost marooned in flood water.

Winners: 87 Bernie Pooley, Mick Springett, Mark Barlow and Robbie Rothwell; 87 on count back, Tim Cooper, Jed Seeley,Rebecca and Gareth Evans; 84 Ian Duncan, Nick Smith, Nigel Gerrans and Tony Adams.
Pictur Caption: Winning team, left to right: Bernie Pooley, Mick Springett, Mark Barlow and Robbie Rothwell.
9 Hole Option....
NEWTON GREEN EXTENDS NINE-HOLE OPTIONS
Newton Green Golf Club has introduced new initiatives to make it easier for people to get into golf by playing only nine holes.
Its popular Davey pay and play membership is to be expanded to allow golfers to play either nine or18 holes.
The amount of playing points needed for Davey members to perform at weekends is also being reduced.
Peter Philpott, chairman, said: "The move is in response to national initiatives to make the sport more accessible to people who do not have time to devote three or more hours to an 18-hole round on their local golf course.
"In recent years we have we have gained a reputation for having an innovative approach to getting people involved in golf. We have received increasing demand to allow nine-hole play for Davey members, and are very pleased to make this concession.
"We also do not want the cost of pay and play membership golf to be punitive at quiet times during the weekend."
Recently, club professional Tim Cooper has been introducing people into the sport via the national Get into Golf campaign.
To give them confidence to enjoy the course, a starter package is being introduced which will include vouchers for nine holes and refresher lessons to continue developing their game.
Whags fence.....
WHAGS PROVIDE A FINES FENCE

A group of golfers have come to the rescue of a day club for old people by making their garden secure. The Wednesday Hackers and Golfers Society (WHAGS) perform at Newton Green Golf Club, and founder captain George Bullett extracts fines from members for various misdemeanours.
In the last year he raised £400 and it has gone to renew a fence round the garden of the Chilton Day Club run by Age UK at Sudbury. This picture shows the golfers in front of the fence with day club manager Jilly Vince and George Bullett (immediately above)
Captain Drives In Captain Putts Out
LEE PRENTICE DRIVES IN AS MEN'S 2016-17 CAPTAIN
– Bill Havers putts out -
Newton Green Annual Award Winners
Men: Ian Duncan, Neil Fenn, Ian Woodhead, Ian Coleman and Roger Leonard.
Nick Smith, Nigel Gerrans, Peter Webb, James Everett, Tim Richardson and Kevin Easey.
Mixed: Bill Havers, Tim Richardson, Chris Williams, Paddy Lockwood, Kevin Easey, Sue Thurgate.
Patricia Havers, Sheila Walter, Sarah Williams, Sally Cade, Di Cunningham and Cate Fraser
Charity Cheque presentation to the Bridge Project
Newton Green Golf Club has presented a cheque for £5,100 to Sudbury's Bridge Project. Left to right: Bill Havers (retiring men's captain), Anesta Newson, the Bridge founder, Sheila Walter (retired ladies captain) and Jo Searle, chief executive of the Bridge.