News & Events
March Update
MEMBERS
As from 29th March the course will be able to reopen to Members only. Once again restrictions are all in place. 4 balls are permitted. Tee times must be booked.
Social distancing will still apply, no rakes or handling of flags. Please do not come up to the course more than 10 minutes ahead of your tee time, Congregation of groups is not permitted. Sadly the Clubhouse, bar and restaurant will remain closed.
JO WILL EMAIL MEMBERS REGARDING COMPETITIONS AND MATCHES.
GREEN FEE VISITORS
Visitors will be allowed to play the course as of 6th April.
Visitors can only book 24 hours in advance Monday – Friday , Tees times after 2.30 pm will need to be prepaid.
Weekends will need to be booked and prepaid and can only book for 1.00pm onwards. Bookings to be made through the office (01842 827644) between 9.00 am and 2.00 pm Monday to Friday.
COVID-19 UPDATE
COVID-19 Restrictions
Due to the Current Covid-19 restrictions, it is is essential that ALL Tee times be prebooked to comply with track and trace and to ensure the course is not congested. These can be booked through the office on 01842 827644 (9.00am -2.30pm), or through Jo on 07855 821116. Members can book through the Club V1 members hub.
Visitors to the club can only pre book Tee Times with 24 hours notice. For Saturday and Sundays availabilty to Visltors not be from 1.00pm only.
2-Ball and starting on the 1st tee only. Tee times start from 9.00 am. 9 Holes to be booked. Members can book a second tee time to accommodate 18 holes.
The Clubhouse is closed
Newsletter September 2020
NEWSLETTER SEPTEMBER 2020
RULE OF SIX GUIDANCE
From Monday 14 September, golf clubs should be cognisant of a change in the law which limits the size of indoor and outdoor group gatherings in England to six people.
On the course: Golf can continue to be played in accordance with existing 'Play Safe, Stay Safe' guidance. Groupings must not consist of more than six people.
Off the course: Clubhouses can continue to cater for multiple groups each containing a maximum of six people from different households. However, golfers in one group must avoid merging with golfers from another group to create a single gathering in excess of six people.
Society and team event organisers should take special care to ensure different groups of six from within their party do not merge to form larger groups before, during or after a round. Travel to and from golf venues should continue to be in accordance with government regulations.
GET INTO GOLF: Ladies
Ladies, Some Exciting News CLICK HERE for further details
GET INTO GOLF : Family
Exciting News for the Family CLICK HERE for further details.
DRIVING RANGE
DRIVING RANGE
We are very pleased to announce that we now have a Driving Range Ball Dispenser. This is operated by tokens which has the advantage that you can pre-purchase your tokens and come along and use the facility at your leisure when the club is not open.
The cost of the tokens are at Silver - 28 Balls = £3.00, Gold - 56 Balls = £5.00.
We are also offering a Driving Range Membership at £50.00 for 12 months. This will entitle you to purchase the tokens at our Club Members prices of Silver - £2.00 and Gold - £4.00.
We are endeavouring to enhance the Range over the coming months to make it an even more pleasurable experience. Tokens are available from the Pro Shop or from the Bar when this is not available.
COVID-19
During the current times we do ask that you adhere to social distnacing. Sanitize your baskets before use and on their return. Abide to the marked bays.
STAY SAFE - PLAY SAFE
PLAY SAFE - STAY SAFE

WE WILL BE OPENING AGAIN FOR GOLF ON WEDENSDAY 13th MAY FROM 9.00 AM

This is fantastic news, we can re-open the course, with certain restrictions and changes to our normal golfing life.

There are several precautions we must put into place before we can safely re-open our course and there are some new guidelines we respectfully ask you to follow to ensure the safety of both our staff and members alike.

The basics of these new rules will be:
•Initially we will ask you to Pre-book your tee time (as we are sure there will be a lot of you all wanting play immediately!) Please call Jo Bates on 07855 821116 to book your slot.
•The course will be open from 9.00am to 3.00pm daily
•Under new government rules released today (11 May), the following groupings will be permitted upon resumption of play: Individuals playing golf on their own. Two-balls comprising of individuals from different households and at the discretion of the golf club, members of the same household playing in two, three or four-balls, maintaining 2m social distancing at all times
•Mark your card only, do not swap cards
•Do not touch the flags (in the short-term until alternative arrangements can be made please remove the ball from the hole with your gloved hand)
•Smooth over the bunker with your club or foot
•Only use your own ball, clubs and trolleys (do not pick up anyone else's club)
•The Clubhouse and outside toilets will remain closed (but the toilets can be opened temporarily on request)
•Please wipe the toilet and basin down after use with the wipes provided

We must insist that you observe all instructions and signs around the course, failure to do so may jeopardise our ability to remain open and could cause the Club long-term damage.

Take care and stay safe.

News Letter Apri 2020
COVID-19
Dear Members, Guests and Visitors
The Government yesterday released new advice in light of the Coronavirus (COVID-19) outbreak. COVID-19 is a new illness that can affect your lungs and airways and is caused by a virus called coronavirus. We would therefore like to upgrade our own advice to help protect our members and others in the community. Public Health England have issued the following advice to the public
Symptoms
In the first stages : Flu-like symptoms such as high temperature, headache together new continuous cough
We would advise that -
If you have recently traveled to any of the major 'Hot Spots' please self-isolate for 14 days on your return to home
If you have any symptoms but have not travelled abroad, no matter how mild, stay at home and do not leave your house for 7 days from when your symptoms first started
Plan ahead and ask others to ensure that you can successfully stay at home, home deliveries of food and essentials
Stay at least 2 metres (about 3 steps) away from other people and sleep alone in your home whenever possible
Do not go to your Surgery, pharmacy or hospital, self-isolate yourself
Even if you haven't displayed any symptoms please follow these easy rules whenever possible
Wash your hands regularly for 20 seconds, each time using soap and water especially when you arrive home and if soap is not available use a sanitiser gel
Cover your nose and mouth with a tissue when you cough or sneeze and put used tissues in the bin immediately
Stay away from vulnerable individuals such as the elderly and those with underlying health conditions and their carers as much as possible
You do not need to call NHS 111 to go into self-isolation. If your symptoms worsen during home isolation or are no better after 7 days contact NHS 111 and for medical emergency dial 999
Drink plenty of water and take everyday painkillers to help with your symptoms
Treatment for coronavirus
There is currently no specific treatment for coronavirus.Antibiotics do not help, as they do not work against viruses.Treatment aims to relieve the symptoms while your body fights the illness.You'll need to stay in isolation, away from other people, until you have recovered.It's important to stay at home to stop coronavirus spreading.
GIRLS GOLF ROCKS
R&A Women in Golf Charter
Golf Clubs all over England are working with England Golf to promote Women in Golf and adopt the Women in Golf Charter launched by the R&A in 2018 and Feltwell Golf Club is proud to be one of these clubs. We are committed to attracting more ladies and girls into the game and encouraging them to participate in all areas of the Club.
A golf course was created at Feltwell on land originally owned by the MoD in 1970 on the Thor Missile site and was originally run by both English and American airmen known as the Anglo-American Golf Club. In 1976 the course was bought by an English contingent and Feltwell Golf Club was born. The club has grown from those humble beginnings to become a first rate 9 hole, 72 par golf course in Norfolk. Feltwell Golf Club's aim is to provide facilities for and promote participation of the whole community in the sport of golf.
We have a small but lively and friendly Ladies Section meeting every Friday come rain or shine. On bad weather days, it is coffee and chat and on good days we start with the coffee and chat before going out to play 18 holes. Our main emphasis is enjoyment, enjoy the game, enjoy the company, enjoy the challenges and we welcome all new ladies to our ranks whether they are seasoned players or raw beginners. In 2017 we held our first 'Get into Golf' Open Day, our PGA Pro helped us organise this and subsequent initiatives; she runs 'Get into Golf' group sessions for ladies with special offers of a 3 month membership to encourage them to join at the end of each course as well as giving continued advice on their game. Our Ladies Section organises fun games with these new recruits which are enjoyed by all. Warm-up is often forgotten by many players and we are now encouraging ladies to join in a short 'Warm-Up Pilates' session with one of our members before we go out to play.
The club elected its first Lady Club President in 2019, showing a recognition from the members that the club was ready for a shift in culture, that women have much to offer in growing the Club and that a new perspective is always welcome. It has also recently been awarded the Safe Golf Accreditation and prides itself in offering a safe environment for all players of the game both young and old, male and female

Feltwell Golf Club Commitments to the Women in Golf Charter:
 Driving participation levels through a series of initiatives and is an active supporter of England Golf and the Golf Foundation both in Girls Golf Rocks and the Golf Sixes campaigns.
 Providing a safe environment for ladies and girls within the Club and encouraging integration with the Club as a whole
 Applying and running recruitment campaigns such as Women in Golf and Get into Golf
 Addressing strategies to support female retention
 Implementing better signage around the Club
 Adopting an inclusive approach to include female and family imagery in our publicity and social media
 Promoting membership pathways for those new to the game
 By signing this Charter we are making a tangible commitment to develop an attractive and welcoming environment for ladies and girls in golf and increase the numbers playing and working in the game

ACTION PLAN
1. Driving Participation Levels :
1.1 Girls Golf Rocks Programme first taster session July 2020 followed by a six week course
1.2 Second taster session planned for August with a six week course in September 2020
1.3 Golf 6s Competition running throughout the summer, encouraging young girls to take part
1.4 Ladies new to Golf Sessions to be continued throughout the summer
1.5 Women on Par – pathway for progression onto the course and joining the club, following lessons
2. Recruitment and Retention Campaigns :
2.1 Girls Golf Rocks as above
2.2 Get into Golf – ongoing throughout the year, using posters, banners and social media
2.3 Membership survey to be devised to address strategies for the Club to move forward
News Letter Jan 2020
Junior Newsletter Sept 19
CLICK HERE
Newsletter August 2019
Alan Spence Memorial
In memory of a long standing member of Feltwell Golf Club, Alan Spence, who sadly passed away last year, the Senior Section held a memorial cup match on August 27th. The event was well supported by the section with members taking part and new members who sadly did not have the pleasure of knowing Alan and the man he was.
The family donated the cup in his memory, Mrs Spence came along on the day to present it to the overall winner, Mr Stuart Bell. The day went extremely well and everyone taking part enjoyed the day, even though it was extremely hot, along with the roast carvery that followed.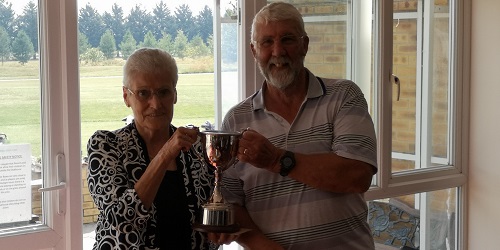 Mrs Spence and Stuart Bell
Vacancy: Ass. Greenkeeper
POSITION NOW FILLED : AUGUST 2019
ASSISTANT GREENKEEPER URGENTLY REQUIRED
We are currently looking for an Assistant Greenkeeper to join our small, friendly team: approximately 40 hours a week with some weekend work. Ideally, the applicant should have some previous experience of Green-keeping although training can be given to the right candidate. Whether you are looking for a permanent or temporary job or have a business into which our needs could dovetail into perfectly for you, please contact us for more details. If you, or you know of anyone, who may be interested in this post please contact Malcolm Fuller on 07831 409538 as soon as possible.
LADIES SECTION
LADIES DAILY MAIL FOURSOMES
A massive well done to our Ladies Captain and Diane Bunten on their success at Ryston Park last Sunday in the Daily Mail Foursomes.
Here is what the Ladies Captain had to say :
Sunday 7th April myself (26 Handicap) and Diane Bunten (9 Handicap) played the second round of the Daily Mail Foursomes away at Ryston, having narrowly beat Thetford Ladies at Thetford on the 18th hole. I was looking forward to the match as one of their ladies plays off 2 Handicap, the other one playing off 9. We had 12 shots, but we also lost 12 shots, the front 9 was nip and tuck, but we never went behind, and managed to be one up at the turn, which we were over the moon at, as they had won their first match 8 & 7 away to Swaffham first round. We stayed focussed and found ourselves 3 after the 15th, but then lost the 16th par 3 over the pond, I missed the pond and the geese/ducks with a beautiful shank to the right, 2 up and 2 to go, we were on a shot hole and got down for net 5 ,they missed a long putt for the parr and that was enough ! The draw for the next round is not for a couple of weeks, after two very tough away draws hopefully we will get a home draw. Big thanks to Denise for supporting us at Ryston.
This is a great achievement for the ladies section of Feltwell Golf Club and we wish you both the best of luck for the next round.
News Letter Feb 2019
News Letter Jan 2019
Newsletter November 2018
ADVERTISING
GOLDEN OPPORTUNITY for Businesses Small or Large
As you are all aware we now have a slide show active on the TV in the Club House, which is turned on all day-everyday. The number of images will grow over time as we add more to the slide show and we are actively taking pictures on Society days, of the course, players etc now. In time, too, we will be able to use this resource to advertise Club Matches, Tournaments, Society Days etc but in the meantime you too can use us to promote your Company or the Company you work for. Two of our members have already taken up this golden opportunity to 'showcase' their Companies and we are opening it up to all members, – so if you would like to take part please let me have your details and we can work on a slide for you. All we need is a Logo and any details you would like promoted.
The cost is a mere £50 per year, so under £1 a week, where can you get a better deal? No, don't answer that – it is a REALLY GOOD COST EFFECTIVE way of promoting your company, your son/daughter's company, your brother/sister's, anyone and it will be seen by members and visitors alike, all year round.
Don't delay, email your details to Kim and she will pass them on or you can speak to me direct.
Denise Whiting
Mixed Section and Marketing
Feltwell Golf Club
Newsletter August 2018
Newsletter May 2018
Newsletter March 2018
Newsletter January 2018
Premises Licence
CHANGE OF LICENCE
We are pleased to announce that we now operate under a Premises Licence which means Non-Members are welcome to come along and enjoy the facilities of our bar and restaurant, partake in events and functions.
Before Social membership or Club membership was required. We do however still offer Social membership whereby you have the privilege of membership bar pricing this is at £15.00 per year..
All visitors to the club will be met with a friendly greeting, smiles and made to feel welcome whether it be for a quite drink or two, a snack or three course meal. Do come along and enjoy the comforts of our lounge and take in the views across the course which are rather impressive and pleasing on the eye.
Please support our advertisers
TEST
NEWS LETTER
LOST PROPERTY
LOST PROPERTY:
Back in early November an item of lost property was handed in to the office. This is not a golfing item and may be precious to someone. As no member has claimed the item I am wondering if it was a visitor that weekend to the club. So in the hope of making contact to our Green fee visitors and guests and reuniting the item with it's rightful owner then please do spread the word that we have it here waiting to be reunited..